Mount Carillon — Southeast Face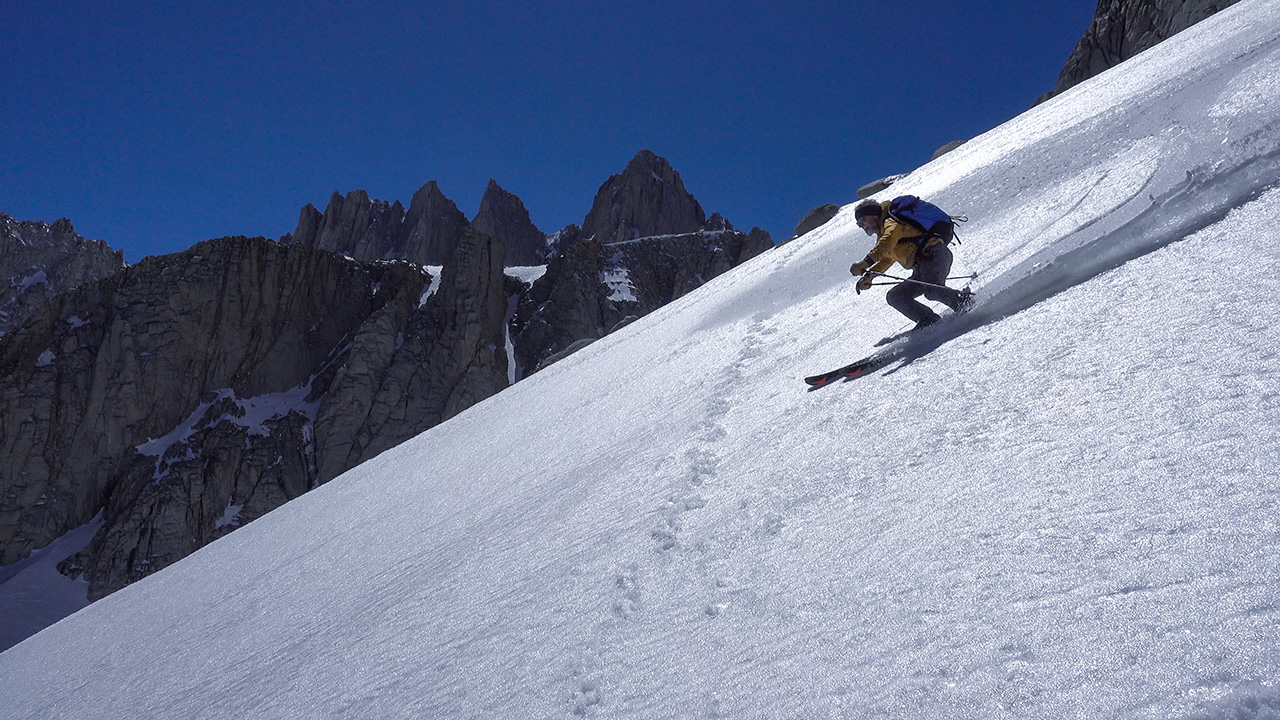 Mount Carillon's southeast face was supposed to be just an incidental snowfield en route to California fourteener Mount Russell, but instead it turned out to be 2000+ vertical feet of perhaps the best skiing I've ever had in the Sierra backcountry.
In fact, we found excellent skiing on virtually all aspects below 13,000 feet in the Whitney Zone. A hard freeze the night before combined with warm temperatures and no winds Sunday, making for a massive expanse of perfectly-smooth, sun-kissed, slushy-velvety delight.
Apparently we'd accumulated some sort of Karmic credit with all the suffering we put in last week on The Thumb.
Whitney Zone climbers, you'll find (currently!) snow beginning at the intersection of the North Fork and the Main Trail—at least if you stay hard left while ascending. The willows are completely buried in the upper half or so of the North Fork drainage below Lower Boyscout Lake, meaning you don't have to fool around with the Ebersbacher Ledges.
There is a considerable boot pack en route to the lakes and the Mountaineer's Route. Whitney traffic in April must have been immense. Again, at lower elevations everything seemed wonderfully consolidated. The snow bridges are obvious and easy to avoid (for now!).
Higher up, say above 13K, the snow remains in transition, especially on the big north faces. We skied a dramatic line on Russell's northeast face, just below the east ridge. The snow was high angle and quite tricky. But that's another story...
— May 2, 2017
Andy Lewicky is the author and creator of SierraDescents
Dan Conger May 2, 2017 at 9:09 pm
JEALOUS!!!!!
Brad Brown May 3, 2017 at 12:28 am
Was this multiday or laps? Well played in either case. Just back from MM, timing couldn't have been better. I couldn't leave until Saturday night but as it turns out the top was reportedly boiler plate that day, may explain your Thumb fun- just needed to be a little more spring!? Pretty much everything was in play Sun/Mon though. I'd say still transitional snow from recent storm but warmer temps have soften it up nicely if a bit thick on the ungroomed aprons. Got reacquainted with my old friends Drop Out and Wipe Out. We need to convince management to set up a BBQ and Porta-Potty so you can camp at 23 all day. Nice to report that at nearly 66 these chutes are still fun- with a little pucker factor.