Mammoth in June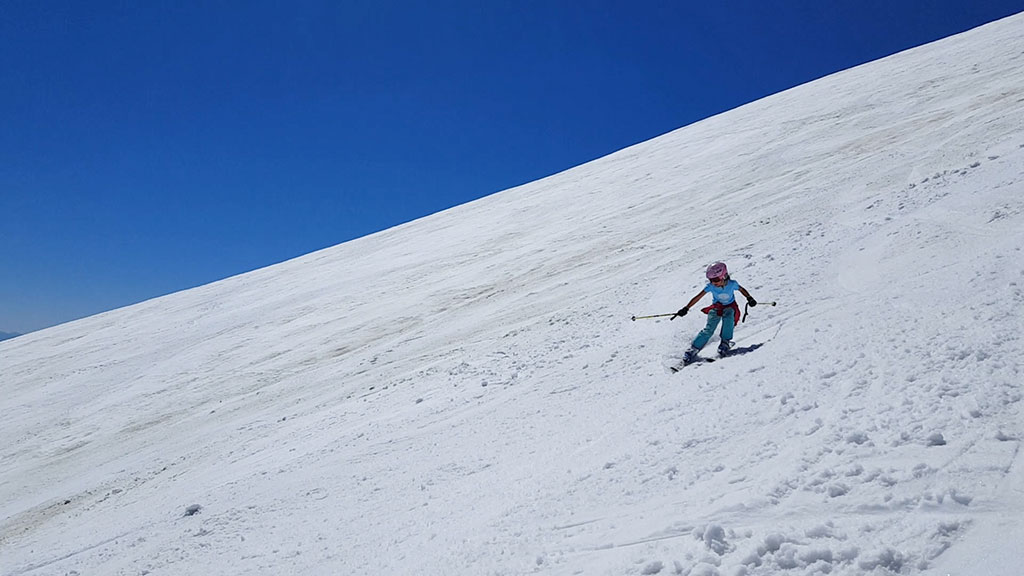 There's no end in sight to this season of spring skiing delight at Mammoth Mountain. June conditions are clearly as good as they've been since 2011, offering groomed racer crunch everyday at 7:30 a.m. sharp, transitioning rapidly to slurpy corn snow goodness, no sugar added.
I just don't know how we're supposed to resist such excellent skiing, even if it is summer. Forget hiding skis and boots in the closet or garage. Give me the upper mountain on a day like this, and I say skiing is the ultimate summer sport—it doesn't get any better.
And it's just going to keep on going.
If you've been waiting, this is the year to ski your first July. Heck: get out there now. Mammoth remains fantastic, with outstanding base-to-top coverage all over the western mountain. Bring your sunscreen and your shorts and enjoy Sierra spring skiing at its finest!
— June 17, 2017
Andy Lewicky is the author and creator of SierraDescents
Brad Brown June 20, 2017 at 1:15 am
Hands forward: check
Eyes Dowhhill: check
Angulation:check
Agressive attitude: check

That's some fine coaching Andy! Tell her I'm proud. Your killing me with these tasty reports for us lift assist guys. Missing going up there. June/July are common enough for all long at MM but thinking at the very least an August trip is in order since that train might not stop at my station anytime soon.