Will There Be Snow, Cont'd…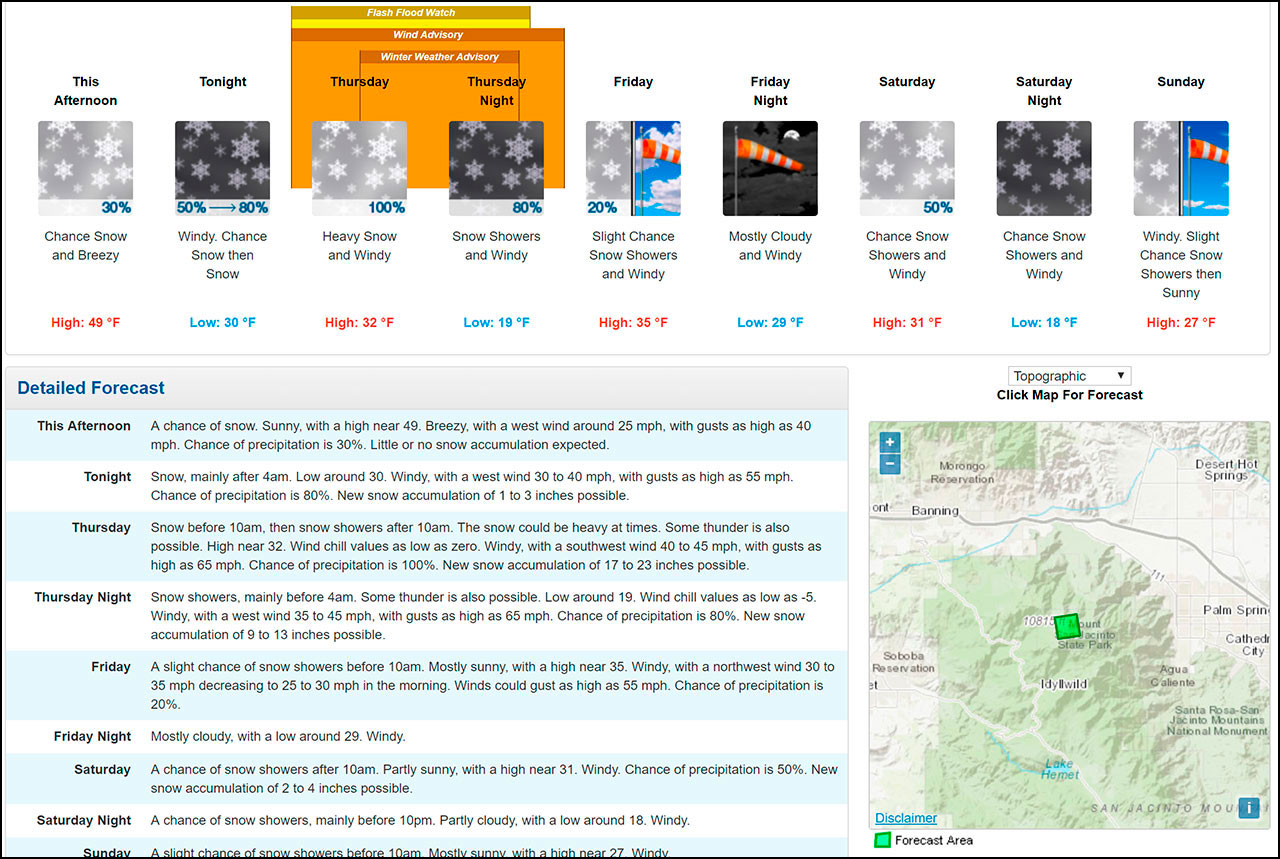 I hesitate to call attention to this in case it's just a figment of my imagination, but there does appear to be a little bit of snow in our forecast—maybe even enough to put the local mountains in play by the weekend?
You're looking at NOAA's 7-day point forecast for San Jacinto Peak; it's been a while since I've seen numbers like these for anything in our area.
Up north, at least one source has Mammoth for 5-7 feet (yes, feet!) of snow by Saturday. Also, Howard says a possible significant AR could hit the following week. So there you go: possibly some good news in the forecast. Stay tuned.
— November 29, 2018
Andy Lewicky is the author and creator of SierraDescents
Dan Conger November 29, 2018 at 3:18 am
We're heading up to North Lake Tahoe this weekend to play!
Wesley Moore November 29, 2018 at 4:46 am
GAWD Pls, just moved to Socal from Mammoth hope I can play in the local mtns. This weekend...
Rich Radenbaugh November 29, 2018 at 8:57 pm
Hey Andy, I was planning on checking out SJ on Sunday but I am weary of the wind...Any insight on 20-30 mph winds up there?
George Karpouzis November 29, 2018 at 9:39 pm
As of now the local mountains got about an inch of snow at the 8000 foot level. You can see this on the cams
Andy November 30, 2018 at 12:40 am
Rich are you worried about the tram shutting down? I think it depends on wind direction (maybe north?), and I don't think it happens that often. The east face approach is otherwise fairly wind-sheltered, so if the tram is open I don't tend to worry about wind.

I don't think as of Thur night they've gotten enough snow for good skiing, but a lot could happen between now and Sun.
Dan Conger November 30, 2018 at 2:36 am
Update ... they are measuring the snowfall in feet in the Tahoe region. We're gonna have a great Saturday!
Wesley Moore November 30, 2018 at 12:01 pm
Dang wonder if SJ will pop this weekend...... may need to drive north.
Joseph G. November 30, 2018 at 4:33 pm
about 4 inches fell on the long valley cam!
Wesley Moore December 5, 2018 at 5:11 pm
Anyone think SJ will be skiable tommorrow?? Anyone wanna link up? Drop me a line if so wamoore@puc.edu
Andy December 5, 2018 at 5:32 pm
I am thinking San J as a possibility for the weekend, but the precip forecast looks more favorable for the San Gabriels (especially) and the San Bernardino Mts. Have not heard any reports from the Baldy area--may still be too warm for a base to develop.
Rich Radenbaugh December 7, 2018 at 1:42 am
Thanks Andy, yes i was worried about the tram shutting down. Precip died off so i didn't head up there. I may try for Sat or Sun depending on tonights accumulation. What's a good starting ref.? 1'-1.5' at the top of the tram? Been watching it for years but I never know when to pull the trigger...
Andy December 7, 2018 at 2:33 am
As a general rule, if Mt. Baldy is open, SoCal backcountry in the three big ranges is open for business. Baldy just announced they got 15" of snow and are considering a Thunder Mt open for Saturday...so there you go. :)
dk Wurlitzer December 7, 2018 at 5:24 am
Will there be snow?

By early December, 2018, December 6th to be precise, the answer to the eternal question, "Will there be snow?" appears to have been provided to Southern California skiers. And that answer is YES.

Not only has Mammoth, the big mountain Mecca of Southern California's powder hounds been the recipient of the most snow in the lower 48, nine feet to be precise... https://youtu.be/NcxA4xyA66w , but by that same date the local hills of SoCal, Mt High, Bear, Baldy, etc. have been graced with close to two feet of the white stuff.

Smart weather geeks had been predicting a somewhat warm and dry start to the 2018 season in "the west", but who knows? For SoCal skiers, with a little luck, and I'd rather be lucky than smart, the winter of 2018 may just turn out to be the stuff that dreams are made of.