Early Season Sierra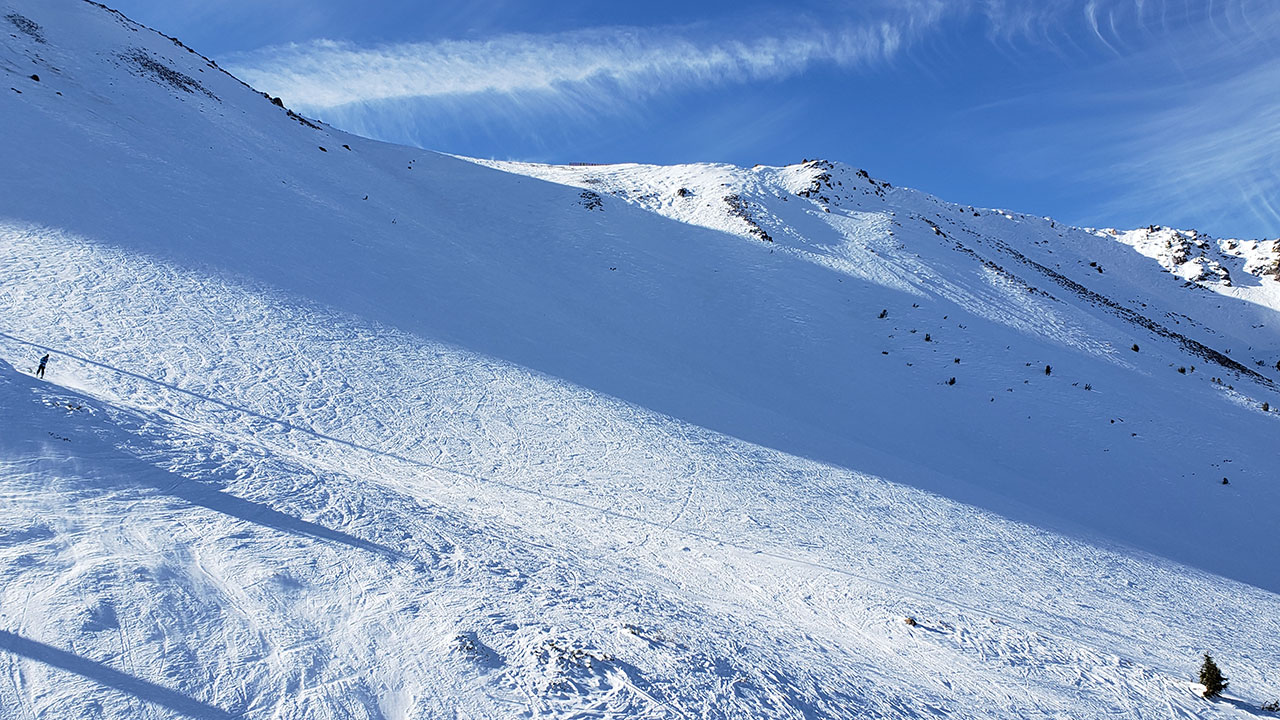 As Christmas nears, things look thin-ish along the 395 corridor from Lone Pine to Mammoth. Certainly there is snow to be found, and some skiable backcountry lines, but not a great deal of either as yet.
One exception might be Mount Tom's Elderberry Canyon, which looked excellent. Nothing else along the 395 really caught my eye, though the Southern Sierra has a notably extensive (but again, thin) snowpack. In the Mammoth region, thin again; Sherwins at the margin, the Lakes Basin looking like the better option.
In-bounds, Mammoth enters the Christmas week with, yes, thin coverage but good skiing. Currently a Christmas storm is forecast to put a solid foot on the mountain, which it will absolutely need to survive the holiday traffic.
Here in SoCal, Snow Summit shows both The Wall and Log Chute Lower as closed, and Snow Valley is ambiguously open-ish, which means we're in yet another snow-challenged SoCal winter. Having said that, on the drive home yesterday, Mount Baldy's (San Antonio's) north face looked huge—completely filled in.
So, if you're in the mood for a lot of walking, you can hike from Manker Flat to the summit of Baldy, ski down the north face (assuming it's not icy or unstable), hike back up to the summit, and then hike all the way down to Manker Flat. Gorgonio another option, or maybe explore along the Waterman area and see if the snow line is low enough to make for skiing.
Some light snow appears to be in the 7-day; otherwise, no guidance in the long range other than it's either going to be a wet or a dry one.
— December 23, 2018
Andy Lewicky is the author and creator of SierraDescents
Jacqueline Doiron December 25, 2018 at 3:19 am
is this report from 2018
Jacqueline Doiron December 25, 2018 at 3:22 am
I got it. It tis!!
Brad Brown January 1, 2019 at 1:17 am
A sneaky little back sider dropped 5" (yeah I know, an hours worth at Mammoth) on Xmas, made for some nice turns on a partially opened Summit Thursday. The extra snow fall combined with cold temps made for a flurry of man made snow resulting in opening all the important runs on the eastern 1/2 including the Bowl as of now. Huge since this has been rare the last several years, excepting 2017. Bear Mountain has opened Geronimo, podium finish in the So Cal vert/sustained pitch category.

Early January is historically dry, only 1 rain out on Rose Parade in north of 100 years, though rumor has it an atmospheric river is inbound. If so, pray for 7000' snow level. . BTW from the top of SS the entire 10,000' ridge from San Bernardino Peak to SG looked covered down to below 8K. Even Sugarloaf Mountain near BBL looked covered. Were past due, pray for snow.
GK January 14, 2019 at 4:48 pm
Where's the update!
We got a big storm week
Bill Adams January 14, 2019 at 9:20 pm
Last 2 weekends at Bear has beenas finas! Ikon pass for the family means were skiing mostly Bear and Summit locally this winter. Went off piste Geronimo - east side. Few nice turns folowed by a miserable drainage slog back to resort.
Bill Adams January 14, 2019 at 9:22 pm
PS. Weatherwest Dan Swain forecasting long period of warm high pressure returning this weekend. Nooooooo!