A SoCal Storm Cycle (Updated)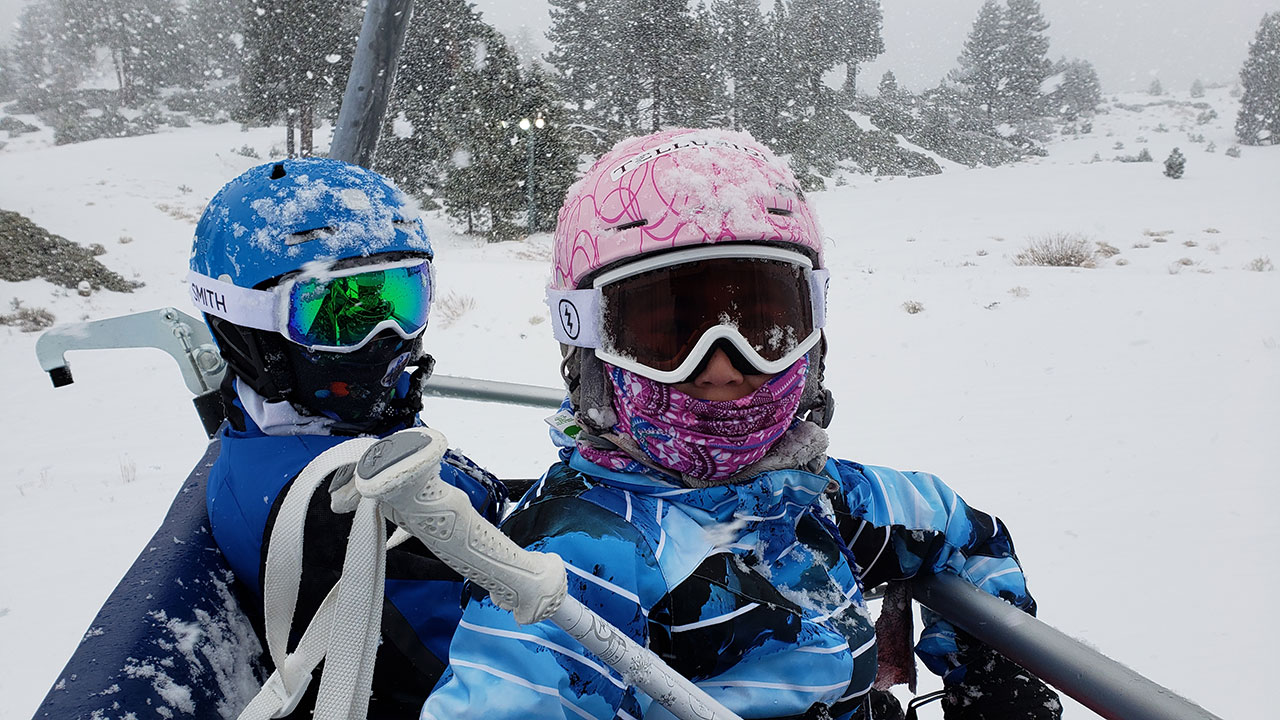 Happy January everyone we have a bona fide SoCal storm cycle on our hands. Once upon a time a normal Southern California winter featured not one but several of these—and in wet winters, waves of storms like these could crash through all the way to March.
Well we'll take one, at least, and hope for another, though the long range is hinting at a long period of warm and dry after this week ends.
We skied Snow Valley today. Did you know your Snow Valley season pass gets you three days at Mount Baldy and Mountain High each (albeit with some ambiguous blackouts). I didn't. That makes it a screaming deal for my family, as those Baldy dates are suddenly looking like a very hot item indeed.
Today was just great—we had an easy drive up the 330 because it didn't start snowing until we got our boots on. Then the snow hit, with a nice punch that made for silky smooth fresh turns run after run, till about mid-afternoon, when the storm paused for a bit.
I haven't skied a SoCal resort in a storm for a long time. I had forgotten just how wet you end up getting. :) But what a treat it is to get a midweek day in fresh snow with no crowds.
I find myself a little puzzled about the way the storms come in these days. I seem to recall these big winter storms used to just hammer the local mountains, dropping multiple feet of snow per hit. Nowadays Snow Summit counts eight inches on the ground as a big day.
Is it that the snow level is just that much higher now, or has something changed with how the storms and the mountains interact?
Maybe someday I'll capture Daniel Swain and get him to reveal all the mysteries of our changing SoCal winters (though that would probably not be an uplifting conversation).
In any case, you probably want to know what the heck is going on in the SoCal backcountry. Looking at the forecast, I say we're open for business in all three major ranges above 8K feet, and I'm going to further predict that, almost regardless of what happens after Friday, we will have skiable snow in the local mountains through April.
So, by modern standards, this is looking like an excellent SoCal winter.
Enjoy but please be safe! You will face a variety of significant objective hazards over the near and longer terms, including especially road hazard during this ongoing storm cycle, but obviously avalanche threats on all major slide paths, which are seeing dramatic loading under current conditions.
Remember also many of our avalanche fatalities have occurred in seemingly-innocuous terrain traps just out-of-bounds from local resort chair lifts. And finally, with dry spells come heat waves, which mean you'll want to watch for wet slides and then ice on those steep faces as the season develops...
UPDATE 01-17-19: hearing really bad stories from the Baldy Bowl area—rain destroying the snowpack all the way to the 10K summit as of yesterday, which was before the main rain event last night and today. Don't know what's out there now. Expect massive stability and ice issues throughout the SoCal backcountry for the near term at least. Ice could be brutal once things clear and night temps hard-freeze...that's a warning to all you weekend BB mountaineers/club climbers as well...do not underestimate dangers of a 40° skating rink...maximum caution advised or just stay home until things settle...
— January 15, 2019
Andy Lewicky is the author and creator of SierraDescents
george January 15, 2019 at 6:51 am
Cute kids. Skiing through April...that sounds a little optimistic
Andy January 15, 2019 at 3:11 pm
Not at the resorts--but I predict we'll have snow on the big north faces into April and maybe even May.
GK January 16, 2019 at 12:13 am
Thanks for the update. I skied Mt. High today. Wasn't too bad for socal as all of the west resort is open. East is basically ready to go but for the bottom third.

Local mountains are expecting about 6-12 inches from tonights storm, but the big bummer is happening on wednesday/thursday as the storm will tap into subtropical moisture and raise the snow level above 8000 feet!
Isaac Tait January 16, 2019 at 8:47 pm
I was out at Snow Valley Monday and Mt. Baldy Tuesday. I wrote up a TR on my blog if you are interested. Hoping the warming trend next week does not last too long.

http://www.macadamgrinding.com/skiing/
Bill Adams January 22, 2019 at 11:12 pm
Yep, definitely noticing higher snow levels.