Baden Powell From Inspiration Point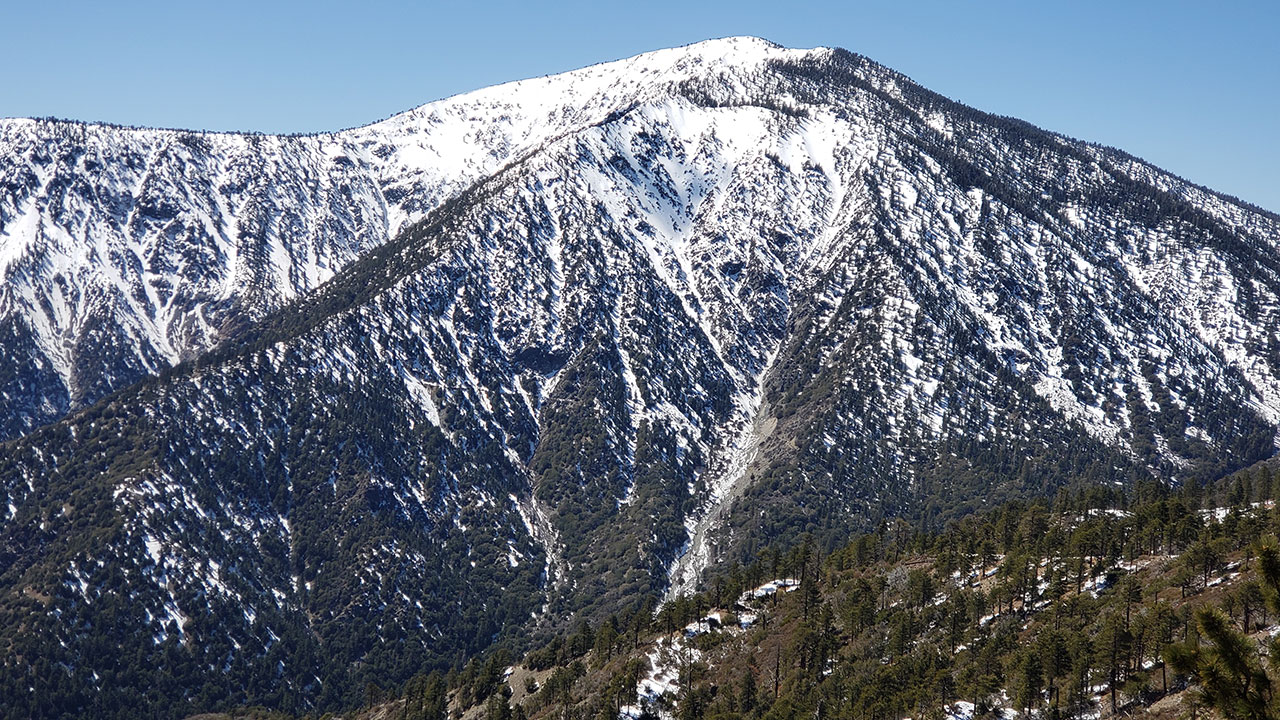 Here's Baden-Powell from Inspiration Point just past Mountain High on California Highway 2. BP's east face looked terrific yesterday up high, but coverage drops dramatically even a thousand vertical feet off the summit.
From Inspiration Point I got a good look at Mount Baldy's north face. Coverage here looks very impressive, but alas that north face is currently a great big gleaming wall of death. It looks super-hard up there—bulletproof ice.
This has been a challenging and in some ways disheartening winter. Yes, we've had a fantastic run of winter storms, plus a long string of sub-70° days downtown. But that has not translated to anything remotely resembling an epic winter in the local mountains.
Conditions are generally...o.k. It's mid-March and all our local ski areas are still open, which qualifies as noteworthy these days. In the backcountry, there is good coverage at upper elevations, but throughout the SoCal ranges ice remains a huge story. I have been pondering whether it's actually icier than in the past, or if my tolerance for ice has just diminished.
Either way, you'll want to be 100% sure of what you're going to find before you drop down onto any suspect aspects. More rain is in the forecast this week, which is only going to make it icier. At some point we'll get a corn cycle to make those big north faces skiable, but it may take a while...
— March 18, 2019
Andy Lewicky is the author and creator of SierraDescents
Matt D March 18, 2019 at 6:05 pm
I hiked to Will Thrall Peak a week ago and it was bulletproof on north aspects. East/northeast that had been in the sun were decent though.
Will Tacy March 18, 2019 at 6:49 pm
Got a few laps on N face of Sugarloaf yesterday. The road in is muddy, but started skinning at the trail head. Conditions off the top were okay - a few patches of crust but overall not bad. Down low, it was very wet and gloppy. Still, a fun day and absolutely beautiful.