Mountain High East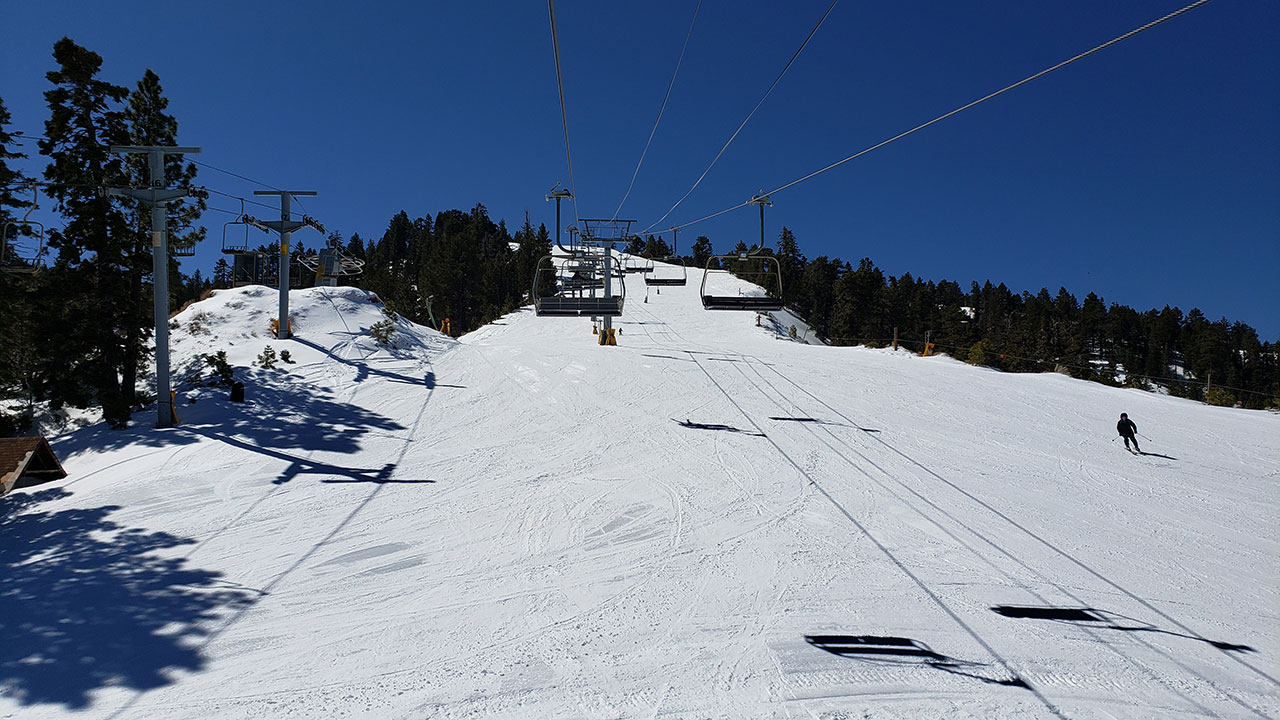 I knew I loved to ski Mountain High East, but I had forgotten why: MHE offers by far Southern California's best intermediate/cruiser skiing, reminiscent of Colorado groomers, with open, rolling terrain that goes on and on thanks to a hefty 1600 vertical foot drop.
That vertical drop, by the way, exceeds Bear Mountain's effective skiable—you get to plunge all of it in one blazing rush—giving Mountain High East the best top-to-bottom vertical of any Southern California ski area (Mammoth excluded, of course), all of it nicely serviced by the speedy Gold Rush express quad so you can lap yourself silly.
Coming from the city, MHE is also a much faster and easier drive than the Big Bear resorts.
With so much going for it you'd think this would be one of the gems of Southern California skiing, but alas Mountain High East has a crucial weakness: a base elevation around 6500'. That lower base has led resort management to focus on defending Mountain High West (with a much higher 6900' base). And so Gold Rush is now well on its way to becoming Ghost Town.
When I think of the ways climate change is affecting Southern California skiing, the loss of Mountain High East is one of the most obvious and painful examples.
This is one of our best resorts, and it was once a reliable performer (I have photos of us skiing here in May in 2005). Now it is hardly ever open, despite having a (once) state-of-the-art snowmaking system still in place.
Even with all the moisture and cold temps we've had in 2019, I think they ran the lift for a total of two weekends this year, which tells you all you need to know about MHE's future.
But do ski this one if you get a chance. From the top, you get fabulous views of Mount Baldy's north face and Baden-Powell's east face. And the skiing, for those of you who love to put on the GS boards and let them run, absolutely can't be beat.
— March 25, 2019
Andy Lewicky is the author and creator of SierraDescents
Dan Conger March 26, 2019 at 12:25 am
I have this wild fantasy of becoming a multi-billionaire and owning my own ski area. Gondola to the top of Baldy!!!
ANDY March 26, 2019 at 6:42 pm
Believe me, you're not alone when it comes to the Mad Billionaire fantasy. I've been putting lifts all over Southern California. Just need to work out how to make snow when temps are in the 70's... :)
Brad Brown March 27, 2019 at 1:57 am
Dude,
I'd pay money to see a patented Andy top to bottom vid of this joint. Seen it for many years, never sampled.

I'd note that Monday's SS trip showed surprising firmness on anything advanced or ungroomed. Surprising for 57 degree high and late March solar angle, WTH!!!? I was looking at San Gorgonio's shiny northface and had a reverie of tilted ice hockey. Good news is there a lot if ice so I'd guess corn shows before dirt time on the north facing local peaks.
Charles March 27, 2019 at 5:30 pm
That big ol' groomer looks- and sounds- fantastic.
Stunning that just a decade has had such an effect.

Thanks Brad for the ice update.
Looks like PS tramway did hit their target and will resume spinning 4/1.
george March 31, 2019 at 4:42 am
Isn't that run called "the miracle mile"?
Matt D April 1, 2019 at 8:52 pm
I skied the south side of Baldy (West Baldy area and far hikers left of Baldy Bowl) on Saturday and it was fantastic, a top 5 day in SoCal for me. Those south aspects are gonna fade fast if it stays warm though.
Andy April 3, 2019 at 2:46 am
Brad your wish is my command: https://www.youtube.com/watch?v=7OS1qicqbAk

That's circa 2009 video technology, so sorry about the wobble. Maybe drink a ginger ale after to counteract the nausea? :)

Matt we skied West Baldy's face to 7300' on Sunday. It was spectacular. I love that mountain!