Baldy Bowl Sunday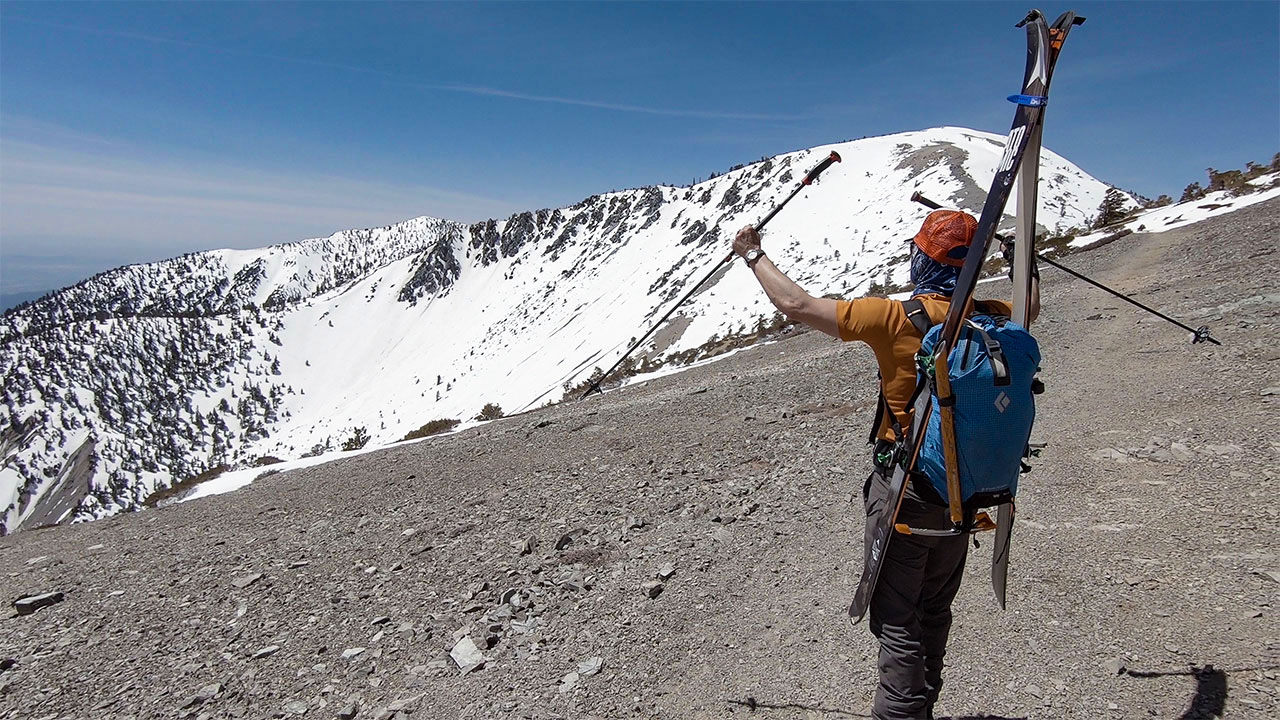 Here's Baldy Bowl Sunday, looking very tasty if a little bit burnt for the last day of March 2019. Temperatures may be warmer, but for now sun angle reigns supreme: we found good skiing on sunny aspects and crunchy crawling to the north.
So my take is until things melt out, Baldy Bowl is probably in prime shape around 10:30 a.m. provided it's sunny and the winds are behaving themselves. Things do seem to be hard freezing at night, so be aware—climbers included—that even southerly aspects are much less friendly before and after the sun hits the slopes.
Coverage is good above 9K and reasonable above 8, with the skiing ending right above the ski hut, which is typical. I will note that from the south, the San Gabriels look a lot more like the start of May (or later) than April.
Sunday was a warmish (but not crazy-warm) day in the San Gabriels, but that wasn't enough to soften the north face of Baldy enough for what I'd consider good skiing. It's a big face, and currently you can expect that a fall would be very difficult to arrest, at best. That's likely true for both San Jacinto and San Gorgonio's north faces as well.
As for the chutes, they looked pretty much done for the year. Rock fall season has kicked in, so things are junky in all the Baldy Bowl favorites, and of course be mindful of rockfall whenever you're below the big rock band—those rocks can spin a long way like a buzzsaw.
That's the update for now. More on last Sunday to come...
— April 3, 2019
Andy Lewicky is the author and creator of SierraDescents
Sam April 4, 2019 at 8:19 pm
Awesome, thanks for the beta, Andy! Do you think this coming Sunday's very warm forecast will be warm enough to be conducive to giving the North Face a go?
Wesley Moore April 5, 2019 at 2:53 am
You think Baden-Powell is any good?
Andy April 7, 2019 at 8:03 pm
BP's east face looked like it was melting out pretty quickly as of last Sunday. I'm sure there's snow on the north face and in the big north gully, and will be for a while.
Jake Schulz April 11, 2019 at 3:10 am
Hi Andy,
We are thinking of skiing the West Face this Sunday. Do you think there is enough coverage in the area? Is it worth making the trek? Any other routes instead you recommend?
Thanks