Winter Up High, Summer Down Low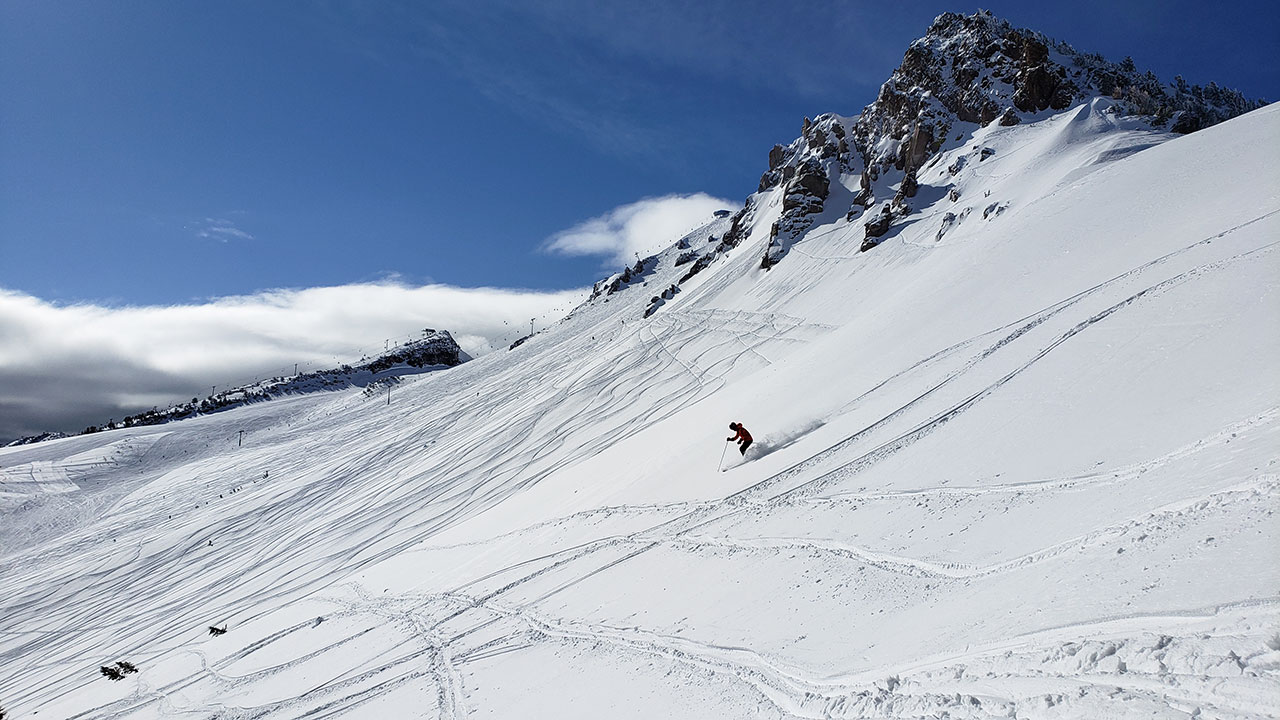 This was by far the snowiest Memorial Day weekend I've ever skied at Mammoth Mountain. It looked and felt like winter up there, and for good reason: Mammoth set an all-time record for snowfall in May at Main Lodge, with 29" and counting.
Looking toward the Ritter Range and the Tioga/Yosemite area, the snowpack above 9K or so is truly stunning.
Presumably especially in the Mammoth bulls-eye, all that May snow has smoothed out the sun cups, making for excellent late-season backcountry conditions. Drop below 9K, however, and you'll very quickly find yourself in back in Summer.
In-bounds, Mammoth has now committed to turning its lifts into August, so however you play it, the season looks far from over. That said, as you head south, the Sierra looks quite a bit thinner, even up high.
South Lake to Tioga is probably the sweet spot.
I love this photo because the day started out pretty bleak and gray. The upper mountain was closed, and I was grousing to my friends about how the problem with Mammoth is that the storms always linger—they never clear out to bluebird and windless.
And then the storm suddenly cleared out and it was bluebird and windless. And the upper mountain opened. Hey, it wasn't the most fantastic powder ever, but it sure was beautiful. And we're going to August.
— May 28, 2019
Andy Lewicky is the author and creator of SierraDescents
Dan Conger May 29, 2019 at 2:17 am
I wasn't able to get up and make a single turn this winter. Maybe summer corn is in my future ...
Brad Brown May 29, 2019 at 10:22 pm
Dan, Dan, Dan...this cannot be. 19 days and counting...I've never missed a season yet despite economy, parent to 3 kids in 11 months (twins + 1), death of mom, death of eldest son, wife with severe MS++, run my own biz,.... There are times when I've felt so low that but for the thought of a turn I might have punched out. After 48 years on the hill (started when I was 20) there has been this one constant North Star. What ever you think is important will still be when you return, but you will be better for tasting the sustenance of the turn.

Nice report Andy, truncated summer hiking season it would seem, but got me some plans! Looking forward to first time June skiing on Father's Day!
Andy May 31, 2019 at 2:17 am
Brad I like that plan!
Dan Conger June 3, 2019 at 1:39 am
Brad, you are wise. With the current report coming back at 202% of normal snowpack and Mammoth staying open until August, I think I'll probably make it this season.