Return to Dana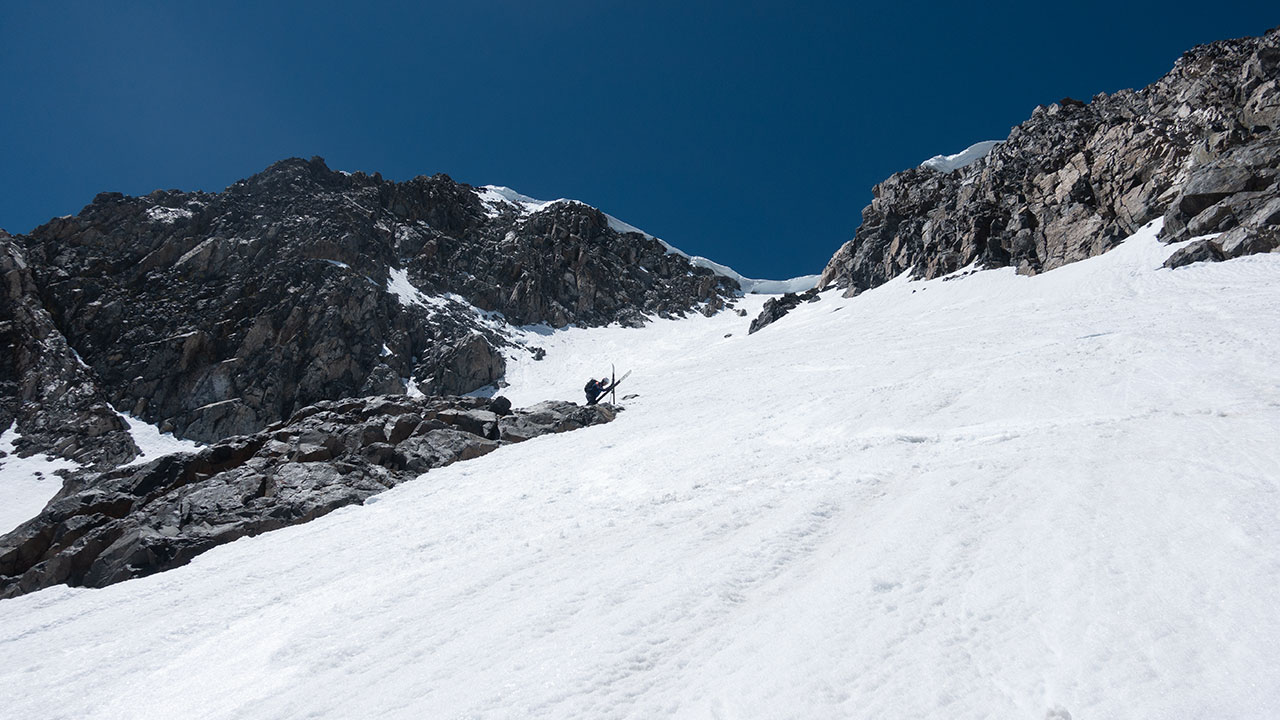 With Tioga Pass Road now open to the east Yosemite gate (and intermittently all the way through to the Central Valley), this past weekend seemed like the perfect time to revisit Mount Dana.
I last skied Dana in June 2011, capping off a year which was in some ways the high water mark for my Sierra ski career. Going back all these years later was like a reunion with a long-lost friend—both wonderful and bittersweet.
Hey—I learned something this past weekend. We can't trust 2011 Andy.
His risk-o-meter that year was wildly skewed. I recall thinking Solstice Couloir was a total cakewalk. This time around I thought the upper section of Solstice was steep, and getting up and down the cornice was quite a bit more exciting than 2019 Andy would prefer.
We started just west of Tioga Lake, crossed the marsh, and then went up Glacier Canyon. In 2011 we skinned up on snow right from the lake, but this year, things are a lot warmer down low. Aside from some intermittent patches of sun cups, there isn't much snow in Glacier Canyon until you get all the way to Dana Lake.
Ascending via the hiking trail and the northeast ridge probably makes more sense now, unless you really like scrambling over talus in ski boots.
Dana is such a cool peak. The north and south duo of Solstice and Dana couloirs really are spectacular—big, bold, beautiful descents that are among the most classic lines in the Eastern Sierra. I envy those of you who ski this area more often.
Both Solstice and Dana couloirs complement each other perfectly. Do Solstice first, so you get on that slope early, before the snow gets too soft (and the cornice too unstable). Then track over to Dana Couloir, which sits in shade until about noon. Though Dana's steepness is comparatively more mild, the line does feel exposed, so be mindful of your timing and watch for ice.
Atop Dana I enjoyed a magnificent summit panorama, then caught Dana Couloir in very nice condition. Interestingly, while I was on the east ramp above the couloir, someone skied Dana couloir completely naked—as witnessed by my unfortunate skiing partner Matt, who was climbing the couloir at the time and initially thought the skier was wearing a skin-colored jumpsuit. But no.
I heard Naked Guy whooping and hollering in the distance, but otherwise had no idea what was going on. Matt said the guy lost his ski in the upper third of the couloir, but apparently didn't blow up. To Naked Guy, whoever you are, I salute you, particularly for your keen sense of timing. Though perhaps the Universe is trying to send you a message?
In any case, I do have a surprise for all of you: a Sierra Descents treasure hunt! I lost my beloved GoPro Hero 7 Black someone in the dreaded talus fields below Dana Lake. If you can find it (it's in a small gray bag), it's yours. Good luck...though I suspect it has found its final resting place.
— June 24, 2019
Andy Lewicky is the author and creator of SierraDescents
Matt D June 25, 2019 at 8:45 pm
How much longer do you think we have to hit Solstice and Dana this year? After an awesomely cool/wet May it feels like summer is really here now.
Andy June 25, 2019 at 10:34 pm
Matt for Dana Couloir it's just a question of when the snow finally turns into ice. I'd guess that's at least a few weeks away. Solstice looked pretty full to me, so I think that will be skiable for a while also.

The only problem is the approach, which is (or will soon be) dry the whole way.
Jonathan L. June 26, 2019 at 7:24 am
2011. The great Doug Nidever put me in on rappel. Wouldn't let me let me drop the cornice. And watched him lower in on a bollard. The mountains bring you many gifts. I drove down to Lee Vining afterwards, sat on the edge of the bed at some terrible motel and fell asleep at my shells. Woke up and every restaurant in town was closed Good times. I ate a power bar from the gas station. And couldn't be happier