Sierra Snowpack Update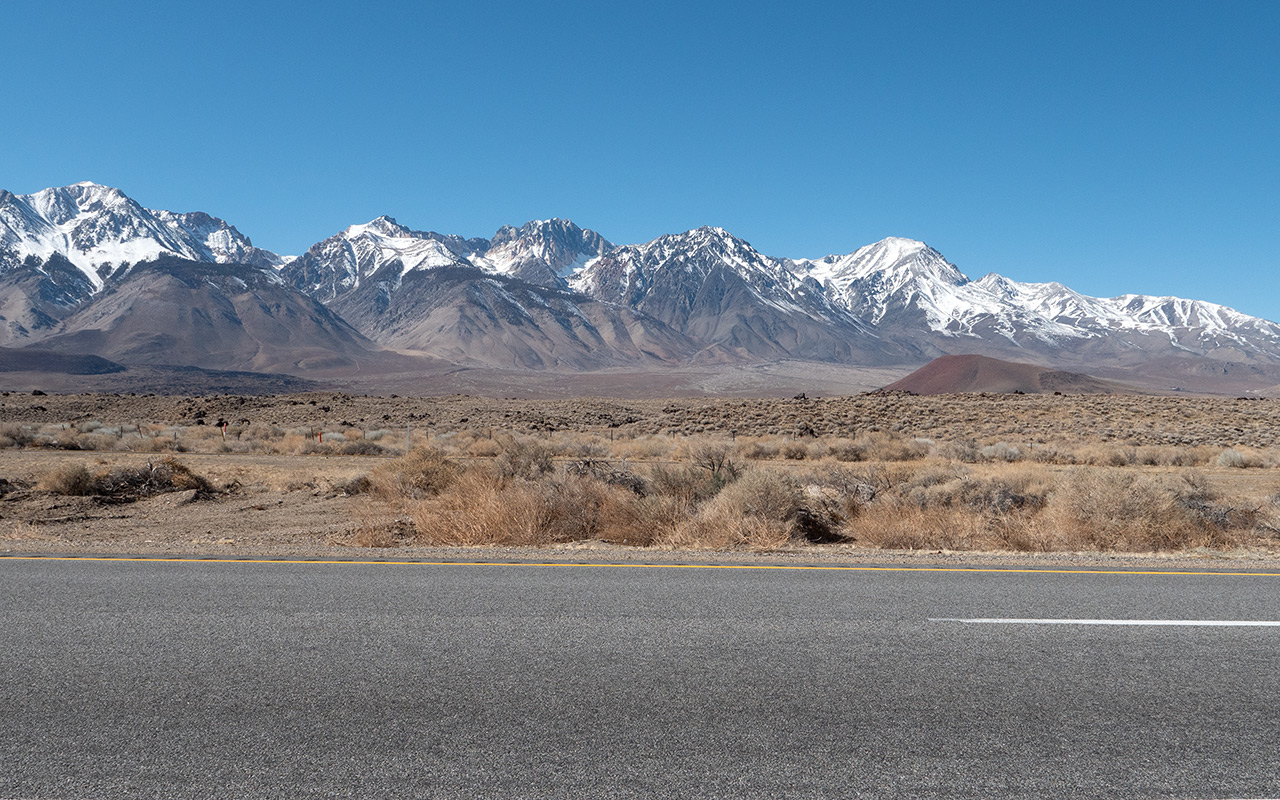 We were off to such a good start this winter, but the storm spigot closed essentially at the end of December, and a month and a half of dry weather has now taken its toll.
Here's Birch Mountain and the Sierra skyline along the 395 this past Monday. Given our strong December, I'd been hoping things would look a little better, but the snowpack is quite thin (and the snowline high) all the way to Mammoth.
You'll find skiable snow in protected north-facing locations here and there (Bairs looked doable; so did Elderberry Canyon), but we are otherwise veering back toward drought across California. Southern Sierra snowpack is now well below average and we remain in "pattern shift in two weeks?" mode, as we've been for the past six weeks.
San Jacinto saw around 10 inches of snow this past weekend, and snowpack looked solid above 8K feet in the Waterman region as I was driving home yesterday on the 14 freeway, so at least locally we are no worse in the SoCal ranges than farther north in the southern Sierra.
As for Mammoth: they're hurting. The Mammoth bullseye looks remarkably bare right now. Bloody Mountain is almost bare. Conditions have deteriorated at the resort such that they've started grooming over rocks. The upper mountain is icy and mean: wind-scoured snow with wind-embedded rock chips and lots of rocky spines. I was reminded, I am very sorry to say, of our drought winters a few years ago.
On a more positive note I was able to try a double handful of skis at this year's WWSRA trade show. Expect reviews to start appearing here in the next few days. That is all.
— February 13, 2020
Andy Lewicky is the author and creator of SierraDescents
Ethan Ayer February 13, 2020 at 3:08 pm
Looking forward to reviews! I watched one yesterday after googling the Faction Agent. In the market for a touring setup. did you have a chance to try any?
Andy February 13, 2020 at 4:15 pm
Given existing conditions and my reluctance to test skis using my F1's, I did not try any specific touring planks, but much of what I tried does have touring variants or versions, so that should help you pick skis of interest. :)
Ian B February 16, 2020 at 7:03 pm
Ive heard reports of descent coverage on the northern aspects in the San Gabriels. Im heading up to Baden, or possibly Throop on Tuesday. Will report then
Ethan Ayer February 17, 2020 at 8:24 am
@ Ian, I saw recent trip reports of good coverage in Baden Powell in the gullys and some decent snow in overall variable conditions. I'm assuming that had to do with the trees and gullys trapping some of the recent snow fall that got blown all over the place. I would have checked it out, but I'm waiting on a replacement heel on my binding. Also, San Gorgonio looks good from views from Bear.
Mark Jiroch February 17, 2020 at 12:30 pm
Did a skin-and-ski from Onion Valley out towards Kearsarge Pass on Friday. Had to take off my skis once or twice due to lack of coverage but great corn and pockets of powder most of the way. Definitely much thinner than last year at this time though.
IAN BRYANT February 20, 2020 at 9:52 am
We had a great time on Baden Powell this past Tuesday, 2/18. Nearly blue bird skies, some high passing clouds. Temps in the high 40's low 50's. No wind but a light breeze out of the Ease-South East at the summit. The parking lot had all but two vehicles and we didn't see a single other person the entire day. Snow was found within the first ⅛ mile on trail, and we snowshoed our way up to summit within 3 ½ hours. Coverage was surprisingly extensive and deep. Some sections of the ascent were nearly waist deep judging from those who'd boot packed it, poor souls. Surface conditions were somewhat varied, a pleasant mix of firm but forgiving aspects, velvety glades, wind loaded "powder" and no ice!! We came down the NE gullies and literally unstrapped on top of the Miners gulch trail. Couldn't have scripted a better day. Ill be back again maybe next weekend after this little surface low pushes through. Im seeing forecasts of up to 6" in the upper elevations. Could be a nice refresh to cover my tracks. See you guys up there.
Andy February 20, 2020 at 10:05 am
Ian thanks the report -- sounds like it was a sweet day!
IAN B February 22, 2020 at 12:16 am
https://www.youtube.com/watch?v=ZqoPORCG2cU&fbclid=IwAR2EFvhPqZeOg3nkM2A-SLz0SYiX2x_FtXYuKe3oC-K0VOy8nHXLkXL368o

Video of our day trip...
Dan Conger February 24, 2020 at 5:11 pm
Geez, the mountains are so bare. Fingers crossed for a miracle March.
John February 24, 2020 at 8:39 pm
Ian B - that is a great video of some mid winter L.A. back country hike and ride. Thanks for sharing.