Gorgonio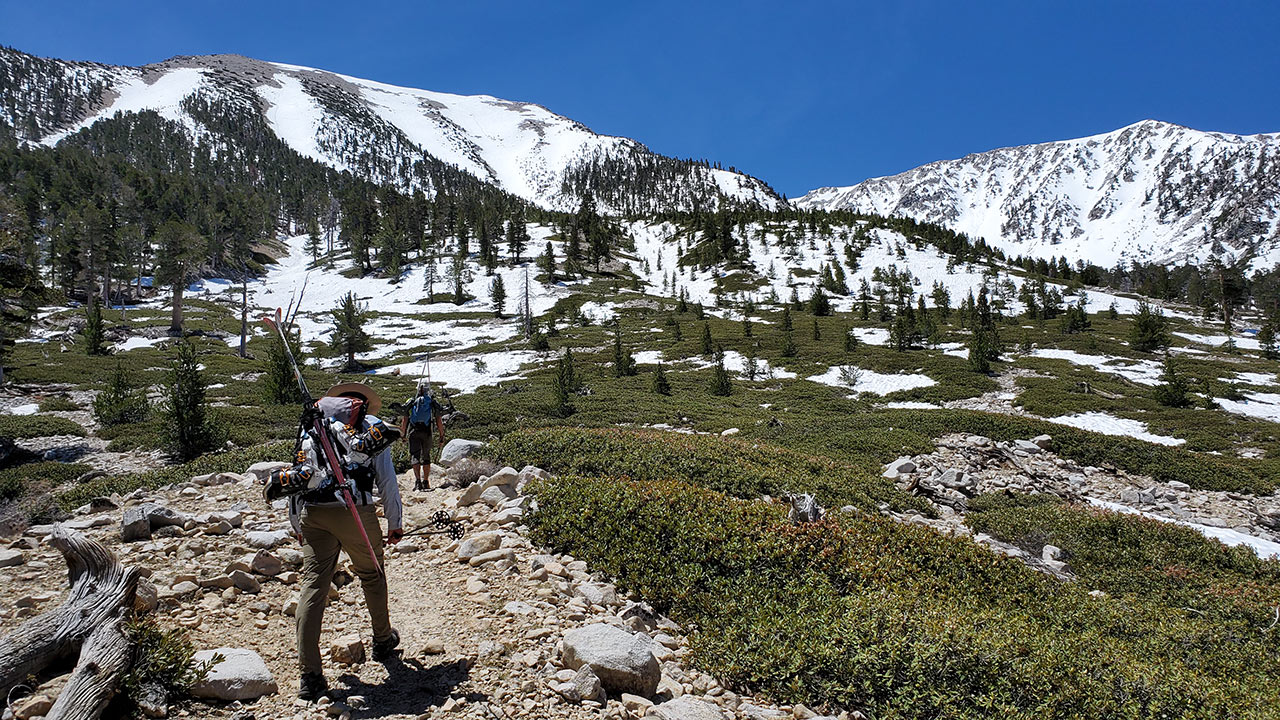 Yes, there is snow on Gorgonio's north face—but if you want it you'll have to work for it. Things were melted out all the way up to about 9400' yesterday, meaning you'll need to carry skis and boots beyond Dry Lake before snow appears.
Skiing San Gorgonio Mountain via the South Fork Trail is normally a huge grind, but this was the first time I've had to use the Dry Lake Trail to access snow (in the past we've found snow in the gullies below Charlton Peak). Going all the way to Dry Lake on foot definitely adds another level of effort to an already-big day.
Surprisingly, we saw a fair number of skiers and snowboarders out there yesterday. Conditions, once we finally got to snow, were good. Reasonably smooth on Gorgonio's big north face, with abundant coverage above 10,000 feet or so.
I expect that main snowfield will still be skiable for at least a few more weeks, though clearly we're melting out faster, circa 2020, than we did ten years ago. Check back in a few days—I should have some video for you.
— May 17, 2020
Andy Lewicky is the author and creator of SierraDescents
ian May 17, 2020 at 7:15 pm
Those heat waves sure cooked it off. I hear the ACH should open up shortly, maybe enough snow around throop to BP. Happy harvesting.
Ethan May 19, 2020 at 10:49 pm
Appreciate you posting this. Planning to head up to San G with some buddies and ski down. Glad to see there is a bit of snow left.
JB July 22, 2020 at 8:38 am
So that was your group of three on the bootpack? We bivied at Dry Lake the night before.