Parker Mesa Loop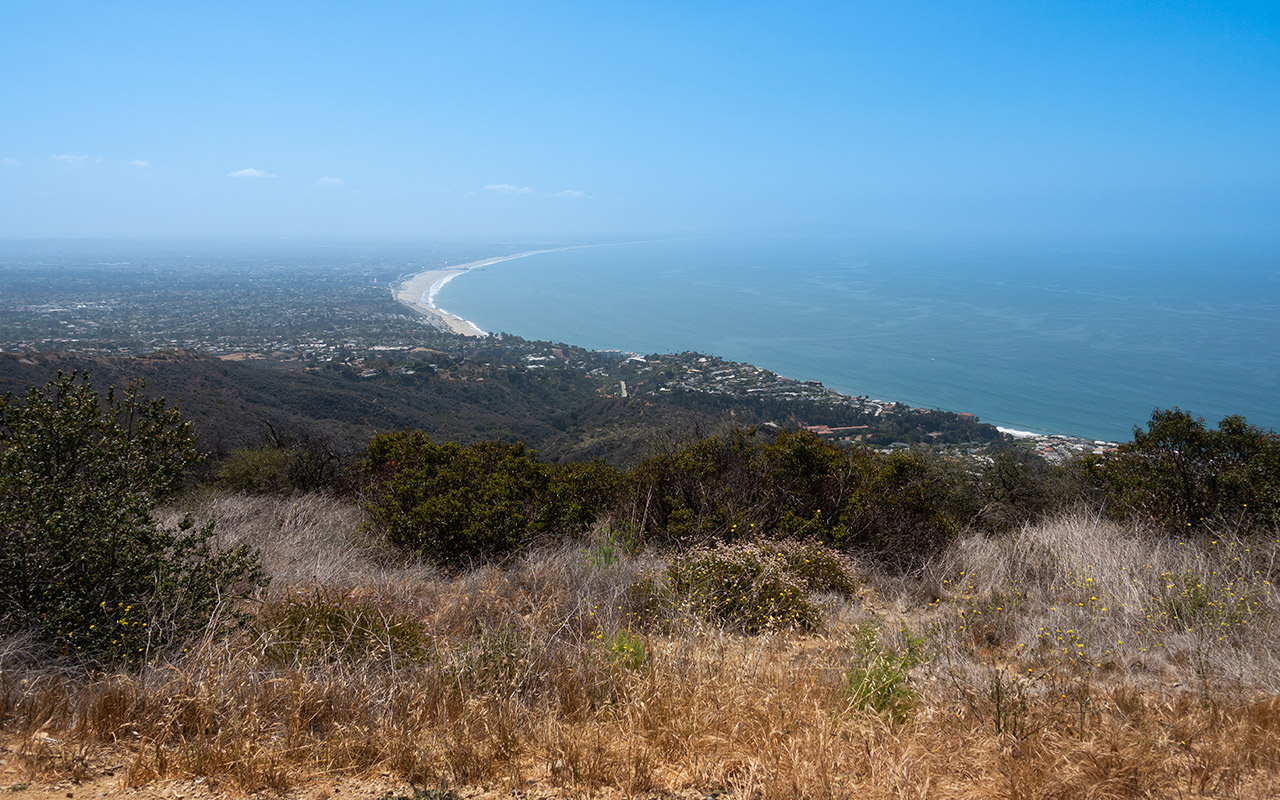 What I call the Parker Mesa Loop begins at the end of Los Leones Drive in Pacific Palisades, elevation 195', directly ascends a steep ridge via a use trail to Parker Mesa Overlook, elevation 1532', then loops around via the Paseo Miramar Trail to Paseo Miramar Overlook, and returns back to your car via the Los Leones Trail.
This is what I consider the greatest of the City hikes: a nice fat chunk of vertical to get your pulse pounding, gorgeous Ocean and South Bay views, and a big, meandering loop that gives you great shots of Topanga Canyon, Pacific Highlands, and then of course the vast sweep of the L.A. Metropolis.
If you go, be aware that the ridge section is quite loose and steep in places—possibly a bit of a scramble, depending on your confidence level; definitely better to ascend than descend, unless you enjoy glissading in your tennis shoes.
I keep meaning to do this hike in winter, post-storm, when the air is sparkly clear. Instead I always seem to catch it on a hazy spring day, but the hike never disappoints. The Paseo Trail will be busy on weekends. The ridge will be at most sparsely populated.
In addition to great views you'll also enjoy an interesting journey through several distinctly different microclimates, each with its own characteristic vegetation. Ocean fog and desert heat converge here, making this a land of contrasts. And very expensive real estate.
Note that you can easily hike to Trippet Ranch and Topanga Canyon Road if you arrange a pickup, thus traversing the great Topanga State Park. Note also that Topanga State Park is currently CLOSED AT ALL ENTRY POINTS because of the Palisades Fire. Even by the standards of pointless fire closures, this one seems particularly gratuitous and cruel. Hopefully it will be lifted soon.
— May 22, 2021
Andy Lewicky is the author and creator of SierraDescents
John May 24, 2021 at 6:18 am
A couple of other favorite hikes in that area are up to Skull Rock from Temescal Gateway park, and the hike to Eagle Rock (from inside Topanga SP) via the Musch Trail, with the easy walk back down via the fire road. But Parker Mesa Overlook has the best views of all.
Brett Beard June 1, 2021 at 12:21 pm
Glad to see you getting back out there! I hope you are able to have many awesome adventures this summer!! Brett