October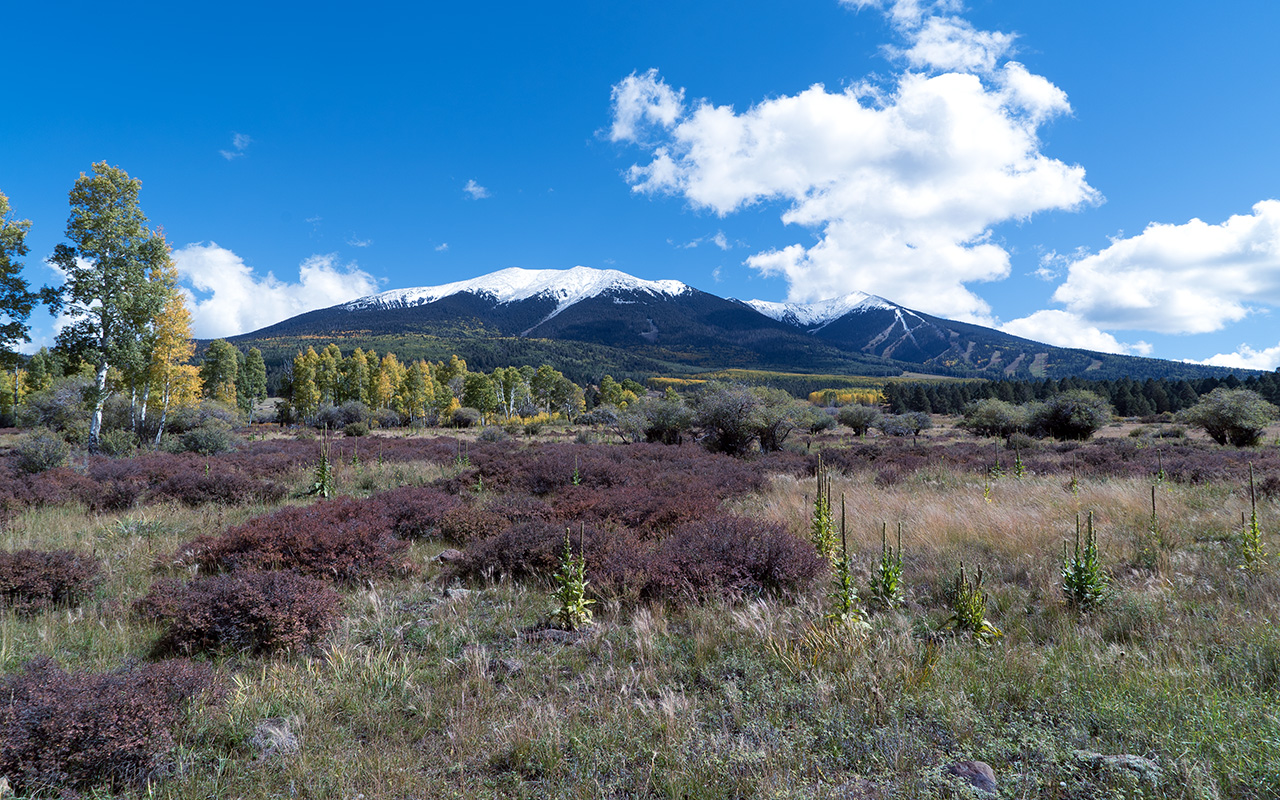 We are a touch early for the fall colors here in Northern Arizona, but it's still magical when you get just that right combination of blue sky, golden leaves, and snowy summits.
Is this the shoulder season, or is it my favorite time of year in Flagstaff—post-monsoon, lush and green, clear and cool, leaves-a-changing?
These are the San Francisco Peaks from Hart Prairie Road, looking at the mountain's west face. The Arizona Snowbowl is prominently visible below Agassiz Peak to the right, and the true summit, Humphreys Peak, is the left-most bump along the ridgeline.
The peaks are an extinct stratovolcano that may once have been as tall as 16,000'. A massive eruption/landslide some 200,000 years ago reshaped the mountain, taking it down to its current height of 12,633'.
In addition to making for stellar photography, the Peaks are a fantastic destination for backcountry skiers, with a diverse range of terrain that includes the massive slide paths of Abineau Canyon, and some very spicy cliffs and chutes on the mountain's interior.
Here's where I got my start as a backcountry skier, accessing sidecountry terrain from the Snowbowl's chairlift. In those days, 1000' vertical feet seemed like a lot of climbing. Little did I know what awaited me in California's Sierra. :)
I have a feeling I'll be back this winter to revisit some of my favorite lines. What a beautiful mountain!
— October 8, 2021
Andy Lewicky is the author and creator of SierraDescents
Dan Conger October 8, 2021 at 3:55 pm
Why don't they put lifts all the way to the summit? Would give so much great access to more terrain.
Milo October 8, 2021 at 4:27 pm
Beautiful. A cloudy crystal day here in SoCal right now too, with that classic post rain fall-ish smell.
Matt d October 11, 2021 at 7:52 am
Wow that's gorgeous. I'm imagining an alternate universe where a 16,000' Humphrey's Peak is the tallest mountain by far in the Lower 48. Maybe you dodged the bullet on that one ;)
Bill November 2, 2021 at 8:19 am
Beautiful photo. Wow, that's a lot of snow already at the higher elevations.