Kratka Ridge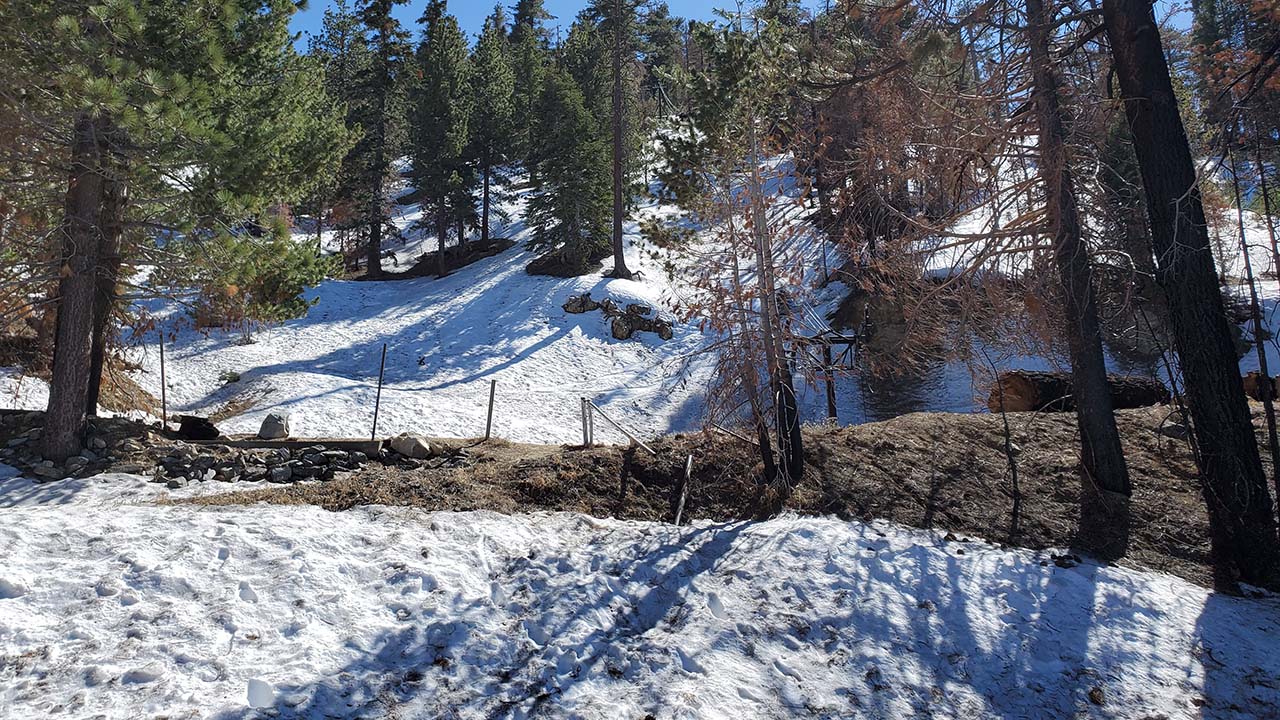 Here is the base of lost SoCal ski area Kratka Ridge (a.k.a. Snowcrest) as seen yesterday off Highway 2 in the San Gabriel Mountains. Yes, there is still a bit of snow up there, depending on your definitions.
I skied here, long, long ago, when there was a running single chairlift. If all goes well, the Bobcat Fire closure order should lift on April 2, meaning you will then be able to legally enter and ski all of the crest terrain in between Mount Waterman and Mount Islip.
Yes, people have obviously been ignoring the closure order without issue for some time now. But be aware the closure does remain in effect, enforced or not, and the potential consequences of getting caught violating it could be significant.
Interestingly, I've looked again at the closure order, and I think I misinterpreted the map: I think the Waterman ski area is actually outside the closed area. Unfortunately, the snowpack on Waterman's face is looking very thin, which doesn't play nicely with the aggressive angle.
Kratka, on the other hand, seems to have a little more snow. Note that Kratka's western runs are pleasantly intermediate in terms of steepness, making the area—possibly—your best Angeles Crest bet if you're looking for easy and mostly-safe terrain for skinning and backcountry skiing.
So cross your fingers on those April AR forecasts, and head up once the closure order lifts.
— March 23, 2022
Andy Lewicky is the author and creator of SierraDescents
Matt D March 24, 2022 at 10:13 am
And hit it early... it's been warm!
Brad Brown March 30, 2022 at 9:07 am
Ski pard Bob and I hit that area on a 12" April morning guessing 20 years ago, a short but not a bad little hill. A nostalgic throw back to mid 20h century ski roots of you want to know what some of the areas I started skiing at looked like. Those of you who've ridden Mt Baldy lifts will feel right at home on a single chair-that is minus Baldy's frightening drop offs on a system I'm compelled to watch for frays and loose bolts on.

What was the mission that day Andy? And hell yeah to the atmospheric river, even if a wash out below 9k up. Roth we need the water…

Could use some good ski energy these days boys….cancer surgery wasn't 100% so radiation is the next step-8 weeks. As I sit on the deck at SS ready to lap some left overs from Monday's storm I'm grateful for this sport we love and the culture it spawned. Hoping to still partake this spring…
Bill April 4, 2022 at 9:34 am
Hey Bob, wishing you the very best outcome on the follow-up treatment.
Bill April 18, 2022 at 2:50 am
Oops, just noticed mistake in my comment. Good wishes meant for Brad.
Brad Brown April 22, 2022 at 7:15 am
Knew what ya mean Bill, much appreciated. Today marks week 2 ending, doing ok and still hitting local hikes with an MM run planned next weekend-and Dr approved!