Biking the Santa Monicas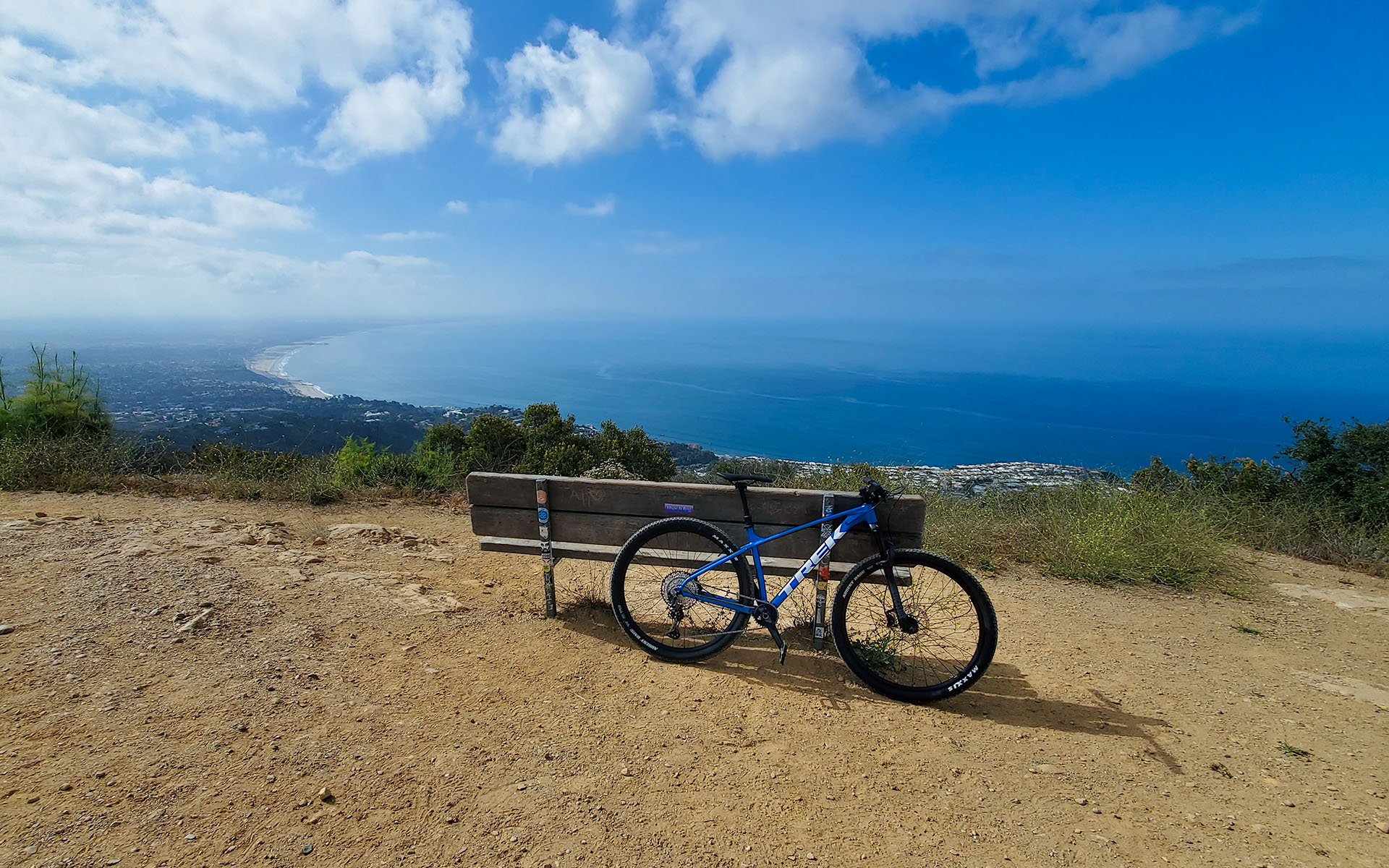 SoCal skiers please do not take this as yet another sign of the coming apocalypse, but I have in fact purchased a mountain bike and I am greatly enjoying it.
I suppose I could argue I got this for training or access purposes, but the truth is biking is a lot of fun. I started biking Highway 2 on my road bike last year, and that plus numerous friends (and my son) urging me to get something trailworthy finally pushed me over the edge.
This summer I've been exploring the nearby Santa Monica Mountains via bicycle, which magically converts them from a dry, scrappy, mediocre hiking range into a fantastic backcountry resource.
The Santa Monicas have an extensive network of fire roads and hiking trails, virtually all of which are accessible to bikers. Add in city, mountain, and ocean vistas (plus a sea breeze along the ridgetops) and you've got a bona fide mountain biking paradise.
In particular I love grinding a long ascent up one of the many canyons, and then blazing a descent down one of the range's many long, long ridges. It's really...fun. Like a real sport, even. With exactly that wonderful moving-through-three-dimensional-space feeling you get from you-know-what in winter.
So: it's true. I've become a biker. If you haven't already, hope you give it a try, too.
— August 24, 2022
Andy Lewicky is the author and creator of SierraDescents
Brad Brown August 28, 2022 at 2:35 pm
Is that Topanga Topanga State Park, Los Liones ? If so did an 11 mile loop there last August. And hell yeah MB is way fun. Chesebro Canyon is near my house and it's my son's back yard. Went on a ride with him and g-son on my BD in July….still fun.
Quite the cross over training/experience wise between MB and skiing. Obviously you earn your downhill but there's a lot of similarities with skiing including balance, slippery surface negotiation, quick reactions, balance, absorption of bumps, turn initiation, speed judgement, turn rhythm, the occasional airs, the occasional errs (it's human to do so ya know). Fun fact, when I was riding a lot I had my strongest ski season opener knocking down 30,000' vert. So fret not, your skiing will benefit!
Brad Brown August 28, 2022 at 3:26 pm
Forgot to mention we have a missing hiker somewhere on Split Mnt, now 8 days in case anyone is heading up there. Not sure how to get the info posted but available on FB California 14's. Apparently a serious guy with attempts on Everest, summits of
Anconcagua/Kilimanjaro/Denali. He was last seen above the notch (12,980') at elevation 13,200. It was some sort of group hike and I think they mentioned he intended to wait for the summit group to return. The hazards are mostly east from the last known location which he would have been aware of given his experience level. The family has requested prayers, I will join them.