High Variance Equals High Risk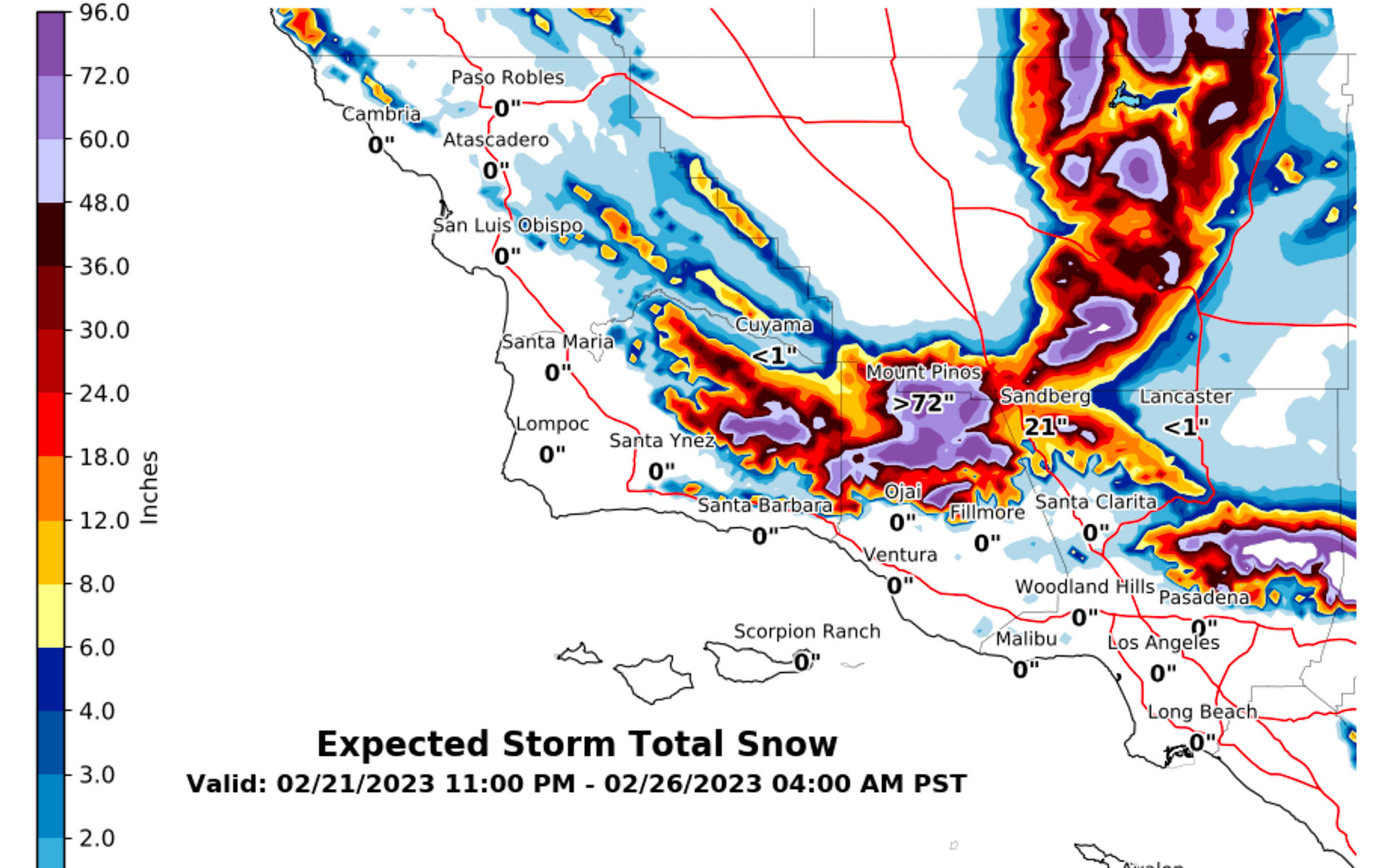 Forecast models are calling for the possibility of snow as low as 1000 feet above sea level virtually state-wide, and NWS Los Angeles has issued a (not quite) unprecedented blizzard warning for Los Angeles County.
Snowfall totals for the SoCal mountains could approach 100 inches.
Forgive me for sounding like the Voice of Doom here, but we are at the cusp of what appears to be an exceptionally rare SoCal storm event which will at a minimum make travel to and from the mountains treacherous.
If you have any backcountry plans in the San Gabriels, San Jacintos, or San Gorgonios, I strongly encourage you to ski only the safest possible low-angle terrain with absolutely no possible threat from any adjacent slide paths—near or far.
And even that will likely expose you to significant risk, including tree wells, high winds, getting stuck, and/or encountering deadly driving conditions. Expect considerable impacts and disruptions to normal services in the resort towns for the next few days.
We will be enjoying a long backcountry ski season in Southern California no matter what comes next—well into June, at the very least. If you can, try to be patient. The snow will be waiting for you.
— February 22, 2023
Andy Lewicky is the author and creator of SierraDescents
Brad Brown February 22, 2023 at 3:09 pm
Currents plans are for day slogs to SS (SV?)Thursday and Friday. Shecktor is reporting 15 to even 20:1 ratios possible, describing this as like Northern Rockies conditions for MM. This should be a refill event for every lap type of event. These days are rare but they do come along for the SoCal diehards. And thx for the warnings Andy, I'm bringing supplies, 15 deg bag, Garmin (for SAT text), etc in the event of extended stay. Hope this event stabilizes the snow pack and doesn't have deep instabilities per previous ice base.
Norman Clyde February 22, 2023 at 8:57 pm
on much less storms mammoth closes the lifts, so even if you survive the drive up the owens valley, most if not all of the lifts will probably be closed
Some OOne February 26, 2023 at 7:50 pm
I don't know why I can't comment on that post but your Kendrick peak video really spoke to me. Keep up the great work!
Andy February 27, 2023 at 6:10 pm
weird -- sorry about that. And thank you!