Wildflowers of the Santa Monicas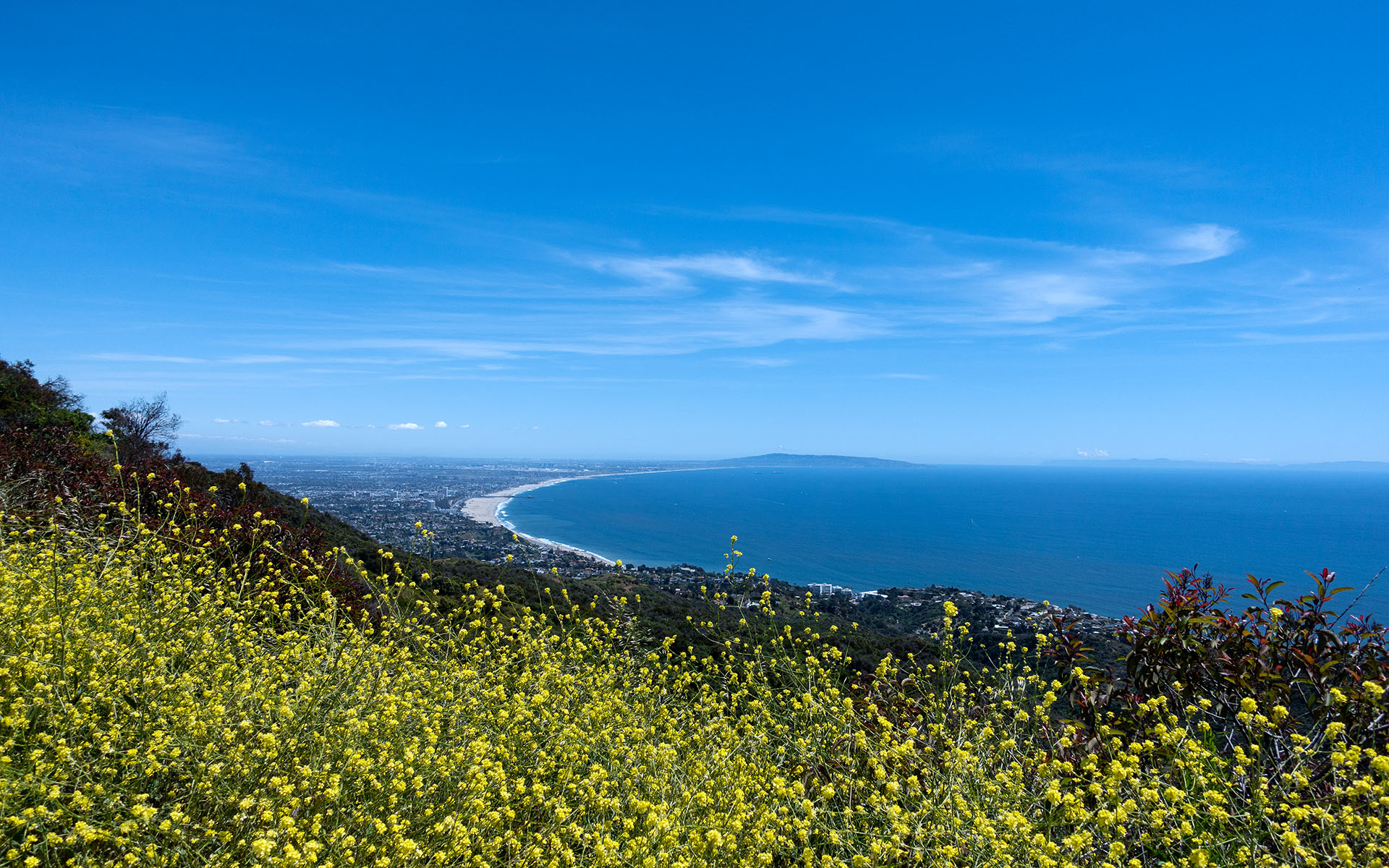 Wildflower-lovers take note: the Santa Monicas are in bloom. I biked Temescal Ridge to the Hub to Trippet Ranch to Parker Mesa to Paseo Miramar to the mighty Pacific today, and I was never less than dazzled.
This is not a recommendation, this is a mandate: go get yourself a bicycle, right now, and get up there. You do not want to miss this.
Outstanding and easy rides can be had starting at Trippet (via Topanga Canyon Road) or even the Nike Base (a.k.a. San Vicente Mountain Park, accessed from the 405 and Mulholland Drive).
If a bicycle is completely out of the question, try hiking Trippet Ranch to Eagle Rock (easier), or Paseo Miramar to Parker Mesa (harder). And be sure to bring a camera.
I saw the legendary white flowers—thousands of them, blanketing the interior hillsides. I saw poppies. I saw colors—wow, did I see colors. I smelled the Kool-Aid grape of the purple blossoms wafting gently through the air.
It was amazing. It was insane. It was mind-blowing. I've never seen the Santa Monicas even remotely like this before.
This will pass, as all things must. Get up there before that Southern California sun bakes everything back to normal. You will not be disappointed.
— May 6, 2023
Andy Lewicky is the author and creator of SierraDescents
Brad Brown May 24, 2023 at 8:59 am
Went up Puerco "Motorway" ("north" of Pepperdine at PCH) to Mesa Pk (6/1500') through forests of mustard seed, Lupin, and an array of nature's color shrouded in fog and drizzle to the 1,800' level where clouds finally threatened to part. It felt healing to return to hiking my home range in appropriate weather as I mourn the loss of my wife Sandy on 5-5-23. 9-1-23 would have been our 50th anniversary. An amazing life with an amazing women who stood on Mt Whitney with me Labor Day 1977. Her passion for horses far exceeded her love of hiking but despite that she accompanied me on a number of BC trips in the Trinity Alps, the Sierra (even on our honeymoon), and in So Cal. She trained a wild mustang to be able to ride and rode horses for 60+ years until MS took her legs. She was a certified scuba diver, trained in judo and jujitsu, student body President (college of the Redwoods, 1972), a skier, and a brilliant real estate pro. She was a mom to 4, grandmother to 6+ 1 (September), my wife and love of my life. She is survived by our 3 remaining kids and I.

4/10/50-5/5/23 was her time here. As Garth Brooks song notes our mark is that little dash "in between" your dates. Some fill that in between dash way more than others, such was Sandy. She had many "finest hours" but I will always remember her steadfast fight against this horrid disease, soldiers would do well to study her courage. Our loss is heaven's gain, I'm pretty sure she's reorganizing the place as I write. I will miss her.
Andy May 26, 2023 at 9:46 am
Brad, thank you for sharing your memories of your wife. It sounds like she was a very special person. I hope hiking the Santa Monicas brings you some solace, and I hope in their incredible beauty, you are reminded of her beauty as well.
Brad Brown May 26, 2023 at 12:52 pm
Thanks Andy. 5 days at MM is doing so as well, Happy Memorial Day to the SD creator and fellow die-hards. BTW a
MM employee suggests year round skiing could be happening.

My Doctor sent this yesterday:

In every walk with nature one receives far more the he seeks"

John Muir

As you observe, I lived with beauty and though she was called home early you're right , I see her beauty radiate in nature's gifts. Thank for your kind and sage thoughts.