Whitney Zone: Beware Collapsing Snowpack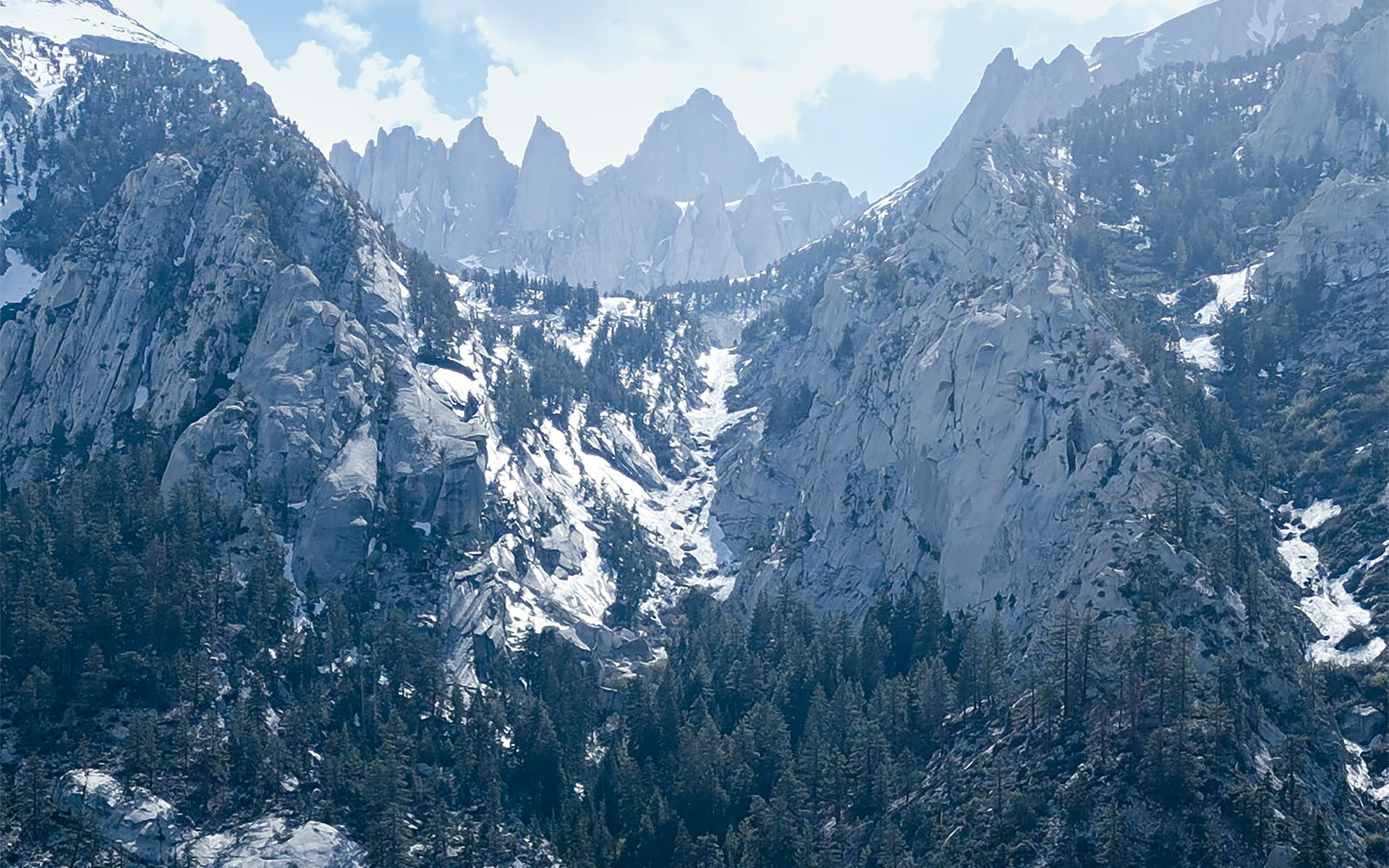 Just absolutely treacherous conditions on the lower Mountaineer's Route right snow—beware collapsing snowpack in the north fork drainage below Lower Boy Scout Lake.
Our group was headed for Whitney this weekend, but passed after hearing reports of hikers/climbers falling through the snow in the pinch at the middle of the drainage.
It's hard to see in this photo (I forgot my long lens—sorry!), but those black spots in the center of the choke are giant gaping holes with fast raging water underneath.
We took one look at that and said no thank you.
Given the snow depth, the north fork is particularly vulnerable to this kind of unpleasantness because it's east-facing, it's willow-choked, and it's where multiple tributaries converge.
Through a spotting scope, we could see water blasting along the edges of both the north and south cliff walls at the pinch. If you are planning to do the Mountaineer's Route before the snow melts out, it would not be unreasonable to treat it as a crevasse field and gear up accordingly.
Note that these conditions may exist anywhere in the Eastern Sierra where narrow east-facing drainages are filled with snow. Under present conditions, nothing worries me more than collapsing snowpack over fast water. Please be vigilant and plan your trips accordingly.
— June 3, 2023
Andy Lewicky is the author and creator of SierraDescents
Dan Conger June 4, 2023 at 9:29 am
Wow, thanks for the warning. Record year for both snowfall and water content of that snowfall are combining to create truly unique hazards.
Brad Brown June 5, 2023 at 7:40 am
It's been my fear as well. My summer missions will be further south and lower for some time to come. I took some pics of the Whitney region on Memorial Day (fun seeing you at MM btw). The Lone Pine Peak class 2 route (Meysan Lakes Trail) is buried right now-measuring in yards it looks like. At the point where you leave the trail to head south you cross ponds, lakes, creeks, drop offs as you traverse the basin to the chute. I have pretty vivid imagination which informs me a Brad size post hole could occur at anytime. Roped parties of at least 3 seems a minimal precaution for now. Thx for update. Also, for traffic reasons I looped around Owen's Lake and got some good shots of Olancha Peak which is in play for me for previously stated reasons.
Brad Brown June 12, 2023 at 2:16 pm
Wedberg writes a compelling TR of his recent MR to Whitney, see Whitney Forum. He choose the night ops method to mitigate the snow bridges issue. Then again the man can leap tall buildings in a single bound (old Superman TV sound reference) but for us mere mortals…nightmares of collapsing snow bridges scares the s…. outta me. One can visualize drops to the frigid waters below-and the don't think about it beyond. We saw a similar condition near Ice House Saddle Saturday 6-10-23. Seductively normal looking snow was hollowed out with only a modest 3-5 ft drop offs between "bridges".. This was so obvious when seen in totality from across the canyon but I could see where a "focused" climber could miss the obvious holes and opt for the bridge to Know-Where.

BTW, I've never seen so much water in the Canyon before with actual Sierra style creek crossings and put filter to water convenience stops for most of the ascent. FYI it was quite busy there I think in part bc the heavy snow has driven folks to lower zones thus concentrating folks to one of the few mid level climbing areas in So Cal.