Basecamp Sleeping Pad Roundup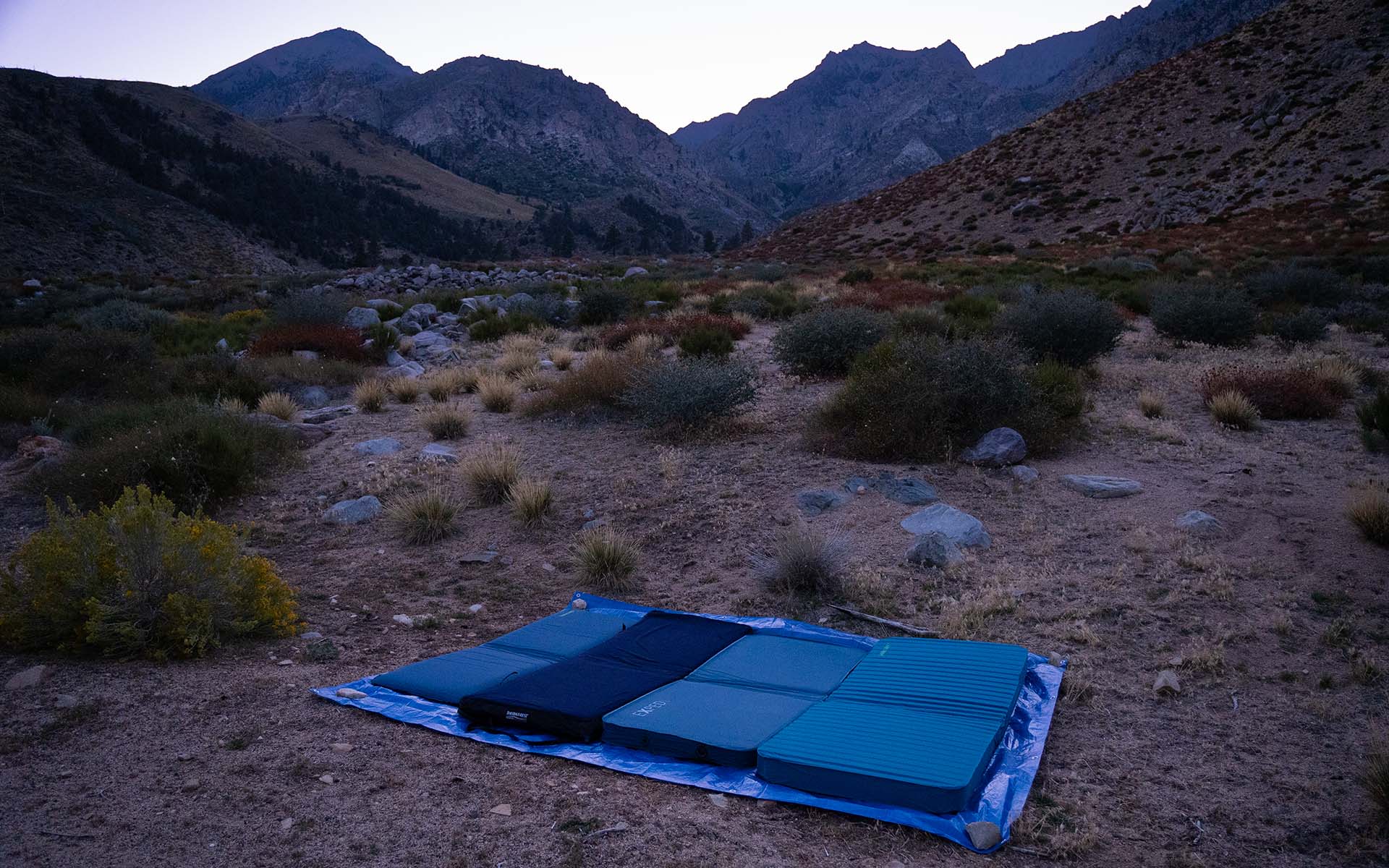 A good basecamp pad is built to prioritize warmth and comfort, with packed size and weight a secondary consideration (if at all). Basecamp pads are great for car camping in general, for overnights at trailheads, and anywhere else where some form of motorized support is available.
Though you may wish you could enjoy this level of comfort everywhere you go, pads in this class just aren't that practical for backpacking. They are not designed to fit in a pack, and they are most definitely much heavier than backpacking pads.
That said, depending on the particulars, you might find a basecamp pad useful in a surprisingly wide variety of contexts, including expeditions or even winter backpacking. Where sleep quality really matters, they're hard to beat.
Thermarest Basecamp Pad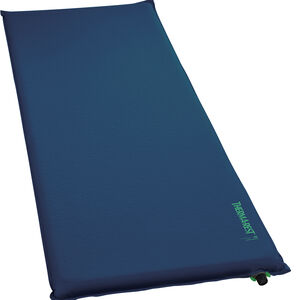 Don't overlook Thermarest's basic "Basecamp" pad. This is a no-frills model and it's certainly not the thickest nor the most luxurious in this roundup. But it might nevertheless be the best pad for you, particularly in terms of value.
In size regular, the Basecamp measures 20 x 72 x 2 inches in size, weighs two pounds, eight ounces, and is 21 by 8.5 inches when packed. The pad has an ASTM-rated R-value of 6.0, which I would call acceptable for winter camping but not for sleeping directly on snow.
The Basecamp is very much like the original Thermarest inflatable pad, and thus perhaps scores some nostalgia points with me. But it does include Thermarest's newer Winglock valve system, which makes inflating and deflating the pad easier and more reliable.
While basecamp pads don't technically have to be compact, in practice, you're still going to want your pad to fit in your trunk (when it's rolled up), or in your tent (when you're sleeping on it)—don't underestimate the importance of this factor.
The Basecamp will fit in or on a backpack if necessary (you can fold it in half, lengthwise, and then roll it), and it won't take up undue space in your car during transport.
At two inches thick, the Basecamp is the thinnest pad in this group, but for sleep quality, that can be an asset. Those of you who like firm mattresses may prefer the Basecamp's slimmer profile, which gives it a more stable and supportive feel compared to thicker inflatables.
There's not much else to say here; sometimes simple is good. You can often find these on sale in the $80-90 dollar range, making the Basecamp a screaming deal if it fits your needs.
Thermarest Dreamtime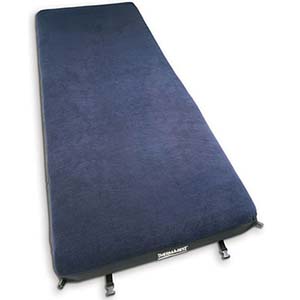 Yes, the Dreamtime has been discontinued, but I feel compelled to include it in this comparison because in my opinion it remains the closet you can get to the feel of an actual, real, non-inflatable mattress.
What is the hallmark of a good home mattress? One that dampens and absorbs motion. On a good mattress, you can set a glass of water next to your body and roll over, and the glass won't spill, because motion does not translate through the mattress.
This gives real mattresses a very distinctive (and pleasant!) feel, and it's something the Dreamtime replicates astonishingly well for a (partially) inflatable pad.
How does the Dreamtime do this? It pairs a basic inflatable lower pad with a soft, open-cell foam pad on top, for a dual-layer design. This combination gives the Dreamtime a stunning R-9.0 insulation rating, making it suitable for sleeping directly on snow, as well as giving it that wonderful real-mattress feel.
The Dreamtime also adds a soft fleecy nylon liner for next-to-skin comfort (and to quiet sleeping bag rustle), and provided you don't need more depth, I don't think you'll find a more comfortable portable mattress, period—including today's state-of-the-art offerings.
So why did Thermarest discontinue the Dreamtime?
My speculation would be (1) it's bulky and awkward to roll up and (2) the liner and foam get dirty easily and tend to break down with time. Still, for me, in terms of sheer comfort, the Dreamtime remains the gold standard, and a useful point of comparison for everything else.
ExPed DeepSleep 7.5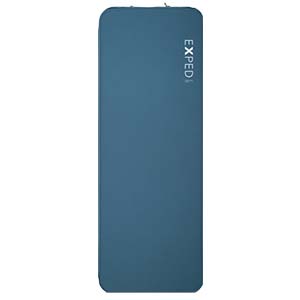 The ExPed DeepSleep 7.5 has a remarkably natural feel. In fact, I'm just going to spoil the surprise and say that for me, the DeepSleep has the best feel of any single-layer inflatable pad I've yet tested.
That may or may not translate into luxurious comfort for you, depending on your own body geometry, the ground beneath you (rough and rocky or flat and smooth), and whether you prefer a firm or a soft-and-enveloping mattress.
If I'm understanding the construction correctly, ExPed has integrated some sort of wispy foam into the body of the pad, such that it's maybe fair to call it a foam-inflatable hybrid. But it still rolls up quite nicely, to a packed size of 26.5 x 7.9 inches (in Medium-Wide).
In terms of weight, the DeepSleep most definitely adheres to the basecamp ethos, weighing a hefty six pounds, even (size Medium-Wide). Retail price is around $160, but these do go on sale periodically for much less.
You can vary the firmness of the DeepSleep by varying the amount of air you put into it, which is true of all inflatable pads, but the ExPed seems to do a better job of replicating the feel of a "firm" mattress without getting the artificial hardness of an air mattress.
The Exped's top is made of a very nice brushed nylon that feels silky and quiet against your skin, and for warmth it nearly matches the Dreamtime, with an impressive R-8.5 insulation value (though for safety reasons I would pair it with a closed-cell foam pad when sleeping on snow—you just can't afford punctures in winter contexts).
If forced to choose, I would rate the feel of the Thermarest Dreamtime as slightly superior provided you're on flat ground, but the DeepSleep comes very close to matching it, and is far easier to inflate and deflate, as well as easier to clean and maintain.
Note that if you find the DeepSleep's 7.5cm thickness too shallow, Exped also makes a similar pad called the Megamat. The thicker MegaMat will feel softer, while the DeepSleep will feel more supportive. Either way, both models have a distinctive foamy feel that is worth checking out.
Thermarest MondoKing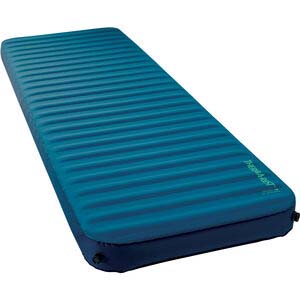 If the MondoKing's name appeals to you, it's probably the pad for you. Built to be big, the MondoKing measures a whopping 80 x 30 x 4.25 inches (in XXL) and offers Thermarest's highest level of luxury and comfort.
In terms of construction the MondoKing employs what Thermarest calls "Stratacore" technology, which is an array of full-thickness 3D foam strips arranged in rows across the width of the pad. The idea here is the foam adds density and comfort, while the cutouts keep the overall bulk and weight down.
In practice, the foam-strip approach does make the MondoKing easier to roll and pack, and lighter than the Exped DeepSleep (4.5 lbs in L vs 6 lbs in MW), but the MondoKing is still quite bulky—about eleven inches in diameter when rolled into its stuff sack.
As for sleep comfort, those of you who like soft, deep mattresses with an enveloping feel will likely love the MondoKing. Keep the pressure modest and the MondoKing is astonishingly comfortable. Soft-mattress aficionados will likely find no better portable.
However, for firm sleepers, the MondoKing's thickness runs into the limitations of the Stratacore design, which makes it progressively more "buoyant" as you increase the air pressure. You can of course make the pad as firm as you want, but it does get hard rather than "springy."
As befits a luxury pad, the MondoKing has a soft brushed top-facing exterior for next-to-skin comfort and to prevent rustling noises. It's perhaps not quite as quiet as the Exped's surface, but perhaps also a bit more silky in feel.
I notice that thicker inflatables tend to have lower insulation ratings, and the MondoKing is no exception, with a 7.0 R-value. That's still solidly in the four-season range, but again I'll strongly recommend pairing it with a closed-cell foam layer for winter camping.
Of course that generous four-inch thickness adds depth for your shoulders and hips, and also makes the pad an excellent choice for sleeping on rocky and/or uneven ground, allowing you to float as if by magic above surface imperfections that would be otherwise be noticeable beneath you.
I should probably warn you that the XXL MondoKing, in particular, is likely to challenge you for space. Both for transit and for actual use, make sure you have the necessary space in your tent, trunk, or pickup bed before you decide to purchase the XXL version.
If the MondoKing's feature set intrigues you, you can take one home for a suggested retail of $275 (XXL) or $240 (L), making it clearly the priciest choice of the bunch. However, I do think the XXL pad offers added value as a spare home mattress for your houseguests—though once they sleep on it, they may not want to leave.
— October 18, 2023
Andy Lewicky is the author and creator of SierraDescents