Garmont Helium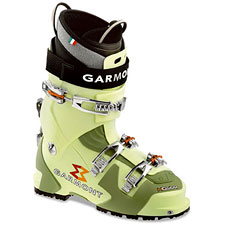 overlap construction
comparable to Mega Ride
low-to-med volume fit
weight: 7lbs/pair
Looking at how hard it is here in mid-January to find a pair of Garmont Heliums, they're either selling like hotcakes—or else merchants aren't interested in stocking them.
My guess is it's the latter. The Helium is a three-buckle version of Garmont's Radium, a highly successful newcomer to the Alpine Touring ski boot scene. Like the Radium, the Helium employs an overlap design—just like your favorite Alpine ski boots. In the case of the Radium, this leads to a very obvious leap in downhill performance with only a modest weight gain (versus, for example, the Mega Ride).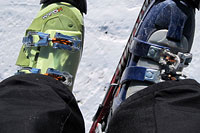 In the case of the Helium, the weight stays at 7lbs even (measured, Men's Mondo 26.5), but the performance gains, if any, are negligable.
Skiing the Helium head-to-head versus my trusty old Mega Rides, I kept asking the boot to give me a reason to switch.
I didn't find one. The fit, flex, and feel of the Helium are very similar to the Mega Ride. That's not exactly bad news: the Mega Ride is a fantastic Alpine Touring boot, even measured against today's newcomers. Still, given that the two boots weigh exactly the same, it would be nice if there were something prominent I could point out to distinguish them.
I thought at times that the Helium delivered the slightly more refined ride, with a more progressive flex and better lateral stiffness. But, as my day of testing wore on, I began to realize that there were times I couldn't tell the boots apart (without looking at my feet). And both boots—Helium and Mega Ride—failed a steep-and-icy inbounds test: neither offered enough control or edging ability to make me feel comfortable (incidentally, the Radium aced this same challenge).
In terms of climbing ability and comfort, the Helium once again is very similar to the Mega Ride. The cuff releases well in walk mode, and as already mentioned, the two boots are identical in weight. Call it a dead heat. The only objective difference I can point to concerns fit: Garmont has added a smidge more room in the Helium's toe box, and tweaked the shell overall for a more anatomically-accurate fit. Still, if your toes are smashed into a Mega Ride, don't expect a cathedral of room moving over to the Helium.
The Helium's construction and design is very handsome. This is a highly refined ski boot with unmatched build quality. I did notice one odd quirk that seemed out of place: when you flex forward, the two instep buckles tend to pop open because of the way the shell flexes. This can be cured by buckling the buckles tighter. Some of us, however, like to keep these relatively loose.
I would call the Helium a smash success if they weighed, say, six and half pounds per pair. At that weight you'd be competing with a racing boot like the Scarpa F1, but enjoying the downhill performance of the Mega Ride. However, the Helium doesn't have any weight advantage versus the Mega Ride—and it loses one buckle. The bottom line, for me, is that there's no compelling reason to upgrade. *(discontinued)