Marmot Randonnee Glove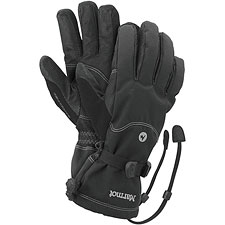 backcountry-oriented
gore-tex xcr
primaloft insulation
9oz/pair
I purchased Marmot's Randonnee glove for cold-weather backcountry skiing, then discovered I liked the glove for inbounds use as well.
The Randonnee is light enough for touring use (9oz in the 2007 version). Backcountry-oriented features include a Gore-Tex insert for waterproofness, a new Gore-Tex XCR exterior, an articulated grip for dexterity, wrist cinchstraps, and a safety leash. Alpine skiers will like the Randonnee's PrimaLoft synthetic down insulation, which helps keep fingers warm on those chilly January chairlift rides.
That said, I'd rate the Randonnee more toward the moderate range for temperatures—which is in line with what you'd expect from a touring glove. In truly cold weather my fingers do get cold in the Randonnee, so I'll call this a cold-but-not-arctic weather glove. Your results will of course vary depending on how warm or cold your extremities tend to run.
Note that the liner is not removable. For an Alpine glove, this is a positive. I hate when liners pull halfway out of gloves, forcing me to somehow puzzle the fingers back into place. For the backcountry, however, removable liners become quite a bit more appealing, as they speed drying considerably. Like most gloves, the outer fabric will soak in soggy weather over time, limiting wet-weather appeal.
Marmot in general seems to have a knack for creating products that blend a rich but intelligent feature set with competitive pricing. The Randonnee Glove is no exception. The glove's design shows a careful attention to detail and function, and the cost is certainly reasonable compared to other brands in this category. For its niche, this is an appealing choice.