Stubai Ultralight Universal
surprisingly durable
long, effective teeth
most versatile boot fit
20.8oz/pair
The big question with the all-aluminum Stubai Ultralight Universal crampons is: what are they good for? For a ten-point crampon, they're obviously light (590 grams) thanks to their aluminum design, which raises concerns of durability right from the start.
Give people lighter gear, though, and they tend to use it, even if it requires compromises and adjustments. The sheer payoff of reduced ounces is impossible to ignore. Obviously, an aluminum crampon isn't appropriate for all situations. Hardcore mixed climbing (snow and rock) and technical ice still demand steel.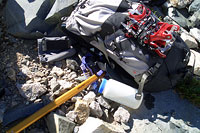 The Ultralight Universal seems particularly suitable, however, for the needs of the ski mountaineer, who presumably won't be spending much time on either ice or rock.
That said, you never know when you'll find yourself scrambling up ice or rock in the backcountry.
Sometimes you decide to go off route, sometimes you encounter unexpected conditions, and sometimes you just plain get lost. I myself have done a little scampering over rock wearing these crampons, and I've been pleasantly surprised by their durability.
A nice fringe benefit of the Stubai Ultralight are its rounded aluminum points, which are much less sharp than steel. You won't be constantly tearing holes in your gear or yourself with these crampons. In fact, I don't even bother to put protection on the tips; I just put them point-to-point, wind the straps around, and toss them in a Nylon stuff sack.
While newer, lighter aluminum crampons are now available, the Stubai remains one of my favorite 'universal' models thanks to its long, broad points, and its sturdy construction. I also like the soft-n-sticky straps, which tend to fit just about any kind of footwear you can imagine. The Stubai seems to do a better job staying on a variety of boot shapes, including Snowboard boots, thanks to those straps. *(discontinued)