Birch Mountain Marathon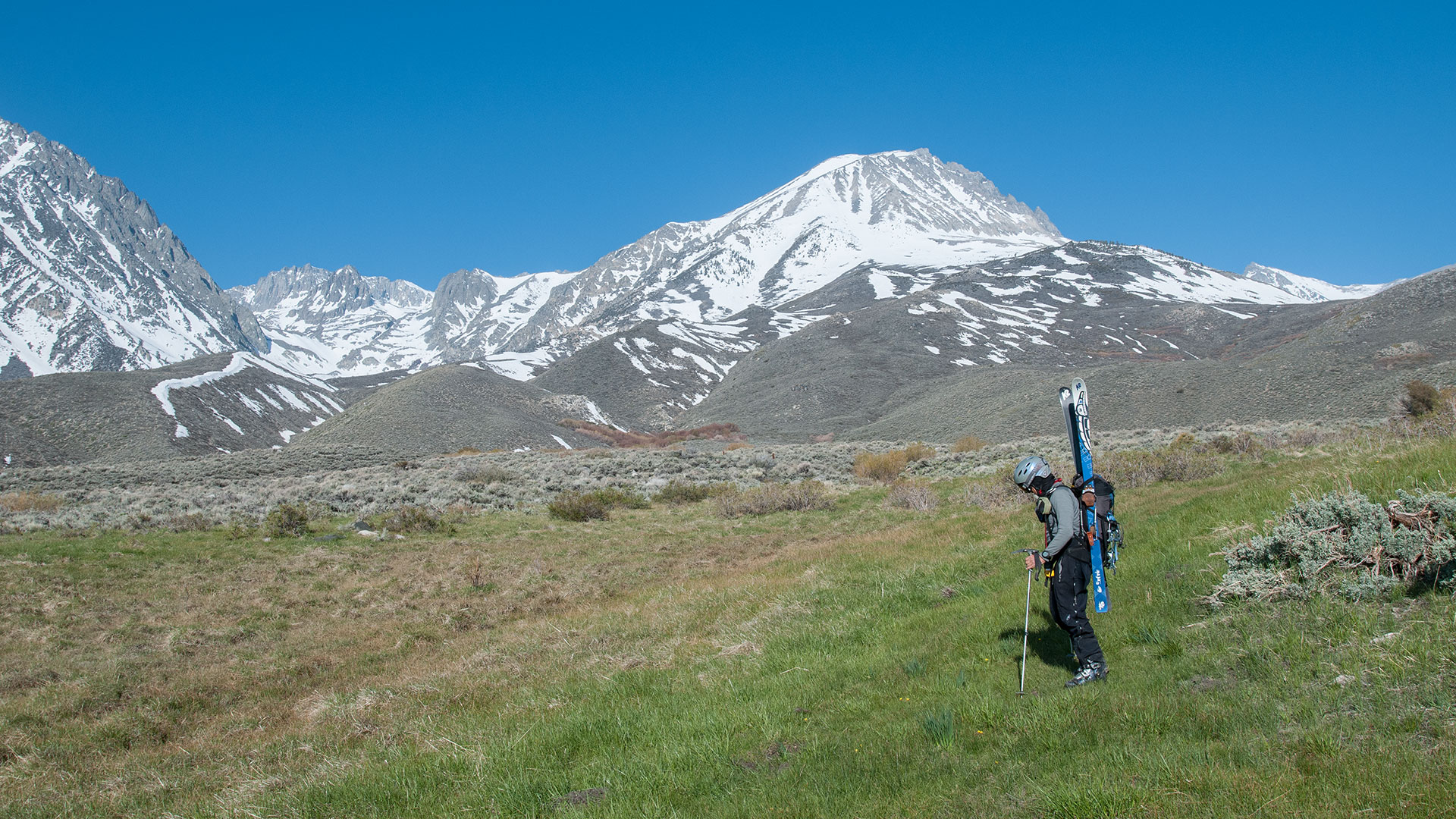 Saturday I skied Birch Mountain with a group of skiers from the Angeles Sierra Club's ski mountaineer's section. I don't get the opportunity to ski in groups that often, thanks to my schedule and reclusive personality, but I do enjoy it, and it makes for fantastic photo ops. The dynamic is also completely different when traveling with others as opposed to going solo. I naturally try to go with the flow when I'm with others, which can lead to interesting dilemmas.
Birch Mountain is one of the Sierra's true giants. It stands 13,665' feet high, and the approach begins around 6300', for a whopping 7300+ vertical feet of climbing. Nonetheless, the approach is one of the easiest you'll find from Big Pine south, with essentially no bushwhacking and no route finding necessary.
Our group planned a 6 a.m. meet time, which was obviously late to begin with for a day trip to the summit. Some disagreement about which road to take tacked on an extra hour, so we didn't get started until after 7 a.m.
This time of year, my primary concern (really, my only concern) is wet slides. Since we were ascending and skiing Birch's southeast slopes on a warm, relatively windless day, I was worried that our late start would put us on the mountain when things got dangerously mushy.
As it turns out, that concern was unfounded.
Instead, the big issue was texture: the snow's surface was positively wrecked by two dry, windy months. Call it what you will--sun cups, shark fins, penitentes—we saw all of it in abundance. Really the only possibility of skiing the mess was waiting for things to warm up and soften as much as possible, so the late start began to seem like a good idea. And all that texture kept the snowpack as a whole from turning mushy, thanks to evaporative cooling (extra surface area), so stability remained nice and solid, even on aspects that were directly sun-exposed.
Climbing up 7000 vertical feet of sun cups, however, was just absolutely brutal. I didn't make the summit until 3 p.m. Solo, I would never summit that late, but in a group, I was just kind of going with it. I waited up top about an hour for my ski partner to arrive. When I looked over the edge at Birch's southeast slopes, I was positively horrified to see a long arm of shadow reaching down the mountain. The sun was setting on the east face! Those sun cups were freezing solid right before my eyes.
To say we were totally hosed at that point would be a massive understatement. We faced 7000 vertical feet of survival skiing on steep, icy slopes that were heavily sun cupped to the point of being unskiable. I can say without any hesitation that it was the worst skiing I've ever faced in my entire life. By the end of the ordeal (it took nearly five hours to get down) it was actually a relief to take off the skis and downclimb the rest of the way to the car. I'm actually kind of amazed my legs didn't just fall off.
The shame of it is that Birch Mountain is absolutely spectacular. This is one of the classic big descents in the range. With good or even marginal conditions, it would have been fantastic. I'll have to do it again next year! Oh well.
Full Report: Birch Mountain Marathon
— April 27, 2008
Andy Lewicky is the author and creator of SierraDescents
Dan Conger May 3, 2008 at 1:12 pm
Hi There,

I recently submitted other comments. Have you ever charged Elderberry Canyon on Mt. Tom or Basin Mountain's south col? Mt. Tom is supposed to have some of the best backcountry skiing in the entire high Sierra. You would probably enjoy both routes ... but next spring.

Dan
Chris Dangwillo August 7, 2008 at 9:56 am
I enjoyed this article as well as your other article on Shepards' Pass. Well written and somewhat inspirational, maybe inspiring me not to climb up Shepards. At any rate good job! And thanks for the information!
Greg Smith April 15, 2010 at 8:23 am
I just tried Birch for the third time, and got blasted off again by wind and booting through consolidated powder about 1,000ft below the summit on the South face. That route has great skiing, though;really good coverage at present, with plenty of sun all the way. I camped at about 10,500. The crux was getting tangled in the willows about 150yds from the truck, at the very end of the road, at Tinnemaha Creek. I really enjoy your trip reports!
Scott March 29, 2011 at 10:33 am
Whatever happened to Alvin? The suspense is killing me.
EK December 7, 2011 at 1:45 pm
Enjoyed the report! I'm playing with the thought of coming over from my home in Norway to back country ski in the Sierras. Any suggestions for great routes? What is the best time of year to ski the Birch? What is the preferred route if you are doing the mountain once?

Yeah, and what happened to Alvin? Did he get any better skiing?
Greetings from Norway :-)