PCT: Onion Valley to Cottonwood Pass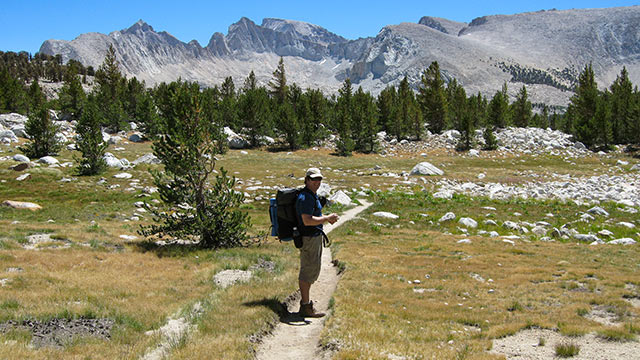 Horseshoe Meadow, California — I take one last look inside my car, checking to be sure nothing will appeal to the bears, and then I lock the doors. It feels kind of spooky as my hiking partner Bill drives us back down Horseshoe Meadows Road in his truck, heading east to Highway 395, then north all the way to Onion Valley (more...)
— September 14, 2008
Andy Lewicky is the author and creator of SierraDescents
Bill September 14, 2008 at 2:09 pm
That was a great write-up Andy. And an even finer trip. Thanks for suggesting it. I particularly like how you captured the trek to Chicken Leg...Chicken Wing...Chicken Fingers lake. Thanks for the great trip. I'm looking forward to next year.

--Bill
Greg B September 15, 2008 at 5:18 pm
Awesome stuff. Thanks for sharing.

What was the first thing you ate when you got back to civil?
Andy September 15, 2008 at 5:38 pm
I went straight for the Carne Asada Plate at the Bonanza Restaurant in Lone Pine -- though I have to say just diving into the chips and salsa was heavenly. :)
Mike Wilson September 22, 2008 at 11:07 pm
Once again your writings have sucked me in and made me feel I was there with you. Awesome trip!
Dan Conger October 8, 2008 at 2:03 pm
What a fantastic trip! I'll start planning for my own traverse now so I can get in shape for next summer. In the meantime, I've been dreaming of my first powder day of the season. Let's keep our fingers crossed for a good winter!!!
Ryan Shearer July 6, 2009 at 10:21 pm
That was a great story. A friend and I stumbled on Onion Valley looking for some streams to fish on the way back from Bishop and hiked up to little pot hole, just got a little taste but it is the most beautiful country I have ever seen. Thanks for sharing.
Joseph Gregory August 8, 2010 at 11:22 am
What time of year was this? I'm planning a five day trip with a friend, I was thinking of this trail with a side trip to the summit of East Vidette.
Andy August 8, 2010 at 12:42 pm
Aug 17. Temps were unusually cool that year, esp. at night.
Joseph Gregory August 20, 2010 at 11:06 am
What was the halfway point? Can you remember what would the mileage be between vidette meadows and crab tree meadows?
Andy August 21, 2010 at 8:19 am
Very roughly, the halfway point of this hike is crabtree meadows, and vidette to crab tree is around 20miles.
Alex October 19, 2010 at 12:28 pm
A heavy sigh as I sit here at my school site on a rainy day. It was great to read and I am looking forward to following your route come this summer.
Joseph August 10, 2011 at 9:15 pm
Well, this is one of my favorite trip reports you've done. Sucked in I tell you. It also helped inspire me to go and do the JMT this summer which I just finished. I once again thank you for what you do, bringing a little Sierra Magic back into the mundane every day... :D