San Jacinto Peak: East Face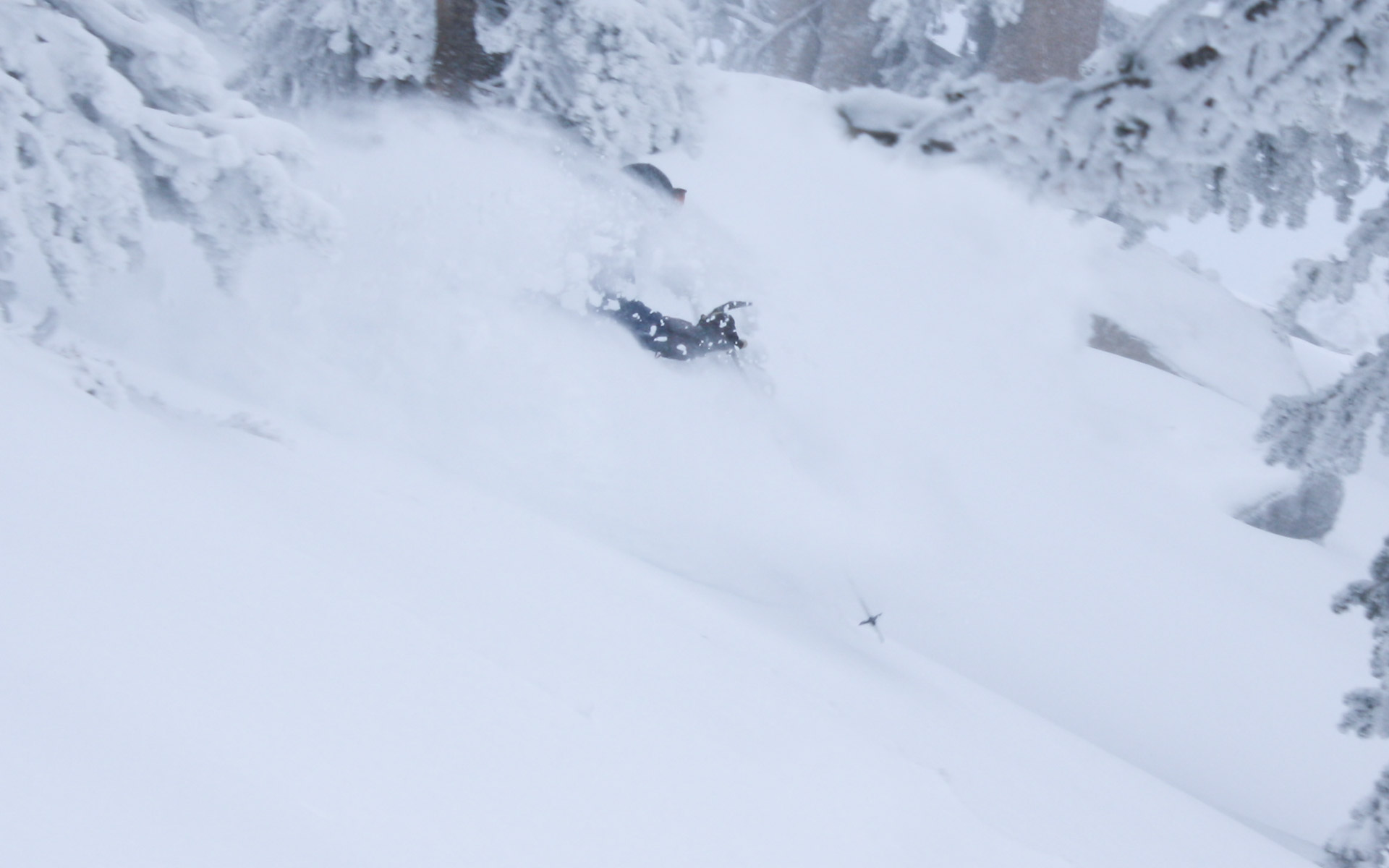 Can this possibly be Southern California backcountry skiing?
YES!!!
— February 9, 2009
Andy Lewicky is the author and creator of SierraDescents
Brent February 10, 2009 at 3:06 am
We were the other BC ski crew up there... well I had skis at least, my friend had a snowboard. It was good to meet you up there. What a fine day!! We made it to about 300 or so feet below Jean's summit, then I headed down for some sweet turns in the powder. My friend Matt (on the snowboard and snowshoes) was having some trouble getting around and floating on all that snow so we only did one long run. Glad you guys made the summit. Now you have experienced the wonders of skiing from the tram right after (and during) a storm. My photos from the day are at the URL I posted here, under skiing.
Bill February 10, 2009 at 9:56 am
Nice description Andy. My fingers can still feel the cold from the summit. It was amazing how much warmer - yet still bitterly cold - it was after we dropped the few feet down to the hut.

Next time we'll know where we are and harvest the steeper slopes.

--Bill
Scott February 10, 2009 at 4:54 pm
The skiing certainly was amazing this weekend. I don't remember the last time I got such great, dry powder. And another storm due this next weekend, so it should be great again!
Chas February 10, 2009 at 9:16 pm
Great report! While visiting from New Mexico I hiked to the summit last September. I really enjoyed seeing pix of winter up there!
Mark February 12, 2009 at 4:30 pm
Congratulations on finding great ski conditions on your first tour to SJ. I have had some great days there, but more frequently breakable crust rules. On one stormy trip to SJ the snow came down and turned into instant breakable crust! Still a great place to access via the tram when the mtn roads are icy and full of snowplay folks.
christina February 17, 2009 at 9:40 am
I would love to skin up and ski at SJ, but I don't know anyone who enjoys backcountry skiing. The skiing I know is going to be awesome with all of the new snow, but I don't want to go solo? any suggestions?
Andy February 17, 2009 at 10:31 am
Christina,

The best resource for local backcountry skiers to meet up is the local Ski Mountaineer's Angeles Chapter organization: http://angeles.sierraclub.org/skimt/. They hold regular meetings and do frequent backcountry trips in the local mountains and sierra.
Roy V March 24, 2009 at 7:33 am
Great article, with nice pictures. I especially enjoyed these poetic lines:
"As cold-smoke powder swirls about me, I settle into an effortless rhythm of smooth, flowing turns.

Ancient powder memories awaken, transporting me across time and space to Big Days of ski years past.

This sensation—this floating, airy dance—there's really no way to describe it, is there?

It is an unforgettable wizardry of snow and gravity that keeps us coming back, through good times and bad, for as long as our legs will carry us."

Thanks for sharing!
Kyle Hillis January 20, 2010 at 7:26 am
Great article. My family has a cabin in Idyllwild and I've always dreamed of sking the mountain. I was wondering how someone would go about preparing for a trip up the mountain. Are there any guides or classes because I understand that you could get into some major trouble if you don't know what you're doing. Any information would be greatly appreciated.
Jimmy February 16, 2010 at 9:17 am
Awesome pics Brent! Looks like you had an awesome time. Please provide me with advice on the following. I am summiting this Sat, the 20th and I am planning on taking my snowboard. This will be my first backcountry boarding experience. You mentioned your buddy with the snowboard had issues. Should i reconsider taking my board? I am an intermediate snowboarder. Thanks in advanced! -Jimmy
Robert Marcos March 9, 2011 at 11:03 pm
My friend Jon Barber and I snow shoed to the summit last year. It took us about four hours up and two hours back. It was fabulous weather. I've also taken my wife up. Both times we mistakenly arrived at the summit of Jean peak instead of at San Jacinto peak. This is a mistake that cost us almost an hour. But the navigation is odd up there. If you follow Long Valley you'll wind up on Jean Peak. The route to the summit is not easy to see when there's a lot of snow on the ground. It's also VERY EASY to lose your path back to the tram, so I recommend following a compass heading both coming and going...