Split's North Face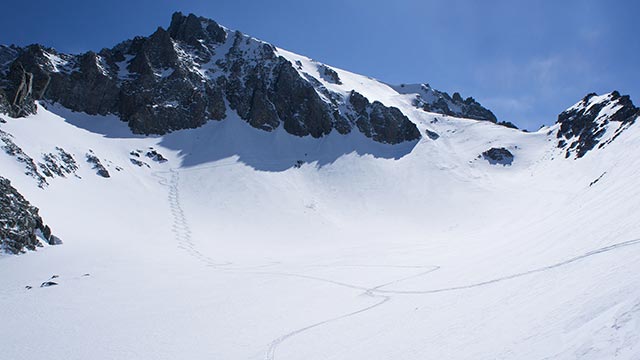 It is one of California's big mountains, colorful, complex, and consequential, and for ski mountaineers, it holds not one but several of the range's most coveted lines. Split's south face is a backcountry skier's dream—if you can get there. Wrap around to the east, and you'll quickly encounter an astounding abundance of ski extreme options. But it is Split's snowy north face (more...)
— June 14, 2011
Andy Lewicky is the author and creator of SierraDescents
Jeff S June 15, 2011 at 6:42 am
Sweet trip report Andy! Looks amazing!
Michael June 15, 2011 at 12:42 pm
Outstanding as always Andy! Did you hear Tioga opens Saturday? It's not on the NPS site yet, but Yose superintendent made the announcement this morning.
http://yubanet.com/regional/Tioga-Road-to-Open-in-Yosemite-National-Park-on-June-18.php
Dan Conger June 15, 2011 at 1:15 pm
What a fantastic trip! Loved the video as well. So many goals in life, so little time to achieve them all ...
Dan Conger June 16, 2011 at 7:22 am
By the way, can you describe your route across either of the two full pictures of Split? I'm not sure which gully you ascended just by looking at the pictures.
Andy June 16, 2011 at 8:18 am
Dan, that's the Tinemaha Creek drainage you're seeing below Split in both photos. We ascended and descended via the neighboring Red Lake/Upper Basin drainage, which is hidden (to the south) in the photo. You can see the headwall we skied into the drainage, but then our route drops out of view beneath that cliff band connecting to Mt. Tinemaha.
nick June 16, 2011 at 1:58 pm
Great article. I was just there Sunday 6/12 and there was still plenty of snow but it got really soft in the afternoon. I ended up down-climbing the steep face but the rest was amazing. You can't beat the views.