Telescope Peak Trail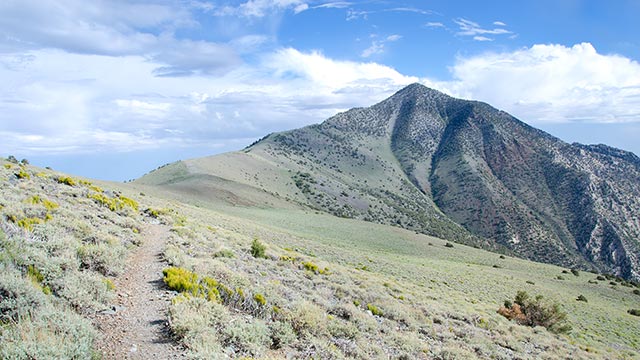 Telescope Peak, California — monsoon moisture pops thunderheads to the south, while drier air pushes down from the north. Forecast: indeterminate. It's seven miles from the trailhead at Mahogany Flat to Telescope Peak's summit, and the majority traverse a broad, airy ridge offering not a hint of storm protection.
— August 25, 2011
Andy Lewicky is the author and creator of SierraDescents
Dan Conger August 26, 2011 at 7:42 am
Another fantastic trip report. I'm glad I get to live these things vicariously through you since I don't have the time to do it myself. :-)

Maybe you will be able to ski that peak. Another winter with heavy, late season snowfall and a sudden spring could leave enough low elevation snow that you could descend a significant margin of the mountain before being forced to hike.

Your trip report really does remind me of White Mountain Peak, which my Dad and I hiked a couple of years ago. Maybe you should plan a ski trip up White!
Dan Conger August 26, 2011 at 7:44 am
Oh, when we hiked White I thought that another adventure on that mountain was in order. Given that there is a rough dirt road all the way to the summit, why not do a mountain biking expedition to the summit!
N Cook August 26, 2011 at 11:48 am
Interesting to see Dan's second comment above. As I was reading your great report about Telescope and seeing the pictures of the trail, I was wondering, could you make it to the summit (or close) on a bike? The return to the car would be a lot more fun.
Mark August 27, 2011 at 4:07 pm
How was the road between the Charcoal Kilns and Mahogany Flats? High clearance vehicles only?
Andy August 27, 2011 at 4:09 pm
Actually, the lower part was rougher. If you punished a 2wd passenger car, it would probably make it...
charles August 28, 2011 at 11:45 am
great report, wondered about hiking/skiing that since last trip to DV in 06 when SoCal had that epic snowpack. this made nice contrarian reading while waiting for hurricane Irene to blow through out here. i wonder what the snow line is typically in winter- below mahogany flats? (an answer might be that there's no "typical winter" there)
Joe September 27, 2011 at 4:35 pm
I enjoyed your story and the photos. I'm heading back to Telescope in a few days. After reading your article, I'm, thinking I might add White Mountain to my trip.
Matt February 22, 2012 at 2:58 pm
Some guys from Teton Gravity Research did the Badwater to Telescope thing in 2008.

Personally I have never made it to Telescope, but I skied Rogers Peak in late March 2009 and Trail Canyon off of Wildrose Peak in January and March 2011. When I did Rogers, you could ski all the way to the charcoal kilns - well, as long as you didn't care about your skis too much. That piece of Wildrose Canyon faces N and holds snow pretty well. Doubt you could do it this year.

Arcane Meadows is named after one of the parties stranded in Death Valley in 1849. William Manly's account is well worth the read, and you can find the text online.