Sierra Snowpack Update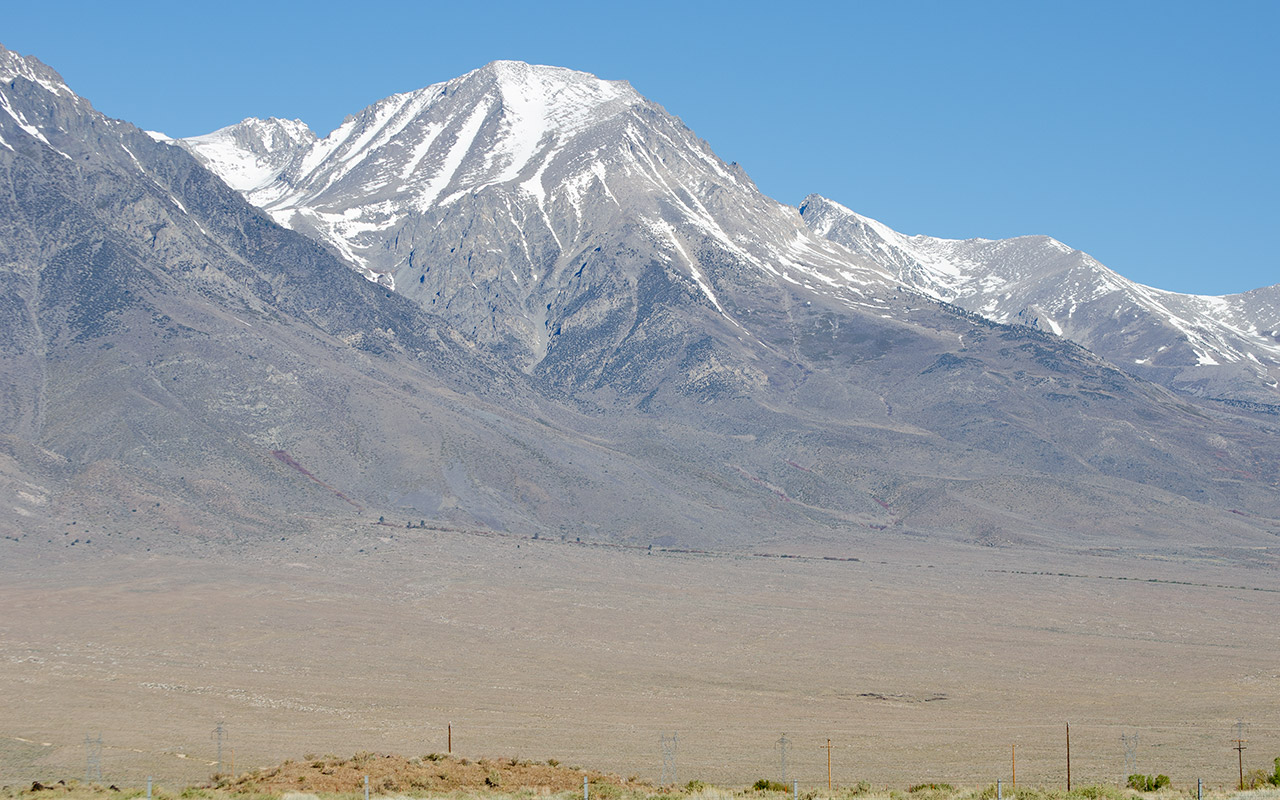 I sort of hesitate to say what exactly is normal these days, but I think we can safely call the Sierra snowpack well below average. Here's a shot of Birch Mountain taken April 20, 2012, showing just how bleak things are. Are we at the point where we can call the Southern Sierra a total writeoff? Yes, I think we are. Maybe a few opportunistic riders hit the timing just right south of Mammoth this year.
Or Maybe not.
Regardless, that Birch Mountain photo compares very poorly to a late-April shot I took in 2008, which was itself a notoriously poor winter. My read on the snowpack south of Mammoth is that high altitude snowfields do exist, but they fall into that 'skiing in summer' category where you'd be burning huge amounts of effort just to nab a few turns. You might call the snowpack unsupported: as in, the drainages are all bare, so there's no access to the snowfields above.
As for Mammoth, if you suspect there is some sort of magic bull's-eye painted around Mammoth Mountain for winter storms to aim at, this year won't convince you otherwise. You can almost see the snowpack decline in a smooth radius as you move away from Mammoth. The mountain itself has good coverage—heck, call it great by this year's standard. The Mammoth Lakes Basin sidecountry looks good as well.
Things start to thin by the Convict Lake region to the south. To the north, I though Koip Peak looked okay. Dunderberg at Virginia Lakes looked burnt, but you can drive the road to get to a few good snowfields east of Black Mountain. Road access is the big news this year. Reportedly, Virginia Lakes Road didn't close at all, and TPR is rumored to open this Saturday. So access is currently great, but in many cases great access leads to nothing. I'm thinking Tioga is the call.
— April 23, 2012
Andy Lewicky is the author and creator of SierraDescents
Matt April 23, 2012 at 5:27 pm
I agree; to my untrained eye everything south of Big Pine looked pretty bleak as of yesterday...
Jeff April 24, 2012 at 10:03 am
That is so depressing! I'll actually be in California in a few weeks and was hoping for some late season backcountry riding!
Andy April 24, 2012 at 10:04 am
Shasta!
TrevorB April 24, 2012 at 10:55 am
Well at least it's gonna freeze in town come thursday night.....but will it be enough?
Jeff April 24, 2012 at 5:08 pm
Good call, Andy! I might just do it!
Jake April 26, 2012 at 8:51 am
NE couloir on Langley was good in early mid April. Granted, the boarding stopped about 400 feet after the couloir, but that's still a 2000+ foot descent...no idea what the last two weeks have turned that into though now