Cirque Peak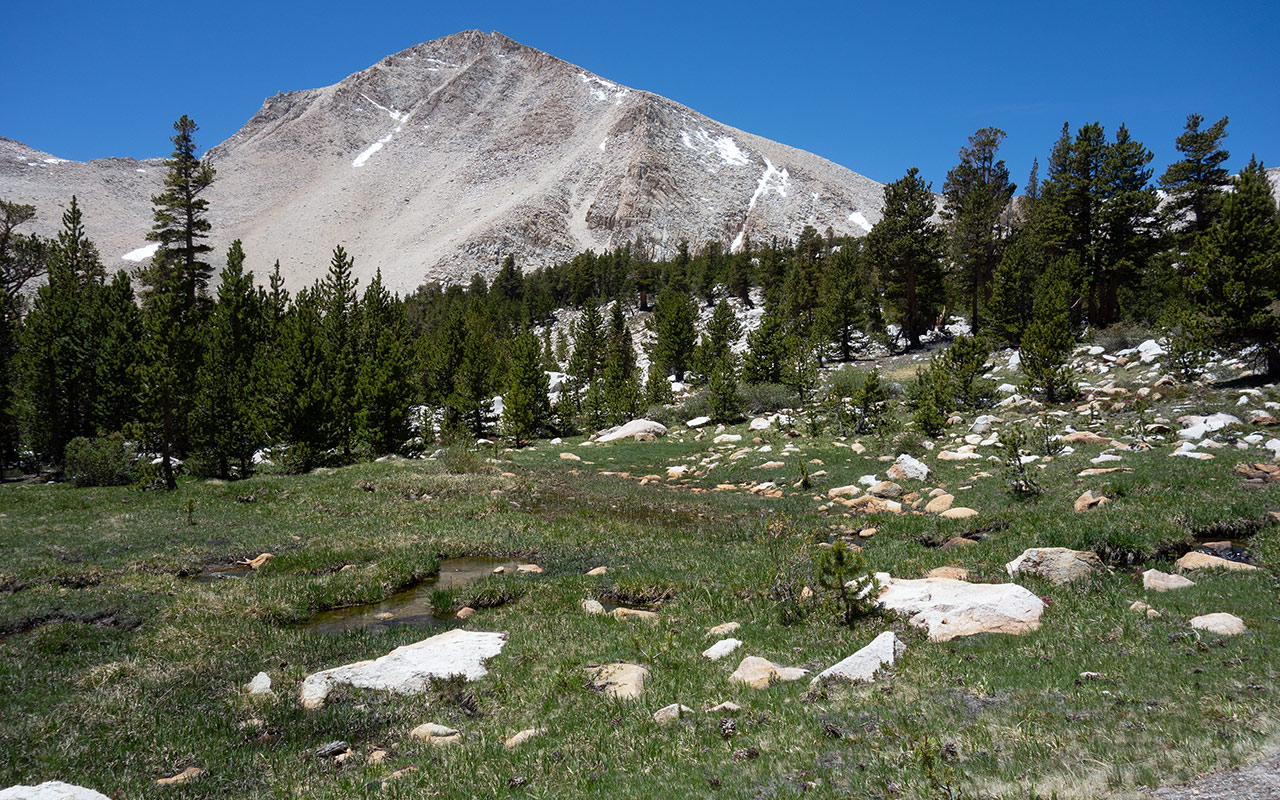 I've always wanted to ski Cirque Peak. This is a handsome sub-13K' peak in the Golden Trout Wilderness, near Army Pass and Mount Langley, with a scooped east face that looks ripe for winter descents.
But Horseshoe Meadows Road might be one of the very worst of the Sierra approaches: closed in Winter around the 6000' line, miles and miles away. Not quite as bad as starting from Owens Valley, but it's close. I know people who've biked up this road! That's a big-deal effort. Still, biking with skis on your back might be the only way to get to Cirque Peak when its snowy.
I'd like to think, someday, I might actually try it.
The Golden Trout Wilderness is, of course, the only place you'll find California Golden Trout, making the area a favorite destination for fishing in summer. I hiked/climbed the peak in 2014, a trip and a year I remember well, as it marked the end of our bid to buy a house in Southern California. The market began rebounding, and we were priced out.
If you go (in summer, no doubt), you can hike straight up Cirque Peak's northeast ridge, then circle down to New Army Pass, and return to Horseshoe Meadows for an outstanding (and longish) loop hike with magnificent views of the Southern Sierra.
Way back in 2008, Bill Henry and I hiked around the backside of Cirque Peak (passing Chicken Lake) as part of our Pacific Crest Trail hike from Onion Valley Valley to Horseshoe Meadows, which means I've successfully circumnavigated the peak. Maybe next a traverse from Cirque Peak to Mineral King?
I bet that would be amazing.
— March 17, 2020
Andy Lewicky is the author and creator of SierraDescents
Dan Conger March 18, 2020 at 5:21 pm
A friend of mine did Mineral King to Whitney and out through the portal ... epic.
Brad Brown March 18, 2020 at 6:44 pm
It's all amazing in this area. Camped on my honeymoon with my poor bride in the meadows, September 1971. Returned July 2017 for attempt # 2 on Langley. Hike buddy Bob had a bit of AMS on summit day so our alpine start became a brunch start. Despite symptoms he kicked butt from NAP and beat me by 45 minutes to summit, where I arrived a little after 5. I had intended to stroll over to Cirque from NAP but the sun was setting upon our return with camp still a few miles off. And there was still that 100' slush cornice burying the NAP trail at the crest, which now became a freezer crust technical descent-the cornice mocking our feeble axes and trail boots. Fortunately, scouting revealed a class 3 hack that dumped the grateful hikers back onto the trail below the white beast near last light.

I woke the next morning, sat and stared up at what could have been some 1,500' above camp, and but a few feet the evening before. Ya wanna make God laugh, tell him your plans...