Birch Mountain Marathon
Sun Cups, Fingers of Snow, & Shark Fins in the Dark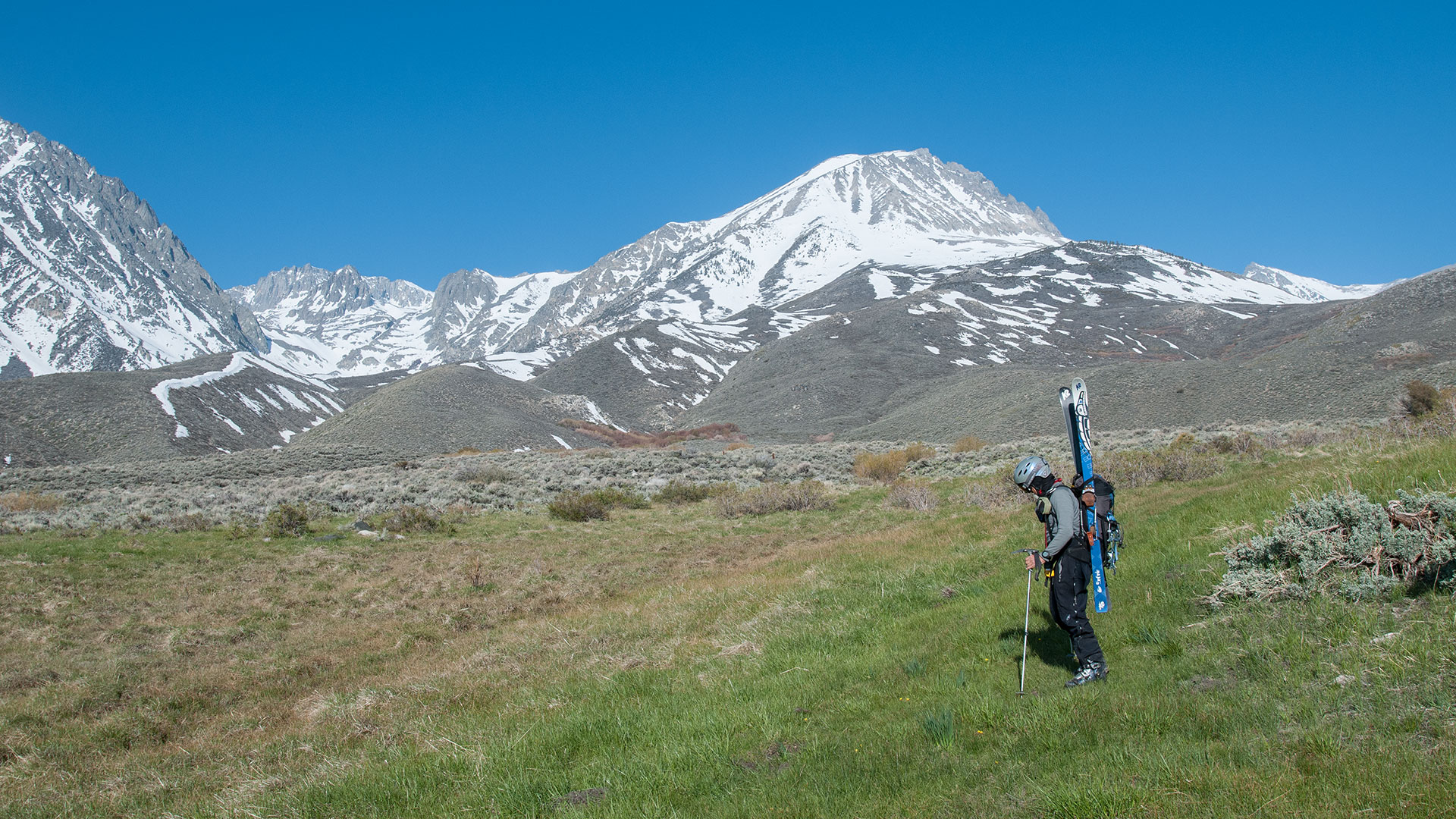 Birch Mountain, California — Birch Mountain is one of the true giants of the Eastern Sierra, offering skiers and snowboarders one of California's biggest continuous descents.
From McMurray Meadows, elevation 6400', it is a long but moderate climb to Birch Mountain's 13,665-foot summit. For the effort skiers will be rewarded with magnificent views of the nearby Palisades, plus the possibility of over 7000 vertical feet of skiing on the broad southeast slopes below.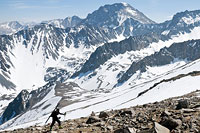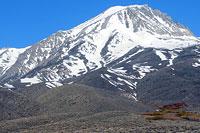 Something magical happens in the vicinity of the Palisades. Here you find what many call the most Alpine part of the Sierra.
Here you find the Sierra's glaciers, crevasses, and high couloirs, as well as the range's greatest concentration of fourteen-thousand-foot peaks—many accessible only via technical climbing.
Here also are stirring ridges and inviting flanks sweeping right down to the Owens Valley desert instead of into the usual, impenetrable drainages to the south. All of this combines to make the Palisades Group one of the most diverse feasts of Backcountry Skiing terrain in the entire Sierra.
Though not the highest summit in the region, Birch Mountain is nonetheless a prime destination for ski mountaineers. If you are looking for big mountain skiing, Birch certainly qualifies. In fact, Birch Mountain's broad but massive slopes evoke comparisons with Mount Shasta, with the added bonus of abundant Palisade views.
In good conditions, Birch Mountain is skiable from nearly all directions. Of particular interest to skiers, however, are the mountain's moderate southeast slopes. Traditionally, these sun-kissed snowfields are accessed from Tinemaha Creek, though an alternate approach from McMurry Meadows straight up the east face will often offer a longer descent on snow.
Whichever way you go (including the option of a north-south peak traverse), Birch Mountain offers unforgettable backcountry skiing in the heart of the High Sierra. Just be sure you get an early start—and be prepared for a very long day.
A Late Start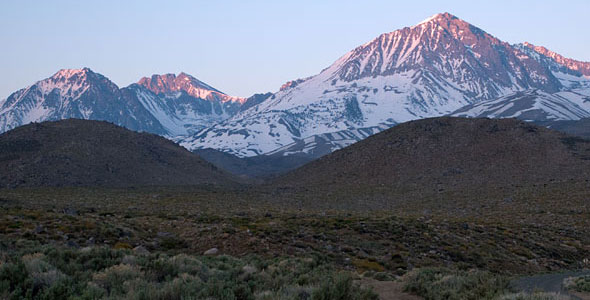 The invitation seemed innocent enough: Sierra Club Ski Mountaineers' Section group leader Alvin Walter sent me a note saying he wanted to ski Birch Mountain.
Would I like to join his party? You bet. I'd been contemplating staying home on my sofa for the weekend, but this was just the spark I needed to pack up my gear and head north.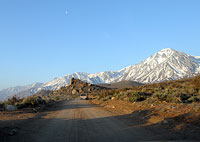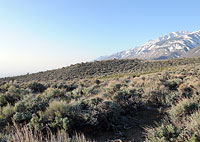 I'd heard about Birch Mountain's massive vertical. A chance to ski it was much too tempting to pass up.
I met Alvin on McMurray Meadows Road just outside Big Pine California the next morning at 6 a.m., where we waited to rendezvous with a few more group members.
Not without some trepidation, I watched as the sun peeked above the White Mountains to the east, setting Birch Mountain's southeast face glowing orange-pink above the shadows of Owens Valley.
Ordinarily by that time in the morning I'd be well up the mountain on a 7000-foot climb—especially when trying to ski south aspects. My preferred modus operandi would have been to hike up to the snowline the previous day, spend a bare-bones overnight, and start skinning up an hour or two before sunrise.
But, group travel demands flexibility. If the snow on Birch's southeast slopes grew too soft—as I feared—I planned to turn around by noon or so. If not, well, Birch's summit was certainly a tempting target, regardless of how late it got. We drove up the road a bit, stopping when we reached the parking area for the direct east approach.
Surprisingly, less than a mile of easy walking would put us on the nearest finger of snow.
From there, it looked like we'd be on skis the rest of the way up, with only a few short patches of grass to cross here and there upon the lower flanks. To a South Sierra skier like myself, that looked about as friendly an approach as a gilded chairlift, but others in our group wanted to continue to the Tinemaha Creek parking area to see if we could get even closer to the snow.
Ah, you SMS softies! Onward we drove, getting into a minor snafu when the road soon proved unfriendly to Honda Civics and other 2WD vehicles. Those with four wheel drive scouted ahead, discovering in time that Tinemaha Creek would ultimately put us even farther from the snow, so back we went to the Meadows—a very late start indeed.
Fingers of Snow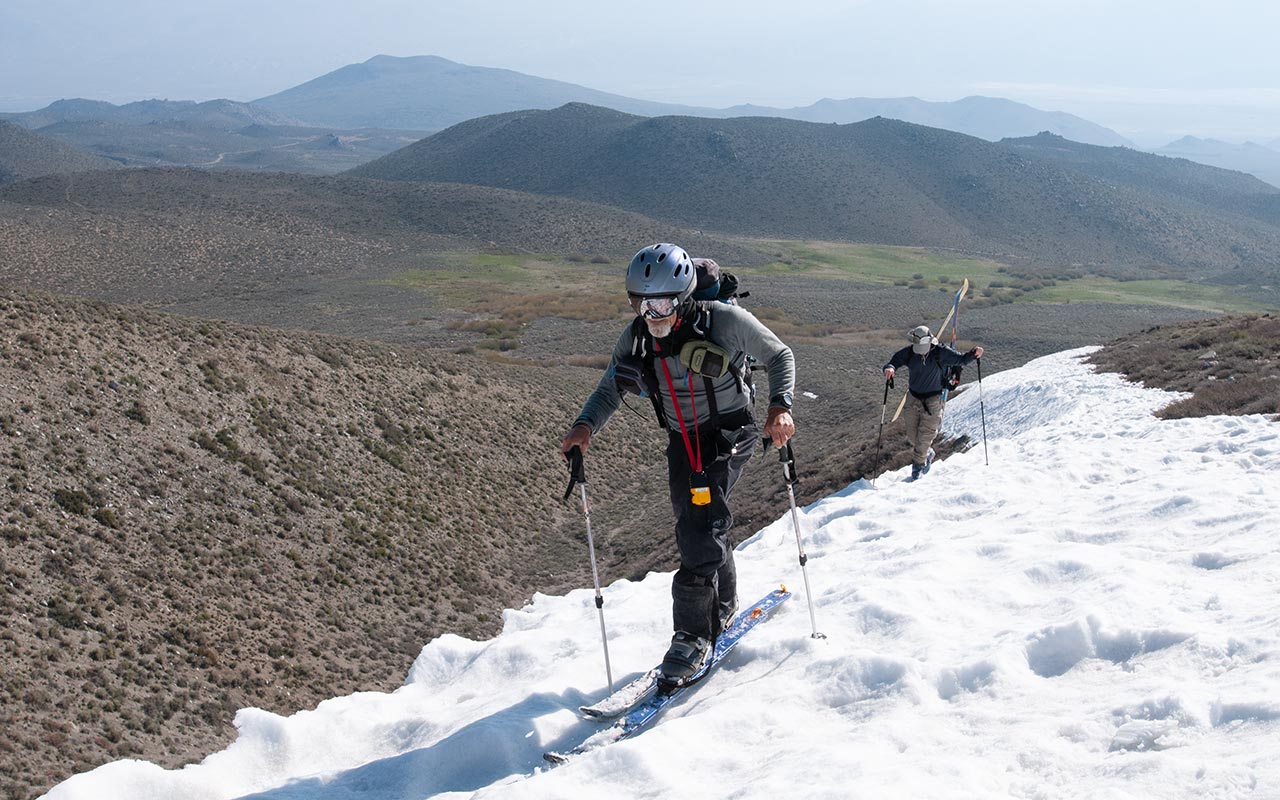 Two dry, windy months have not been kind to the Southern Sierra snowpack. But we are nonetheless fortunate today to find snow only a short while after we start hiking.
Thanks to the gentle gullies running east-west along Birch Mountain's flank, we spot a few narrow fingers of snow on the mini-north aspects. The longest such finger is easily a mile in length, traversing alongside the edge of the Tinemaha drainage.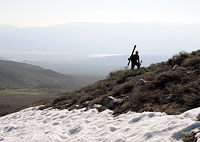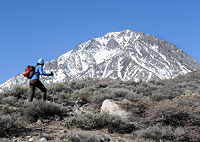 After a moment or two of conversation, we agree to make it our target.
The day is warm.
Thanks to our late start, it's already near 8 a.m. when we arrive at the lower end of the snow finger.
Some of us switch to skis and skins; others hike up the snow in ski boots.
Either way, we enjoy fine views of nearby Mount Tinemaha as we ascend this sun-cupped snowy ribbon.
The snow's surface at this low elevation—just below 7000'—is quite textured.
I find myself hoping we'll find smoother snow on the higher elevations.
If not, our late start may well prove beneficial—to give the sun ample time to heat and soften the surface.
Meanwhile, there is the business of climbing to attend to. We're all making good time in our ascent, but it's hard not to notice that we don't seem to be getting anywhere. Birch Mountain's massive scale is beginning to make itself known.
Our finger of snow goes on and on, while the mountain above gets no closer. The only reliable indicator of progress is to look back and eye the gradual elevation we're gaining above Owens Valley. In this regard, Birch Mountain is again reminiscent of Mount Shasta. Both mountains are indeed immense, and both lack prominent landmarks upon their lower flanks by which you can gauge your upward progress.
Big Mountain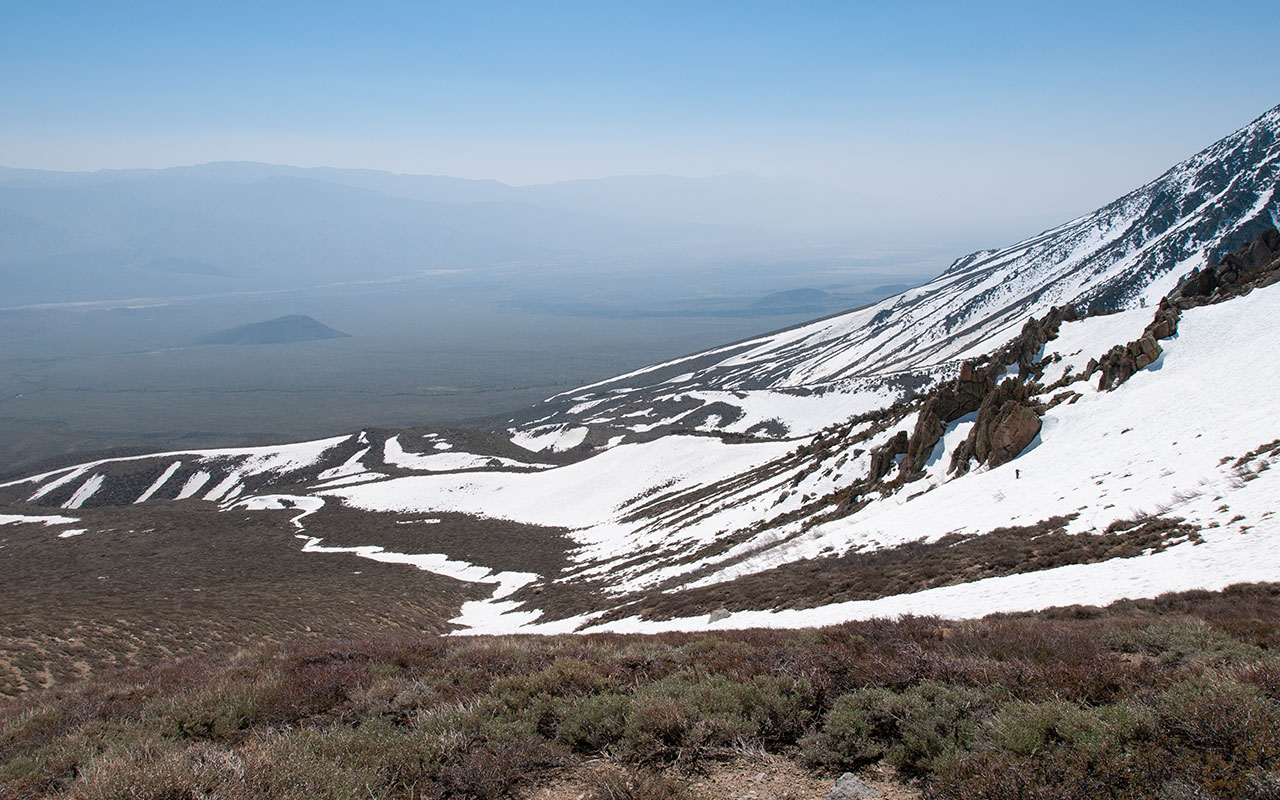 Birch Mountain is the kind of place where you just better pray the wrong song doesn't get stuck in your head. Have we climbed a thousand feet already?
Two? The mountain—and the summit—still refuse to get any closer. Our group has scattered a bit as we each find our own path and pace up Birch's endless lower flank.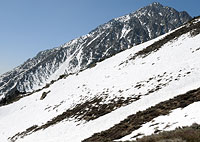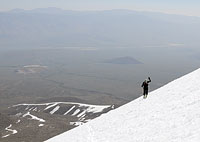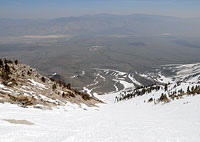 I pause to look for my companions.
We're all tiny specs now.
These tiny dots inching up the mountain around me provide the first true hint of the scale of our ambition.
It's beginning to dawn on me that, yes, we really are trying to climb over 7000 vertical feet in a day.
I haven't done that since—you guessed it—Mount Shasta.
And so my mental jukebox searches for inspirational tunes to play to help speed me upward...and the theme song from Disney's amusement park commercials gets stuck in my head.
I'd call it less than optimal climbing music.
Onward!
Truth be told, we are making gradual progress.
The snow fingers eventually merge into an expansive snowfield that leads upward to Birch Mountain's east couloirs—our chosen ascent route.
Problem is, the sun cups aren't abating.
In fact, we can now add 'shark fins' to the list of the snowpack's surface texture features. There is good and bad in this. The bad is obvious: sun cups (especially when frozen) can easily render snow unskiable. However, this surface texture, which results from uneven heating of the snow over time, also acts as a protective barrier for the deeper snow below.
Broadly speaking, the textured fins and cups absorb the sun's energy.
This allows the snowpack as a whole to stay cold—solid and stable. As I assess the phenomenon first-hand, I decide that I'm not concerned about wet slides today. That's good news, as we're certainly not on pace to make an early summit. In fact, I now think skiing Birch's southeast face in mid-to-late afternoon will offer the best possible ski descent, as it will allow the snow to soften as much as possible.
The doomsday scenario, of course, would be to have to ski snow like this when it refreezes. Just the thought of that makes me shudder. But, we still have lots of warm sunshine left in the day. I see no chance of that happening.
Up the East Face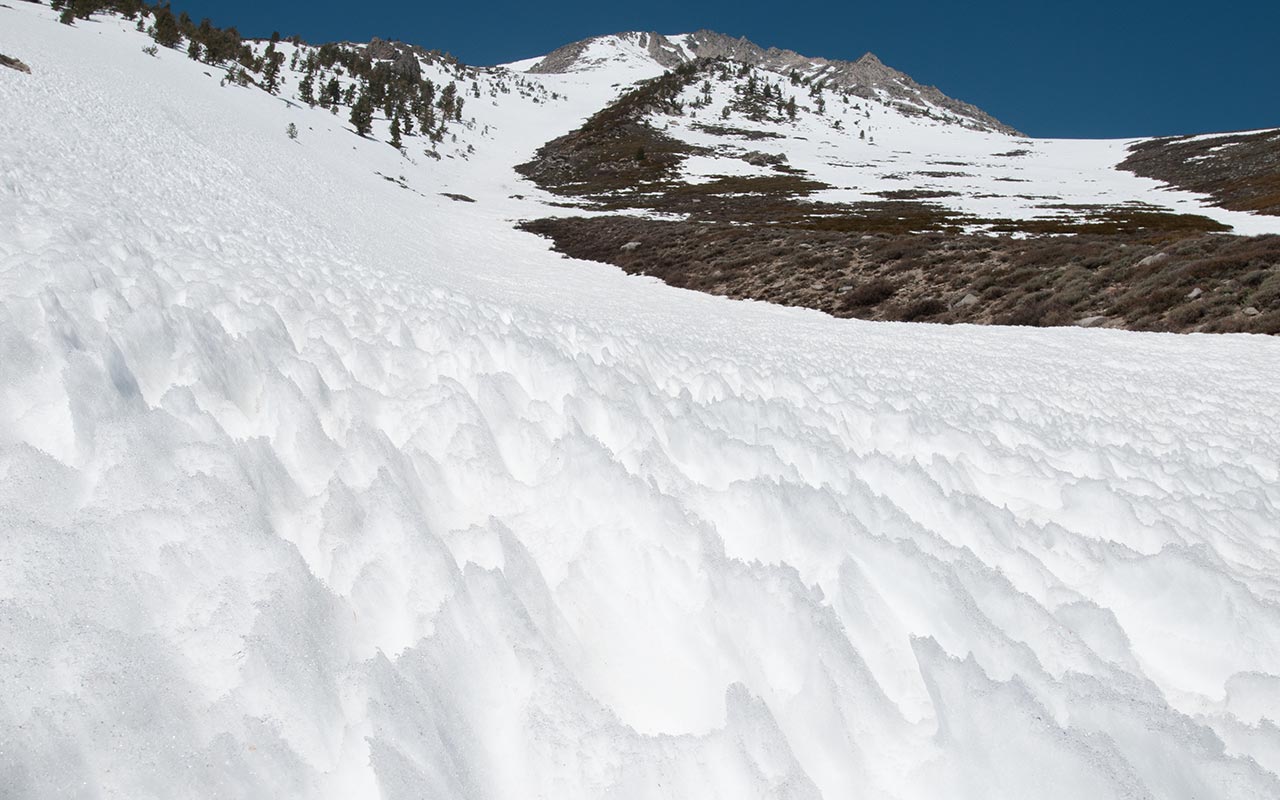 Ascending the heavily-sun cupped snow proves devastating to both morale and body. It is a merciless war of attrition that cannot be won.
Skis must be stomped down with each step to try to set the skins in the soft snow. The shark fins must be punched through with each forward shuffle.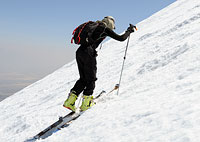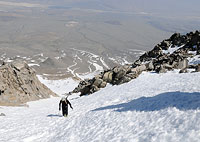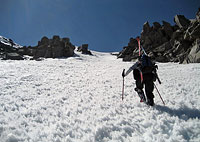 And still, the melting fins and cups collapse, causing the skis to slide back down the hill.
I'm gradually ascending at a lower and lower angle across the fall line, zig-zagging upward oh-so-slowly.
At least that damned song is out of my head, replaced with a robotic drone of breath, pole plant, step.
I'm shadowing Hristo, trying to match his pace, but gradually falling back.
He's on Dynafit bindings, and I'm immensely jealous of the extra efficiency they grant him.
Or maybe I'm just running out of gas.
Eventually, I can't stand the hell of trying to ascend on skis any longer.
I pop off my bindings, put my skis on my shoulders, and start booting up.
This is perhaps marginally better, but it remains far from easy.
I need a break.
I find a nice sunny rock to sit upon. First, I tend to some developing blisters on my feet.
Then, I eat a quick snack, trying to refuel. How much higher is the summit? I resort to naked deception, lying to myself that we're less than two thousand vertical feet away. Even that number is hardly encouraging. As Hristo and I begin climbing up the East Couloir, the snow remains lousy, but it's at least firm enough to kick steps without sinking too deep.
I've long since abandoned any idea of finding good skiing on Birch Mountain today. The season looks to be over here in the South Sierra. Two snowless months have killed the snowpack. The best I can hope for is that this mess of melting sun cups and fins will ski like thick, manky powder. I'm in this for the summit alone, now.
Save for Hristo and me, the others in our group have all fallen well back. We can't see them anymore. I figure they've turned back, which is probably the smart thing to do—probably what I ought to do. Instead, I take yet another deep breath, put my head down, and press onward. I'm not done yet.
Summit Snowfield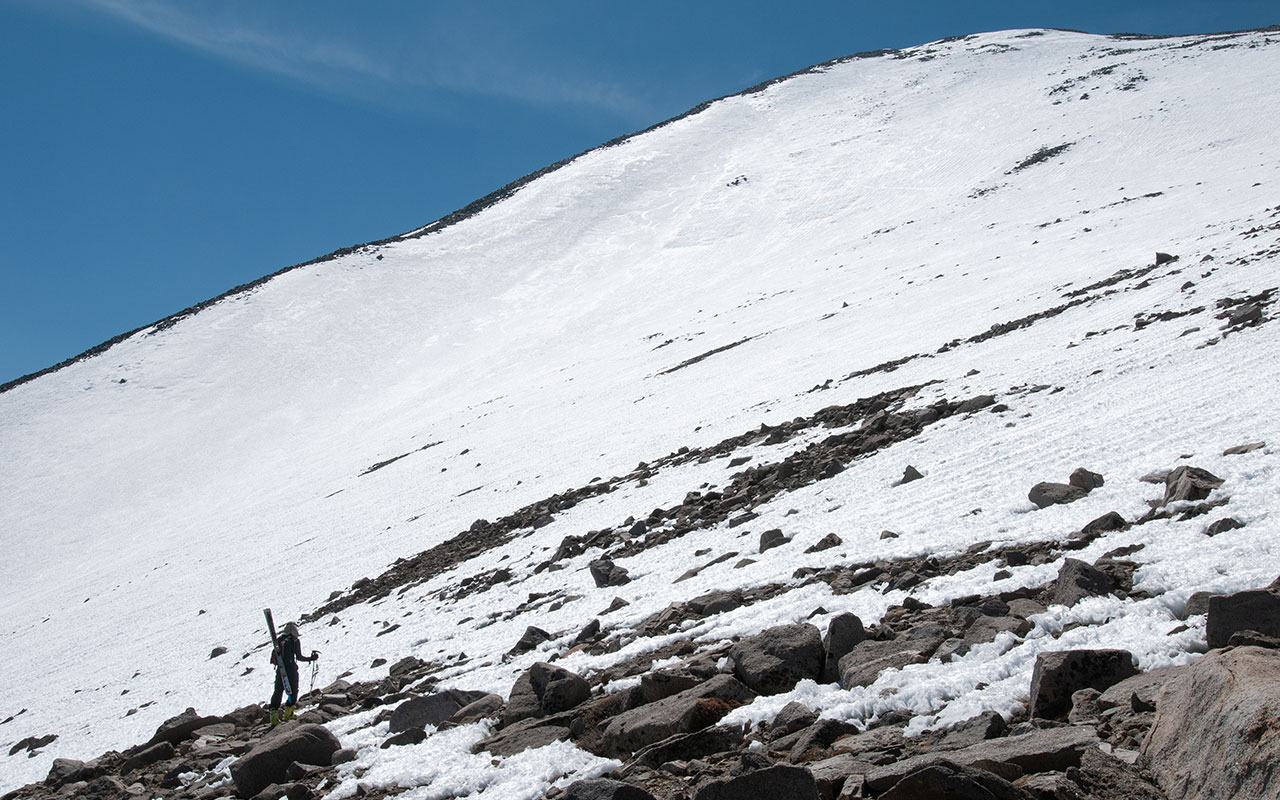 Birch Mountain's East Couloir extends in excess of a thousand vertical feet. When I reach the top of it, I am begging aloud for the summit to be near.
Instead, I see a massive upper snowfield at least another thousand vertical feet high. The snow here looks smooth and inviting—but who would ever climb upwards of a vertical mile for a few good turns?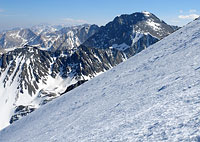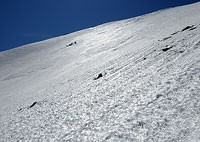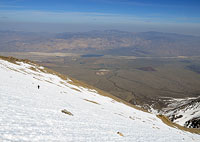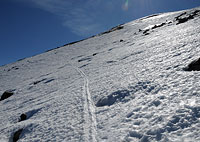 At least the views are dazzling.
Split Mountain, one of California's fourteeners, is on prominent display to the south.
Nearby Mount Tinemaha's north face shows a number of intriguing couloirs that might just fill in with enough snowfall.
Hristo and I cross a hundred yard patch or so of bare talus—a tedious business on wrecked legs and ski boots.
Once we cross to the summit snowfield, we switch back to skis and skins and resume climbing.
If there is a vulnerability in the heart of every mountaineer, now is when it manifests.
We have been climbing continuously for over six hours now—six hours and more than six thousand vertical feet.
Our investment in terms of energy, effort, and pain is immense.
And the summit is close now: just another hour to go.
Could you turn around here if you had to?
For myself, I know the answer is yes.
I once turned back near 14,000' on Mount Williamson when the weather abruptly changed for the worse.
It was an agonizing decision, given the effort it took to get there, but I count turning back that day among my greatest mountaineering achievements. That said, I also spent the next year gnashing my teeth every night until I returned and finally summited.
Today there will be no such dilemma. I'm keeping an eye on the shadows in Owens Valley below. Though I don't have a watch, the sun still seems high enough overhead. Is it near two o'clock? I guess it's around three. So long as the snow stays soft below, we'll be skiing almost all the way back to the car. Conditions won't be great, but baring any unpleasant surprises the skiing will be manageable.
So breathe and exhale, kick those stony legs into gear, find the right song, dig deep into whatever force will keep you going. The summit, at long last, is near. I can hear it calling. And if the day has indeed grown alarmingly late, that is a message I don't want to hear right now.
Palisade Views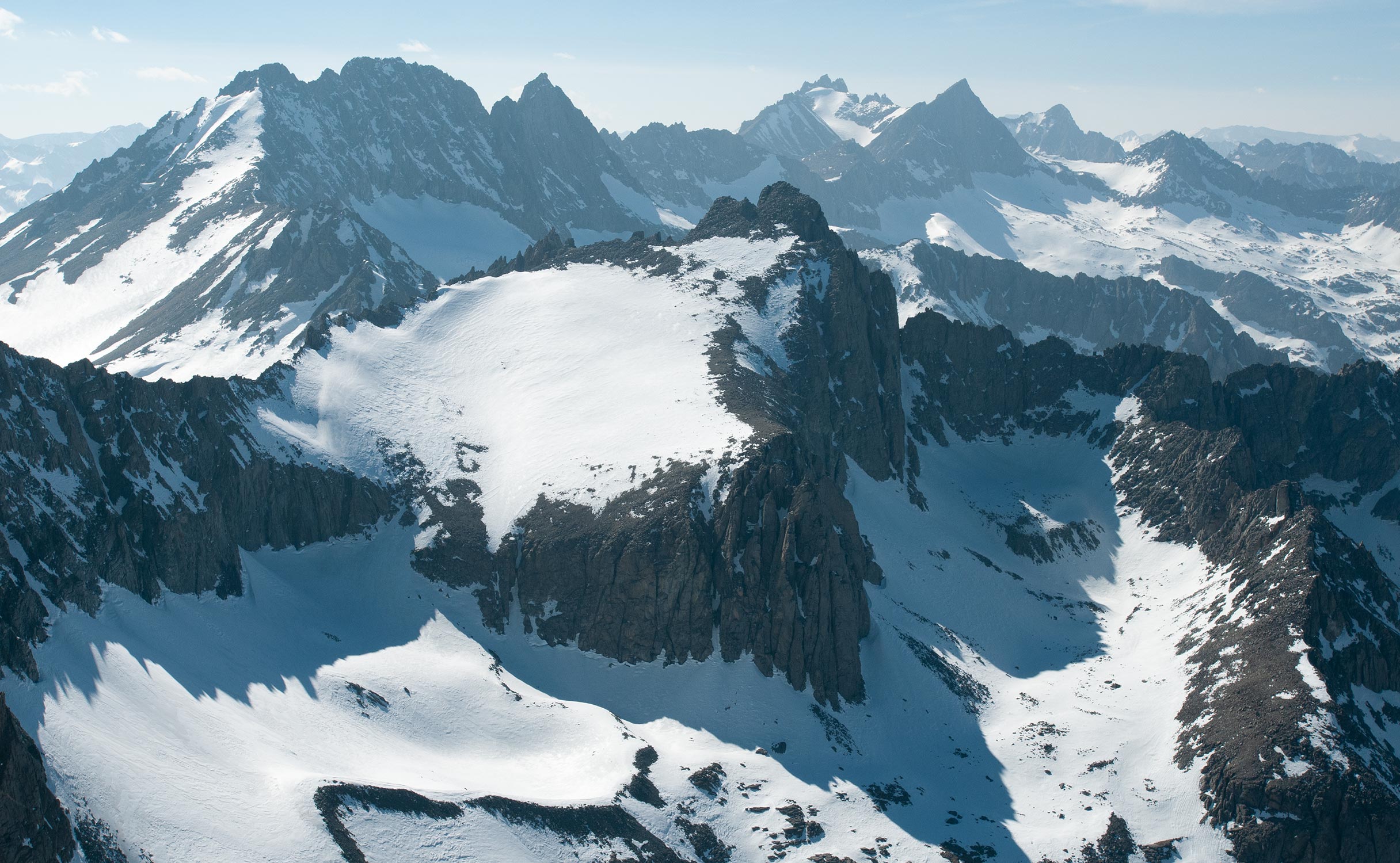 Snow at last gives way to a scant few steps of loose talus, and then I'm standing atop Birch Mountain's summit, gazing westward. In one sweeping view, I see all the mighty peaks of the Palisades.
The view alone justifies the day's effort. Someday, I hope to climb those summits, ski those glaciers and cirques and couloirs. This part of the Sierra is unknown territory to me—wild and intimidating.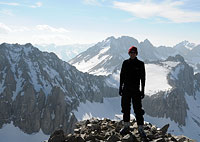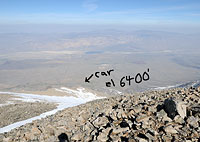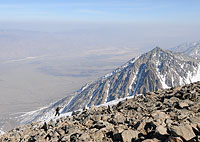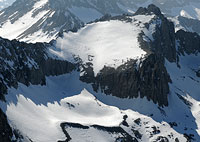 I peel off my shirt to let it dry, lie down on a flat rock near the summit register.
My body, all in all, has held up well today.
When I peek over the southeast face to check on Hristo, he's bent over his poles, resting, at least a half hour below.
That gives me time to bask on my rock and contemplate the ever-present mysteries of life.
Contemplation done, I fish out my food bag and start wolfing down a PB&J sandwich.
I'm starving. Thirsty. Exhausted.
Looking east, I can see the finger of snow we followed from McMurry Meadows.
I can even see the meadows, though my car is of course invisible.
Man—that's a long way down.
How the heck did I ever get up here?
And more importantly, how are we going to get down?
Thank God we have skis.
Time passes.
I'm roused from a semi-nap by the sound of poles clacking. Hristo is nearing the summit. I rise to offer my congratulations. That accomplished, Hristo informs me that Alvin, our leader, is still ascending. This is surprising news.
I peer down the southeast face, and sure enough, there he is, a tiny dot just starting up the summit snowfield. Hmm. I'm thinking Hristo and I should begin skiing in the near future. The Sierra granite around us is taking on a decidedly orange cast.
We spend perhaps another fifteen minutes atop Birch Mountain, taking photos, preparing for the descent. It's funny, in the mountains, how things can sneak up on you in plain view. The clues have been evident all day, and yet, I remain blissfully unaware of what is lurking around the corner. Did I mention unpleasant surprises? We're about to get a big one.
Descending into Shadow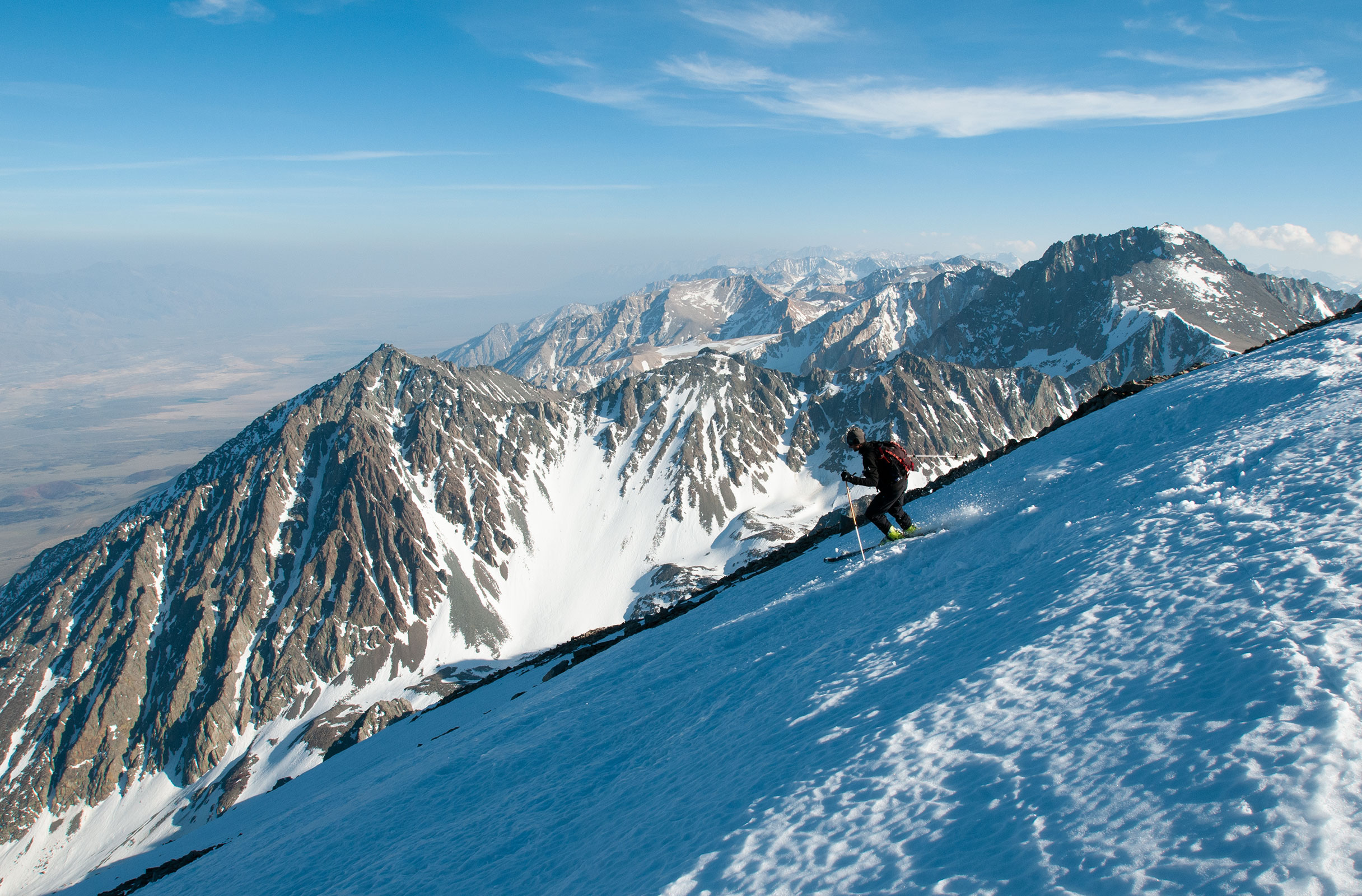 Ready at last to descend, I turn my attention away from the Palisades for the last time and go to retrieve my skis. Wait a minute—is that a shadow?
Yes, spreading like a dark stain down Birch Mountain's southeast slope: the east face is in shadow. The east face is in shadow. Utter horror overwhelms me. The sun cups—oh my god, the sun cups! How fast will the snow refreeze?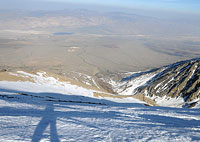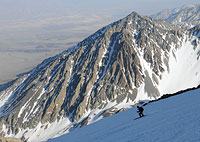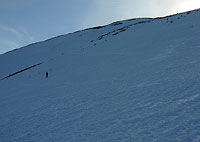 I look back at Hristo. His face tells me he's thinking the exact same thought. I have a mad urge to race down the hill as fast as possible—anything to stay ahead of that shadow line. But in truth, our fate is already sealed, and has been for a while.
The steeps in the east couloir must be completely dark. Probably have been dark for well over an hour. It is an east-facing slope, after all. A little mad laugh escapes me.
Maybe the snow will miraculously stay soft without the sun?
I snap into my bindings and set off. The first turn reveals the wet snow is already refreezing, alternately grabbing and releasing my skis just like breakable crust.
Pivoting the skis requires a hop to completely break free of the surface, then a careful landing to avoid hooking an edge. There is every reason to suspect things will be much, much worse below. Much as Hristo and I would like to hurry, we're forced to take our time skiing down. It's exhausting work.
When we reach Alvin midway down the face, around 13,000 feet, it's near 5 p.m. Alvin is still doggedly climbing up on skins, and he's got a look in his eye that says he's headed for that summit no matter what. He gets no big speech from me. I am a soloist at heart, after all, and therefore have no place advising people against doing any crazy fool thing they can imagine.
Still, I do take a moment to point out a few of the finer points of our predicament—specifically the fact that billions of sun cups below are refreezing as we speak. Alvin has his own advice to offer: the East Couloir is unskiable ice, he says. He intends to descend via Birch Mountain's south slopes (which are still sunny) into the Tinemaha Creek drainage, which will eventually reconnect (hopefully!) to the road leading to McMurray Meadows.
With our respective warnings out of the way, Alvin resumes his ascent.
Hristo and I contemplate Alvin's plan. Could we really salvage the skiing by switching to south slopes? It's tempting. The downside of abandoning our ascent route—and it is not a trivial liability—is that we'd be skiing into unexplored territory. I didn't scout Birch's south face. I do have vague memories of a steep upper snowfield funneling into what looked like a bare gully, with a lot of snowless bushwhacking below, but that's it.
Hristo suggests we ski over to the east couloir, and assess the conditions firsthand. If it's not possible to safely ski it, we'll abandon our route for the south slopes. That sounds good to me. Every time I've ventured into the unknown in the backcountry in the hope of making my life easier, it's gone poorly. Better, as they say, the devil you know...
7000 Vertical Feet of Hell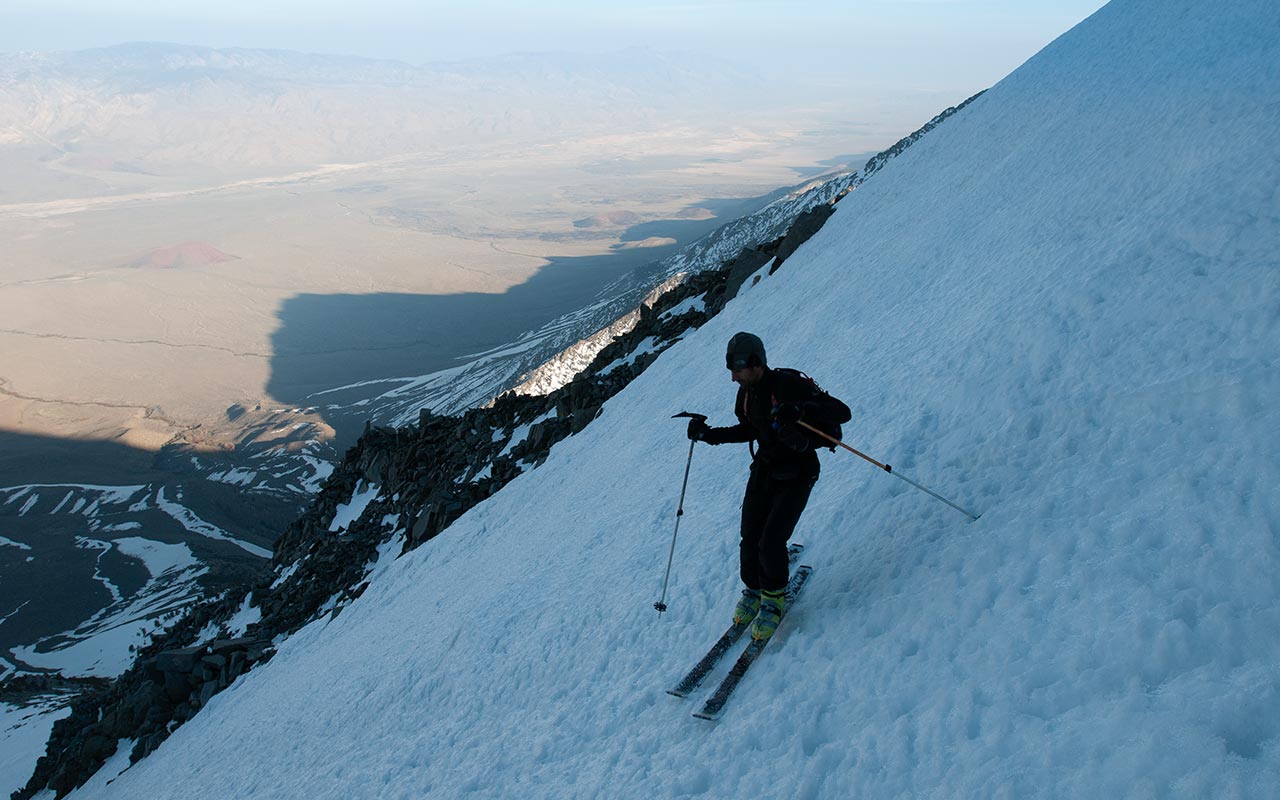 I get to the top of the East Couloir first, so I will be the guinea pig. Skis in hand as an emergency belay, I carefully investigate the snow's hardness.
My verdict is that it is firm but skiable. The texture should be on our side here, providing added grip for our edges. Nonetheless, it takes no small measure of commitment to snap my skis on, side-slip into the chute, and bang off a turn on 35-40° frozen sun cups and fins.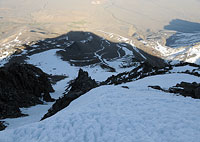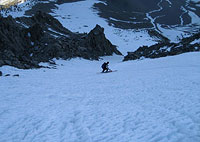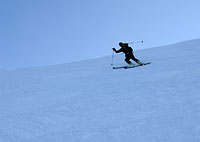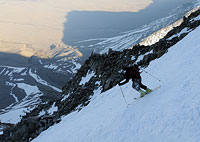 It's skiable—barely.
The angle is just moderate enough.
If it were even a little steeper, it would be too dangerous to ski snow this hard.
And the crazy texture of the surface creates its own challenge—carving smooth arcs is impossible.
You've got to pivot aggressively in the air, get the skis pointed where you want to go before they reconnect with the snow.
Even then, it's a struggle to stay balanced over the skis.
After a few far-from-pretty survival turns, I pull over to see how Hristo will cope with the couloir.
To my relief, he looks solid.
I'm impressed.
In my opinion, anyone capable of skiing this crap deserves a medal.
On the other hand, anyone foolish enough to get stuck skiing this crap deserves to have their medal revoked immediately afterward.
What's especially anguishing about the skiing is that it didn't have to be this way.
Had we been here just a few hours earlier, on soft snow, things would have been fine, maybe even great. Under the right conditions, textured snow at high angles can make for fine steep skiing. Now, we're stuck with survival skiing on legs so wrecked we've got to stop every few turns just to catch our breath. Mentally, the conditions are a huge challenge.
The risk of injury is significant with every turn. Ski tips bang into sun cups. Edges stick. Knees get wrenched. The back is under constant assault. Forget about fun—forget about everything but gritting your teeth, setting that pole plant, rattling out another turn, and another, seemingly without end.
I wonder, pausing in between turns, what Alvin will find on the Birch Mountain's South Face. It can't be worse than this. But I don't for a moment regret choosing to ski the east couloir: it has kept us on-route. Hristo and I know exactly what lurks below. We know every step of the way back to our cars, no surprises. With patience, caution, and a ton of hard work, we'll be able to safely inch our way back down this giant mountain, one agonizing turn at a time.
Runout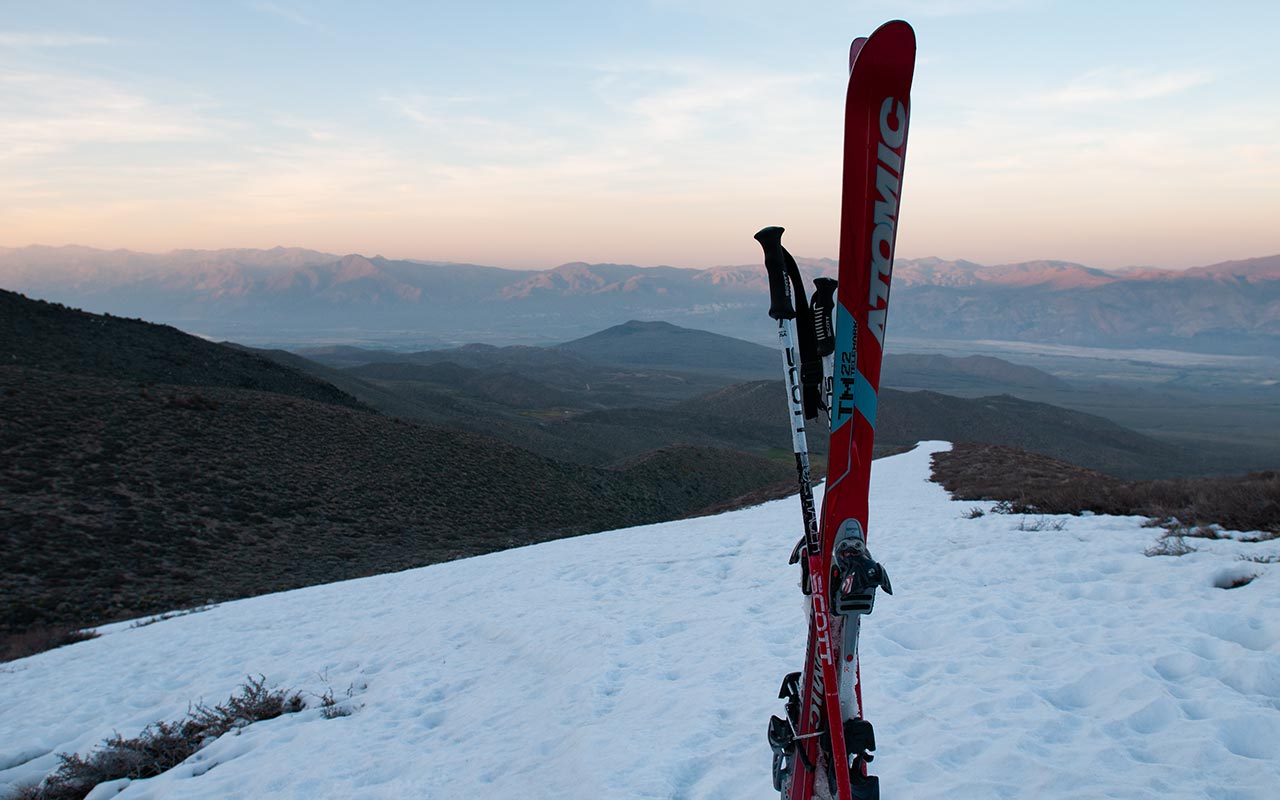 Somewhere below the east couloir, elevation 11,000' or so, I start trying to drift off to my happy place. This is a ski descent that measures in not minutes but hours.
With another four thousand vertical feet to go, the snow's texture has continued to worsen. The sun cups are much deeper now. Maintaining travel on skis requires finding relatively smooth patches upon which it's possible to make turns.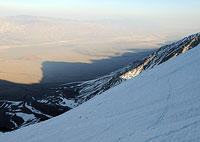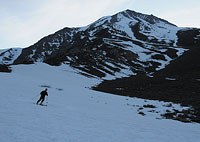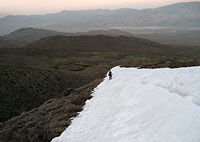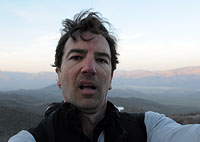 It also requires suffering.
In my addled state, I find myself speculating whether my legs will simply pop off from the immense strain. Hristo and I criss-cross the immense snowfield on Birch Mountain's lower eastern flank in a futile search for smooth snow.
I keep thinking the snow has got to soften at some point, but the surface remains jarringly hard. I'm developing a dark suspicion that it would actually be faster to take off the skis and walk down.
It would certainly be easier.
Somewhere in the vicinity of 9000 feet, the snow's icy crust at last begins to yield a bit. The air feels warmer down here.
We are returning to the Owens Valley desert.
The softer snow has at best a tiny impact on the skiing; the sun cups get softer but deeper. But it does take the edge off the constant jarring we've been subject to for the past unknown number of hours.
I imagine Birch Mountain covered from head to toe with smooth, glorious corn snow.
On these wide open slopes, we'd be racing downhill, carving effortless, sweeping GS turns.
Whatever activity we are engaged in today, it does not in the slightest bear any resemblance to that happy fantasy. In the 2008 Sierra Backcountry season, spring arrived at the end of February. For those who were lucky enough to realize it, the range offered safe, big-line skiing on these giant southern summits. But for those who waited for 'spring' to arrive, it seems the season has long since come and gone. Perhaps up north there remains good skiing.
The south has little to offer now but misery.
Hristo and I work our way down to the slender finger of snow where we began our day. As a final bit of Sierra irony, we find the snow here has formed a cornice edge that is baby-bottom smooth. The skiing on this last finger of snow is actually quite good—the best by far of the day. We milk this narrow ribbon of snow until it at last gives out, leaving a walk of less than a mile to get back to the cars and end this adventure. For the first time in memory, it is actually a relief to take off my skis and begin walking.
The sun sets over the White Mountains. We hike across the marshy ground of McMurry Meadows in fading light. When at last we reach the cars, it is about half past eight, making for a grand total ski descent time of approximately four hours. Four hours to ski 7000 vertical feet? That tells this tale as well as any words I can muster.