Mount LeConte: High & Dry
Searching for Snow in LeConte's Northeast Cirque
Mount LeConte, California — Two years ago, in May, I drove north on Highway 395 from Lone Pine to Bishop, looking for interesting places to ski.
2005 was an El Nino winter, blanketing California's Sierra Nevada Mountains with enough snow to make just about every peak look skiable. Still, there were standouts—among them, Mount LeConte's Northeast Cirque.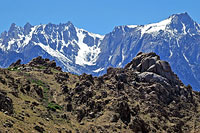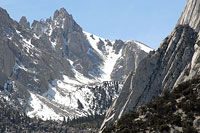 Since I was on my way to more popular destinations to the north, I resisted the temptation to change my plans that day—but I regretted it.
Covered with snow, Mount LeConte's steeps present a prominent target for ski mountaineering. The obvious ski descent is LeConte's broad northeast shoulder.
This sharply angled ramp gleams invitingly far above the town of Lone Pine, and easily ranks among the region's largest unbroken snowfields. But wait—get out your binoculars. With enough snow, the 13,960' pinnacle of Mount LeConte itself becomes skiable.
The contains a network of hidden couloirs and passages that twist between the spires and cliffs of the Corcoran Pinnacles. These are technical descents, to be sure, with all the inherent hazards. But even if prudence triumphs, and you decide not to attempt LeConte's ski extreme, you'll find a wonderful variety of terrain—skiable from the very crest of the Sierra.
Perhaps it was the memory of that winter that clouded my eyes as I gazed up at Mount LeConte's much less snowy slopes now, in 2007. Today, there is nothing to suggest Mount LeConte's east buttress is skiable—just bare, austere granite and vertical gullies. As for the Northeast shoulder, I do see what appears to be a few respectable snowfields, broken intermittently by lines of talus.
It is, to be honest, quite a bit more snow than I was expecting in this year of near-record drought. Once again, I'm headed north, off to ski other destinations. But this time, looking again at Mount LeConte's somewhat snowy spire, I can't resist trying to ski Mount LeConte. I stop at the Whitney Visitor's Center in Lone Pine and grab a permit.
Tuttle Creek Access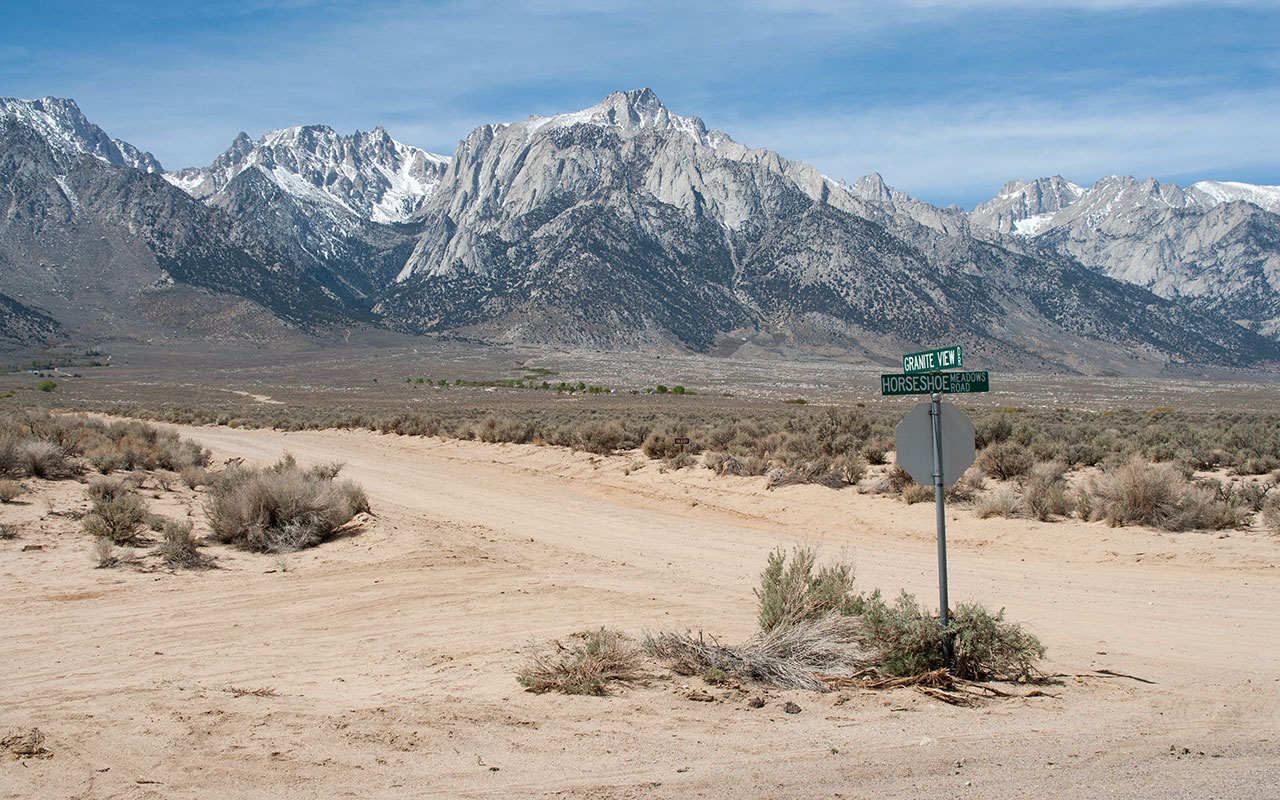 From highway 395, the most direct way to access Mount LeConte is via the 'Terrible' Tuttle Creek Drainage—an ideal introduction to the rigors of the South Sierra.
Depending on the condition of the road, it's possible to drive as high as 7000 feet. At the end of the road, a short but obvious trail gets you to the enigmatic 'Stonehouse' shelter, elevation 7700'.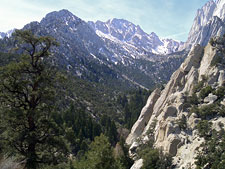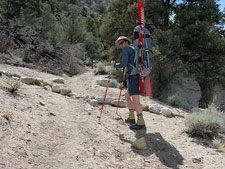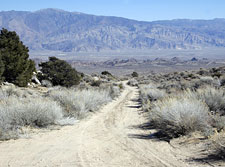 After that, you're on your own: expect massive vertical walls, impassible brush, and merciless talus wherever you go. I park the car around 6400' and pack up my gear.
The air is warm, in the 70's. At this elevation, I'm still in the Owens Valley high desert. Theoretically, it should be possible to ski from this elevation—snow does fall here in Winter.
Unfortunately, the heat of the Owens Valley makes quick work of the snow, even on north aspects.
Barring an ice age, you will almost certainly have to climb high to reach the snow in the Southern Sierra.
Thus, when I heft my pack, I'm carrying everything: boots, skis, water, overnight gear, the whole shebang.
The load feels crushingly heavy.
I fiddle with the straps as I trudge upward in the dust, trying to get the weight to sit properly on my hips.
As always, my first thought is that I'm carrying too much gear. Mentally, I review my inventory, trying to find ways to cut pounds.
There is no simple answer to this dilemma, however. I'll hike in my ski boots provided it's less than one mile or one thousand vertical feet to the snow. With a starting elevation of 6400', that is certainly not the case today, so my boots are in my pack. Also along for the ride are my ice axe and crampons. I'm always oh-so-tempted to leave these behind, but they've proven their worth on steep, frozen corn snow.
Shovel and Probe? Given the conditions, the answer is a controversial No, though I am wearing my beacon. Skis 'n Skins? Of course—that's why we're here. Not much can be done to lower this weight, but I do toy with the idea of giving Dynafit bindings a try next season. Clothing? I've got what I'm wearing and little else. My safety net is my sleeping bag. For the overnight, I'm carrying a Black Diamond Bivy Sack, a Marmot Helium Bag, and a Thermarest pad (my one luxury item).
Why, you may ask, can't we do this in one push—and drop the overnight gear?
First, remember, there is no trail. I'll be hiking up previously unseen terrain, scouting pitch by pitch, trying to avoid traps and dead ends, scrambling over talus and god knows what else. Even with the brightest headlamp, I can't imagine attempting this with a heavy pack and skis in the dark. The options, as I see them, are either grin and bear it, wait 'till next year and hope for more snow—or stay home.
Stonehouse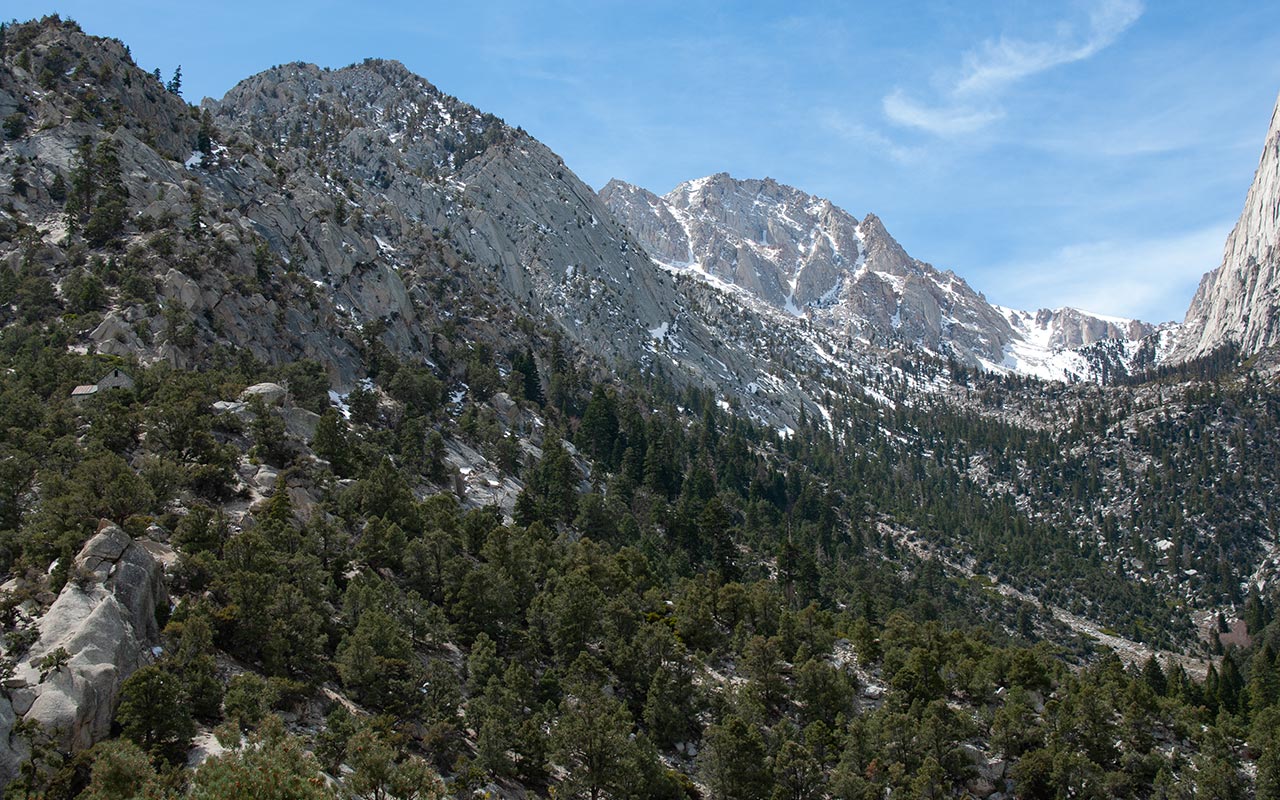 Thanks to the excellent trail, I soon reach the Stonehouse shelter, which sits high upon the ridge separating the drainage's north and south forks.
Galen Rowell spent a winter here in the 1970's, climbing the impressive walls above the shelter. On the opposite side of the drainage, I am treated with a fine view of Lone Pine Peak's south face—one of the Sierra's biggest walls.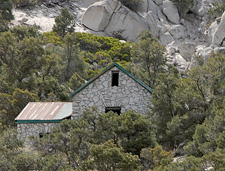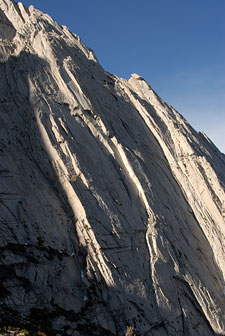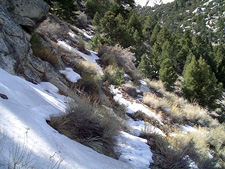 Though I do not consider myself a technical rock climber, I am nonetheless duly impressed with the many potential routes up smooth granite.
The 'Red Baron Tower', in particular, looks like a spectacular climb (see Climbing California's High Sierra by John Moynier).
From the Stonehouse, the trail essentially vanishes, and the route to Mount LeConte—a brutal traverse up the gorge's left slope—grows ever more difficult.
I have never been up this side of the drainage, but I'm hopeful conditions will resemble Tuttle Creek's south fork, which I've climbed en route to Mount Langley.
Following a faint use trail, I drop down around the Stonehouse and immediately begin losing altitude.
That makes me a bit nervous, but I stick with the trail, such as it is, and soon the faint path begins working upward and across the drainage.
Here on the drainage's northern aspect, I'm happy to see small patches of snow right away—a good sign, though the snow complicates foot travel.
Also complicating matters are the trees and brush.
The footsteps I'm following obviously do not belong to a skier, as the path repeatedly winds beneath overhanging branches which snag my ski tips and paint my arms with pine tar.
My pace drops as I contend with these obstacles, as well as the path's tendency to vanish, requiring route-finding skills to regain it. For a South Sierra mountaineer, this is 'the Usual Unpleasantness', as I've dubbed it. During such times, I find it's best to occupy myself with innocuous thoughts—anything to distract the mind from the tedium and burden of the work at hand.
Compared to the apparent distances seen from Lone Pine, the drainage seems to lengthen as I climb. This is a familiar and always-withering trick of perspective played by the giant vertical distances of the Eastern Sierra.
It reminds me of a horror-flick cinematographer's trick: the camera is dollied and zoomed at the same time, so that objects seem to race toward or away from the hero, who seems frozen in place. Not wanting my own efforts to seem futile, I try not to spend too much time looking ahead, focus instead on the loose ground at my feet, one step at a time.
A Talus Primer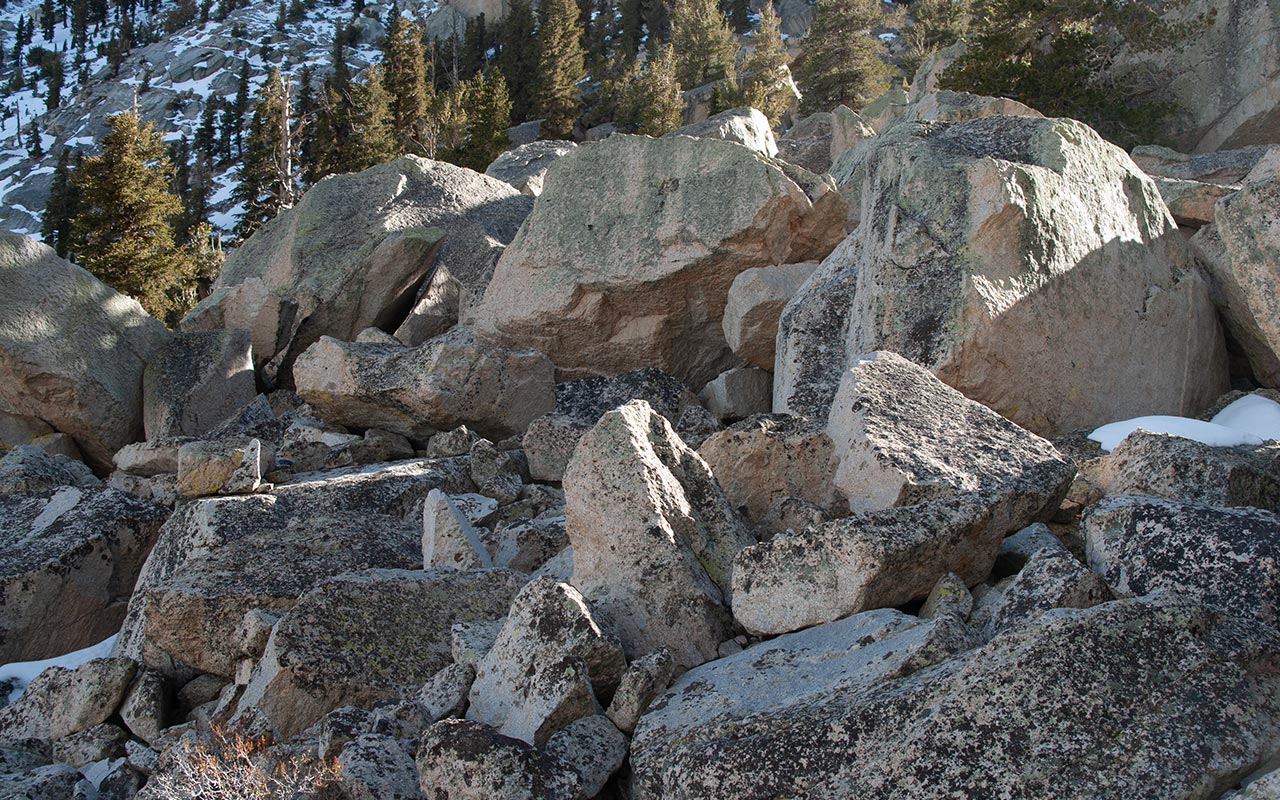 I'm beginning to get annoyed. I've spent the last few hours happily immersed in my happy thoughts, but my sunny veneer is starting to wear thin, and shadows have have grown long about me.
Unknown hours have passed as I've struggled upward; progress along Tuttle Creek's north fork has been achingly slow. The now-you-see-it, now-you-don't trail I've been following, off and on, has led me into increasingly rougher terrain—including an unexpected escalation of talus.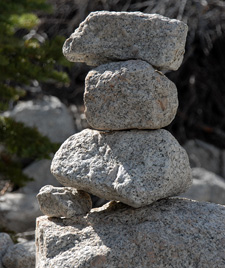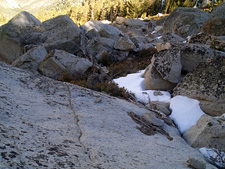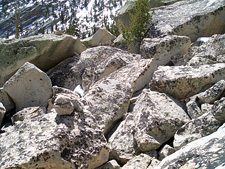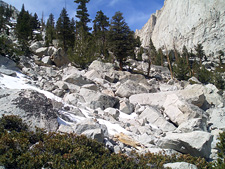 The talus, in particular, is causing problems. Safe travel over talus is something of an art form—especially when you've got a heavy pack and skis on your back.
The route ahead requires me to gain several benches or saddles. These are, of course, typical features in a mountain drainage.
Ordinarily, it is fair to expect rough terrain at these transition points, which are, after all, essentially giant piles of debris moved by ancient glaciers. But the Usual Unpleasantness is starting to look decidedly...unusual.
I've reached a massive talus field, perhaps 1500 vertical feet high or more, much of it comprised of giant-sized blocks and boulders. Snow and brush fills the gaps between the blocks of granite, further complicating the problem.
Frankly, I'm not prepared to face this kind of terrain today—I just wasn't expecting it. And so I am annoyed not only with terrible Tuttle's endless talus, but my own failure to anticipate it.
By chance, I scramble my way toward a grouping of cairns. Hopefully, they mark a viable route.
The cairns do indeed lead me through the worst of the blocks, though it takes time and care to find the next one, and the next—and the way is hardly trivial. I am climbing and stepping over 20-foot deep gaps between boulders. This is no fun at all—and it is inarguably dangerous.
Scrambling over large talus blocks can become comparable to Class 4 climbing: whether you realize it or not, you're exposed.
It is fair to raise questions of judgment now. Are you sure you want to be here?
With a light day pack, an experienced hiker should be able to safely scramble across a talus field. But should a would-be skier, with 50 pounds of gear, including top-heavy skis, attempt the same? What is the line delineating an appropriately aggressive effort to keep going, and a foolhardy refusal to turn back?
This is a question wise mountaineers repeatedly ask themselves. I chose to press on. Ironically, a big factor in my decision is this year's drought, which has left me starved for snow (the very same snow, I might add, which would normally cover all this rock). So how do I contend with the terrain? Focus: when traveling over talus, cultivate mindfulness of risk. Do not let your concentration waver.
Plan your route: stop, stand where you are, and plan your sequence of moves ahead of time. Where will you put your feet? Your hands? What happens after that? Do not find yourself scrambling successfully up a large, flat block, only to discover you're hung up on a 30' drop at the opposite side.
Use your hands: remember, you are a climber now, not a hiker. Resist the temptation to use trekking poles. Instead, make use of the abundant hand holds. Don't be afraid to use a stiff arm to temporarily assume your body weight, and climb facing the rock—up and down—when possible.
Be Patient: whatever you do, it will take time to cross talus. Do not rush, even as the sun drops closer to the horizon, even as your legs begin to shake. Have patience, and have faith. Slow and steady wins this race.
Stalemate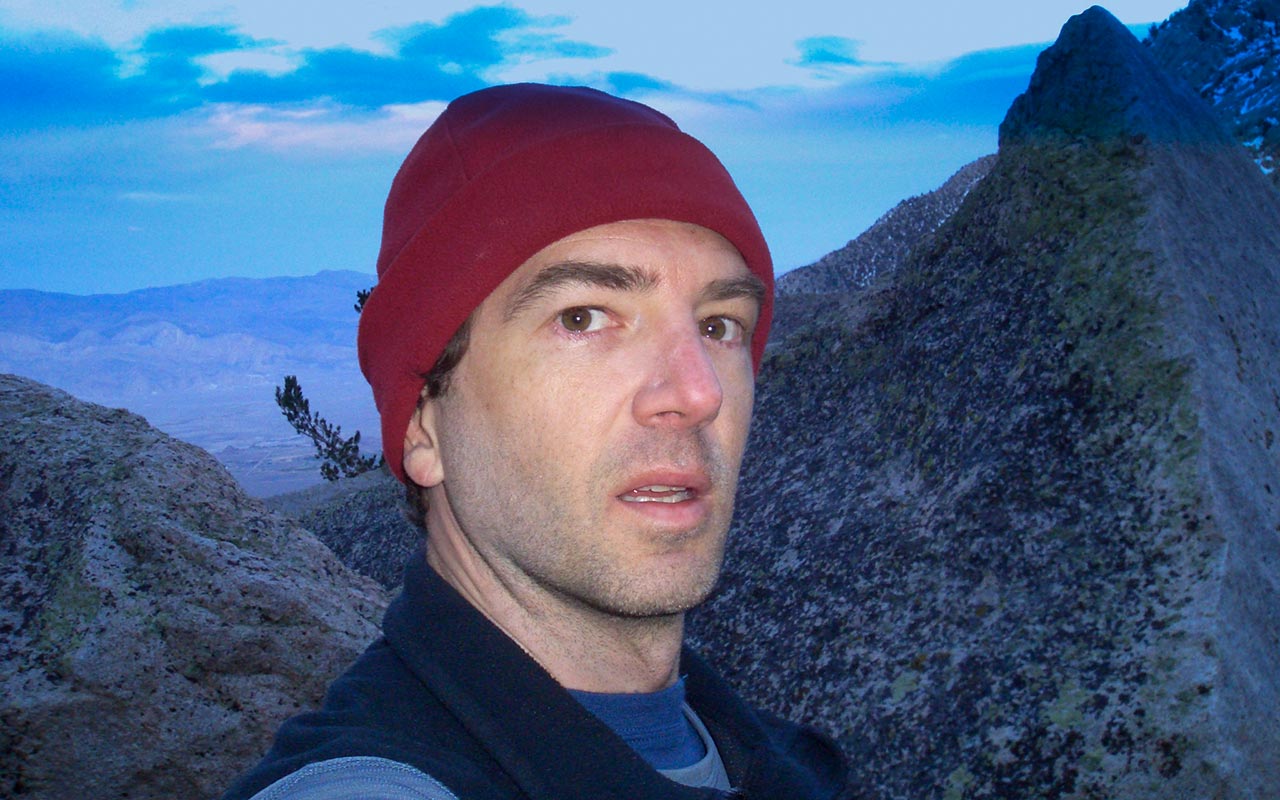 The sun has now passed behind the crest of the Sierra, throwing long shadows across Owens Valley and the Inyo Mountains beyond, but I at last have cause for optimism.
I am about to crest the last saddle before the snowline. I catch glimpses of snowy slopes ahead, perhaps a mere two hundred fifty vertical feet ahead. My triumph is short-lived. Hidden behind the saddle is a deep gully with no apparent way down.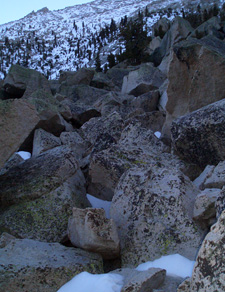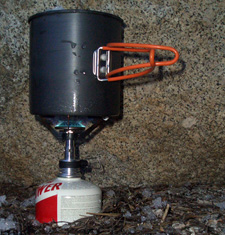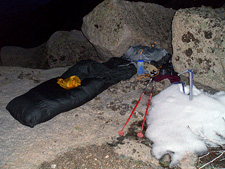 To my left, talus blocks rise like teeth, blocking passage. To the right, the talus plunges down into the drainage, impassible.
The cairn trail vanishes at this spot.
I've hit a dead-end.
After scouting the area with no success, I drop my pack and fire up the stove to cook dinner and consider my options.
Have I really lugged skis all this way only to be turned back inches before the snowline?
Welcome to the Southern Sierra.
I find a flattish spot beside the last cairn and sulk.
I'm angry enough to briefly contemplate packing up and heading right back down the mountain.
Prudence soon intervenes: there's no way I'm hiking down that minefield in the dark.
So, I've reached camp, apparently. I yank out the gear, roll out the sleeping bag.
And sulk.
As campsites go, my flattish spot on the rock leaves something to be desired. The rock angles toward a ledge that hangs over space.
Anything that rolls over that edge—myself included—isn't coming back. After dinner, I put a pot of snow on the stove to make water, then set about looking for a safer spot to spend the night. Off to the north, overlooking the steep gully, I find a better place to camp—and the next cairn.
The route ahead does drop into the gully, via a scramble and a log ladder that I wouldn't want to try with skis on my back. But...it might be possible to carry my skis down, in hand, and drop them as necessary to make the scramble. That's not all that's required, however. Looking ahead, the opposite side of the gully looks to be about three hundred vertical feet of unbroken Manzanita. Maybe I see a hint of a trail traversing beneath it, maybe I don't.
In any case, crossing this last section to get to the snow promises to be a real chore. I don't know what to do. If I do make a go of it, I'll have to wait for dawn, which will put me behind schedule to ski the upper, east-facing snowfields. On the other hand, the idea of quitting just doesn't sit well in the craw. I'll sleep on it and decide in the morning.
Moonlit Contemplations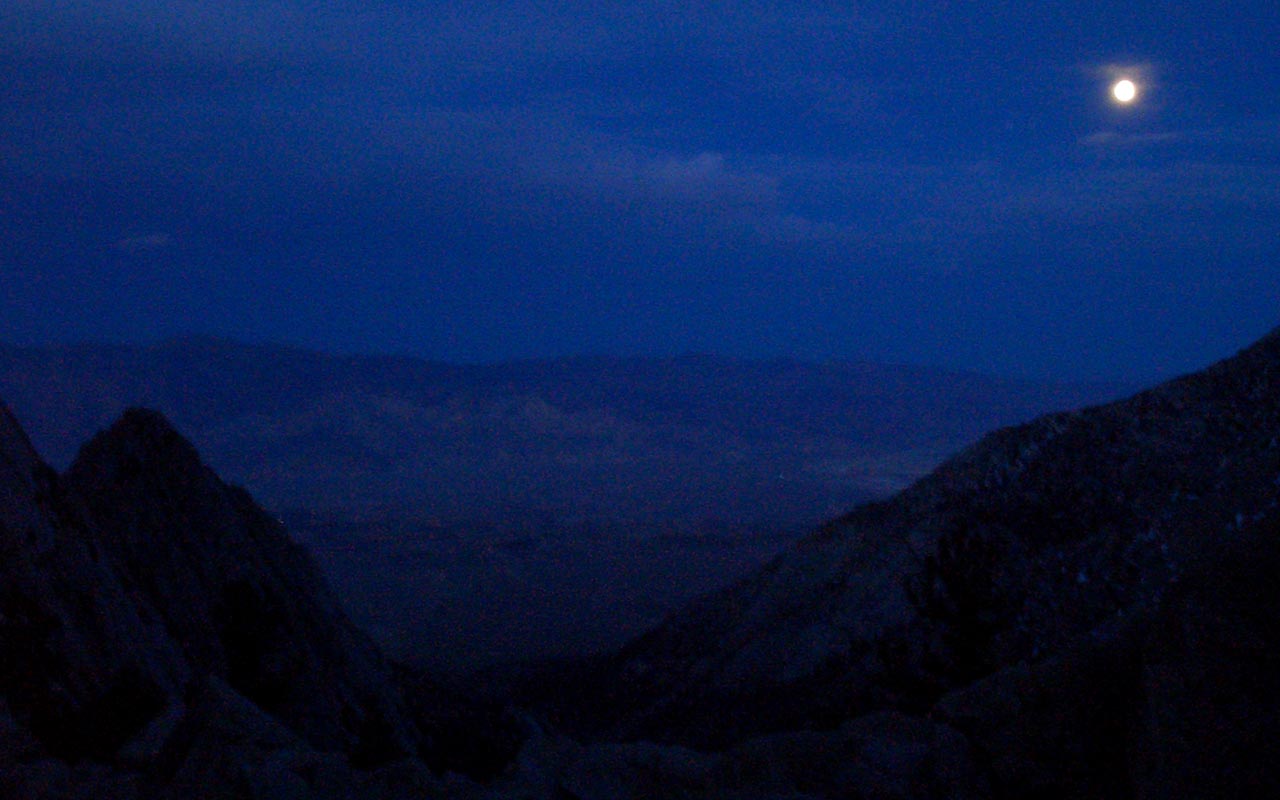 The wind kicks up as the moon rises over the Inyo Mountains. I fuss a bit with my bivy sack, then settle into my sleeping bag, watching the day come to an end.
Are there any bears in the area? I hope not. Ordinarily at this time of year, the bears would still be hibernating, or at most wandering the lower reaches below the snowline.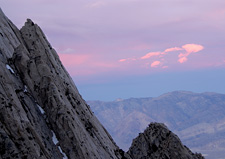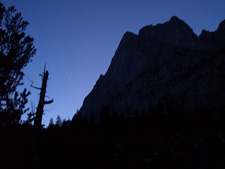 But spring comes early now—it is a fact we'll all have to get used to.
And so I peer occasionally toward my hanging bags of food, listening between wind gusts for grunting sounds.
This activity, of course, is not in the least conducive toward getting a good night's rest.
The moon rises, casting a bright blue glow across sheer granite faces. My mood lightens, eased by the rush of wind through the trees.
I rustle in my sleeping back, trying to get comfortable. My skin still smells like pine.
What to do about tomorrow? Making the summit of Mount LeConte, I think, is out of the question.
My usual M.O. is to camp at the snowline, allowing a predawn ascent on skis and skins to top ephemeral Sierra snowfields before the sun turns them to mush.
That's no longer possible. The simple choice is to head down in the morning. Crossing all that talus won't be any easier going down—probably harder, in fact.
Rockfall pitter-patters down Lone Pine Peak's south wall. I close my eyes and try to sleep.
Day Two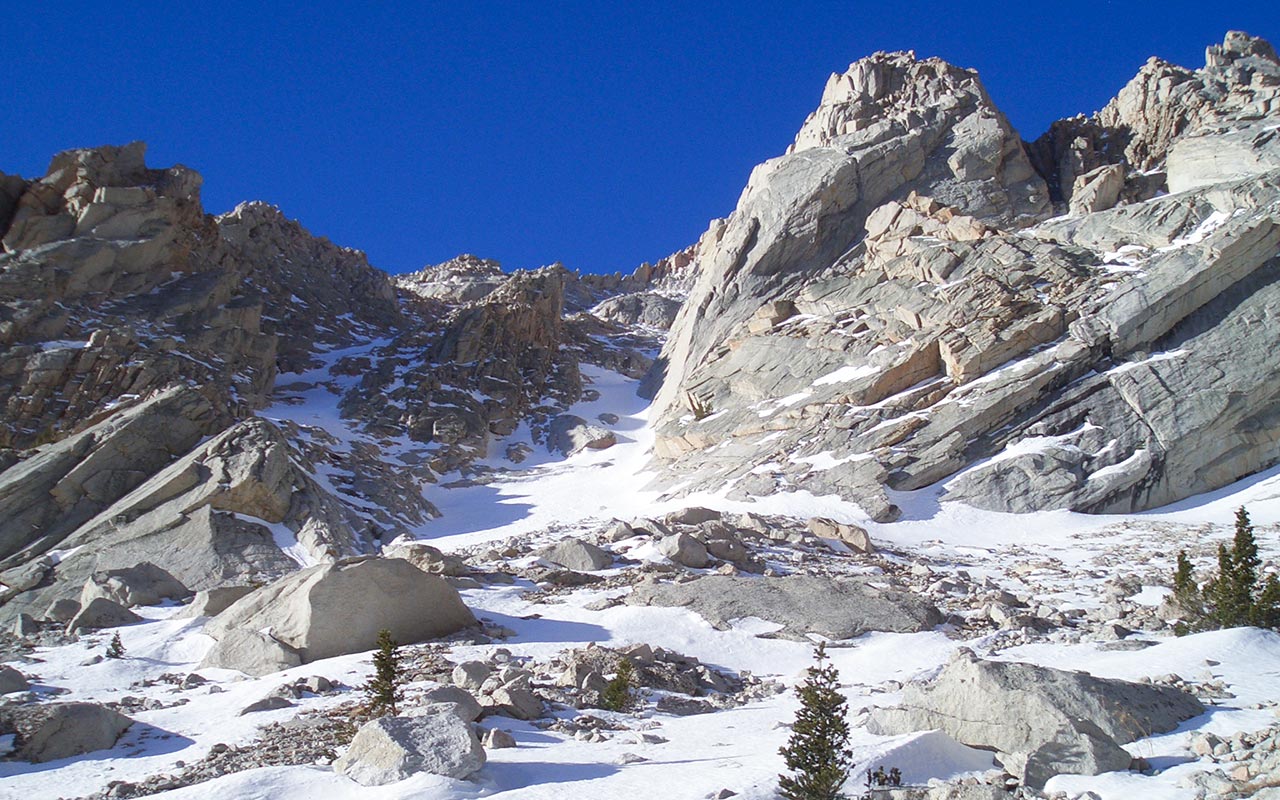 At the first hint of dawn, I'm awake, looking east toward Owens Valley and the Inyo Mountains, watching the preamble of the coming day.
Sleep has boosted my morale, and I've already made my decision: the talus can wait. I'm going to try to put my skis to use before I leave—at the very least, I want to scout the way ahead for future adventures.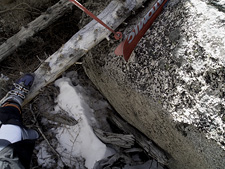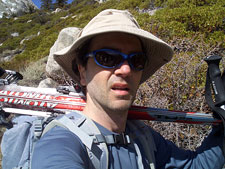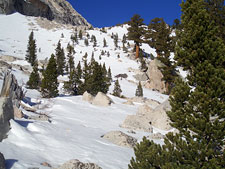 As soon as it's light enough to see, I'm out of my sleeping bag and packing my climbing gear.
Carrying my skis, I work down the nearby ravine, following the cairns I scouted last night.
The mini-crux of this section is a log helpfully angled against a large talus block.
I set my skis down, scramble down the log, and resume climbing.
The snow is so close I can taste it—just above the next saddle, probably only a few hundred vertical feet away.
It's not going to be easy, though. The opposite side of the ravine is well-guarded with Manzanita.
Ah yes, the Manzanita, a.k.a. the Hell Bush, one more layer of Sierra armor custom-designed to repel backcountry skiers. There are no cairns up this section, just here-and-there game trails that lead smack dab into the middle of the brush and vanish, Br'er Rabbit-style.
I take the direct route, plunging into the thick of it, heading straight up to get it over with. I crest the manzanita bench and there it is at last: snow. I could just about cry with relief. From the look of it, I'll still occasionally be scampering over rock gardens in between snowfields, but it's skins 'n skis time now, and in the South Sierra, that's always cause for celebration.
Once again, however, my elation is short-lived. As I crest the next bench and stare at Mount LeConte's northeast cirque, it's obvious my assessment of the conditions has been wildly optimistic.
The Northeast Cirque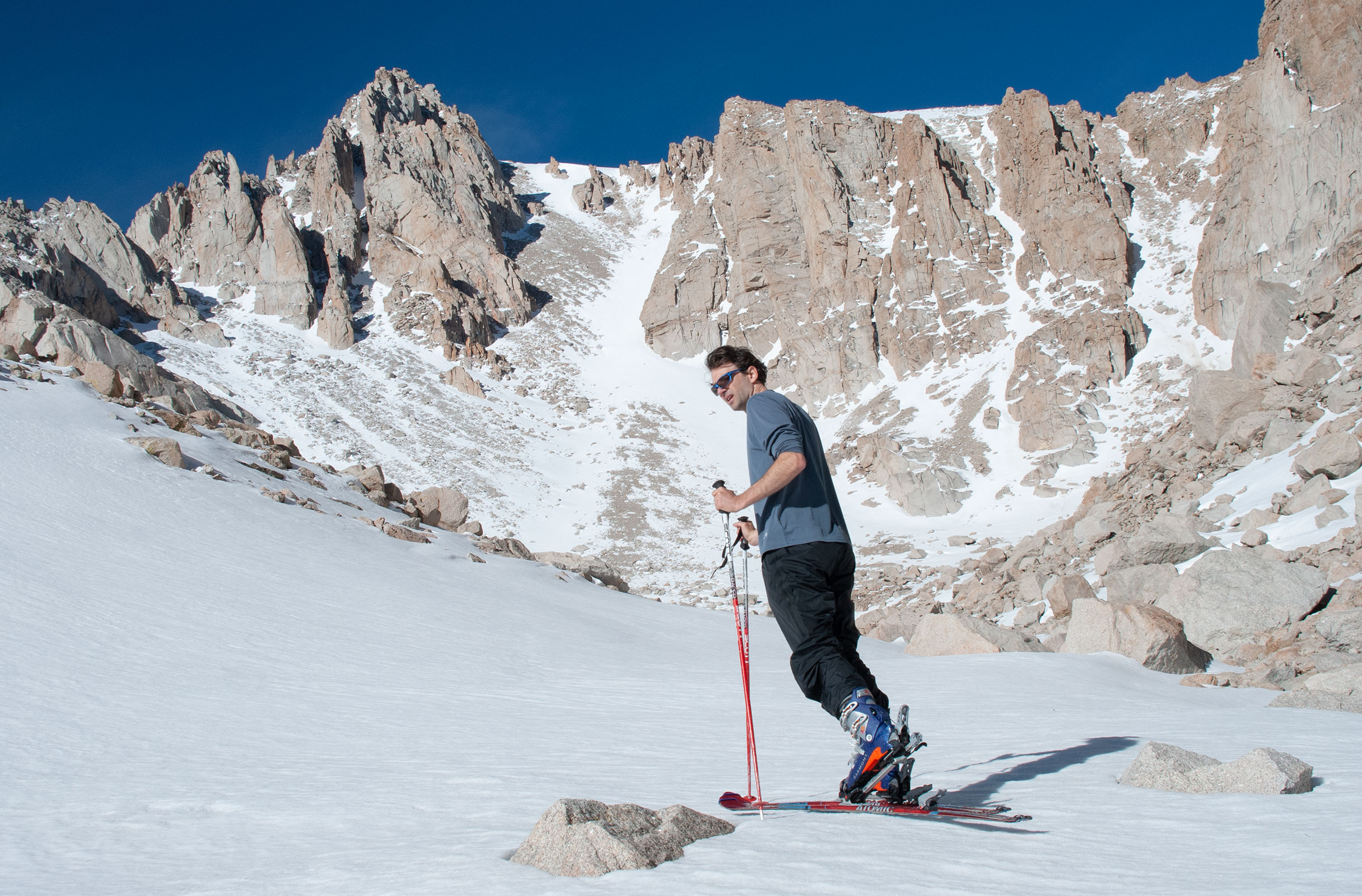 After climbing 5000 vertical feet, I crest the last rocky bench and enter Mount LeConte's Northeast Cirque, expecting to see continuous snow coverage.
Instead—what is there to say but...April Fools! The joke, clearly, is on me. From Lone Pine, I swore I saw enough snow to ski from Mount LeConte's northeast ridge—the Sierra's Crest—well past my present elevation.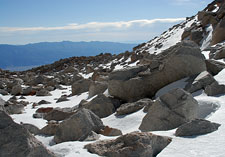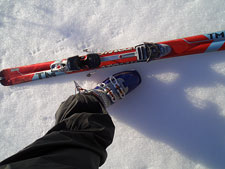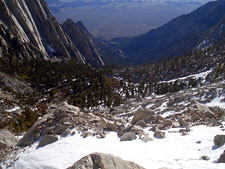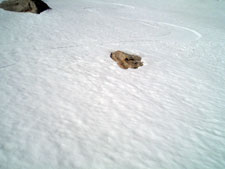 In reality, I've fallen prey to the Sierra's tricks of perspective.
Seen from Lone Pine, the foreshorted view made it appear as if the snow was connected.
Not only is the snow not connected—for the next mile or so, it doesn't even exist.
There is little point to climbing any higher. I've got a turnaround time to make, and much, much work to contend with below.
I can only stare at the Northeast Cirque in disbelief, trying to visualize what might have been.
I rip the skins off my skis, eat a little lunch, and prepare to ski the patchwork of snow back to camp.
When I turn to consider the descent below, the boulder-strewn view is not encouraging.
Briefly, I contemplate counting how many times I will have to take my skis off to cross rocky patches.
But no, I decide this would be too damaging to morale. So, skitter-scatter, off I go, 'skiing' between the rocks, trying to stay on snow.
It is fine to be here, high in the Sierra, skiing again—yes. But I am also feeling rather embarrassed at myself for concocting this snow-poor adventure.
As is the case with most Southern Sierra descents, when I reach the eastern rim of the cirque I am treated to a magnificent view—I can see all the way down to the road. Given the vertical mile of mostly-dry terrain beneath me, the sight has a certain bite to it. Once past the rocky spine of the third bench, I enjoy the only true skiing of the day, a thousand vertical feet or so of already-softening corn snow.
For these brief few turns, warm air sails through my hair, soft snow peels beneath my skis, and blue sky stretches endlessly above. Despite the absurd amount of work required to get here, I think to myself this is who I am. And this is what I do.
Once Again, in Reverse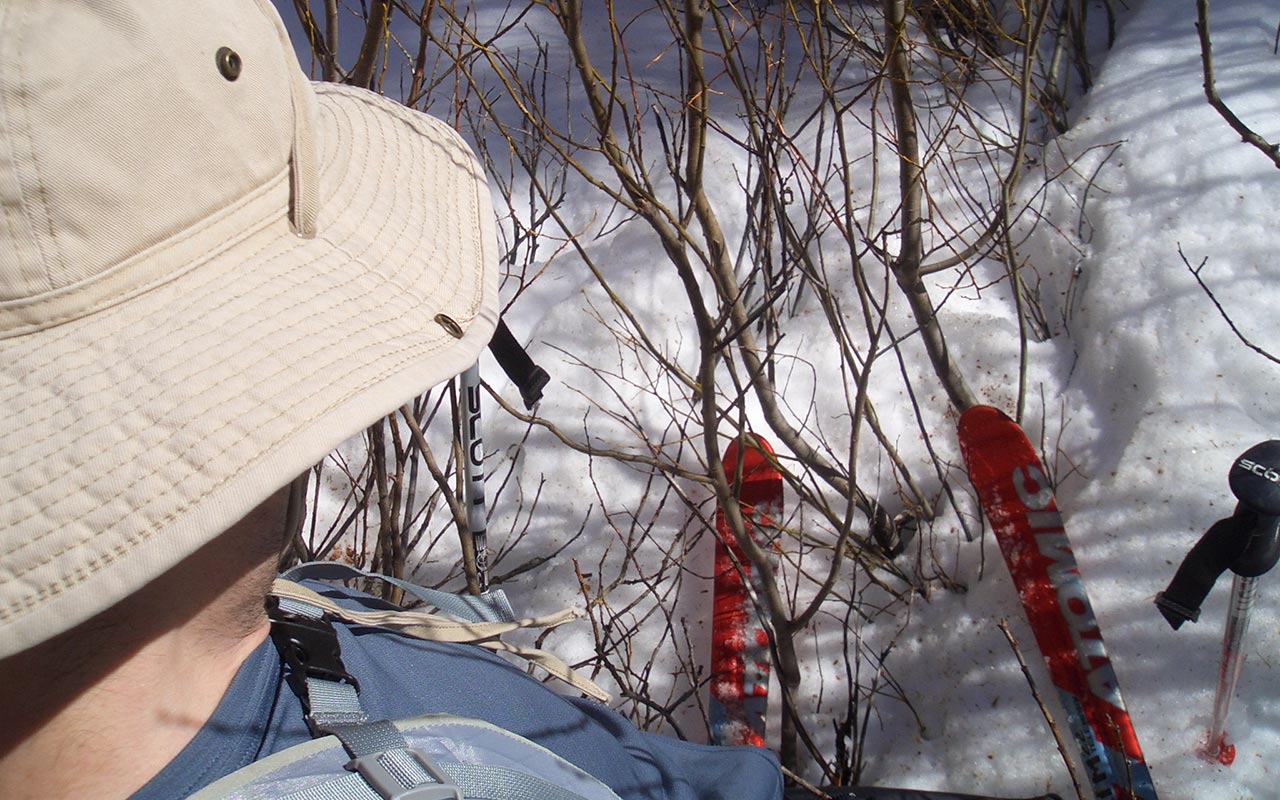 Wanting to remain on skis as long as possible, I milk the snow for all it's worth, squeezing out every possible last bit of vertical to postpone the inevitable and awful hike down.
By following a ribbon of snow along the north edge of the ravine that blocked my passage the previous night, I am able to avoid much of the Manzanita. Of course, this means getting intimate with the willows instead.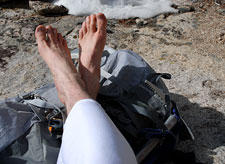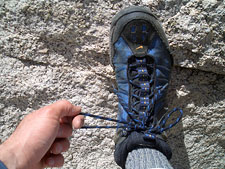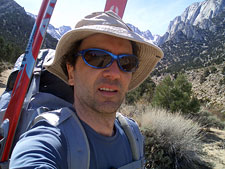 I discover you can actually ski straight though a willow thicket—to a point. Eventually, of course, this unconventional strategy becomes untenable.
I snap off my skis for the last time, throw them over my shoulder, and switch from willows to the Manzanita harsh embrace.
Of the two, I must say I much prefer the willows.
Traverse across the Manzanita, find the log ladder, scamper up, and I'm back atop the opposite side of the ravine, at camp.
Here, the boots come off to air out the feet. Sunning my self on a warm rock, I drink water and eat a sandwich.
All of yesterday's fun must now be repeated, in reverse.
I'm mostly concerned with that massive swath of talus. I wish I could just soar right over it—sail all the way down to the Stonehouse, if possible.
Well, let's not put it off any longer. Lace up those boots, tight as you can get 'em, heft that ugly pack, and off we go, back into that jumble of granite blocks, searching for the cairns.
I think I see one over there. Watch the pace now—keep things under control. We've got a long way to go to get home safely.
Down-climbing through broken talus is about as draining as it gets. Time passes slowly during these moments. But blink twice and see what happens. Was it really an entire year ago that I was skiing down nearby Mount Langley? Yes indeed, 2006 is gone, and now the winter of 2007 has passed as well (if it ever arrived in the first place).
Time passes faster than I can keep pace with. I try to tell myself there's always next time, always next year, but I know this isn't so. There are no such guarantees. How many times will I get to visit these mountains? The number is finite, I know. So each adventure is special, each visit precious, even those that don't go according to plan—especially those.