Revenge of the Girly Man
Southern California Steep Skiing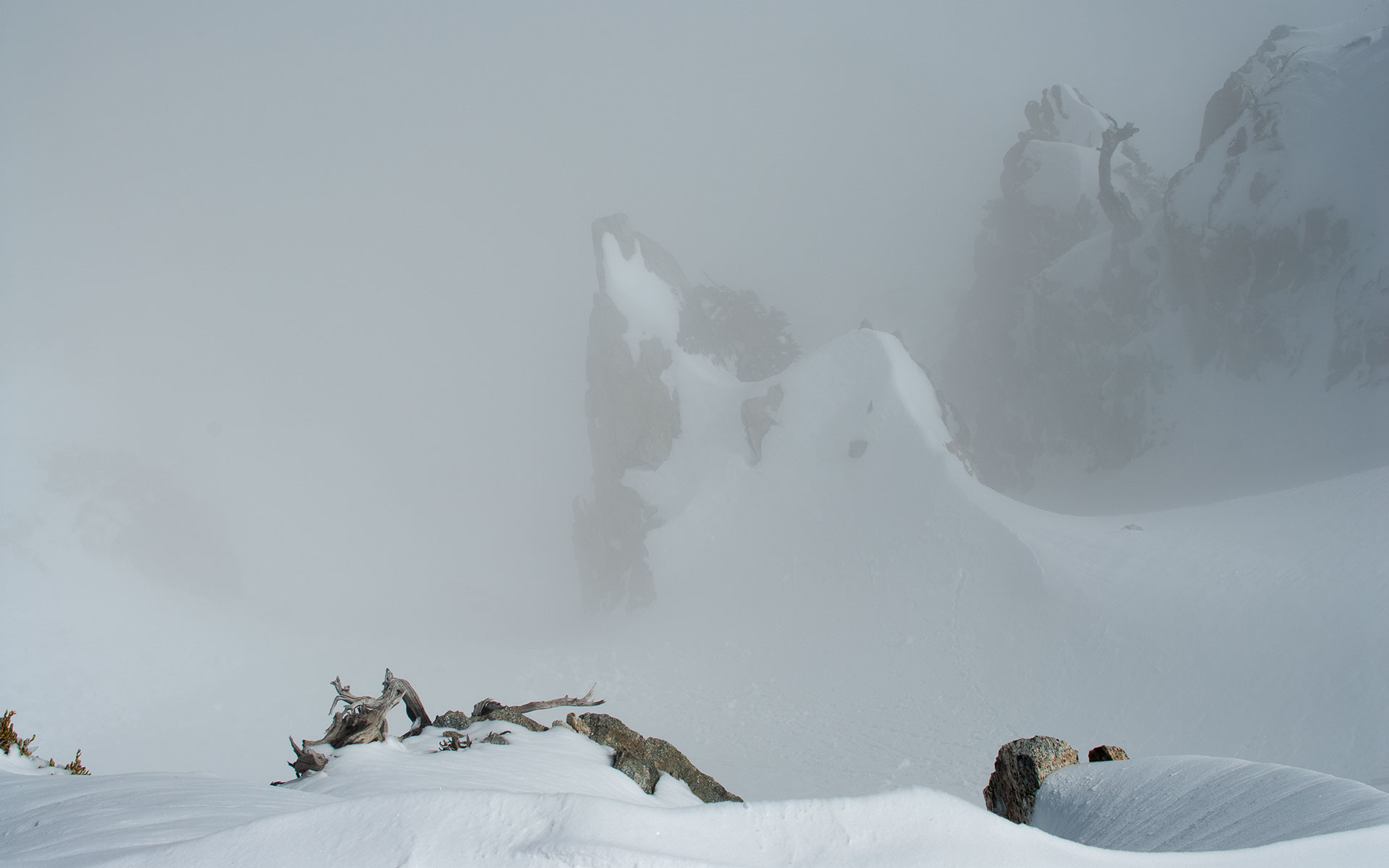 Mount Baldy, California — I admit it: I did not fear the Girly Man. Having skied many lines in Southern California's San Gabriel Mountains, I'd found plenty that were spirited but none I'll call truly heart-stopping.
And then I saw the new D-System Ski Descent Rating Scale, proposed by WildSnow.com blogger Lou Dawson and Chuting Gallery author Andrew McLean. I was browsing the upper end of the D-System's ratings one day, wondering how I'd fare on such heavyweights as Mount Sneffels' Snake Couloir, or the Messner Couloir, when I chanced upon an entry called "the Girly Man Chute".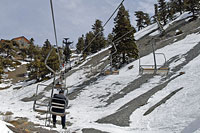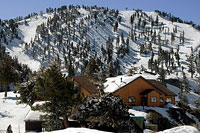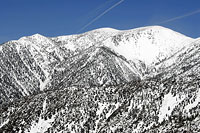 The Girly Man was rated D14—higher than either of those previously mentioned giants, with a maximum pitch around 50 degrees, prolonged steepness, and especially difficult terrain.
The kicker: the Girly Man was located on Mount San Antonio, aka 'Mount Baldy', in the San Gabriel Mountains. That's right—there was apparently a world-class ski descent hidden somewhere in the mountains of Southern California, my present home and place of exile.
With some help from the Couloir Magazine forums, I was able to identify the Girly Man as a narrow gully descending through the rock bands along Mount Baldy's southeast ridge.
I had noticed these chutes from afar during my Mount Baldy travels, though I hadn't paid much attention to them. They were on my distant to-do list, behind a series of other descents in the range that I considered more interesting.
Suddenly, I was very interested in that ridge. Winter, however, was not cooperating. For most of January and February, the SoCal mountains stood bare—until March, when an arctic storm plunged southward across the state, bringing snow all the way down to the foothills of Los Angeles. With skiable snow in the Mount Baldy backcountry for the first time all year, I had a date with the Girly Man.
Given that 10,064' Mount Baldy is less than 5 miles from the Mount Baldy Ski Area, the peak is surprisingly difficult to access. Skiers can approach the summit via San Antonio Canyon, from the Manker Flat trailhead, for a big 4000' vertical day, but the hike will almost certainly begin on dry talus, covering five miles of extremely rough country.
The obvious approach is to simply ride up one or two of the Mount Baldy ski area's chairlifts, if they're running, to get a jumpstart on the elevation gain. March's arctic storm had laid snow all the way down to 2000 feet, raising the possibility of a huge summit descent, but I decided to play it safe and take the chair up. The apparent ease of the ski area approach, however, is deceiving. As the crow flies, it's another five miles to Mount Baldy's summit via the aptly named Devil's Backbone ridge.
The Devil's Backbone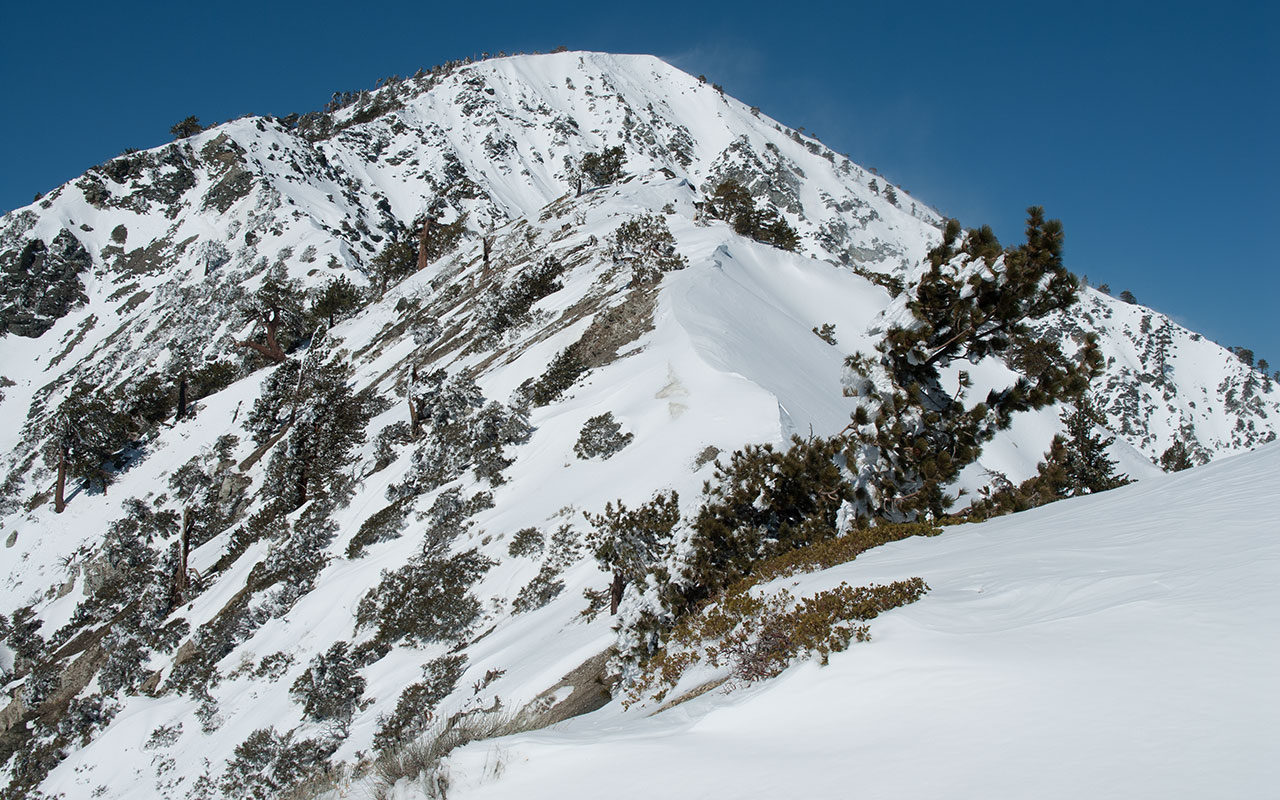 From the top of Chair 4, you seem to be in an ideal position for a quick assault of Mount San Antonio. Two obstacles lie in your way, however: Mount Harwood and the Devil's Backbone Ridge.
I believe Mount Harwood's east face is the most challenging line in the entire San Gabriel range. It is big, steep, discontinuous, plagued by poor snow and rockfall, and generally just plain menacing. To get to Harwood, you must traverse the Devil's Backbone—a classic knife-edge ridge separating the steep gullies of the southern flank from the even steeper chutes and cliff bands to the north.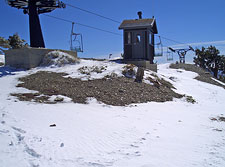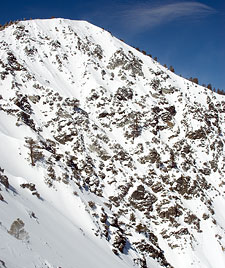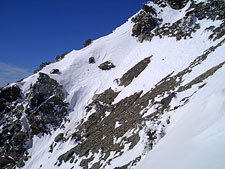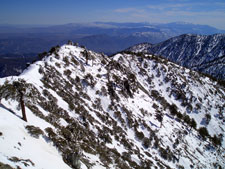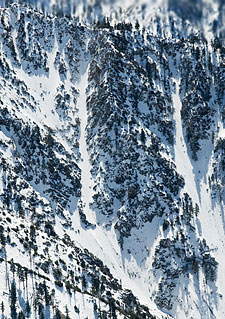 Traversing beneath the ridgeline is impossible; the terrain is either too steep or too rocky. If there's snow on top of the ridge (there may or may not be), it's usually possible to ascend atop the ridge on skins, being careful not to fall off in either direction.
To the north is a very un-flat series of steeps and gullies known as Stockton Flats.
Mount Baldy Ski Area has been talking about expanding into Stockton Flats for years, but for now the only way in is to hike.
Just as it's beginning to seem as if the Devil's Backbone won't be so bad after all, you come to the crux of the route: a nasty little step, ala Everest's Hillary, which forces you to make a choice.
You can attempt to remain on the ridgeline, which means climbing up a steep, exposed rock spine that will likely be corniced, or you can traverse onto the rocky south face, where you will have to cross a very loose talus run over a steep gully and cliff band.
Either choice is lousy enough to make you think there must be a better way. There isn't.
Today, however, the snow is soft and deep over the southern option, and after a short talus scramble, I'm able to revert to skins and traverse over the cliff section with good security.
The smart choice at this point is to simply climb Mount Harwood. That entails giving back elevation once you've summited, to drop down into Mount Baldy's southeast bowl.
The alternative, however, is a withering traverse across the countless scree-lined gullies that cut across the mountain's broad south flank. Ordinarily I'd huff it up Harwood, but since I'm heading to the Girly Man Chute, I figure—wrongly—the traverse might be the easier option.
It's funny how often we make things vastly more difficult by trying to make them easier. This will become the theme of today's excursion, though I don't know it yet.
In fact, as I work my way across the soggy snow, traversing around and around Mount Harwood's broad south face, I have no idea of the self-inflicted ordeal to come.
Rounding Mount Hardwood gives me an excellent opportunity to survey the southeastern San Gabriel Range. Among the range's more interesting features are two classic north chutes over the Manker Flat region.
These two highly-aesthetic lines drop 1500 vertical feet from an unnamed ridge over the Big Butch Wash. Both offer some of the steepest skiing in the San Gabriels, with sustained 45-degree pitches. To ski them in their entirety, you must rappel in, though it is also possible to enter lower, via a careful traverse, or simply climb up from the Manker Flat parking area.
I enjoyed a memorable descent of the left chute following a Pacific storm that dumped seven feet of snow on Mount Baldy in 24 hours. I've also skied the same chute in late spring, when icy conditions made for a far more alarming descent. Returning to the present, I notice that my water-soaked skins are beginning to stick to the ultra-soggy Southern California snow. Coincidentally, I've got a block of Glop-Stopper wax on order from Black Diamond. UPS hasn't delivered it yet, and so my skins are a-stick'n.
The traverse is beginning to seem like a bad idea. Trees, stumps, and rocks interrupt the snow cover, forcing me to scamper across, skis and all, or else click out of my bindings and walk. More problematic are the gullies, however. This side of the mountain is cut with deep gashes that must be crossed, one by one. As snow begins to clump against my skins, their weight increases, and my legs soon protest.
A Long Traverse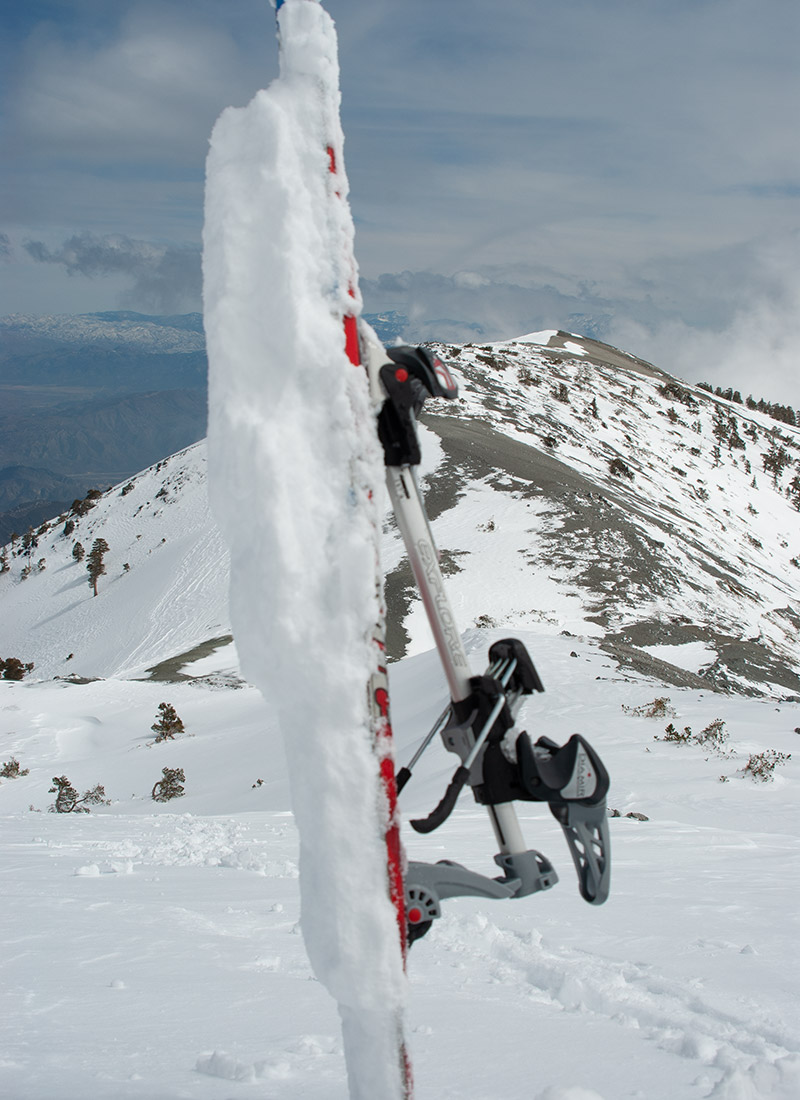 As I at last round the last of Mount Harwood's ridges, I am rewarded with my first view of Mount Baldy's summit. The weather is turning. Fierce winds blow a steady contrail of snow from the summit.
Thick clouds begin to form to the west. The traverse has been a bad idea, made worse by snow sticking to my climbing skins. I pause, taking in the view of Baldy's spacious south bowl, and contemplate my return route. I'm not willing to repeat that traverse in reverse.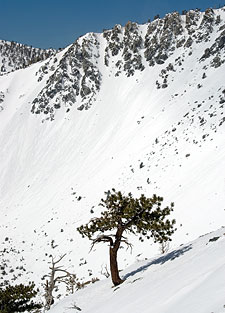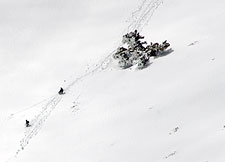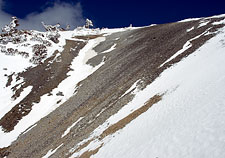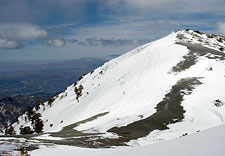 Similarly, the thought of climbing back up Mount Harwood to return to the ski area isn't very appealing. Instead, I consider skiing all the way down San Antonio Canyon, the natural runout of the Southeast Ridge chutes and Baldy Bowl.
The plan has a certain appeal despite the unknowns.
I can see snow all the way to Manker Flat, so theoretically I'll be on skis the whole way, for a whopping 4000 vertical foot descent.
Shouldn't I try for the complete Baldy Summit Descent at least once, while conditions permit?
On the side of the voice of reason, I can't see the entire route, because it vanishes into the deep gash that is San Antonio Canyon.
If that canyon were to close out, I'd be in trouble, as the surrounding terrain is steep and extremely rough, with few escape routes.
But the canyon offers the prospect of avoiding the long traverse back to the ski area, I know, and it is this thought that prevails.
Mount Baldy attracts a regular crew of climbers, even in winter, and today is no different. I'm pleased to see two snow-shoers making their way down the bowl from the summit.
I'm not the only one escaping the city today.
I cross a last bare talus streak before meeting up with Baldy's east ridge—the road to the summit.
Such bare streaks are unfortunately the norm on this part of the mountain, which is not only wind-scoured but also south-facing, aimed squarely in the sights of the Southern California sun.
Given a heavy snow year, this bowl can be completely snow-covered, making for outrageously good spring corn descents.
But with marginal cover, as now, even the higher reaches of Mount Baldy typically show very spotty coverage.
As for the lower part of the mountain...well, I'd see about that soon enough.
Around 9300 feet, I exited the bowl and began skinning up the north side of Mount Baldy.
With the change in aspect, the snow shifted from soggy slop to cold, saturated powder, blasted by wind. The north face of Mount Baldy is perhaps the most impressive ski descent in the San Gabriels, with consistent deep snow, ample vertical, and broad, big-mountain steeps. I don't generally worry about avalanches in the San Gabriels. Hoar layers and brittle slabs are rare (though wet slides are common). But Baldy's north face is big enough and cold enough to merit extra caution.
I'll likely be returning to ski Baldy's north chutes later this year, conditions willing, but for now, in early March, I'll leave them be. That said, the snow is perhaps the stickiest glop I've ever battled. Huge wads of it—six inches high and more—are now clumping to the bottoms of my climbing skins, putting five, maybe even ten pounds extra on each leg.
Baldy's summit is achingly close, but the sheer effort involved in lifting my legs is turning what should be an easy ascent into a serious gruel. I try to console myself by calling this another learning experience: if my skins were doing this on a big Sierra tour, I'd likely be forced to turn back. Ah well, as the boy scouts say, be prepared.
My legs start to cramp. I gut it out and press for the summit.
Summit and Ridge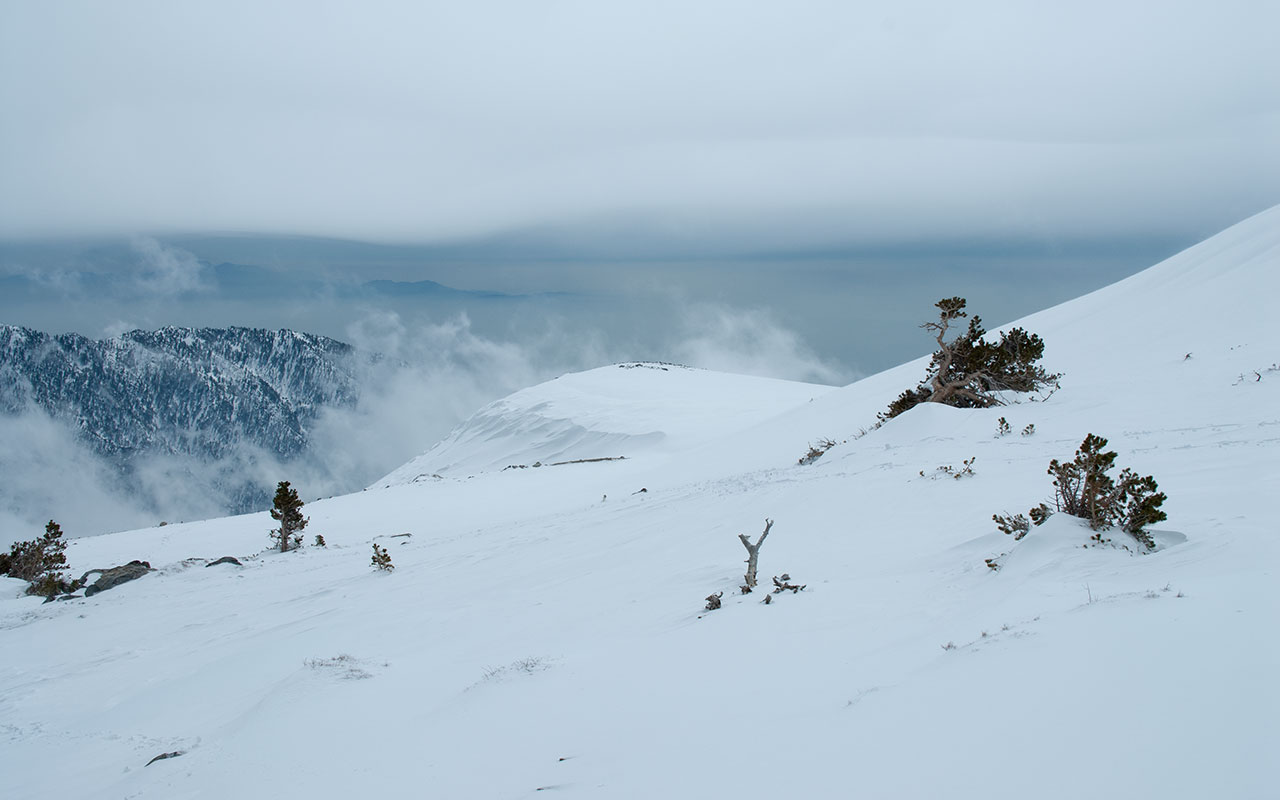 Clouds and wind have replaced blue sky. I've fought my sticky skins every step up this mountain, and when I finally reach the summit, all I can do is collapse on the icy hardpack and gasp.
Do I have anything left for the descent? I begin the slow process of shifting from climbing mode to skiing, hampered by 60 mph wind gusts. First, I clear the gloppy snow bonded to the base of my skins. Then I rip the skins off my skis, trying to fold them in the wind, get them glue to glue—okay, that's good enough.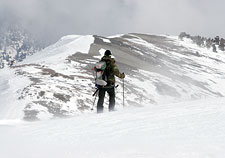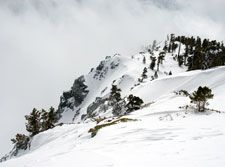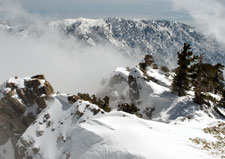 Another snowshoer trudges past as I go through my pre-descent ritual.
I do my best to stretch my legs. Walking uphill with snow stuck to my skis has utterly wrecked an odd set of muscles—hip flexors, I figure.
That shouldn't be a problem for the descent, but I sure wouldn't want to even try to climb a staircase right now.
I always get a boost when I snap into my bindings, ready to start skiing downhill.
In the brief span of those two clicks, I suddenly transform from an average mountaineer into a veteran skier with thousands upon thousands of vertical feet of experience.
I don't feel much like an expert once I'm underway, however.
The snow atop Mount Baldy is a mix of saturated sticky powder and wind-blasted ice.
Refusing to give up, that sticky powder is still gumming up my skis, sticking to anything it touches: boots, bases, edges, sidewalls.
If such a thing is possible, the snow seems to get even stickier as I drop off the summit and head for the southeast ridge.
Thick, billowing clouds swirl below, obscuring Baldy's south bowl. The chutes of the southeast ridge drop precipitously into the mist.
I search my memory, trying to recall if I saw anything discontinuous. I don't want to get hung up on a rock band if I take the wrong entrance. Making awkward little hop turns and occasionally kicking snow off my skis, I skirt the edge of the ridge, scouting for the Girly Man Chute. My landmark is a distinct triangular spire one chute south of the Girly Man's entrance—assuming it looks the same from above.
As the clouds swirl and clear, I get glimpses of the lines below, several of which look quite tasty. In fact, contrary to my earlier opinion, I'm already willing to admit that Baldy's southeast ridge is brimming with interesting lines, many of which drop through narrow chasms in the rock as if they'd been tunneled there on purpose.
I continue to skirt along the edge, occasionally peering over to check out another steep shot. I just hope I can find the right one. If I miss the Girly Man Chute, it'll be awfully embarrassing.
The Girly Man Revealed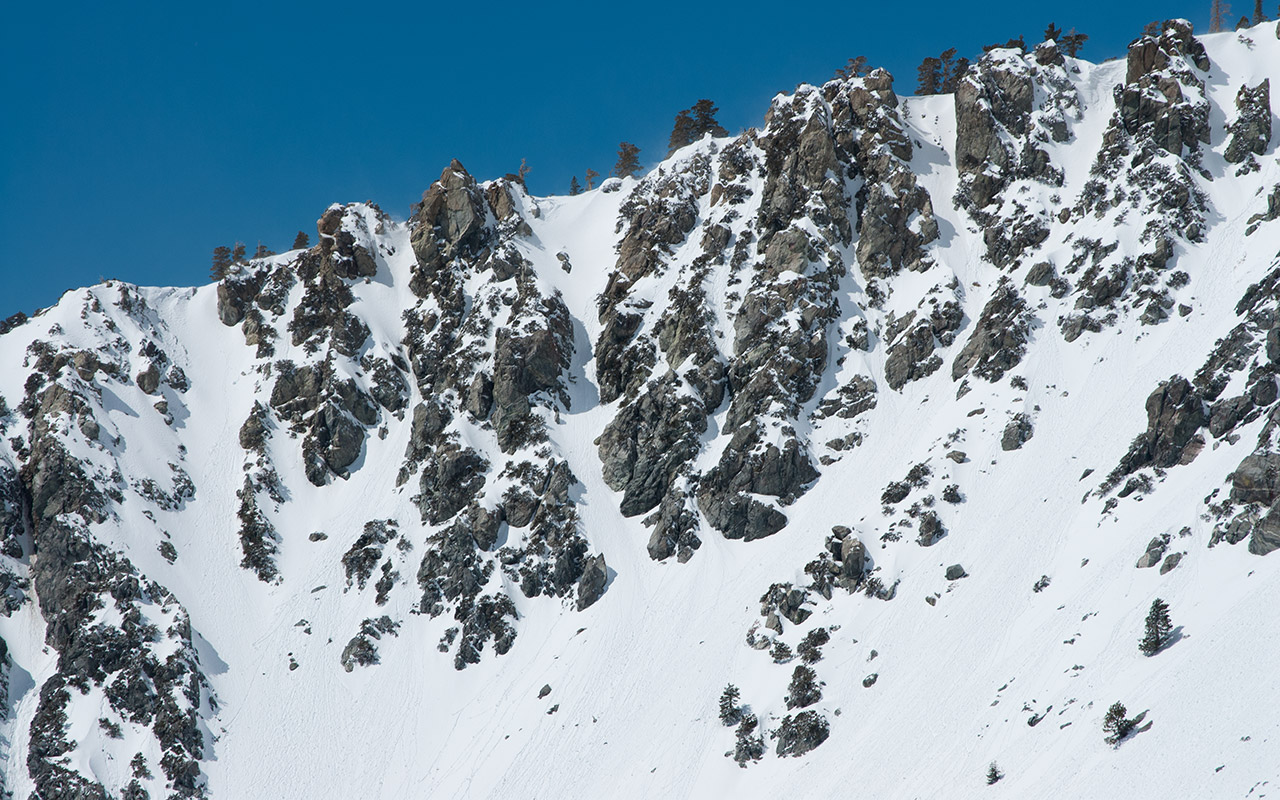 Just around a spiny point, that pyramid pinnacle appears, and I know I've found my quarry: the Girly Man Chute, alleged descent rating D14. Swirling clouds continue to obscure the full length of the chute.
Assuming I'm in the right place, the upper section of the Girly Man features a steep 45 degree drop into a narrow slot that then...vanishes. Ironically, I realize the name of this chute could get me in trouble, as there's no way I'm turning back from the Girly Man, sight unseen or not.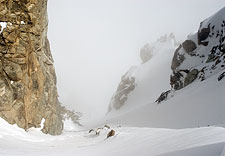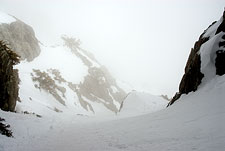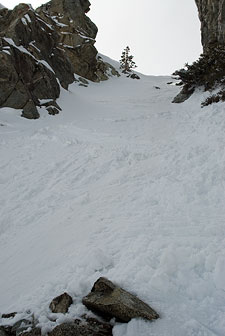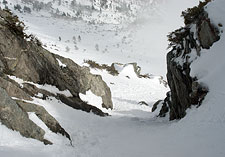 Into the chute I go.
The entry is a little tricky, as the top features a rock garden right in the middle.
A little more snow would take care of it.
The snow as expected is very soft, about 3/4 meters of wet sticky powder well on its way to becoming consolidated snow, no crust or layering.
It's wet enough to make me cautious, however, and sure enough, I trigger a small slide that's easy enough to bail out of with a ski pole arrest.
The clouds continue to hide the exit, but oddly enough, I find the swirling mists comforting.
Combined with the Girly Man's steep rock walls, I feel enclosed and completely cut off from any sense of exposure, real or imagined.
The extra-soft snow doesn't hurt, either, and the angle remains comfortably around 40 degrees.
When I reach the chute's midsection, the clouds/fog below part just enough to reveal a modest dogleg to the right. I take this as an encouraging sign that I'm actually where I think I am.
Turn, turn, turn.
Deep snow makes steep skiing seem almost effortless...just let the body go downhill and the skis will follow.
Then again, it's probably a little more complicated than just that.
A few more little hops and I arrive at a nifty little narrows.
The clouds part. Now I can see the Girly Man Chute's exit, the apron below, and Mount Baldy's south bowl beyond. It's been a short descent, perhaps only a few hundred vertical feet from the top of the Girly Man to the bottom of the chute.
The skiing has been well worth the effort, however—a mini-technical descent through spirited, invigorating terrain.
The Southeast Bowl promises at least another thousand vertical feet of good skiing. After that comes San Antonio Canyon, and as I wonder what conditions in the lower canyon will be like, I feel my first real twinge of anxiety.
The Southeast Bowl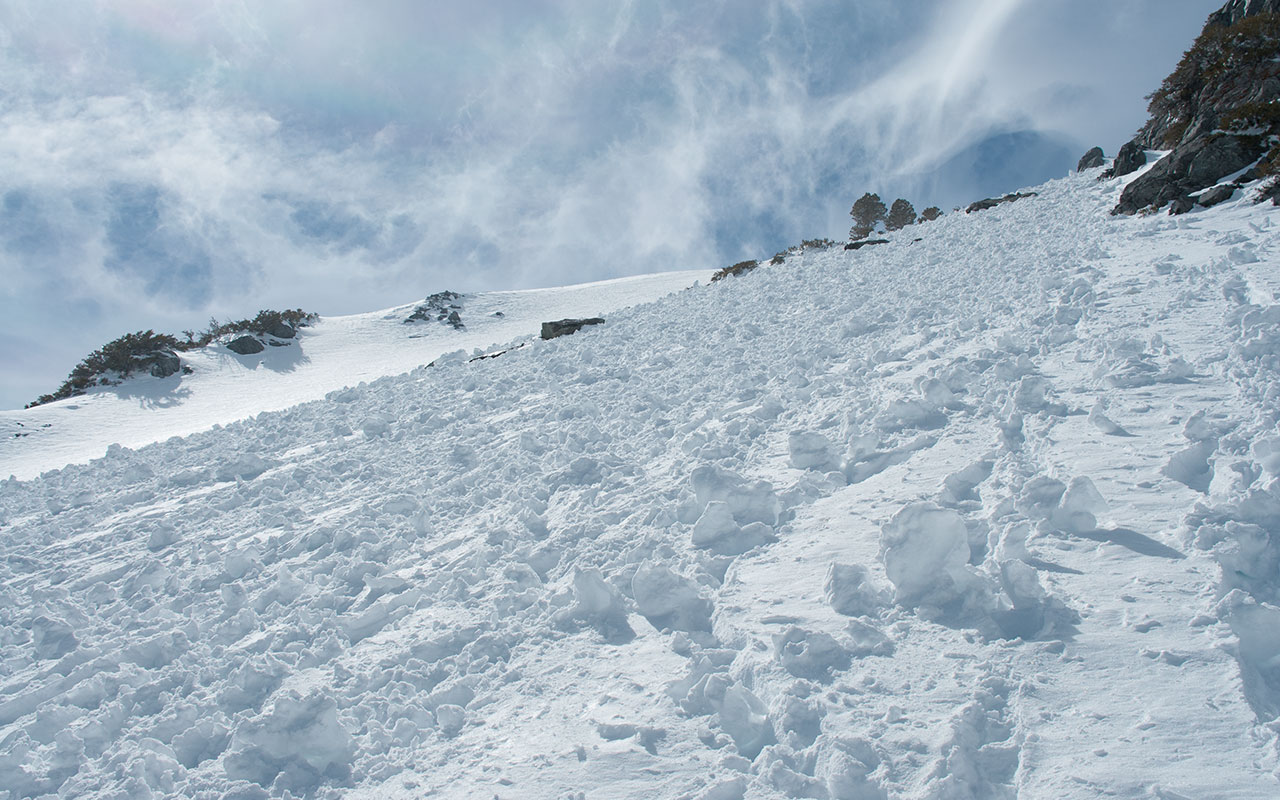 The apron beneath the southeast ridge shows considerable evidence of surface instability. This is a common feature in Mount Baldy's southeast bowl, caused by the slope's angle and aspect, which forms a giant reflective dish aimed at the sun.
All that radiation keeps the snow in a nearly constant state of melt-freeze metamorphosis (or melt-melt), even in mid-winter. Skiers tend to dismiss the hazards of wet slides. Unlike their cold-weather relatives—slab avalanches—wet slides are slow moving and eminently predictable.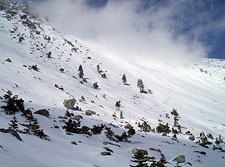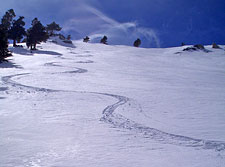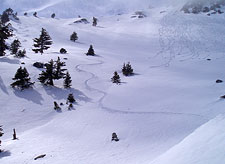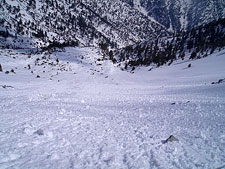 We should remember, however, that wet slides can easily knock you off your feet at inopportune moments.
Additionally, wet slides can rapidly expand, trapping skiers not with speed but sheer size.
I make quick, point-to-point traverses across the slide zones beneath the ridgeline, only stopping where the terrain is safe.
Since San Antonio Canyon angles to the south, I've decided to descend the western wall, in the area of the Gold Ridge Mine.
I hope to find enough snow in the canyon's shadows to make a continuous ski descent all the way to the parking lot at Manker Flat, three thousand vertical feet below.
The problem with this plan is that it puts me on the wrong side of the canyon, well away from the ski hut and the hiking trail to Manker Flat.
It's hard to say if there's enough snow on that side for a viable descent—and I really don't want to start walking downhill.
I can't resist skiing an expanse of open, untracked spring powder at the south edge of the ridgeline, and that closes the deal.
I'll have to stay on the west side of the canyon and hope for the best.
Now that I've dropped into the bowl, the clouds clear, and the sky becomes a piercing blue overhead. The wind is quiet once again, and the air is warm.
The snow may be on the heavy side, but it makes for a delightful descent, the kind of pristine, untouched glisse that can only be found in the backcountry.
20 million people may be scattered about immediately to my south, yet there are no hoards of skiers and snowboarders vying here for first tracks. No waiting in line to catch the first chair.
Even the snowshoers have kindly elected to take a different route. It's just me and the mountain today, and I'm savoring it. Beneath that perfect blue sky, my Atomics and I lay smooth curves across the snow's glittering surface, one after another, the timeless dance of powder and man... And if only for this one brief moment, all is right in our Universe.
I stop to survey my tracks, looking at them almost in disbelief, as if it is somehow impossible for such fine skiing to appear after all the miserable glop above. I've had some tough days skiing the San Gabriels. They are a steep, feisty range with a surprising depth of pitfalls. The combination of Mount Baldy's altitude, latitude, and climate can produce conditions that go far beyond the merely atrocious, entering the realm of the otherworldly.
More than once I've wondered if I'm crazy to even bother trying. And then comes a moment like this, out of the blue indeed, offering such incredible turns.
The glade I'm following continues to open up, drawing me down, down to the base of Baldy's southeast bowl in one sweeping, continuous line. It's all over much too soon, as the best things usually are. You can only shake your head at this mountain and smile. I've had some of my best and worst days here—sometimes the very same day.
The unwelcome specters of rocks begin to make their appearance at the bottom of the bowl. From here, the route will almost certainly get dicey. I'm still nervous as I wonder whether or not San Antonio Canyon will take me all the way to Manker Flat, or close out. Once I drop into the canyon, I'll be committed to the route, with no way out.
Safari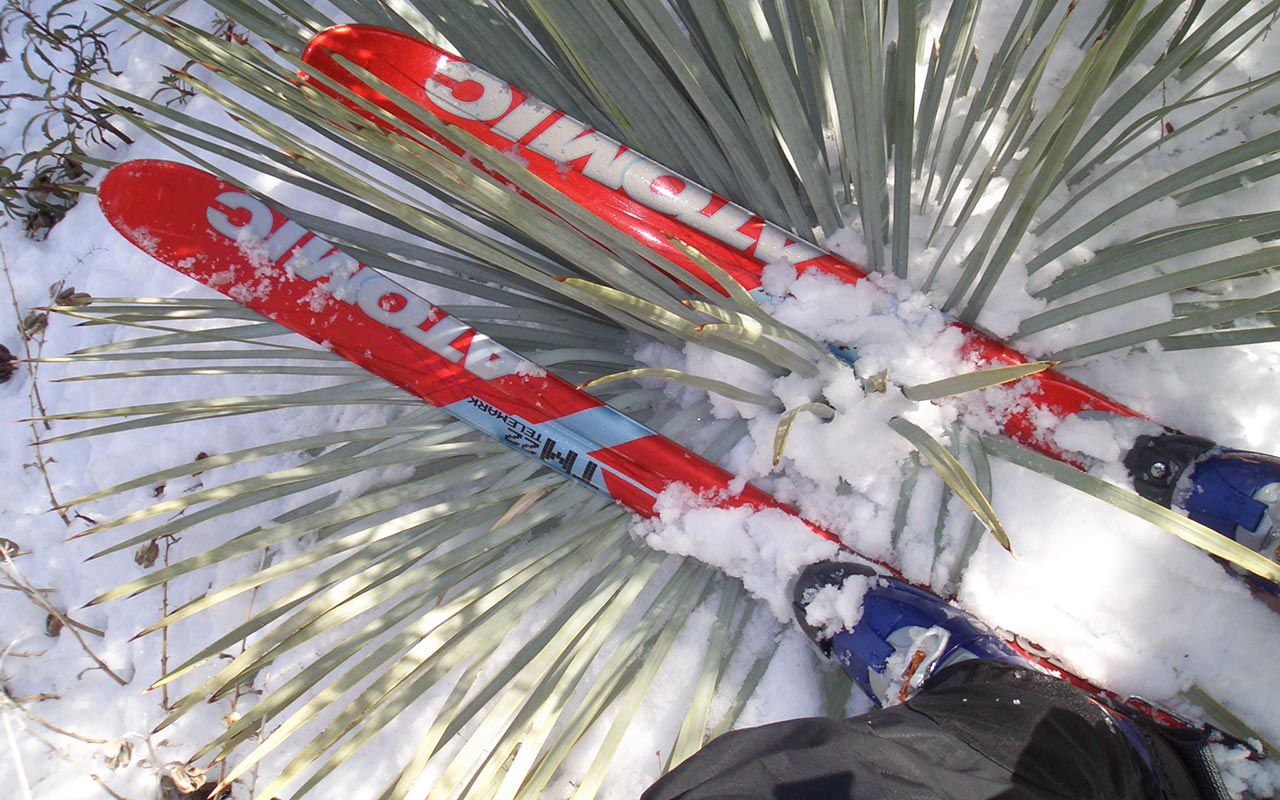 Mount Baldy's broad southeast bowl feeds naturally into San Antonio Canyon, one of many deep gashes carving down the mountain's southern flank.
Rather than take the long traverse back to the Mount Baldy Ski Area, or climb the 1500 vertical feet to get over Mount Harwood, I've decided to follow the western side of San Antonio Canyon, hoping it will take me to Manker Flat and the Mount Baldy Road. I've scouted the visible portion of the route from Mount Harwood, so I know there's snow all the way down.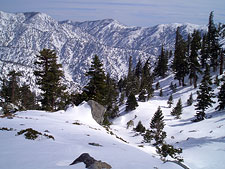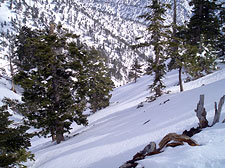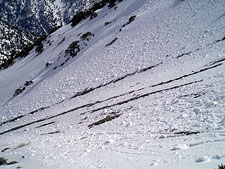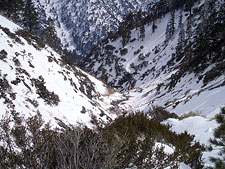 But is there enough snow? And will San Antonio Canyon stay open enough to allow a safe descent on skis?
I will soon learn the answer to both these questions, and what has thus far been an exhilarating but exhausting day is about to become a frightening safari as the Girly Man extracts its revenge.
I ski through the remainder of the glade above San Antonio Canyon, wondering what I'll see when I drop over the rim.
These are the last good turns of the day. The terrain is rolling and gentle, the trees are widely spaced, and the snow remains thick but not too grabby.
As I descend into the steep upper wall of San Antonio Canyon, Rocks, stumps, and bare patches sprout up with increasing frequency.
This is not a good sign.
I've still got over two thousand vertical feet to go to reach Manker Flat and the road.
My little voice is starting to nag at me now, suggesting maybe—just maybe—I really ought to be on the other side of the canyon, don't you think?
And as I'm listening to the voice, I find myself hating it for two reasons: first, because there's no way for me to get across San Antonio Canyon now—it's too late.
And second, I hate the voice because I know it's right. The trees part, revealing my escalating predicament. The canyon's walls continue to steepen, the snow continues to thin, and I hear rushing water somewhere below. My skis begin to crunch on rocks with every turn.
I'm forced to slow down, sideslip. The optimist in me is still hoping I'll be able to follow the side of the canyon all the way down. I'll know the truth soon enough, once I reach the bottom of the side-gully I'm descending. I gingerly step across bare talus to cross to a more favorable patch of snow. This is the primary task now: stay on snow.
Snow good, rock bad. Crunch. How does it look over there? Crunch. Maybe that patch? Crunch. The rushing creek grows louder. My precious snow is melting, and that hungry creek is stealing it away, carrying it off to someplace where I'm sure they don't need it as much as I do. Orange County, maybe. The moment of truth arrives when I reach the creek at the bottom of the gully. The canyon, of course, has completely closed out. There is no possibility of skiing any farther. I can only stop, look around, and consider the variety of bad options that now present themselves.
It's funny, but now, as I look down the canyon, a critical piece of information suddenly pops into my memory: there's a waterfall down there. It's called San Antonio Falls, and I'm standing somewhere above it. Little voice, this is something you really should have brought to my attention earlier.
The voice remains silent.
I'm exhausted. Climbing back up isn't an option. Climbing down doesn't look like much of an option, either. The sun is dropping toward the west, the shadows are lengthening, and the end is nowhere in sight.
Escaping the Falls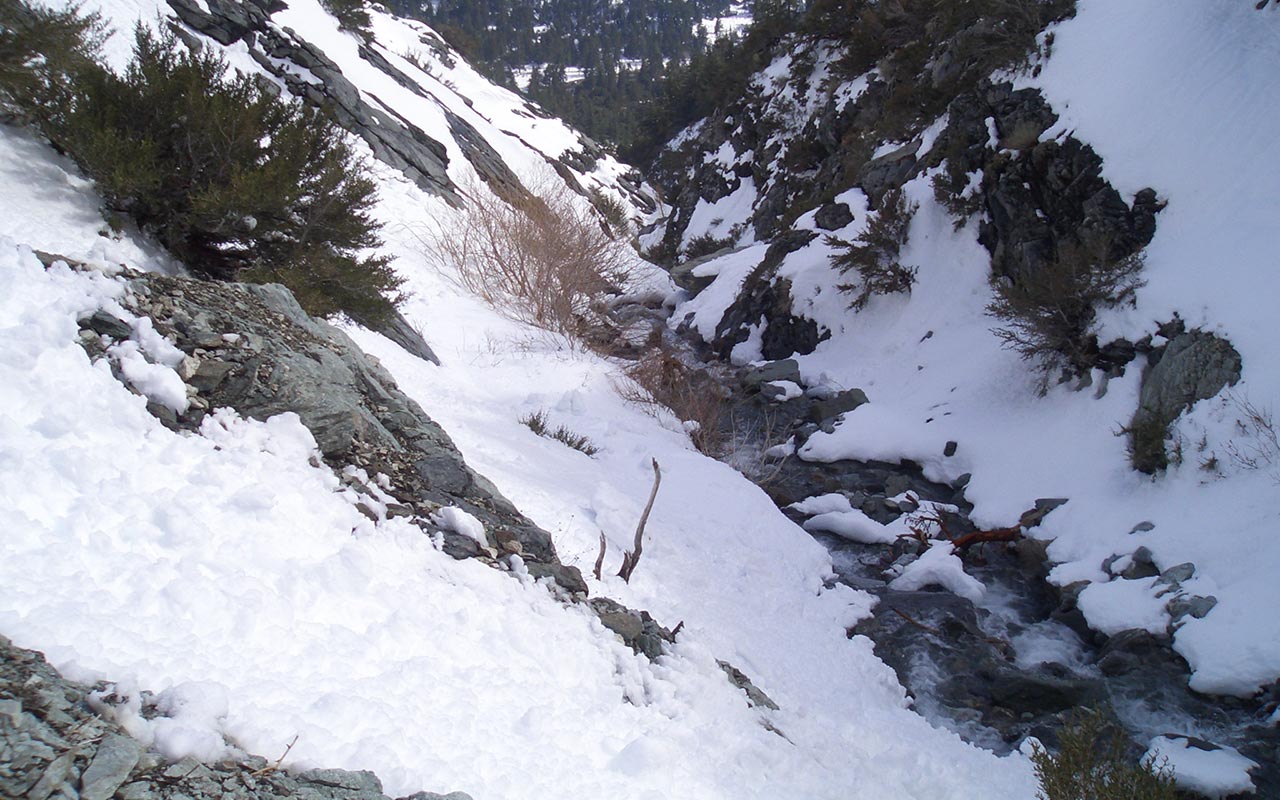 If you think about it, it all began on the traverse around Mount Harwood, when the snow was sticking to my skins, and I decided to change my return route to make life a little easier.
From that moment in time, you can draw a straight line connecting the dots to where I am now, trapped somewhere in the middle of San Antonio Canyon. If UPS had brought my Glop-Stopper wax a little earlier, I'd be lounging in the Mount Baldy Lodge right now, wolfing down a cheeseburger and fries.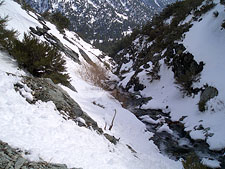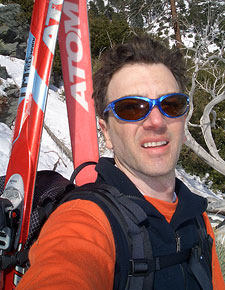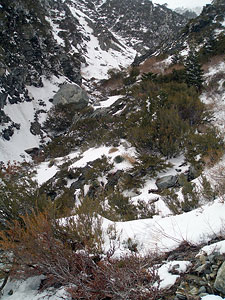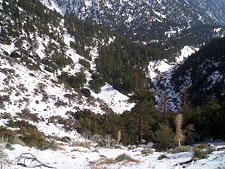 Such are the whims of fate that bring down armies, empires, and backcountry skiers. I'm tempted to try to follow the creek.
Unfortunately, that only guarantees I'll get hung up over San Antonio Falls, which, according to my suddenly-improved memory, stands about a hundred fifty feet high.
I see the possibility of climbing up and to the west, over the cliff band to my right, but I have no idea what lies beyond. A topo map would come in handy right now, but of course I'm in my own backyard here, and I allegedly already know everything.
Even if I did have a map, I'd hate to find a hidden cliff system that USGS's sixty-foot contour lines missed.
No, the best choice is to try to rejoin the Manker Flats hiking trail, which lies beyond some unknown number of steep, rock-ribbed, brush-clogged gullies to the east. In that direction, at least, I know the possibility of escape exists.
I put my skis on my pack, cross the creek, and begin climbing the opposite side of the canyon.
Almost immediately, my spent legs begin cramping, ruined by the sticky-skins ascent. I can't raise my knees without risking cramps in my hip flexors—making climbing a tricky business, to be sure.
Smooth slabs of rock lie hidden six inches beneath the snow, waiting to send me skidding out of control back down to the creek. Thick thorny bushes become allies in my journey, self-belay points which I ruthlessly employ to get across these awful gullies.
Hikers get lost in these mountains all the time, and it's easy to see why: the terrain borders on impassible.
Here in the lower reaches of San Antonio Canyon, the San Gabriels are essentially just a big, steep pile of loose sharp rock carved out by water and covered with cactus.
My intended route is made harder by the variable snowpack, which is somehow simultaneously too shallow to ski but too deep to walk on. It's a curious phenomenon deserving of further study—by someone else. Meanwhile, I'm wallowing in a snowdrift up to my chest trying to climb around another cliff band.
Each time I try to lift my legs, they cramp again. I'm forced to build myself a platform in the snow and snap back into my skis to side-step up. This proves to be a good choice, however, as it allows an easier traverse across the next gully.
I get spiked a few times trying to avoid the many Yucca plants, until I realize the Yucca actually make for a more stable platform to walk on. I doubt my skis are happy, but a few strategically placed Yuccas later, and I've successfully traversed out of the hellish depths of San Antonio Canyon and safely bypassed San Antonio Falls.
The Manker Flats trailhead is only a few hundred vertical feet below, which I downclimb, once again on foot. The safari comes to an end. It will take another half-hour or so to hike up the Mount Baldy Road and return to my car, but already my sense of relief is immense. It's one thing to choose an arduous challenge. It's another entirely to find yourself trapped unexpectedly within it.
As for the Girly Man Chute, I hesitate to call it overrated—especially as I look down at my bruised-purple toes and my battered body. It will take some time to heal from this one, I'm afraid. Perhaps the Girly Man is not a D14 chute, after all, but there's no system I know of that can capture the full range of today's experience—and that's just the way it should be.