Skiing Split Mountain
Skiing Split's North Face via the Red Lake Basin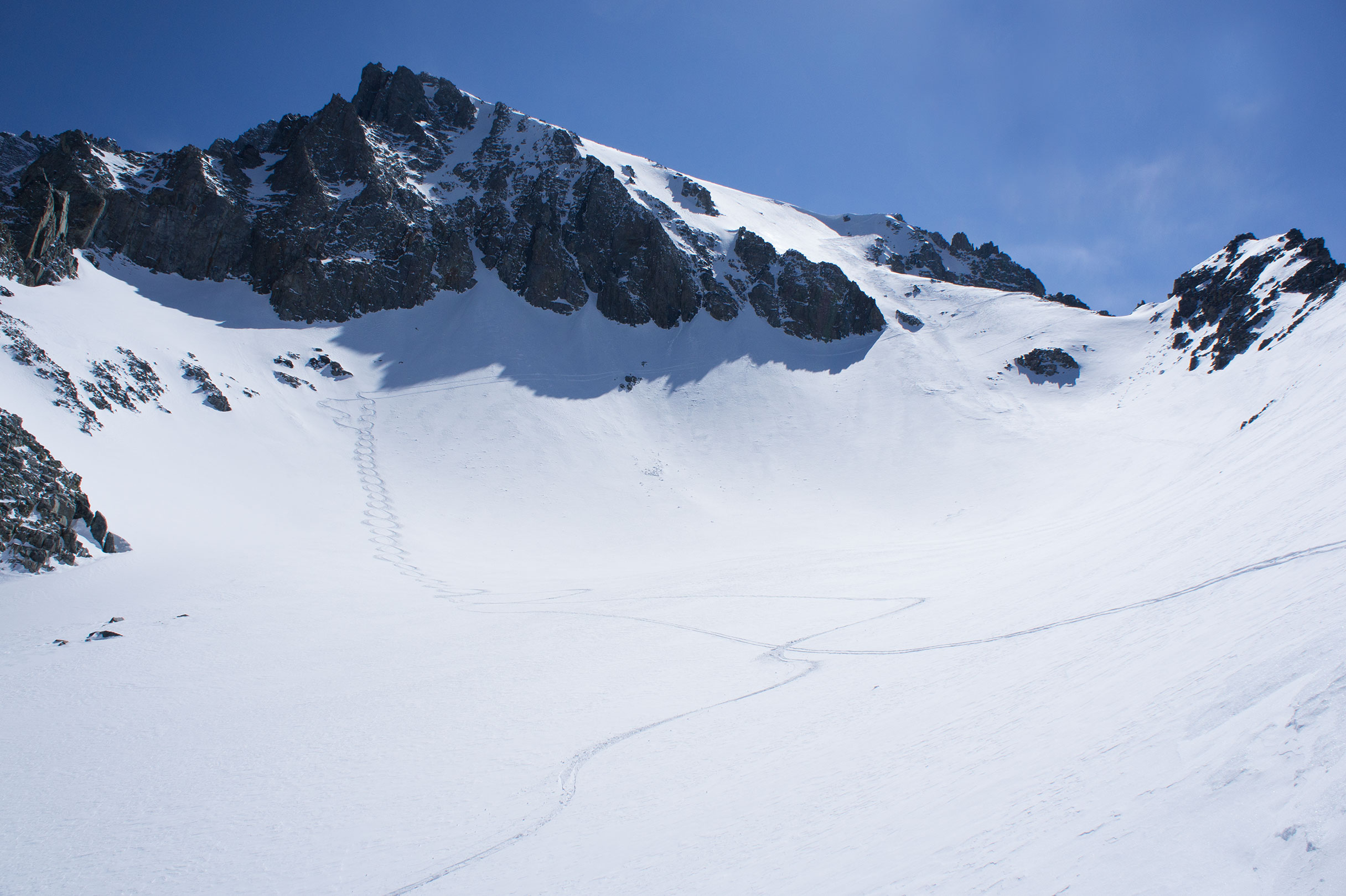 Split Mountain, California — it is one of California's big mountains, colorful, complex, and consequential, and for ski mountaineers, it holds not one but several of the range's most coveted lines.
Split's south face is a backcountry skier's dream—if you can get there. Wrap around to the east, and you'll quickly encounter an astounding (or perhaps terrifying) abundance of ski extreme options. But it is Split's snowy north face that has caught my attention today.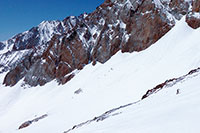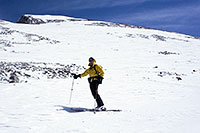 14,058-foot Split Mountain was initially known as South Palisade, a logical consequence of its proximity to the Palisade group to the north. But the name did not stick.
Though physically close to the Palisades, Split's geology is quite different—strikingly colorful granite below, ominously black sedimentary rock above. Known as a 'roof pendant', that dark capping layer not only makes Split beautiful, it also makes the terrain heavily fractured and unstable.
From Owens Valley, Split is a reclusive mountain, largely hidden from view by neighboring summits Birch, Cardinal, and Tinemaha.
Closer in, however, it is immediately obvious why South Palisade became the far more evocative 'Split' Mountain. A tremendous fault divides the massif through its very core, creating a uniquely beautiful and technical landscape, with twin summits north and south plus a pair of stunning and severe hidden couloirs, east and west.
Split Mountain is perhaps most famous for its east couloir, but it is only via the north face that one can expect to ski from the mountain's higher north summit without down-climbing—Split's north face is just a big, broad, moderate ramp. If you and your skis can get there, you'll enjoy easy skiing right off the top of a California fourteener. But first, of course, you have to get there.
Red Lake Trail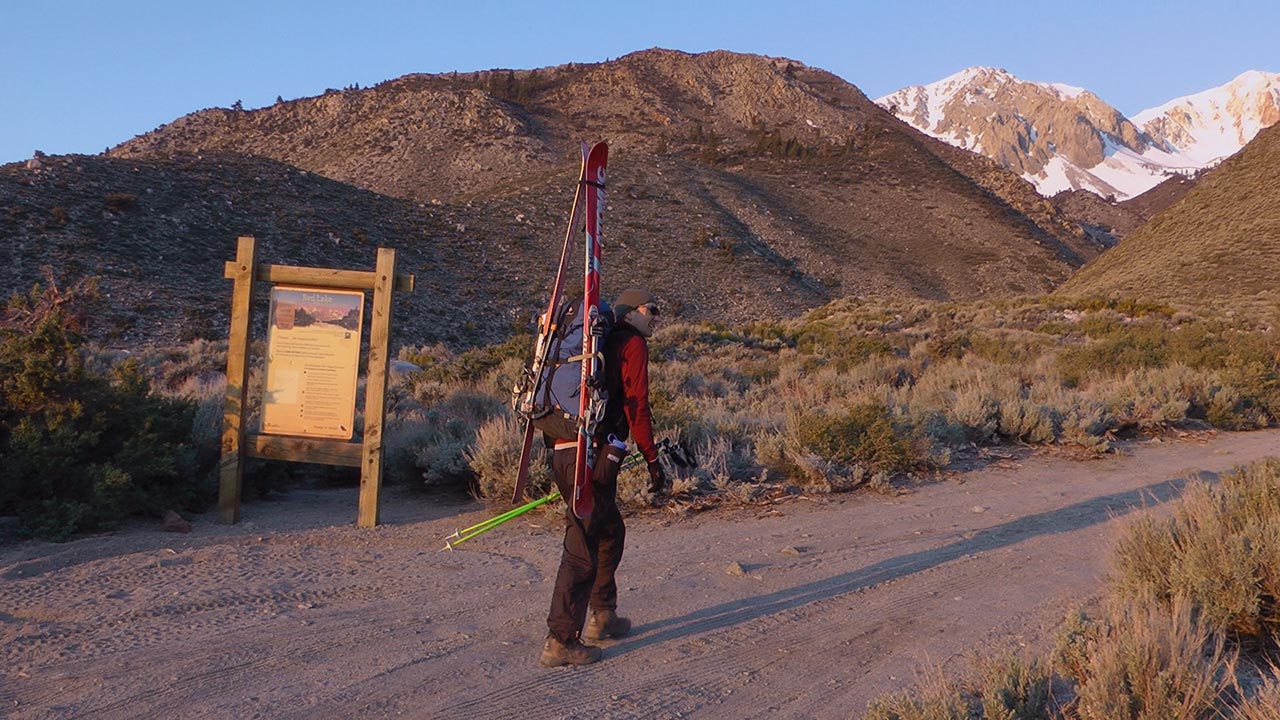 As a rule, backcountry skiing in the Eastern Sierra involves at least some degree of suffering. Accessed via the Red Lake Trail, Split Mountain is no exception—quite the reverse, in fact.
Trevor and I depart from our campsite at 5:45 a.m. and right away we get lost. I suppose for those wanting to preserve as much of the spirit of adventure as possible, I should give a spoiler alert here: skip to the next page if you would prefer to avoid any advance warning regarding the quirks of the Red Lake Trail.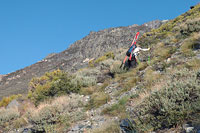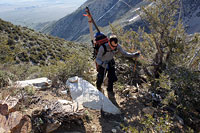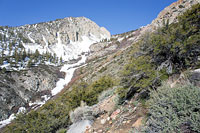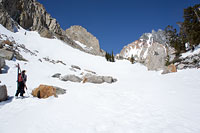 Good?
All right, let's begin by noting that getting to the trailhead involves one of the worst drives in the Sierra, in part due to a strip of private property blocking direct access to Highway 395.
When you do finally arrive at the Red Lake trailhead, having traveled via the very rough and roundabout McMurry Meadows Road bypass, you will park around 6600'. For morale reasons, I suggest avoiding doing the math on how far you'll have to climb to reach Split's summit—it's best to just think of it as a 'big day'.
Now here's something interesting: the Red Lake Trail does not, in fact, begin at the Red Lake Trailhead sign.
This, I must say, is a very clever bit of trickery, made all the more devilishly effective by a nearby and prominent cairn marking a footpath to (as best I can tell) nowhere.
Twice I have gone up the wrong way, each time rooting senselessly around in the brush and the bluffs along Red Mountain Creek, trying to connect to the actual trail, which sits some 500-600 vertical feet above.
So, in the interest of advancing the public good, let me note that the Red Lake Trail actually begins to the north of the sign.
Take the right-hand fork in the road near the end and park beside a stand of willows. The trail here is a flimsy footpath that briefly follows the willows seemingly in the wrong direction (northward) before eventually flipping back toward the Red Lake drainage. If you do find the trail, don't get too excited. This is not a regularly maintained path, and it is very easy to lose even once you've found it—particularly as you travel higher up the drainage.
For our purposes today Trevor and I hope to abandon the trail for snow along the drainage's north aspect as soon as possible. Here at the end of May, this proves to be a bit higher than we'd like, somewhere in the vicinity of 9000'. But it is still with much satisfaction that we cross Red Mountain Creek and reach snow, where at last we can put on boots and crampons and get this trip underway.
Illusions, Revisited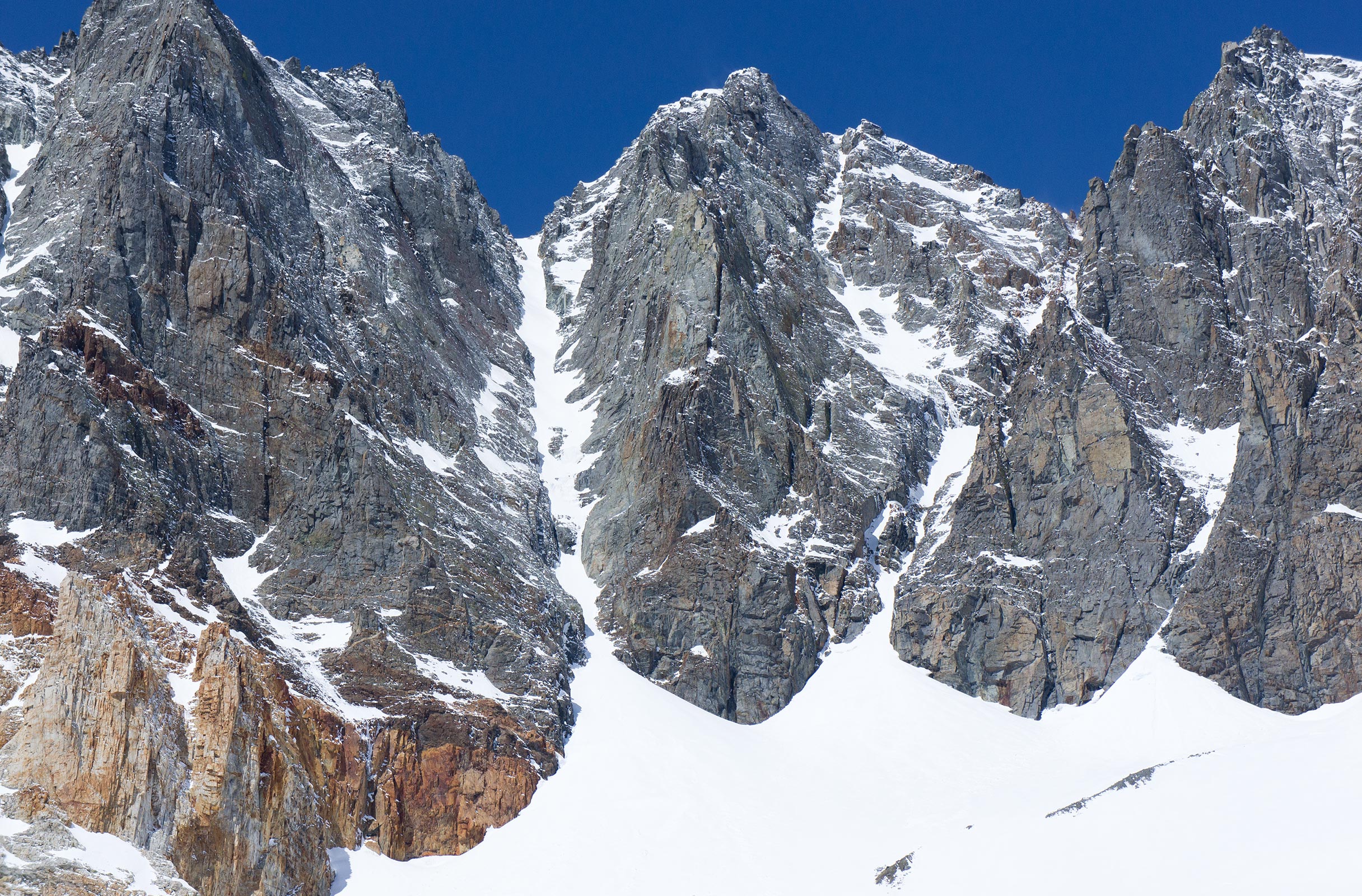 I suppose none of us will ever look at Split Mountain's northeast couloir the same again. On April 26 of this year 2011, California ski mountaineers Kip Garre and Allison Kreutzen were killed by an avalanche while ascending it.
Split's east couloir is one of the most highly regarded ski descents in the range, big, menacing, exquisitely aesthetic, with two mandatory rappels over ice bulges. First skied a decade ago by the eastside's Glen Plake, this year the couloir gained national attention via its inclusion in 50 Classic Ski Descents of North America, by Chris Davenport, Art Burrows, and Penn Newhard.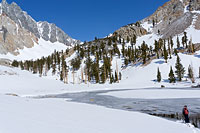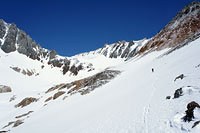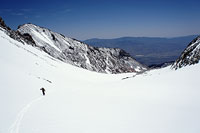 Our route today to Split's north face takes us below and then past the northeast couloir, offering a close and prolonged look at a place that is now haunted ground.
I want to focus my attention on the magnificent mountain and scenery around me, but, as I eye that east couloir warily, it is the human story to which my thoughts keep returning.
I want to know what happened here. I want to understand what cannot be understood, make sense of the senseless.
We study the past's permutations as a means to inoculate ourselves against their return. But how often do we dare acknowledge how little immunity this strategy offers against the unknowable possibilities of the future?
As I pass the debris-strewn apron below Split's east couloir, I am suddenly reminded of the great Doug Coombs, as he appears in the Mark Obenhaus film, Steep.
In the film, Coombs has an oddly detached, almost fatalistic demeanor as he talks about ski mountaineering's inherent risks.*
When I first saw the film I found Coombs' implied acceptance of the possibility of dying in the mountains both inexplicable and deeply unsettling.
He seems in the film like a man who knows his time upon this Earth is short. And this old interview is playing in my head, now, here in the present tense beneath Split Mountain, only today I find myself interpreting it differently. Today it seems to me that there is a subtlety to Coombs' words that has previously eluded me.
Climb and ski the big mountains or do not—that is a choice only you can make. But if you do, do so with humility and above all else with honesty. It's not safe. That is the message Coombs is trying to tell us. Face these hazards if you choose, if you must, but do so consciously, deliberately, intelligently. And whatever you do, never, ever fall for any illusions suggesting otherwise.
*Shortly after that interview, Coombs fell to his death in La Grave, France, while trying to help a skier who had slipped over a cliff.
Prater Saddle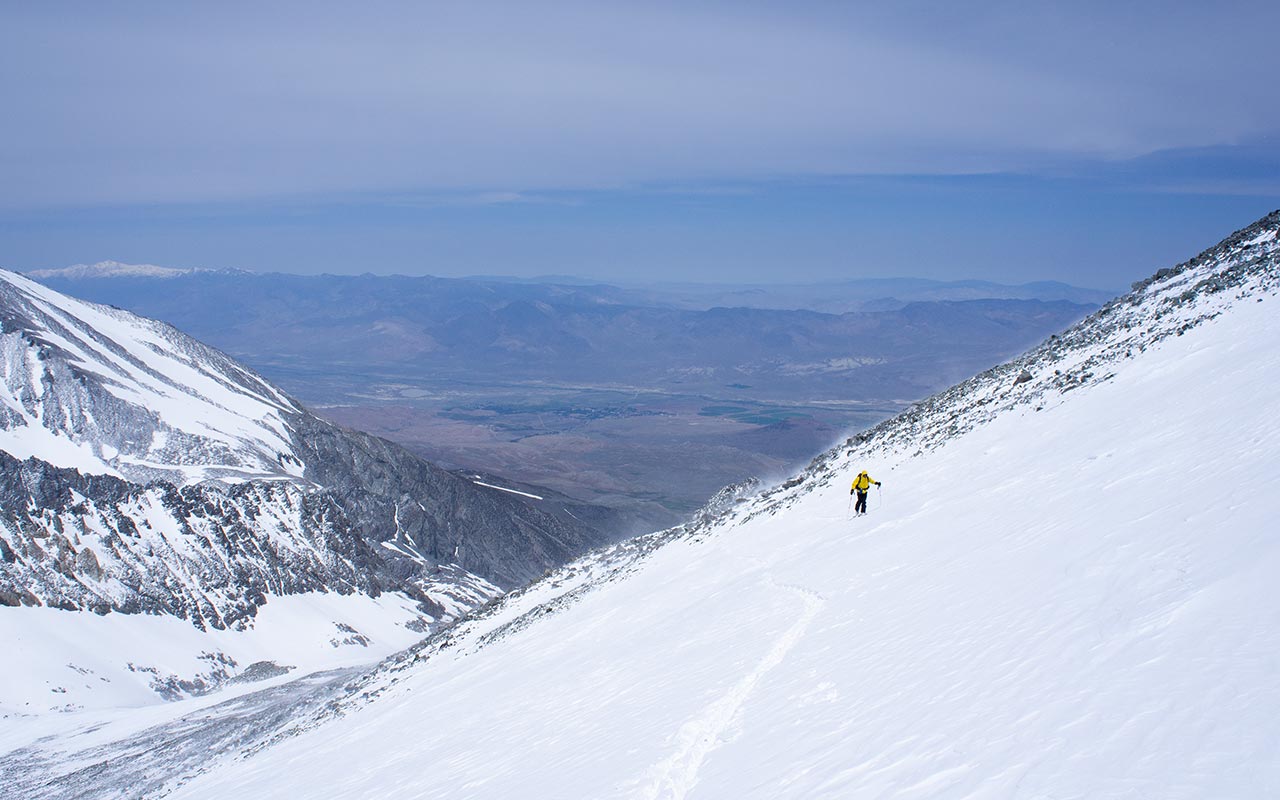 The wind is screaming atop the Sierra Crest today. Trevor and I aim for the low point between Split and Mount Prater, a high saddle from which contrails of wind-blown snow are presently streaming.
The crest is lined with a series of massive cornices, most of them perched above the neighboring Tinemaha Creek drainage to the north. But for the past hour or so, making our way up Upper Basin, we've also been climbing beneath a somewhat-worrying cornice and wind-loaded aspect to get to the saddle.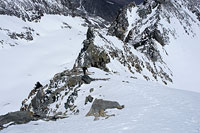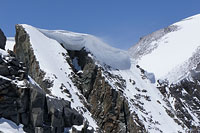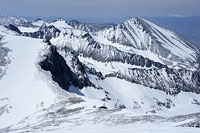 The size of some of these cornices is truly impressive—vivid evidence of this winter's stunning snowfall totals.
Though the day's cold temperatures minimizes the chances of any of these beasts breaking loose and falling, we still don't want to spend unnecessary time beneath them.
Of greater concern is the wind-blown snow, and the loaded aspect just below the crest. An east-running ridge, cliff-bound to the north, limits our options here. We ascend right along the knife-edge of the ridge, and plan to ski the same to avoid that suspect face, and possible avalanche hazard.
It's not an ideal solution, but it's the best the route offers today.
And so as we climb we keep our eyes on that face, trying to use the terrain to position ourselves away from the direct line of fire.
The last section of climbing is quite steep, unexpectedly so for this otherwise moderate route, with just enough exposure below to make you think about it.
Then we're past the cornice and onto the broad saddle between Prater and Split, elevation right around 13,000 feet. Exposed now to the wind's full power, we pause to switch to warmer clothes before resuming the climb.
Another thousand feet to go. From here, Split's north face is a broad and gentle ramp, made difficult only by the wind and the occasional icy patch. There is more than enough snow on the face to make for good skiing—good news. But the day has long since passed beyond the mere grind category. For this last thousand feet, blasted continuously by the wind, the climb is indeed withering.
I try to switch back to ascending on skis and skins, hoping it will be easier, but the snow is just hard enough to make that impossible, so it's back to crampons with skis on the pack. Meanwhile, it's hard not to get excited by the increasingly-stunning views of Owens Valley to the east and the deep Sierra to the west. The inner Sierra covers the horizon, a lifetime of ski descents just waiting for me—and you.
Atop The North Summit
Set right in the center of the High Sierra, Split Mountain gives perhaps the most expansive view of the Sierra's fourteeners, from Langley far to the south all the way to North Palisade.
Of course there is also a magnificent view of the interior Sierra to the west, a snowy horizon of peaks and passes just begging to be explored. Some of those distant peaks I recognize; most I don't. All of them seem worthy of further investigation—skis included, of course.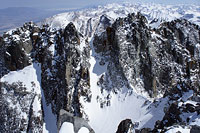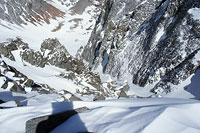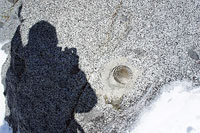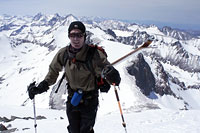 The wind mercifully takes a break as Trevor and I at last reach the top of the north summit, highest point on the mountain. I cautiously creep southward to peer over the edge.
Every summit in the Sierra is unique, but I must say Split's dark, dueling apexes make for a dramatic sight. Between summits north and south is a dramatic and exposed gap, with the funnel-like northeast couloir dropping sharply to the Red Lake cirque far below.
I contemplate that beautiful and terrible couloir, struck silent by the sight of it, holding dear in my thoughts the memory of two people I've never met, never will meet, but who are nonetheless kin...
A check of the time reveals it's three o'clock.
Time to get moving, I suppose, though I feel an inexplicable desire to linger here longer, for what reason I really can't say.
I find myself wondering if it's possible to cross between Split's two summits.
The scramble between them is variously given in guidebooks as class 3 or class 4. Today, in ski boots, I feel no great temptation to give it a try. Even without snow complicating matters, I'd tilt toward the harder rating: the terrain is steep, with considerable exposure.
Meanwhile, in contrast to that sharp drop to the south, there is the broad snowy slope behind us, to the north, to be dealt with. Happily, Split appears to be highly amenable to a summit ski descent off its north apex today, promising Trevor and me great skiing all the way down to perhaps 9000 feet—a nifty vertical mile of turns!
Trevor and I unstrap our skis from our packs, buckle our boots, snap into our bindings. Check those buckles, tighten up the straps, give the feet a stomp. The snow on the north face today will be a mixture of wind drifts and scoured hard surfaces, with a liberal scattering of rocky patches to be avoided. But the angle is low and the view is great; time to have some fun.
Skiing the North Face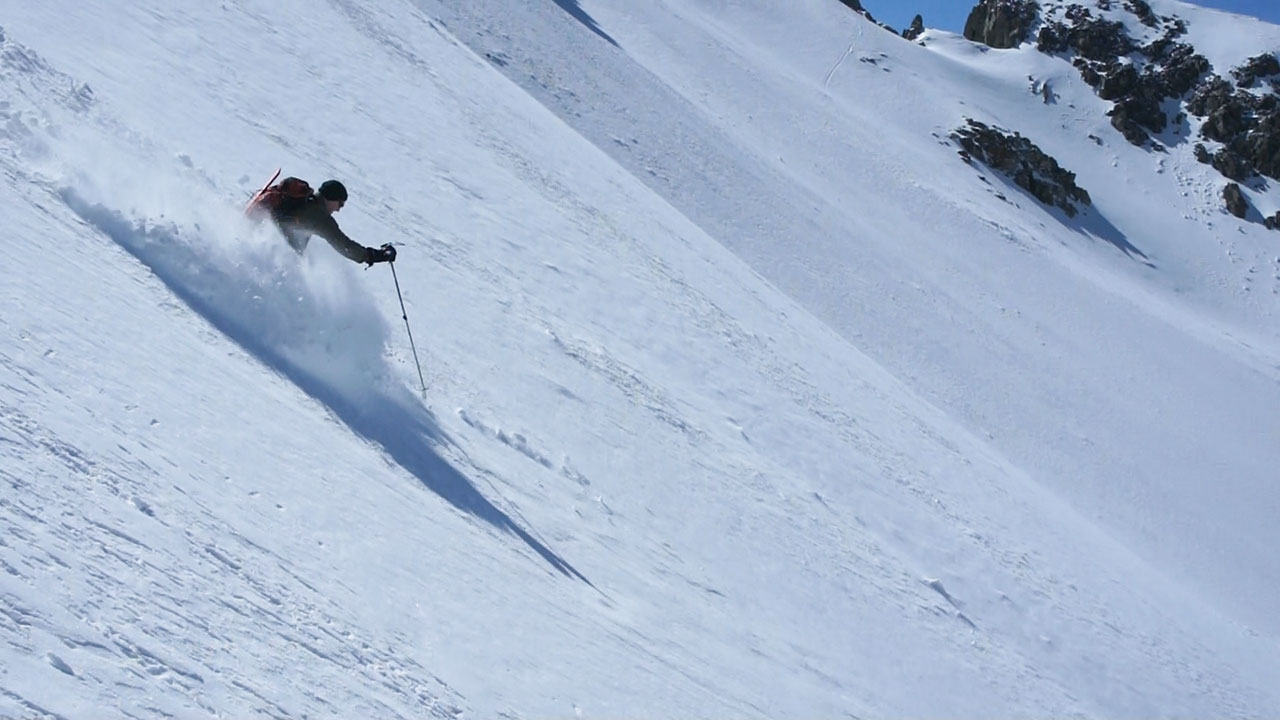 How many of the Sierra's fourteen-thousand-foot summits permit us to snap into skis on good snow right atop the very apex of the mountain? That's a good question—one perhaps without a definitive answer.
Every year, the number is probably a little bit different. And there are a dismaying large number of Sierra fourteeners that stubbornly refuse to hold snow on their high points, leaving us to endlessly argue the minutia of what does and does not constitute 'skiing' a mountain.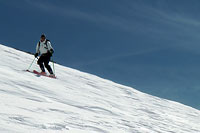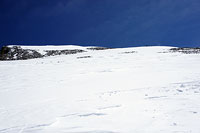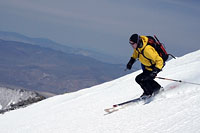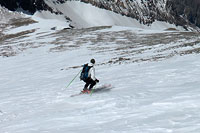 So it is indeed something special to see skis on my feet while poised on the very highest point of Split Mountain today. In truth, I hadn't been expecting it.
On the subject of skiing fourteen-thousand-foot snow, I suppose I should admit that you're likely to encounter highly variable conditions on the way down. Often, the snow will change textures and consistencies almost turn-by-turn, making for an always-interesting experience.
It keeps you on your toes, as they say.
My first turns begin on fairly crunchy ice, which quickly yields to softer but still smooth windboard. For perhaps a couple hundred feet, the snow proves quite tasty beneath my skis' edges, allowing me to speed up a bit and whoosh down the hill.
Farther down the ramp, however, Trevor and I soon encounter ice mixed with wind drifts. My ski sinks into one of the drifts and becomes an instant anchor, nearly wrenching me around.
Guess I'll have to pay attention here, after all.
Meanwhile, my attention keeps drifting westward of Prater Saddle. That saddle, I have to say, looks like a fine access point to dive deeper into the interior Sierra.
Okay, I know, I'm obsessing maybe a little too much about the inner range, but really, wouldn't it be cool to turn left instead of right at the bottom of this hill and just disappear (temporarily!) into that vast expanse of white-topped mountains? I'm telling you, some deeper backcountry forays are definitely in my future, plus at least a High Sierra crossing or two.
Then again, there is a lot of good skiing waiting for us to the east. Blue skies, calm winds, incomparable views, and good skiing in all directions That's the predicament we find ourselves in now, and it is indeed a happy one. Still, as Prater saddle nears, I take one last long look to the west before I make that right turn back to Upper Basin and Red Lake.
Upper Basin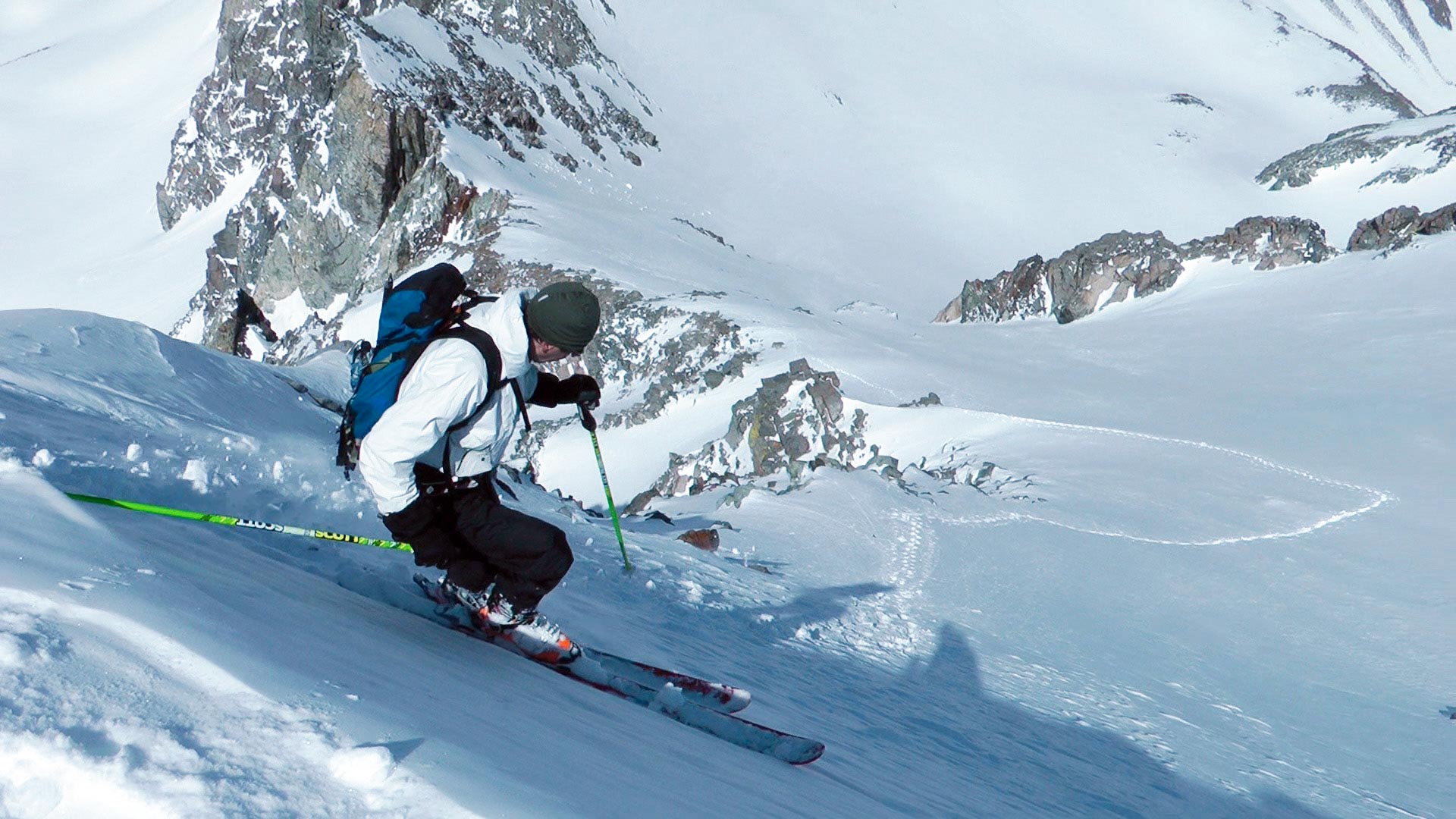 In our enthusiasm Trevor and I ski a little too far down toward Prater Saddle, necessitating a bit of a climb back up to connect to our route down the headwall to Upper Basin and the Red Lake drainage.
Atop the Headwall, we eye the slope cautiously, considering its various elements—cornice, cliff, wind-loading—which together add up to a bit of a puzzle when it comes to finding a safe way down. The cliff in particular limits our escape options.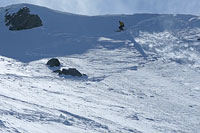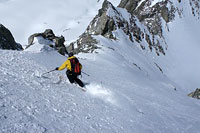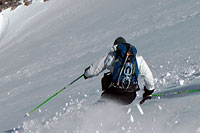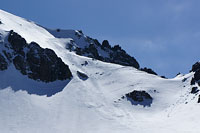 Our tactic is to trade exposures so as to always minimize the possible consequences of something going wrong. This makes for an interesting first few turns, as the perceived hazard constantly shifts, moment by moment.
The cornice initially looks the most alarming to me, especially in conjunction with the cliff, so I traverse toward the wind-loaded snow, but as soon as the cliff recedes, I'm back underneath the cornice to avoid the loaded aspect.
All these concerns probably look worse than they actually are today, but we're both in a conservative mood, not willing to push our luck—especially in regard to instabilities.
My thinking on safe travel in avalanche country is always evolving, to be sure, but presently my focus is on assessing consequences rather than stability.
Absolutely I always formulate an opinion on the snowpack's overall stability (mine today: generally bulletproof, with a few isolated slabs possible beneath ridgelines), but I don't ever want to give that opinion too much weight.
Instead, I tend to ask myself, if the snow slides here, what can happen to me? And I tend to try to put myself in places where the answer to that question is, not so much.
The hope with this strategy is twofold. First, that you are switching from guessing unknowable probabilities to the (hopefully!) more knowable potential interactions between terrain and snow. And second, that by always thinking about consequences, you are subtly conditioning yourself to be more conservative and more humble in the backcountry. That, as I say, is the hope, at least...
Below the headwall, I find the relative safety of a bit of a spine. Here I stop to wait for Trevor, who's been watching me above. An impressive plume of sluff cascades down beneath his skis as he leaves the ridge and traverses below. The top of the headwall is indeed steep, I realize. But we are both past this mini-crux now, ready to enjoy Split's wide-open slopes below.
Split Personality
I have written in the past of my sense that mountains can offer us the precious gift of clarity, but lately I have found myself as much perplexed when I visit the hills as enlightened.
This is not exactly a crisis of confidence—not exactly. Rather, it's that I find some of my beliefs changing, or, more specifically, I find I no longer believe some of the things I used to think were true.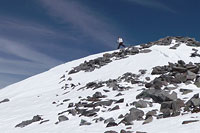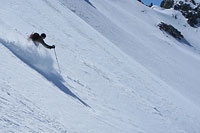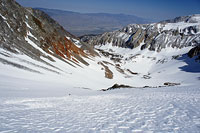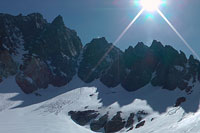 Beneath Split Mountain's arresting north ridge, I traverse under a massive cliff onto a north aspect that is blanketed in soft, creamy-smooth Sierra powder.
With a whoop, Trevor blows past me, a moving cloud of man and skis and snow, linking even turns down the face toward the expansive valley below.
When it's my turn I figure-8 Trevor's tracks, utterly lost in the euphoria of the moment: perfection.
At the bottom of the pitch I stop, turn back to look up, and just gawk in awe at the sight of it all.
It looks like a photo from a ski magazine, some distant far-away land of glisse dreams, and I know already this is the finest day of skiing I've ever had in the Sierra backcountry. Split Mountain is surely smiling upon us today.
Down, down, down, we go, the size and scale of the mountain utterly swallowing us as if we're not even there. We are tiny specs in this landscape, hardly even visible in our own photos of it.
Only our tracks seem to give evidence of our presence—yet our tracks, too, eventually fade in the distance, leaving the mountain as if untouched.
Such a perfect moment; such a perilous place. Some would argue that danger is the most important component of the human experience in mountains, that it is risk that makes us feel alive. But I cannot agree. To me, it is so much more than that, more, even, than skiing's incomparable dance with gravity and snow. To me, it is entirely about life, not death.
And so I keep coming back to these mountains, trying always to bring as much respect as I can, trying to visit on their terms rather than my own. But it's not safe, I know, and that bothers me.
It's impossible to avoid risk entirely. We can never be truly safe. But that's no license to place yourself in harm's way. Somewhere, somehow, maybe, there's a middle ground to be found. Maybe. If it exists, I'm still looking for it.