Mount Whitney — the Mountaineer's Route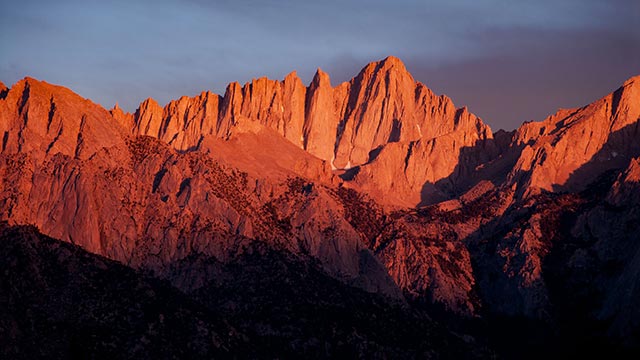 If you are considering climbing the Mountaineer's Route, I heartily recommend it. The route is spectacular. Be aware, however, that hiking conditions are currently unusually favorable on the mountain. Under more normal circumstances, the Mountaineer's Route can well be a technical endeavor requiring ice axe and crampons, and the skills to use both safely.
— June 30, 2007
Andy Lewicky is the author and creator of SierraDescents
madeboda June 29, 2009 at 4:51 pm
Well written. Excellent advice and a good read. I have completed Whitney on the trail and would love to now follow your Moutaineer's route. Thx.
Chuck July 22, 2009 at 12:19 pm
Great job of documenting the entire Mt. Whitney adventure. While I have never climbed this mountain I hope to one day and reading this journal is very inspiring.
Alvin September 11, 2009 at 12:45 pm
Great journal piece. I summited the mountaineer's route in April. It's a whole different adventure when virtually the entire climb is on snow and ice. I encourage everyone to give that a try!!
C. K. Sheridan June 10, 2010 at 12:50 pm
Lifelong word collector, I just learned 4 more, thanks to you.
You should yearly write a short version of this -- WITH CAVEATS for both tyros and seasoned climbers. Perhaps my son will be able to achieve all 7 summits.
I must be content to be an armchair climber, but in my next life . . . ;-)
Michael September 2, 2010 at 12:24 pm
This is a well-written piece that simply made my mouth water for the adventure within the Sierras. Climbed Alta Peak in Sequoia NP last weekend and found out my good friend wants to do the Mountaineer's Route next year. I can't wait and I'm sure I'll be reading your report over and over. Great photos, too BTW, thank you for writing this all down...
Romeo December 3, 2010 at 12:45 pm
Very well written...I just started scratching the surface of longer hikes with heavier loads and the whole climbing scene in general. In fact, I just started training for the Whitney climb hopefully sometime in 2011. This piece just motivated me to possibly do the mountaineers route in the future. Again, great job in capturing the feeling for this climb. Now, time to prepare for a 12 mile hike (Mt. Whitney) tomorrow.
Romeo December 3, 2010 at 12:48 pm
Sorry...12 mile hike to Mt. Wilson tomorrow.
spider monkey May 12, 2011 at 12:03 pm
to drawn out , is this guy from the sierra club ? ah its got me suspicious!!!!! beautifull time of year though!! maybe you should try it in the mid winter to fully injoy the full wilderness experienc and climb the mountain on its terms that would even out the odds a little bit dont you think? but it sounds like you had a good trip. its definately a hell of a challenger during the winter months!!!!! and a good experience to how precious life really is!! this wsant the first winter tripe that i took . that would be my first winter of 3 days on top of mount baldy. yess in screaming winds a long time ago . than i did a stint on san jacinto for two days with no wind but bitter cold yes hello mother nature!!!!!!!! than the following year i did whitney solo in betwwen i stayed in the higher elevations! so try whitney during winter it will blow you away .
Joseph June 23, 2011 at 10:24 am
great account, probably my third time reading it... also i realize i'm such a nit picker because the head photo on the title page says whitney at sunset, although the picture is of the east face as it is fully lit upb with alpenglow at SUNRISE... :p
Andy June 23, 2011 at 10:52 am
Joseph,

Nice catch! I just checked and that photo was taken 5:42 a.m. on June 23 2007 -- four years ago today. :)
Joseph June 29, 2011 at 8:40 am
eerie, but nifty... sorry I'm totally "that guy" :)