The Bridge to Nowhere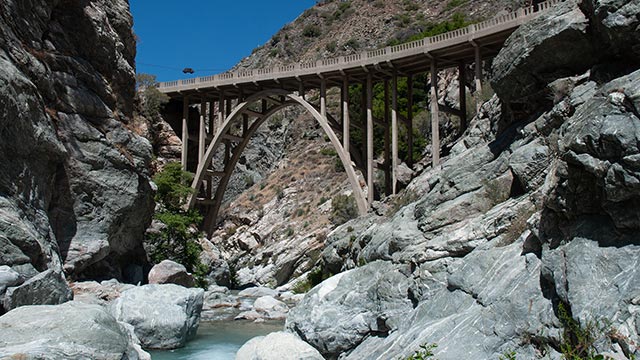 You have to admire the audacity of the attempt to build a road through San Gabriel Canyon connecting Azusa and Wrightwood. The planned route, along the East Fork of Southern California's San Gabriel River, passing beneath the immense west and north faces of Iron Mountain and up the dramatic narrows of the East Fork canyon, was to have cut through the very heart of the San Gabriel Mountains (more...)
— July 9, 2010
Andy Lewicky is the author and creator of SierraDescents
Andy July 9, 2010 at 9:11 am
Hey! I get to do my new content dance at long last! My wife had pointed out that not everyone might have understood my 'Bridge to Nowhere' reference on the Iron Mountain video. There was only one way to fix that: hike to the bridge and put together a report.

If you're in SoCal and you haven't seen the East Fork of San Gabriel Canyon, you really owe it to yourself to get up there. It's incredible--even without the bridge. :)
Tom July 11, 2010 at 5:39 am
Exactly how much gold they find while sifting through the river's silt is unknown,
Hiked up to the bridge in 08. Just past the bridge in the narrows a guy in his fifties asked me if I wanted to see the biggest nugget taken out of this stream, sure I said and he proceeded to pull out of his back pocket wrapped in a bandana. The nugget was the size of two regular golf balls fused together and very heavy, having just visited Sutters fort earlier the same year I saw some amazing nuggets but this guys nugget was better than anything on display at Sutters and he let me hold it too! Saw about a dozen Bighorn as well. There are some true characters in these mountains, not all with the best intentions so be aware. If you make a right turn at swan rock up the Allison gulch you will come, after some struggle, to the Allison mine. The sense of wonder you felt at the bridge will be tripled when you realize the amount of backbreaking labor Mr Allison and his son's accomplished in the working of thier mine. About 600 ft of shaft to explore.
Rom July 12, 2010 at 8:19 pm
great article!
chris May 11, 2011 at 4:27 pm
I remember that I rode my old stump-jumper up there 20-30 years ago and the was a good trail like a road and once you got to the road that was it

Keep writing