The South Kaibab-Bright Angel Loop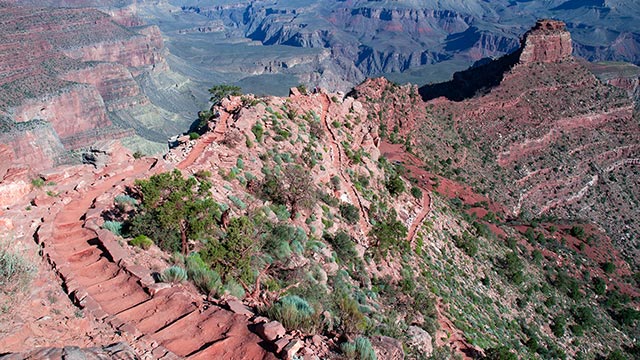 It is only natural, standing atop Grand Canyon, to gaze into the depths below the rim and wonder if it's possible to hike all the way down to the river and back in a single day. Hiking rim-to-river offers the ultimate Grand Canyon experience—a 'trip through time' traversing twelve distinct geologic formations. Attempting the entire route in a day, however, is not a trivial undertaking (more...)
— August 15, 2010
Andy Lewicky is the author and creator of SierraDescents
Joseph Gregory August 15, 2010 at 8:54 pm
Andy, I really appreciate your accounts. In my opinion you're an excellent writer and you pull me in to the story. Your writing style isn't banal nor is it too lofty, it is candid real but not crass. Your articles really brighten my day, inform me and bring my thoughts back to the mountains, canyons, and other wild places of this earth. I know it may not mean much to you, for whatever reason you do write, but I really like and appreciate what you do. Thank You for doing what you do. :D
Dan Conger August 16, 2010 at 6:34 pm
You inspire me, Bro! My Dad and I are hiking to Treasure Lakes above Bishop Creek's south fork on Saturday morning. I'll be thinking, "How would Andy describe this?"
chuck gallagher April 23, 2011 at 7:20 pm
Andy

Thanks so much for your informative narrative and great pictures. I am hiking the South Kaibab, Tonto, Bright Angel loop on April 30, 2011. I will let you know how it goes, but your pics prepared me. I have been training for this trip over 10 months and while not as far as your adventure..or as hot, it will be quite a trip. Thanks again.

Chuck
Lennie Lefler June 12, 2012 at 8:24 am
Great Trip report on the Loop----only mistake I saw was---it's 4 miles plus from the S. Kaibab Trail across the Tonto Trail to connect to Bright Angel Trail---Not 2 miles across as your article said
Andy June 12, 2012 at 8:34 am
Thanks Lennie!
Tina August 22, 2012 at 8:17 pm
Thank you for the great narration. This past April I hiked the Bright Angel to Plateau Point and back in 6 hours, and I started at 3:00 PM. I appreciated the detailed account and warnings about hiking rim-river-rim. I'm looking forward to the adventure and starting at 6:00 AM. Cheers!
Del October 19, 2012 at 8:38 pm
Andy
Earlier today I spoke to my good friend about hiking rim to rim with an overnight in the canyon. We will both be 50. Your account of your hike ( albeit in one day) certainly put it in perspective. You captured the beauty and the pain eloquently.
It sounds like something I would like to do but... Would I be able for it? Hobson's choice. Will let you know if we take it on.
Pete November 13, 2012 at 11:14 pm
Andy,

Having completed the same trek over 2 days in early October this year, including an overnight at Phantom Ranch, virtually all of what you write about the trails and hike is spot on ... wonderfully descriptive.

Temps for my hike were much milder at a max of about 90 following arrival at PR about 1:30 PM; most pleasant, actually.

Your advice regarding the potentially murderous impact of summer heat and aridity is wisely tendered for all to understand. If in doubt about that, the sign under the thermometer by the mule bar at Indian Garden is amusing yet quite clear.

Your observation about South Kaibab's downhill impact on the quadriceps is true; beefing them up before hitting the trail makes the trip down much more enjoyable, especially the final 1.5 mile descent below The Tipoff.

Finally, in comparison to mountain hiking, your observation that hiking the GC should be viewed as 1.3 - 2.0 times as demanding is quite true, As they say, to be forewarned is to be forarmed.

It is such a superb experience, I plan to return in May 2013 for the rim-to-rim trek.

Good luck to all, and happy hiking.

Pete