SteriPen Adventurer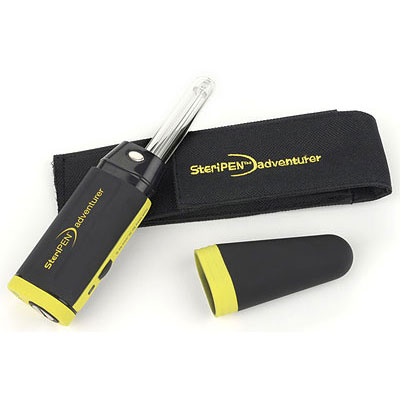 fast & effective
requires clear water
practice first at home
3.6 ounces
Steripen's Adventurer water purification device offers an innovative and intriguing alternative to traditional filter and chemical systems.
The 3.6 ounce Steripen uses ultraviolet light to quickly neutralize a claimed 99.99% of all bacteria, protozoa, and viruses, making this one of the most effective killing machines on the market. As the name implies, you use the Adventurer like a glowing pen to stir your water, allowing the unit's UV light to nuke microorganisms. The whole process takes about 90 seconds per liter of water (the unit times itself), making the Steripen faster in practice than any other filtration method.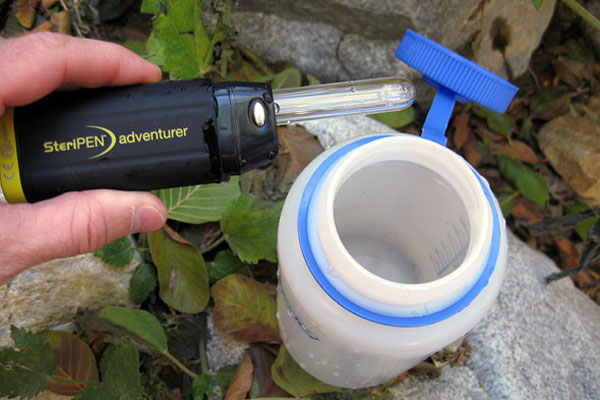 I wasn't especially convinced I had to have one of these until I tried it. As soon as I did, I knew I was never going to carry or use a conventional pump filter again. What makes the Steripen so appealing? Start with the unit's compact size and weight—six inches long and 3.6 ounces including batteries, which will treat about 50 liters of water.
Compared to chemical treatments like Iodine tablets or Aquamira, the SteriPen is only modestly heavier, at least equally effective, and adds positively no funky taste or odor—in fact, it adds nothing to your water, making the SteriPen a highly attractive choice if you're concerned about chemical exposure. The SteriPen is much lighter and faster than microfilters, and it kills viruses.
While the Steripen is quite simple to use, I must recommend you practice with it first, at home, before using it in the field. The UV indicator light, which tells you that the unit is treating water, is difficult to see in bright sunlight and/or opaque containers. If you're not familiar with the Steripen's sequence of blinking lights, you can easily get confused as to whether or not it's actually working. For extra security in dealing with highly suspect water, I would also recommend carrying a set of iodine tablets as a backup in case of battery or device failure.
Note that the Steripen requires you to have a suitable container for purification purposes. Generally this means some sort of wide-mouth bottle, such as a one-liter HDPE Nalgene, to allow proper and thorough stirring. Hydration Bladders alone are not sufficient. Note also that the SteriPen's effectiveness depends on the relative clarity of the water. If you need to purify cloudy water, you will need to pre-filter the water using a coffee filter or bandanna, as sediment and particulates impede the ability of the UV light to evenly zap the water.
For Sierra backpackers and mountaineers who choose to treat their water, the Steripen Adventurer really looks like the most attractive choice. It's light, fast, and easy, offering chemical-free protection from the nasties. Try one and you may never use anything else ever again.