Mount Whitney Crest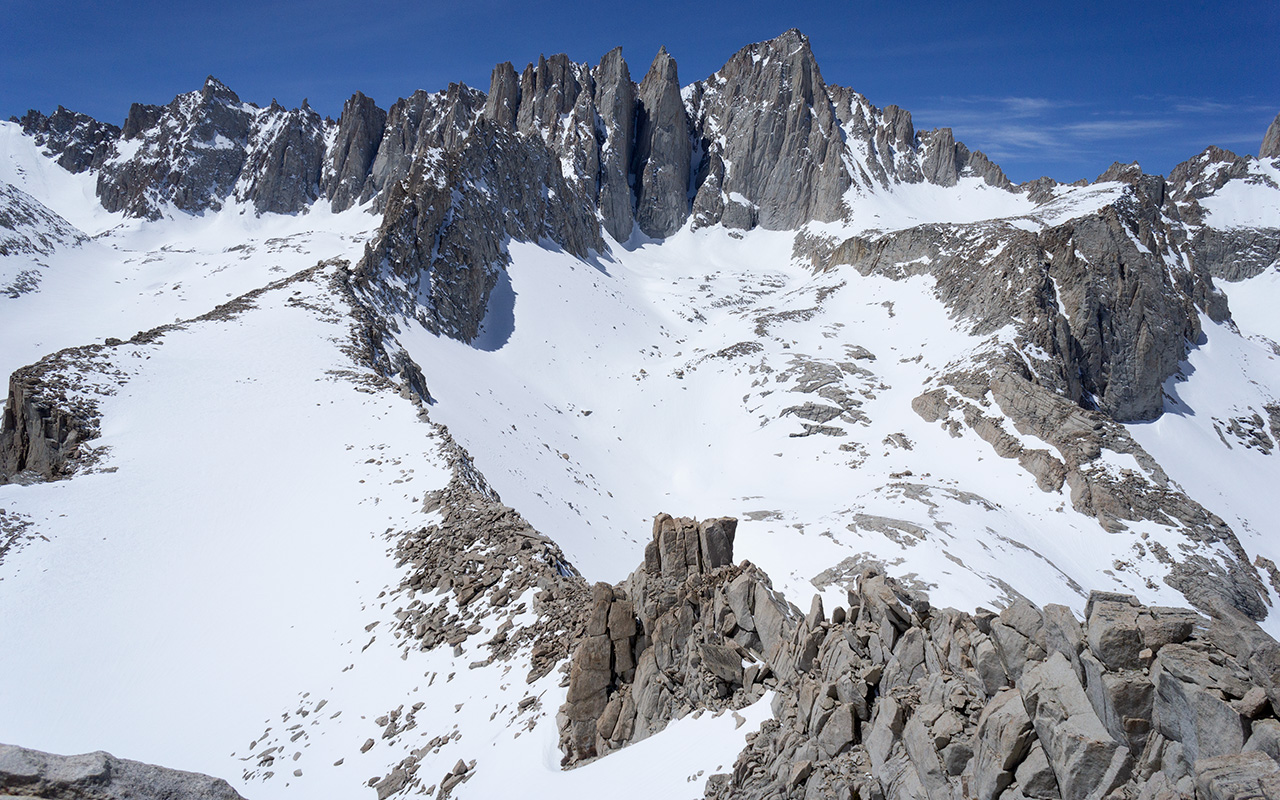 Thor Peak's summit offers this expansive view of the Mount Whitney Crest. On display are Trail Crest and Mount Muir's east buttress (left), followed by Keeler and Day Needles and of course Mount Whitney's east face.
Here's a photo that launched a bit of an adventure.
In 2011 Dave Braun and I climbed Thor Peak as a consolation prize. We were after bigger game on Mount Williamson, but the line we'd hoped to ski wasn't filled in, so we dropped in on Thor instead.
A year earlier, photographer Christian Pondella, pro skier Chris Davenport, and Mammoth local Ryan Boyer had nabbed the first descent of Mount Muir via a gully in between Muir and the Needles. Dave and I, magnanimous Southern Sierra ski mountaineers, wanted to scope out their line and see what, exactly, those damned northerners had poached.
We were somewhat enviously admiring the DPB gully when we noticed what appeared to be a continuous thread of snow weaving down Muir's signature feature: the obviously-unskiable east buttress.
In fact, though we didn't know it at the time, Muir's east buttress had been the original target of the DPB crew.
They knew about the possibility of a skiable line, having scouted it previously with a helicopter. But in the thin winter of 2010, when Davenport was doing his fifty classics project, there simply wasn't enough snow on the route to attempt it.
We didn't have a helicopter, but we did have my long lens, which we used to snap shots of the whole maybe-there-maybe-not route, top to bottom, to be studied later with much interest.
Was Muir's "unskiable" east buttress skiable? Of course not. Or maybe it was. You be the judge. Either way, it was a hell of an adventure.
Mount Whitney, California.
— November 6, 2021
Andy Lewicky is the author and creator of SierraDescents
Dan Conger November 7, 2021 at 8:57 am
So many potential lines in the Sierra, and you nabbed a great one on Muir. I still want to see a trip report from Elderberry Canyon on Mt. Tom.
Andy December 2, 2021 at 5:35 pm
Dan I want to see that TR also!