San Gorgonio: South Fork Loop
Up Dry Lake and Down Dollar Lake Trails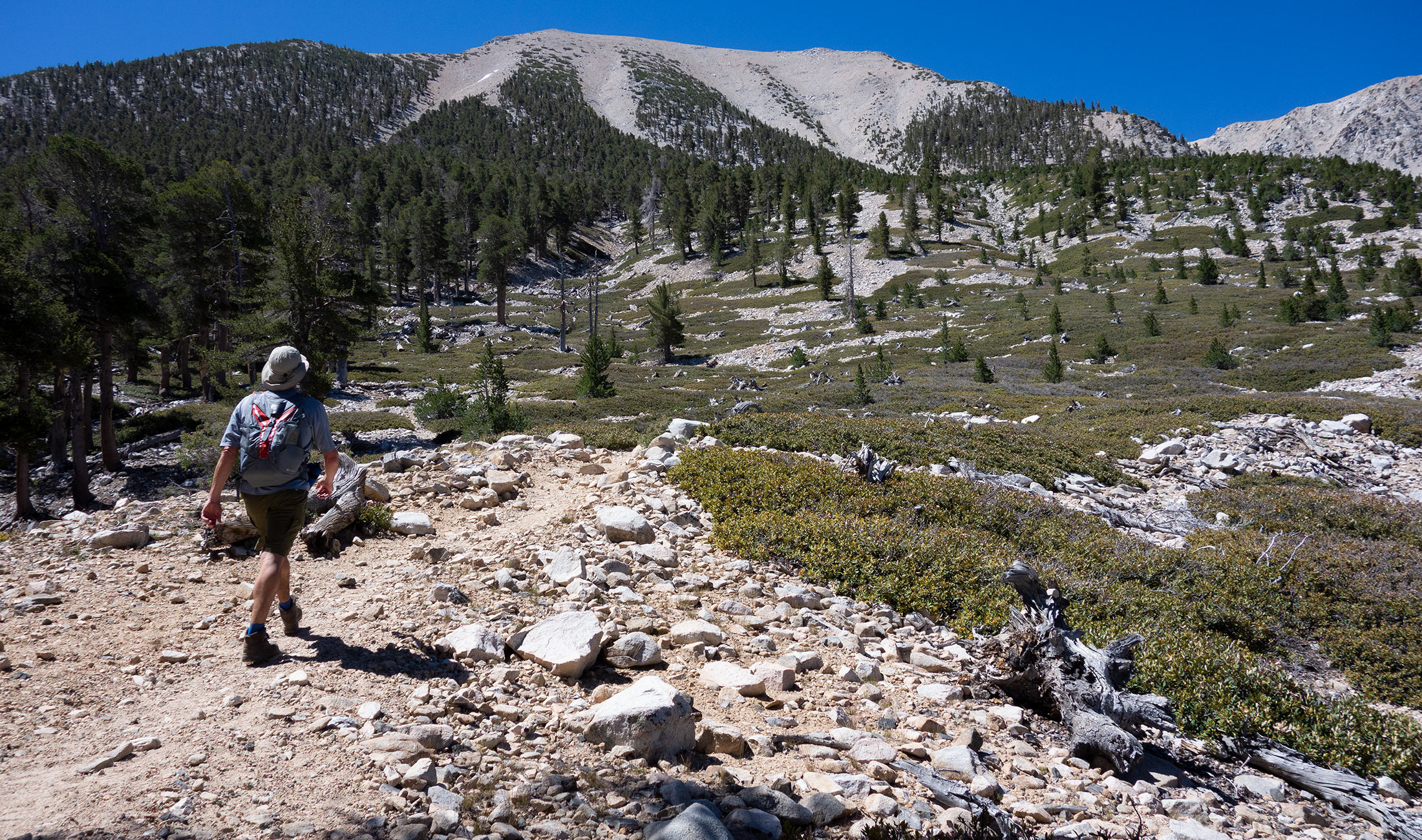 The San Gorgonio Wilderness — "Don't tell me how far it is," I say. I don't want to know. We're at the Mill Creek Ranger Station, waiting for it to open so we can get hiking permits.
You need permits to enter the San Gorgonio Wilderness, even for day hikes, and in Summer there's a trail quota to deal with as well. Our planned destination today is the summit of San Gorgonio Mountain, officially 11,499', unofficially a few feet higher, either way the highest point in Southern California.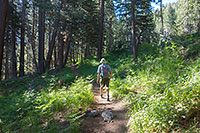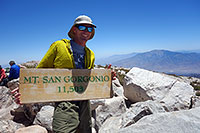 Of Southern California's major summits, San Gorgonio Mountain is the one I've visited the least, and it's easy to understand why: it's a long haul to the summit.
The shortest approach, from the south, is the Vivian Creek Trail—about eight miles and 5400 vertical feet to the summit. But today, we'll be coming from the north, via the significantly longer South Fork approach.
As we wait for the ranger house to open, my hiking partner Trevor is looking at the map, adding up waypoint mileage numbers for the many segments of the South Fork trail options.
Yes, I already know today's planned loop—up the Dry Lake trail and down the Dollar Lake trail—totals somewhere in the mid-twenties for mileage. But I don't need to be reminded about that right now, do I? Hey, I offered to do something easy on this Father's Day gift to ourselves. Baden-Powell, maybe? We'd be halfway to the top by now.
Then again, for all the work required to climb San Gorgonio Mountain, there are big rewards to be had as well. The San Gorgonio Wilderness is easily Southern California's most Alpine region, more resembling the High Sierra to the north than the nearby San Jacinto and San Gabriel mountains. We can always turn back if we run out of time or energy, I figure. But I'm hoping we make it.
South Fork Trailhead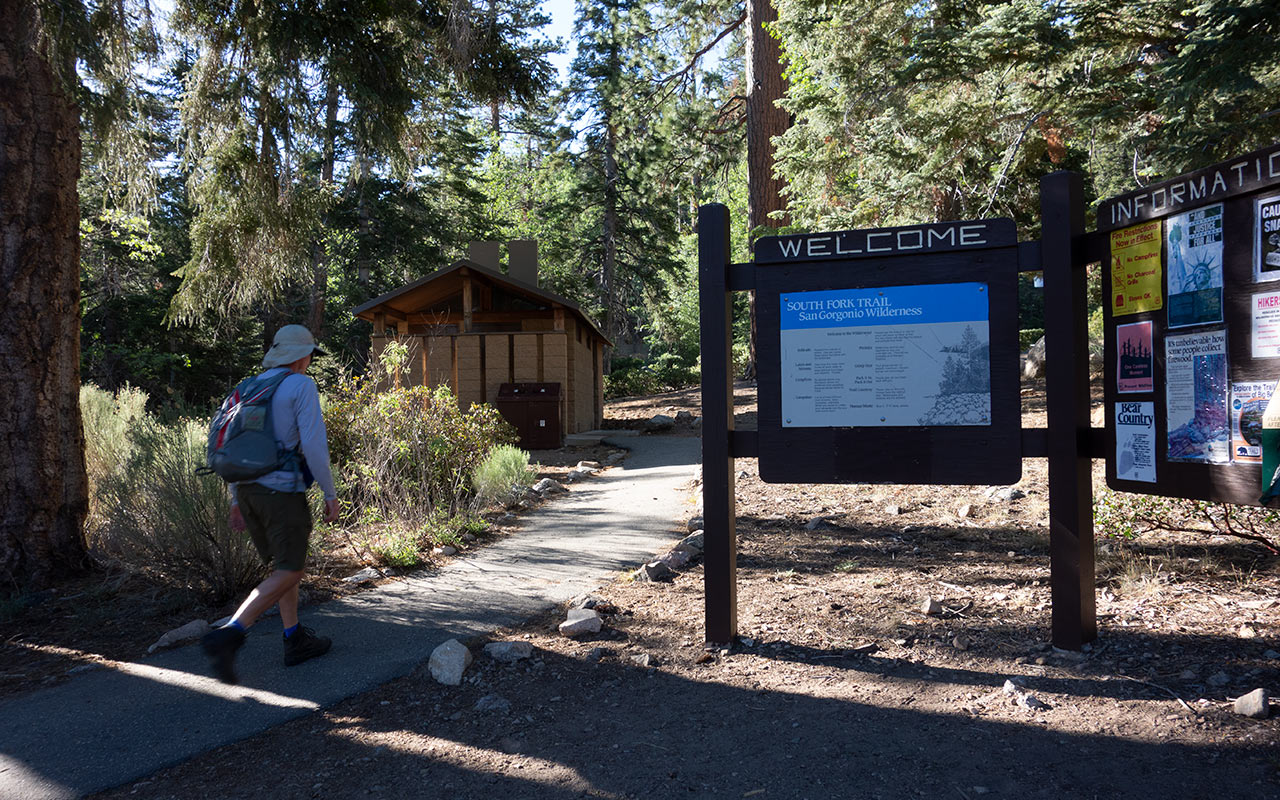 Permit issues resolved, we leave the ranger station and head up the winding highway 38 passing first the Vivian Creek turnoff, some time later finding our way to Jenks Lake Road and the South Fork Trailhead.
Hat, boots, sunscreen, sunglasses—you know the drill. Before we lock the car, Trevor and I briefly discuss our water options. I've brought a SteriPen, so we decide to carry light and rely on the SteriPen to purify natural sources as we find them. And then we're off, civilization at our backs, on the trail again.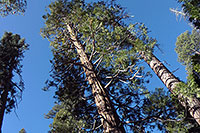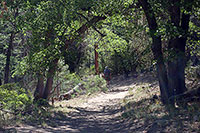 Right away we enter a mini-Redwood grove, hidden in a small shady nook. Yes, there are scattered patches of Cedars to be found in the Southern California ranges.
When I spot them I tend to think of these trees as lottery winners—somehow over their history they've managed to escape the tag-team combination of a mercilessly dry climate plus close proximity to loggers.
Past the redwood patch the vegetation dries out, becoming a scrubby oak mixture. From the trailhead we start around 6,800' in elevation—one advantage to the South Fork approach.
We'll be crossing through a lot of life zones today, each with its own distinct appearance. This is certainly one of the more obvious differences hiking in the San Gorgonio Wilderness compared, say, to the much drier San Gabriels. It's green here! You'll find real Alpine meadows, and fern-furnished forests in which to frolic.
Perhaps that's why preservationists expended so much energy here. It's easy to see the San Gorgonio Wilderness as wilderness, rather than just land to be exploited, and it's also easy to imagine an alternate future in which eager Southern California developers succeeded in transforming it into a very different place from which we find today.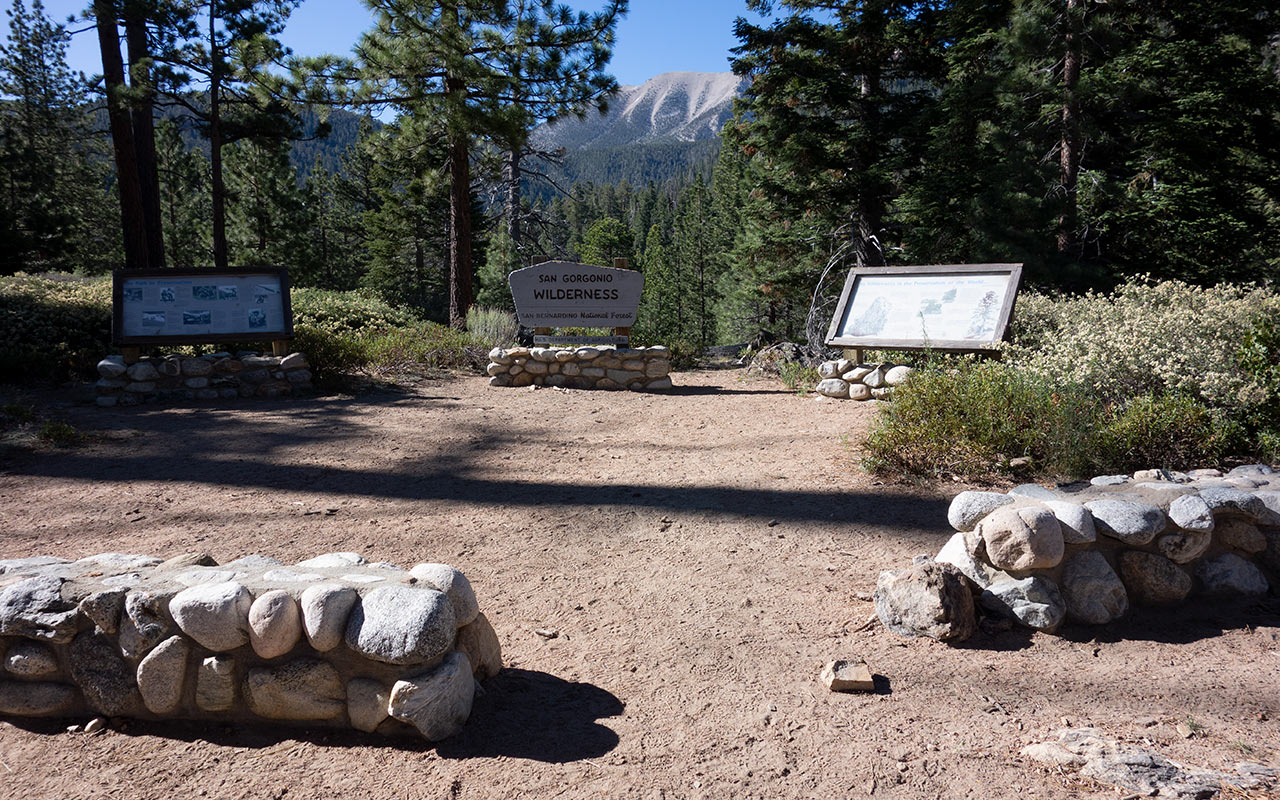 Poop-Out Hill
Past the picnic area at Horse Meadows to Poop-Out Hill we go. Poop-Out marks the boundary of the San Gorgonio Wilderness, and in times long passed, it was possible to drive here.
Some two and a half miles up from the trailhead, this happens to be the point where you get your first good look at San Gorgonio Mountain's broad north face. Perhaps by coincidence, it is also where many hikers apparently decide to turn around and head back, having walked and seen enough (hence the nickname).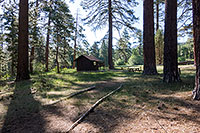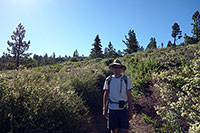 Trevor and I veer off the main trail to the Poop-Out lookout to take a photo of San Gorgonio and read the markers, which offer an interesting background on the history of the mountain, and the creation of the San Gorgonio Wilderness.
The first ascent is credited to a California State Geological Survey worker and friend in 1872. Soon after, the Vivian Creek Trail was built.
This launched a spirited conflict between preservation-oriented groups and various development-oriented forces who quite naturally saw huge potential (and profit) in the area.
In 1937, a formal application was made to build a ski area in the San Gorgonio high country. Four years later, the Forest Service proposed a "compromise" plan in which a corridor would be reserved for ski area development, with the rest of the Gorgonio area reserved as wilderness. Any such development would have likely grown into a formidable modern ski resort.
As we shall soon see, the Gorgonio Wilderness offers a massive expanse of prime skiable terrain, at high altitude. Given close proximity to the population centers of Southern California, it is easy to imagine an alternate future in which Mammoth Mountain was built here instead of in the Sierra. But that was not to be.
Ultimately, ski area plans were defeated, and utterly so—even existing roads were pushed back, leaving the wilderness essentially pristine.
Alto-Diablo Chutes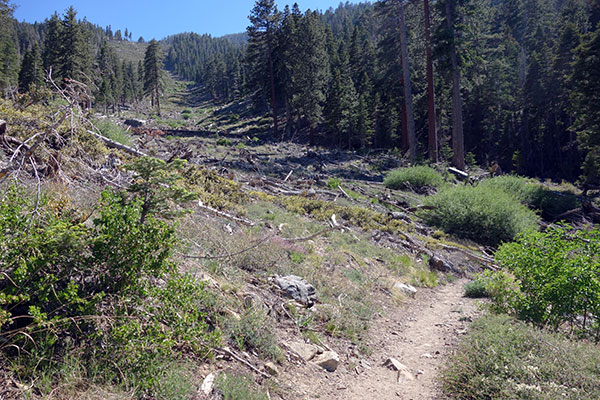 Are there avalanches in Southern California? You bet. Just past Poop-Out Hill, we get a good look at the remains of a large and destructive slide off Alto-Diablo Peak.
To the best of my knowledge, the avalanche happened in the winter of 2009-2010, possibly during the big January snow event. The South Fork trail passes right through the middle of the run out zone, making this portion of the trail an obviously unsuitable choice for safe Winter travel—so be advised.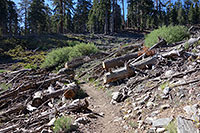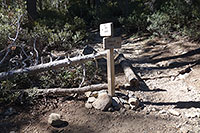 The slide was a sobering sight when I first saw it en route to skiing San Gorgonio Mountain later that same Spring. It's still a sobering sight today.
Trevor and I pass the main slide path and continue along the trail. We cross two more lesser avalanche zones, then plunge back into the forest, working our way up to South Fork Meadows and the junction of the Dollar and Dry lake trails.
South Fork Meadows is itself an avalanche run out zone. The main path goes off the northeast chute of nearby Charlton Peak—and it's a big one.
As for the meadow, it's a popular place to camp, as well as a staging area for backcountry ski tours in Spring. We stop at the creek crossing to refill our water bottles and fight off bugs. From here, we get to pick which half of our loop to ascend. Heading left, the trail goes past Dry Lake, wrapping around the east side of San Gorgonio.
To the right, the trail goes past Dollar Lake to Dollar Saddle, wrapping around the west side of San Gorgonio Mountain. Both trails are similar in length: long. The Dollar option is perhaps a bit steeper, or perhaps not. Today, we're choosing the Dry Lake option for ascent.
If all goes well, we'll return via the Dollar Lake side, following the sun all the way around the mountain.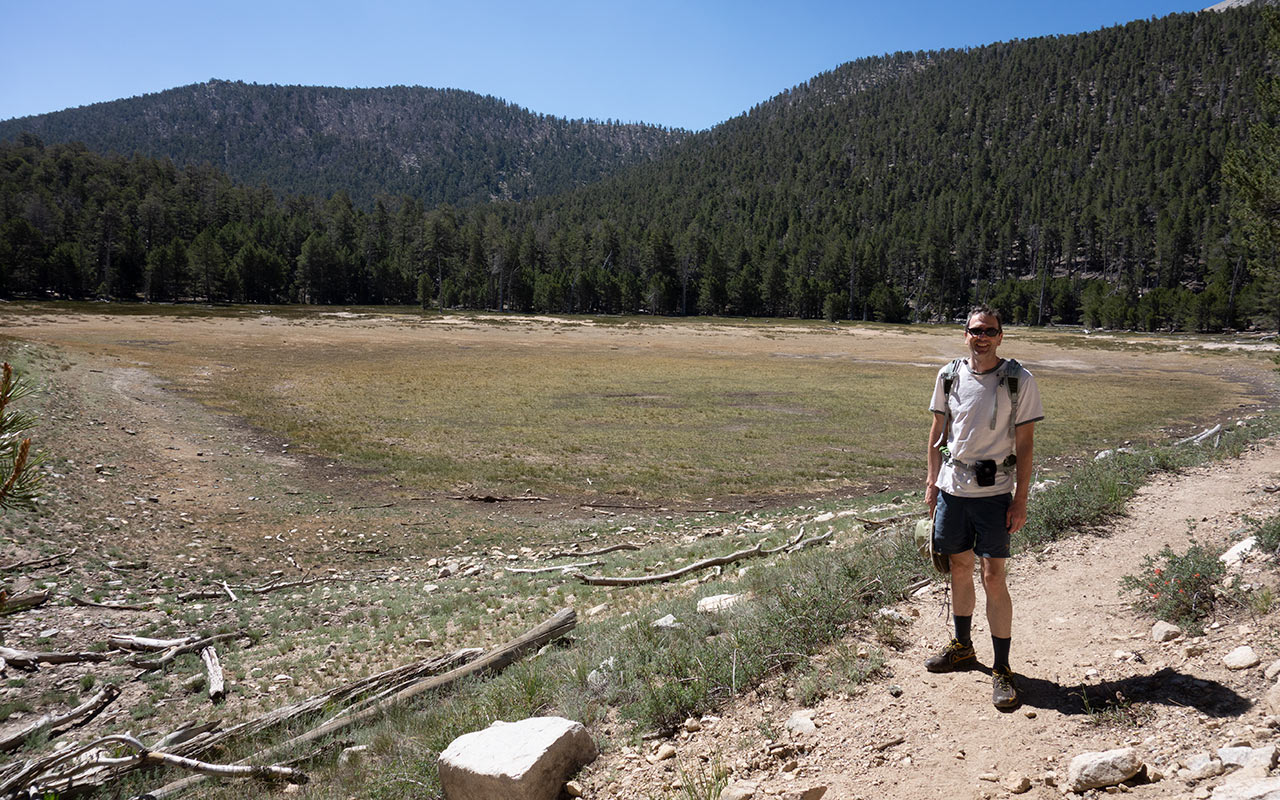 Dry Lake Trail
Soon past our watering hole, the Dry Lake trail begins climbing a steep hill east of South Fork Meadows, and our rapidly rising elevation begins to assert itself.
We've been running a quick pace thus far, motivated by the thought of so many miles ahead and so few daylight hours in which to complete them. Now, lungs and legs protest, and my mind begins to wander. I've been feeling old this year! A dry winter certainly didn't help, but good skiing or not, there's no escaping the relentless race of time.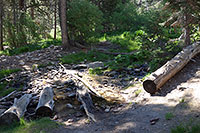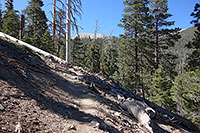 When we stop at Dry Lake to take a snack break, I pull out my topo map to read our elevation—and find myself squinting helplessly at those tiny little numbers. Is that a zero or an eight?
I swallow my pride and hand the map over to Trevor, who confirms our present elevation as 9070'.
Guess I need to start carrying reading glasses in my pack.
Dry Lake, as you might expect, is indeed dry. I find a shady spot beneath a pine tree, where I plop down on a boulder to rest. I drink some water and pull out a box of raisins.
This refreshes my mood a bit. With so much hiking still to go, we don't have time for long breaks, so soon enough we say goodbye to Dry Lake and continue up the trail, which soon begins another strenuous climb. Ahead, we see occasional flashes of chalky-gray granite poking out above the treetops—the great north cirque of San Gorgonio.
If there is a criticism to be made of our journey thus far, it's that the trail has offered fairly closed views. I like trees just as well as the next guy, but mostly we've just been plunging through endless stretches of forest, with nary an expansive vista to be had.
That's about to change, and dramatically so, and I'm looking forward to it.
Trail Flat
At Trail Flat, elevation 9680', Trevor and I at last break out of the forest, entering the vast north cirque beneath San Gorgonio Mountain and Jepson Peak.
Were there glaciers in Southern California? We think so! Paleoclimatologists believe the San Gorgonio area saw glaciation between the summit ridge and approximately 8700 feet, with the Dry Lake glacier the largest. Newer research suggests these glaciers may have existed as recently as 5000 years ago.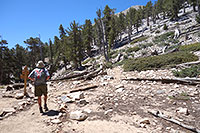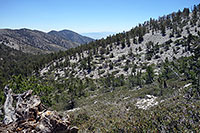 Interestingly, during this same time, Sierra Nevada mountains are believed to have been glacier-free, suggesting huge variations existed in California's climate during the mid-Holocene.
This extreme local volatility was likely due to unique jet stream and storm patterns, so Southern California skiers take heart. Perhaps a favorable shift in storm patterns will come again someday.
Today there are no glaciers but there is a tiny patch of snow high on San Gorgonio's northeast shoulder. In fact, persistent summer snowfields are said to be found on San Gorgonio approximately once every three years.
Trevor and I skirt the eastern edge of the cirque, now climbing Gorgonio's northeast shoulder, toward Mineshaft Saddle. The feel of the surrounding landscape is now inarguably Alpine. Each of Southern California's great ranges has its own character, from the incredible verticality of the San Jacintos to the scrappy ruggedness of the San Gabriels.
To me, the San Bernardino Mountains are highly reminiscent of the southern Sierra (Langley and the Horseshoe Meadow region in particular). And, as we climb higher, this impression will only grow stronger. But the San Bernardinos, and San Gorgonio Mountain, also have a uniquely Southern California quality called Prominence, as we'll soon see...
Eastside Chutes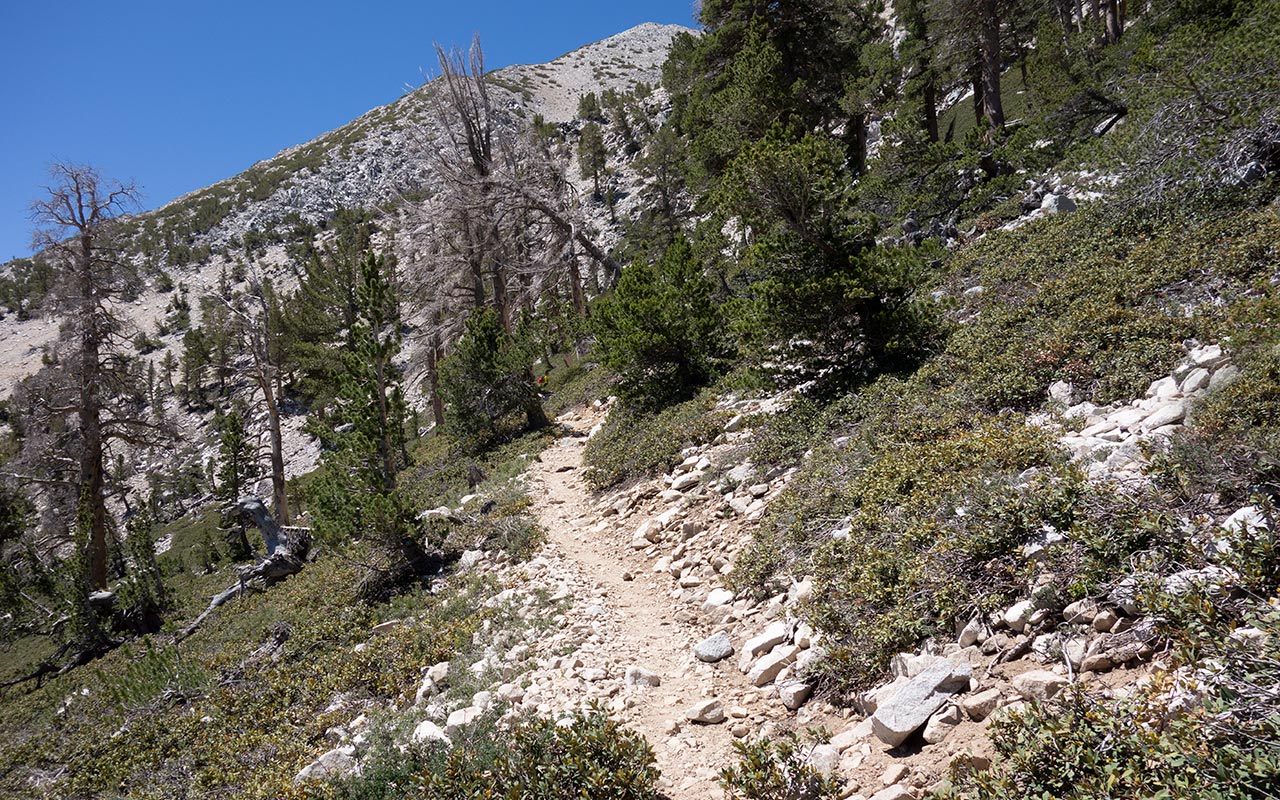 From Mineshaft Saddle, the trail begins a long traverse around the eastern circumference of San Gorgonio Mountain, crossing a number of prominent avalanche chutes.
Though eastside views now abound, growing steadily more inspiring, this is admittedly one of the grindier portions of the hike. We've passed 10,000 in elevation now, with another 1.5K to go. And, despite all the distance we've already traveled thus far, the summit remains over four miles away.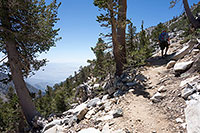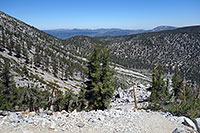 So, we put our heads down, time breaths to steps to counteract the effects of that ever-thinning air, and march steadily upward.
In summer I hike with the eyes of a skier, and so I'm logging snapshots of these impressive eastside chutes as we traverse across them. As well, there is the fine sweep of what I'll call the northeast cirque, stretching down toward Mineshaft Flat and the Fish Creek trailhead.
This is prime ski touring terrain, no doubt about it. Hard to get to, absolutely, but as I survey it now, I resolve to schedule a winter visit as soon as conditions prove favorable.
Looking at the map for a bit, you can't help noticing how remote and rugged this area off to our east/southeast is. There are clues to be found in evocative names such as "Ten Thousand Foot Ridge" and "Hell for Sure Canyon." And there is also an almost total lack of roads or even trails. You want adventure? Try linking San Gorgonio's summit with I-10 far, far below.
Or better yet, don't. Remoteness, ruggedness, and Southern California heat are not a fair combination, even for the hardy. Still, the allure of going off the map is hard to resist. And somewhere out there is the Pacific Crest Trail, I know, offering a safer way to flirt with the eastern boundary of the San Gorgonio Wilderness. So maybe I'll return someday and do a little dabbling.
Sky High Trail
Sometimes the name fits perfectly. The 'Sky High' trail, consisting of the last few miles before we connect with the Vivian Creek trail for the final quarter mile to the summit, is indeed lofty.
The Sky High section takes us from due east to due south, giving us our first good look at Cochella Valley and the San Jacinto Mountains, as well as that vast hazy cauldron known as the Los Angeles Basin. As mentioned earlier, the San Gorgonio Wilderness does evoke memories of the southern Sierra, and here the comparison is inescapable.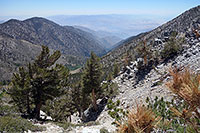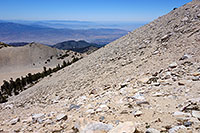 On this final section traversing across San Gorgonio Mountain's south face, we are crossing exactly the same sort of giant, granite beach found on Langley's flanks.
The sandy slope slows our pace a tad despite the trail's gentle grade. That's okay—now's the time to break out the camera and marvel at the evolving spectacle of sights all around.
Today we're rewarded with a bright blue sky, light winds, warm temperatures, and relatively little haze on the horizon—perfect weather. Perhaps we should think of these views as spoilers. Can the summit really top this?
Though we're getting close to the summit, Trevor and I decide to take one last quick snack break to rest and rehydrate. As well we speculate a little about the trail designer's intentions. We've been hiking for nearly five hours now, and we're both ready to stand atop this mountain, yet the trail persists in circling rather than zeroing in on our target.
I must confess I don't think I've ever been on a trail that was so reluctant to reach its destination. On the other hand, this grand circumnavigation of the San Gorgonio massif does have its advantages, particularly in the sightseeing department. So who am I to argue? In any case, it's time to get moving again.
The junction with the Vivian Creek trail—and the top of Southern California—awaits.
Summit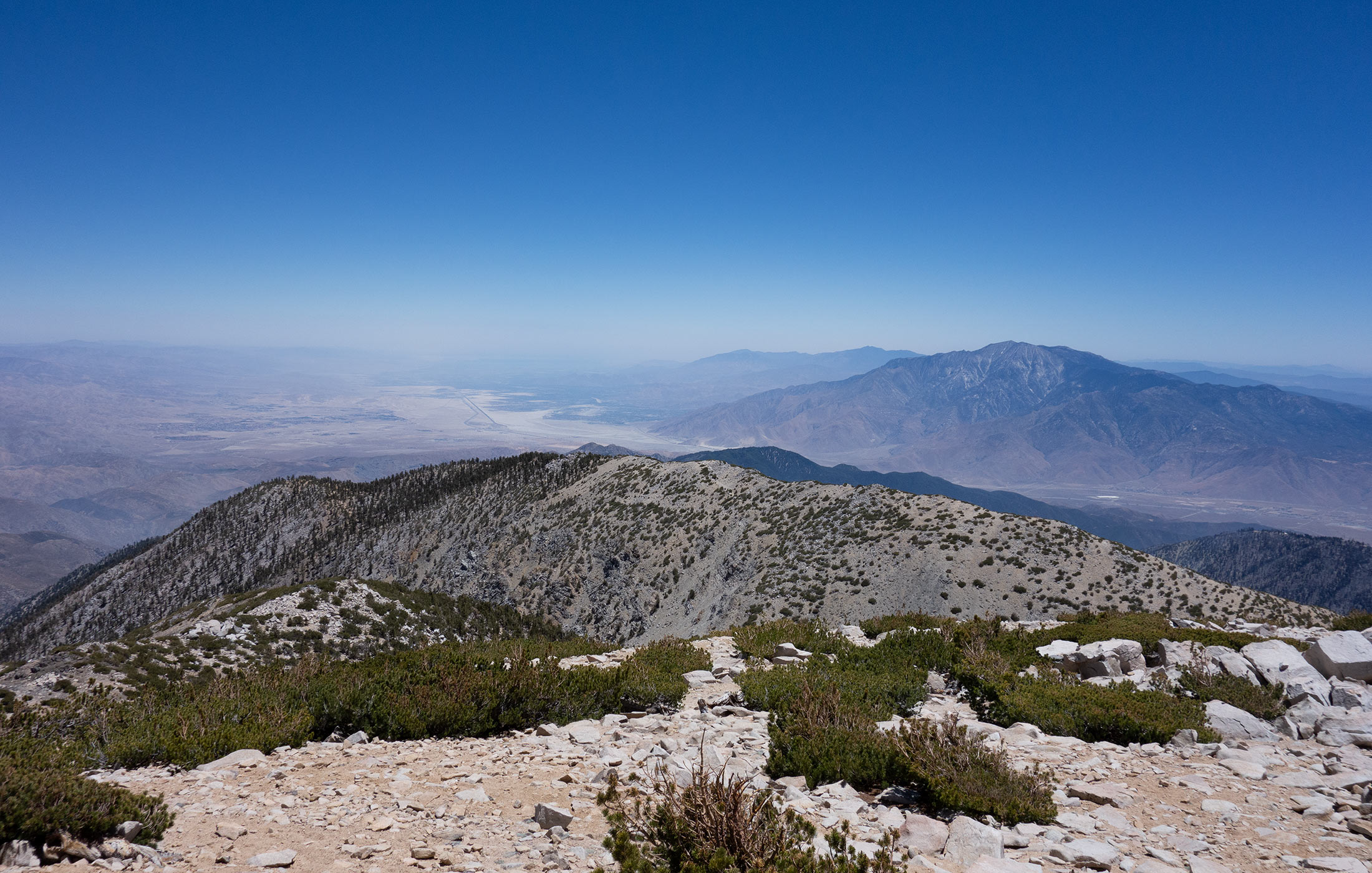 The summit is in sight! We've reached the junction with the Vivian Creek trail, and now have only a short half-mile or so to go to reach the top of San Gorgonio Mountain.
Soon enough, we reach the blocky summit of the mountain, and there is nowhere higher to go. A full 360-degree panorama of SoCal landmarks lie beneath us. To the north, right at our feet, is the impressive grey bowl that is San Gorgonio's north cirque. Beyond that are Big Bear Lake and the High Desert.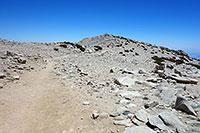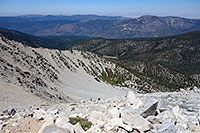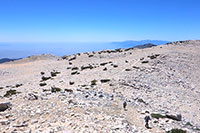 To the east is the airplane-window view of Cochella Valley and San Jacinto Peak. And let's talk for a moment about that.
No discussion of Southern California's mountains is complete without a least a mention of their tremendous prominence. Whether you choose to use a mathematical calculation or an 'I know it when I see it' definition, SoCal's mountains offer truly stunning verticality.
From the 11,499' top of San Gorgonio, it's over 10,000 vertical feet down to I-10 below—then back up very nearly another ten to San Jacinto Peak. The Pacific, to our west, is at sea level, with nearby Mount Baldy rising just over 10,000 feet.
And just to our east-southeast is Cochella Valley and Palm Springs, both of which are below sea level.
This topographical concentration of Southern California highs and lows turns out to be nationally significant in more ways than one.
These three big ranges form the rough borders of the Los Angeles Basin. In coordination with energy from the sun, plus onshore flows from the Pacific Ocean, offshore flows from the high (Antelope Valley) and low (Cochella Valley) deserts, and emissions from human industry, this synergy creates a giant mass of trapped air which is, alas, among the nation's most polluted.
On a happier subject, both San Gorgonio Mountain and San Jacinto Peak make the top 10 list for peak prominence in the lower 48, with Mount San Antonio barely missing the top 20. Ironically, thanks to their haze-shrouded horizons, most Southern Californians live with at best a dim awareness that there are mountains on their doorstep—much less such towering giants.
Dollar Lake Trail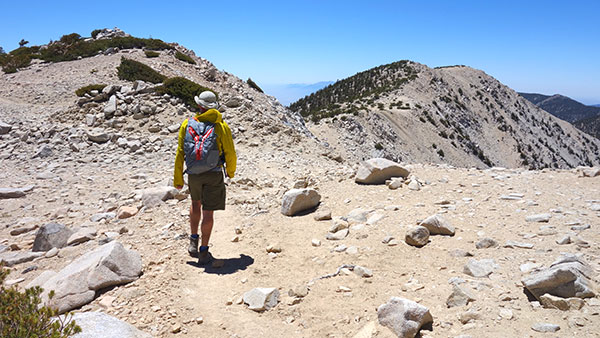 Well, it's time to head back down. The feet have been given a rest, the body is refueled, spirits refreshed. Time to hit the Dollar Lake Trail and begin the western half of today's loop.
I suspect the Dollar trail is a little bit shorter than our ascent route up the Dry Lake trail, but since I've refused to face the numbers on the map, I'm not really sure. I do know it's still going to be a long, long way down—and down is inevitably the more painful direction.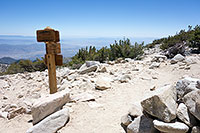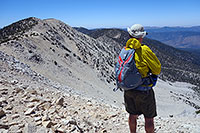 The Dollar Lake Trail begins atop San Gorgonio's summit ridge, heading due west. This affords good views both north and south. To our left is San Gorgonio's broad south face, and the vast Vivian Creek drainage.
To our right is the precipitous overlook atop San Gorgonio's north cirque, and the Big Draw—one of the area's popular winter ascent and descent routes for backcountry skiers.
And just ahead is the modest-looking bump along the ridge called Jepson Peak, which turns out to be the trick-question answer to what is Southern California's second highest peak?
We will pass just below Jepson Peak's summit, then wrap all the way back around to the east for a quarter mile or so, then repeat the whole dang process this time around Charlton Peak. The whole way, the trail descends at an alarmingly-gentle angle along what might fairly be called an infinite traverse—or so it seems, at least.
Gentle grades plus endless traverses conspire with thoughts of dancing cheeseburgers in my head, encouraging me to pick up the pace. Both Trevor and I put a good kick in our steps, hoping not just to make it out by sundown, but thinking now of making it home in time for dinner. But progress is slow here: there are miles and miles to go.
Westside Views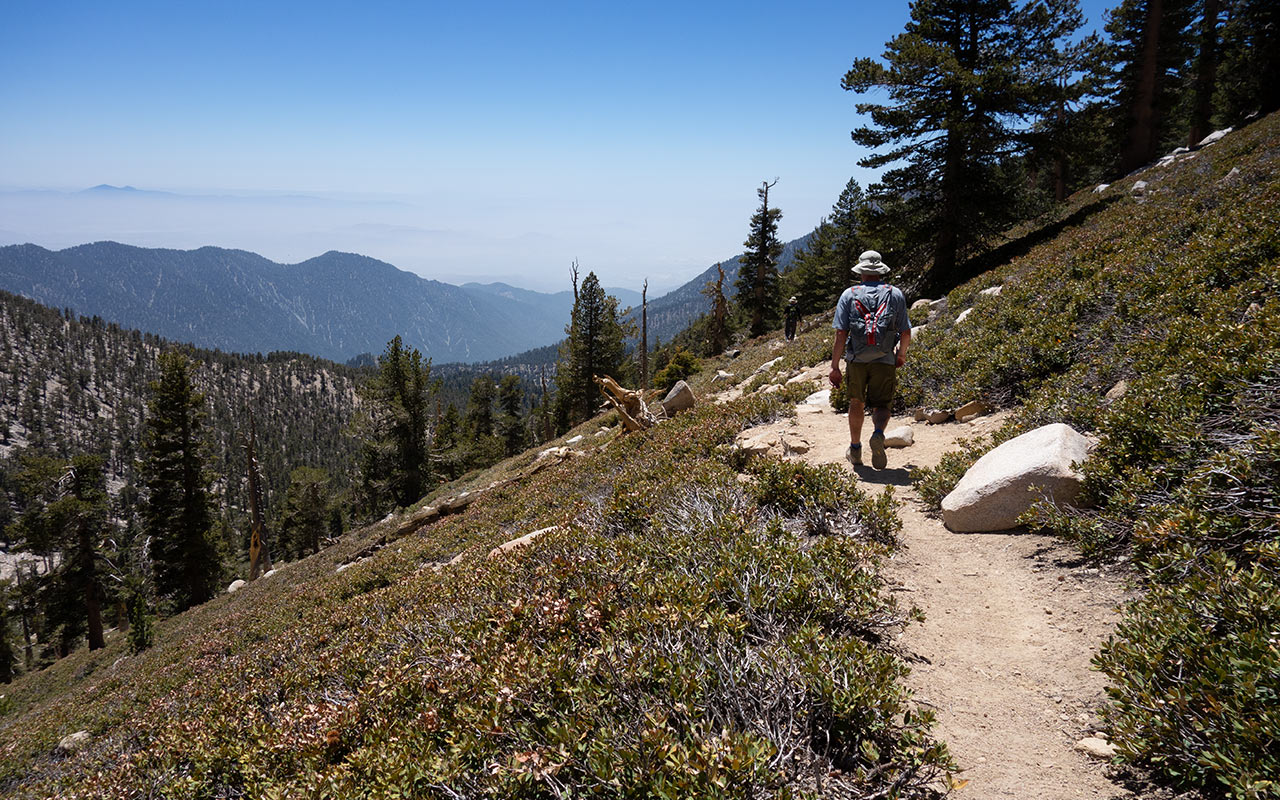 If there's a method to the madness of my training hikes, it is this: find something much, much harder than anything else you plan to do. Do it. And now you're trained!
Obviously there are pitfalls to this sink-or-swim approach, but when it comes together—as it seems to be today—it does tend to confer a measure of confidence in one's capabilities, and a strong sense of readiness for any number of lesser challenges ahead. Plus some very sore muscles.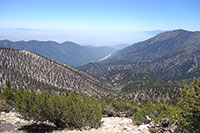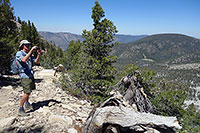 Meanwhile, we are still traversing around and around and around Jepson Peak, helped along by the distractions of the Dollar Lake Trail's impressive westward views.
That big Vivian Creek drainage is particularly striking. From our current position, elevation 10,800' or so, we seem to be hanging directly over the Vivian Creek Trailhead, elevation 6080'.
From here it's easy to see how much shorter the Vivian Creek approach is, and right now I'm looking longingly in that direction, thinking I'd happily trade the extra thousand vertical feet for all the South Fork Trail's extra miles.
At last we finish our semi-circumnavigation of Jepson Peak, arriving at the Dry Lake View overlook. This allows us to look back at San Gorgonio's north cirque, plus Dry Lake and Lodgepole Spring and much of the ground we've traveled earlier today, adding a considerable sense of scale to this whole South Fork Loop project.
It's big back here!
From Dry Lake View we continue westward toward Dollar Saddle via another immense traverse, this time around Charlton Peak. Dominating the westward view now is the trio of Anderson, San Bernardino, and San Bernardino East Peaks. We'll be veering northward at Dollar Saddle, rather than continuing westward on the San Bernardino Peak Trail, but that is certainly a hike worthy of future exploration.
Closing the Loop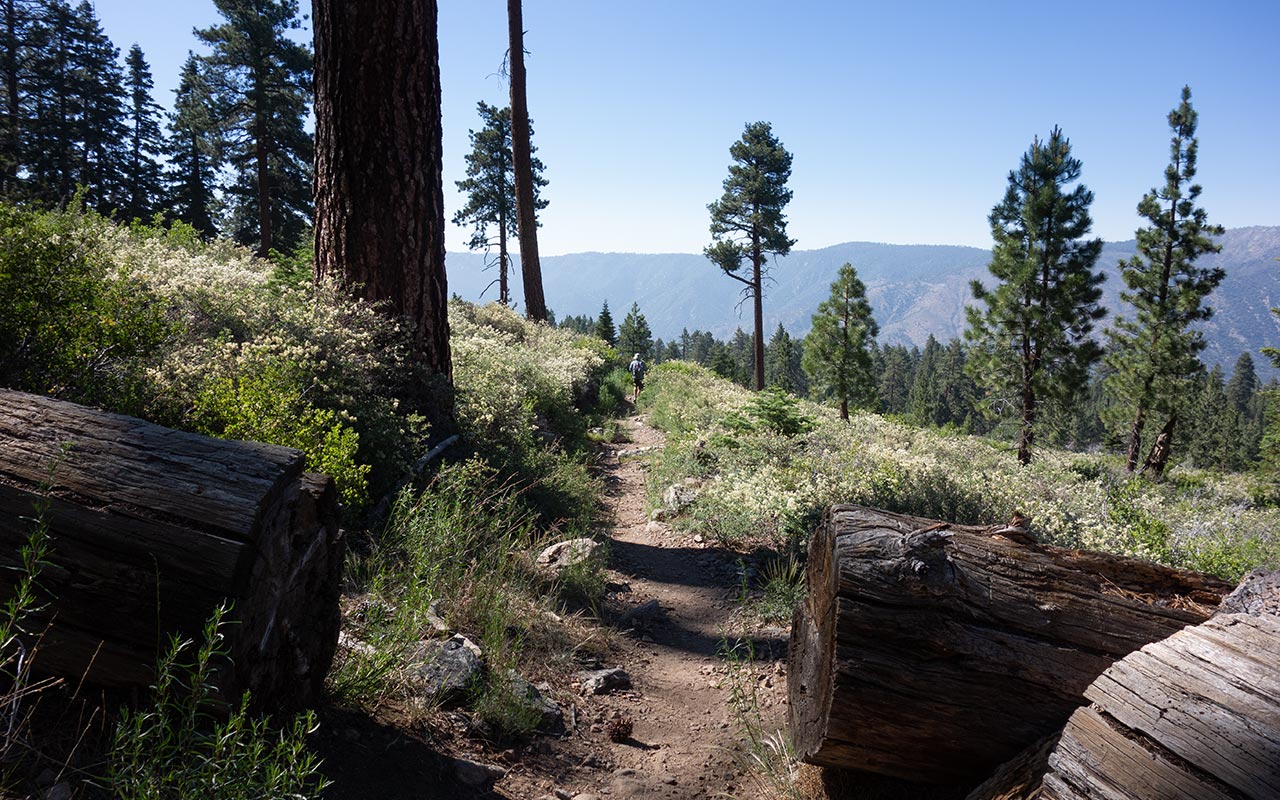 Shadows are starting to lengthen as Trevor and I reach Dollar Lake Saddle, elevation 9960 feet, and yes, it's a little disheartening to know we still have 3000 vertical feet to go.
A big chunk of that vertical will be dropped on the stretch ahead, from the saddle to South Fork Meadows some 2000 feet below, making this perhaps the steepest section of trail on the whole hike today. I always liken the process of hiking downhill to tenderizing meat—because that's what it feels like.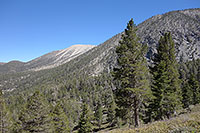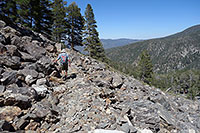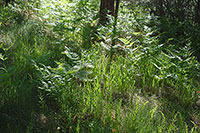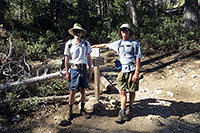 The trail and the rocks and the vertical just pound your body in submission, and after so many miles on trail thus far, I'm already feeling well tenderized myself. I'll be sore tomorrow, I know. Heck, I'm already sore right now.
From Dollar Lake Saddle we have a close look at Charlton Peak's northwest face, which looks to offer one of the steeper and more cliff-bound chutes on this side of San Gorgonio.
Also visible now is San Gorgonio Mountain itself, and its big north face, a big shield of gray granite glowing in the afternoon light. It's a little startling, actually, seeing how far away the summit is from our present position.
We've come a long way.
And there's a long way yet to go. Back on the trail, we hike probably a bit faster than we should, but we're both looking forward to reaching South Fork Meadows and the junction of the Dollar Lake and Dry Lake trails, thus officially closing the "lollipop" portion of our loop.
So down, down, down we go, and as we descend, the landscape grows progressively greener.
As I've mentioned, each of Southern California's three major ranges has its own distinct character, and we've gotten a rich sampling of the San Bernardino Mountains, and the San Gorgonio Wilderness, today. Thick greenery sprouts as we descend now, passing the turnoff to Dollar Lake, continuing down the trail's long switchbacks. There are ferns here, and pocket meadows carpeted with tall grass.
San Gorgonio's gray face appears now and again through clearings in the trees, watching over us. There is a lot to explore here, I'm realizing, and I haven't seen nearly enough of it. I resolve to visit more often—winter and summer. Is that the junction ahead? Yes, we've made it. Trevor and I stop to commemorate the weary moment with a photograph.
How many miles is it to the car from here? Well, I could check the map—but I think I'll just keep imagining that cheeseburger instead.