Skiing Stockton Flats
Exploring Mt. Baldy Ski Area's Proposed Expansion Area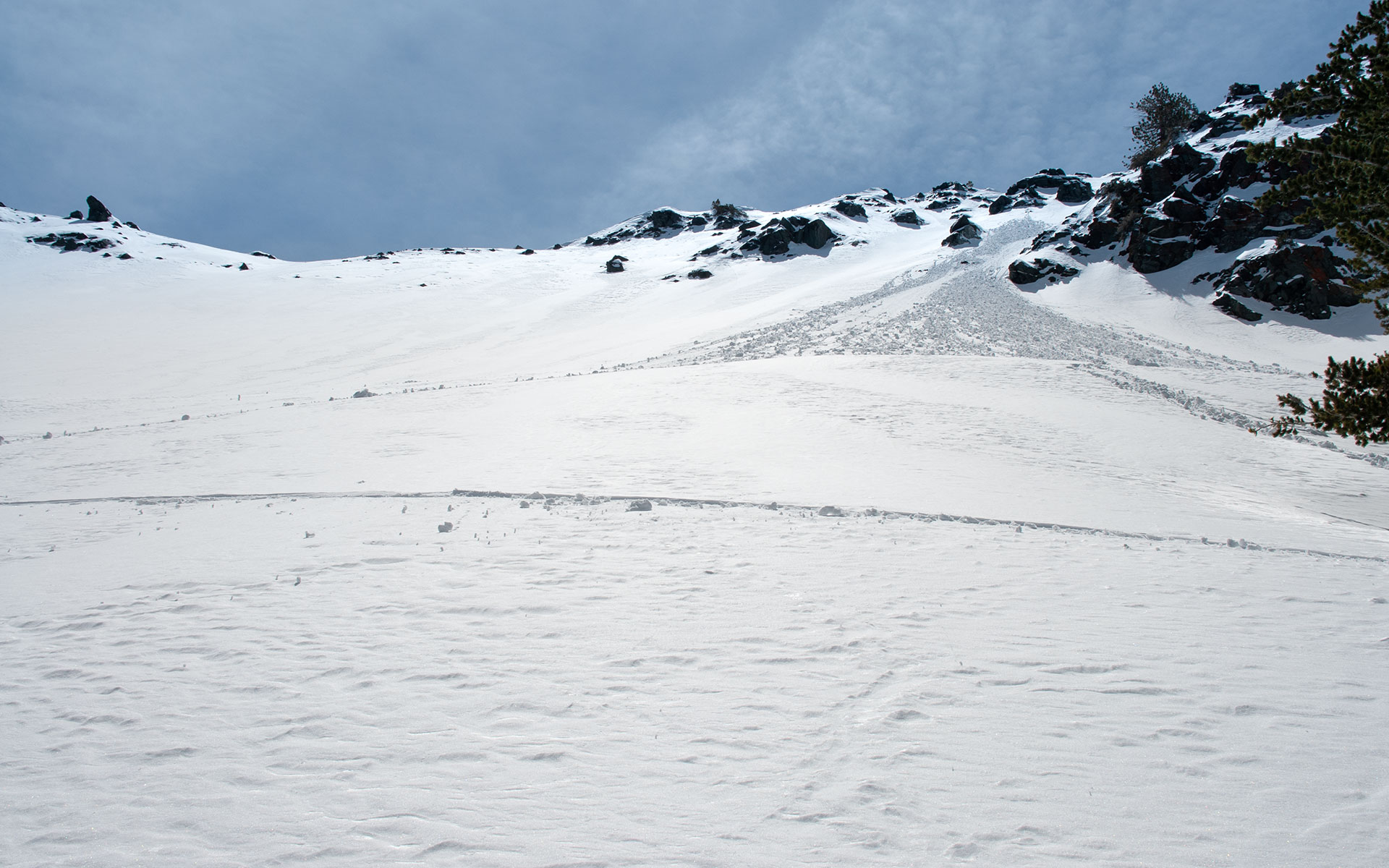 Mount Baldy, California — Take a look at Mount Baldy Ski Area's trail map, and you'll see a deceptively modest expansion area called 'Stockton Flats' dropping north from the top of Chair 4.
Mount Baldy has been trying to expand into the Flats for years. The US Forest Service approved the development plan in 2002, but funding and other issues remain unresolved. While the Flats appear to be a relatively gentle, gladed area (as drawn on the trail map), in reality the terrain is steep, banded by cliffs, and carved with deep gullies that funnel away from the ski area.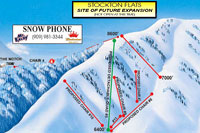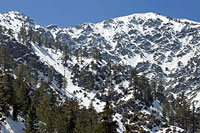 Stockton Flats can be considered a classic Poacher's Trap: tempting skiers to sneak underneath the orange rope of the ski area boundary, then leading them into confusing, technical terrain with no easy way out.
It's especially difficult to return to the ski area once you've committed yourself.
Upper glades entice the backcountry traveler into quickly giving up elevation. Even a descent of a few hundred vertical feet, however, makes for a challenging return. In fact, the chutes descend away from Chair 4—not alongside, as expected.
Skiers who think they need only traverse a short way to return to the in-bounds terrain are in for a jarring surprise. If you're even considering accessing this area from the ski resort, studying a topo map beforehand is mandatory, as is traveling fully equipped with ascension gear (either skins, snowshoes, or a splitboard).
Obviously, given slope aspect and angle, this is avalanche terrain as well. The safer alternative is to approach Stockton Flats from below, via Lytle Creek and the Stockton Flat Road. That way, at least, you'll know what you're getting yourself into. For those unfamiliar with the San Gabriel Mountains, the steep gullies beneath 9552' Mount Harwood's east face are among the wildest terrain in the range.
From the top of the ridge it's possible to descend over 3000 vertical feet into the Flats—a ski descent ranking second in size only to Mount Baldy's north face. Avalanches and rock fall are a constant concern, as is getting hung up above a cliff and having to backtrack. It's easy to get lost here. Confronted with this abrupt, hostile landscape, Southern California skiers and snowboarders can be forgiven for thinking they've somehow entered an extreme skiing Twilight Zone.
Atop the Ridge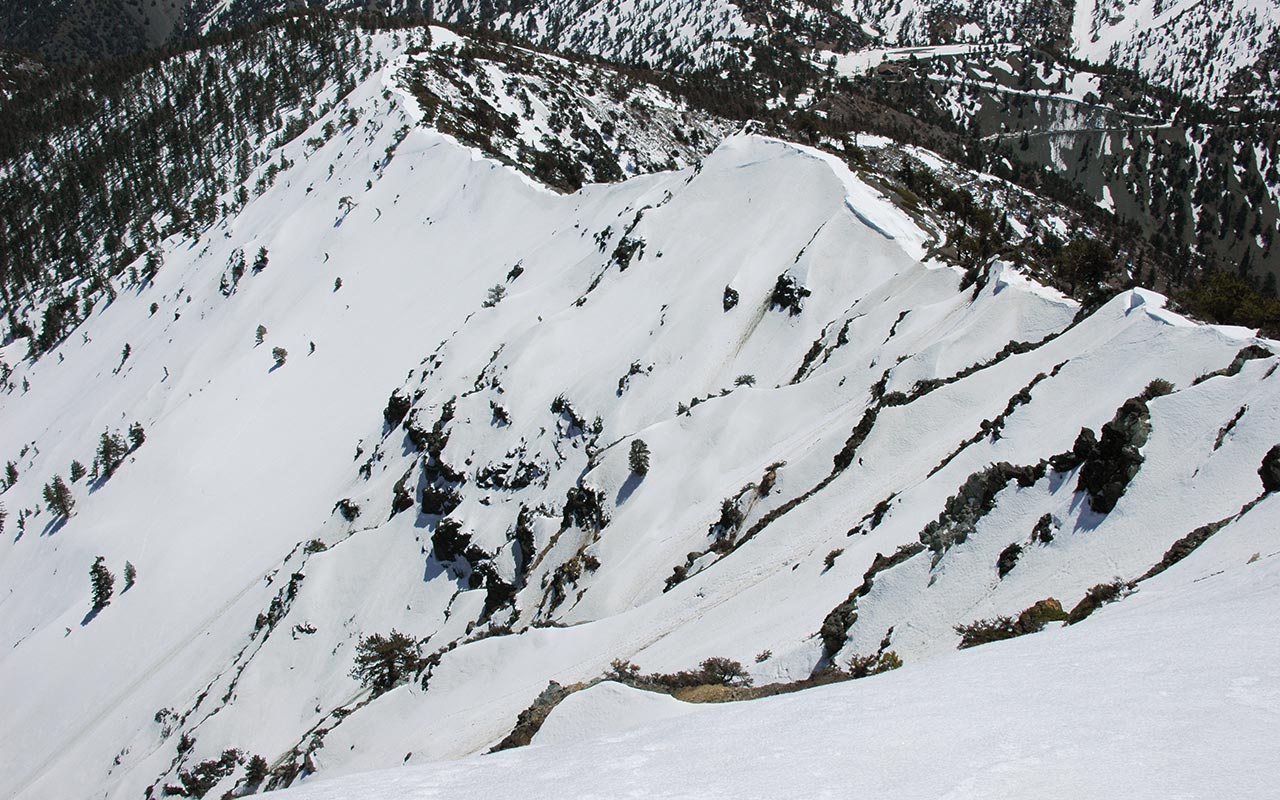 On a warm March 2006 morning, I tossed a rope, shovel, and helmet into my pack and hiked up the Devil's Backbone Ridge. My plan was simple: ski down as far as possible into the maze of Stockton's gullies.
The weather was warm and getting warmer, raising the specter of a ubiquitous feature of the San Gabriels: wet slides. I expected to be down my line well before noon, with a safe return via the forested ridgelines to the south. The incredible heating taking place, however, was making even that plan look marginal.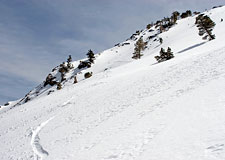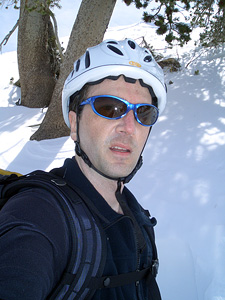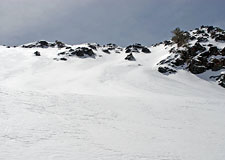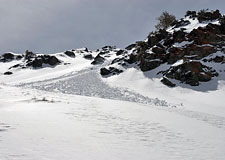 Given the north aspect of Stockton Flats, you'd expect ice to be the greater concern. But temperatures can skyrocket any time of year here, turning the snowpack into a moving river of slush.
After digging a snow pit to check for layering, I snapped into my skis. Thanks to my Girly Man Chute adventure, my toes could no longer tolerate my Mega Ride boots, so I was skiing in my heavy Lange L10's today.
That put an extra three pounds on each foot, which wouldn't cause any trouble for the descent—but would certainly be evident on the climb back up.
I was also wearing a helmet, out of respect for the increased rockfall hazard.
The pit showed exactly what I expected: an almost perfectly consolidated snowpack that was destabilizing rapidly due to warming. The evidence was utterly redundant: one look around showed snow in obvious signs of distress.
Point releases and pinwheels were scattered about, more frequent on the more easterly aspects. Mount Harwood's east face, as usual, looked like a giant toilet bowl in a perpetual state of flush.
Much of this activity had occurred the previous day, but it would be dishonest to claim it wasn't also happening now.
The upper slopes beneath the ridge top are steep enough to raise the heartbeat. The snow is very soft.
I'm pushing it, I know, and I'm very glad my return route will have nothing to do with these sun-baked slopes that are turning to mush all around me.
As a south skier, I've gained much experience with wet snow and its tendencies. I can almost hear it talking to me, telling me in advance what it's going to do. And doesn't that sound like a wonderful rationalization? The problem with wet snow, if you ask me, is that it's so damned predictable. It's hard to take a slow-moving monster seriously, especially if you think you can just leap out of the way.
I watch a spontaneous wet slide begin from an easterly aspect above me, which nicely punctures any lingering sense of complacency. More releases trigger from my ski tracks in the chute above. The snow is now in play, and it's time to be very picky about my route selection. From here on out, the game becomes identifying regions of risk and islands of safety: move quickly, point-to-point across risk zones, stop at the next island and plot the next move.
The terrain cooperates nicely with this strategy, offering a diverse range of spines, flats, and pinnacles to hide on, above, or behind. The snow continues to soften as I lose altitude. The air temperature may well be in the sixties. Mount Harwood's east face seems to rise overhead, dominating the horizon. Looking down, I see a maze-like network of gullies and cliff systems. Many of these gullies roll off, making it impossible to see if they're continuous, or if they dead-end over a cliff.
Into the Maze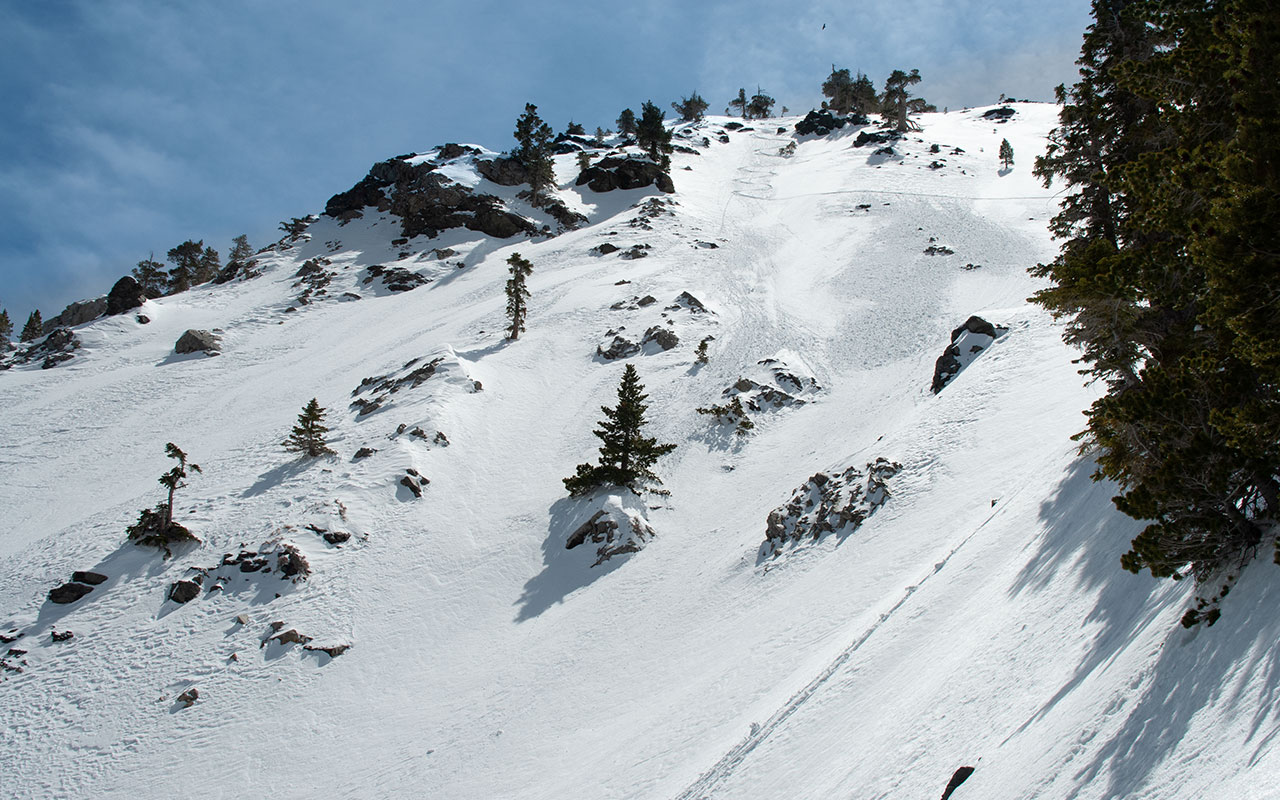 It may be helpful to visualize the Stockton Flats area as a giant bowl, bounded by Dawson Peak, Mount Harwood, and a nameless ridge network to the east.
Together, these features form the natural walls of a giant amphitheater. The bowl itself is divided by deep, cliff-lined gullies, such that traversing across involves considerable route finding—more so the farther you descend. I'd worked my way westward across Stockton's upper steeps, wanting to catch a glimpse of the bottom of the gully below Mount Harwood, as well as scout Harwood's east face for a potential future line.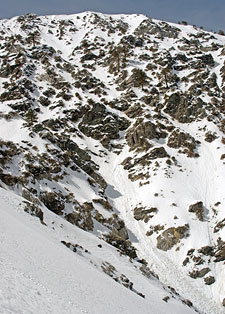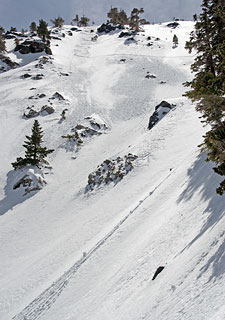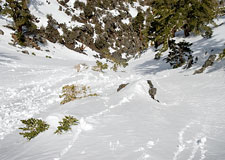 The snow remained active, with numerous releases and rollers coming down.
With low to moderate coverage, Harwood's east face shows just a hint of a snaking, discontinuous line from the summit, winding around cliff buttresses before joining up with a network of gullies to form what I call the Toilet Bowl: a collective debris field.
It doesn't take much patience to hear the sound of falling rock coming down that face, nor to see a wet snow release.
Beyond the technical challenge of the steepness and the cliff bands, simply avoiding the steady stream of junk cascading down the face would be a major challenge for any potential descent.
Given present conditions, I wasn't about to try skiing below the face, so I began working my way back toward the east, descending and crossing a maze-like series of steep gullies.
Confronted with this chaotic blend of rock and snow, I tried to imagine chairlift placement and potential ski runs. It's not an easy task.
This is technical terrain, with all the accompanying liabilities and control-work challenges. My best guess is that the ski area plans to put lifts up the forested ridgeline to the east. But what of the chutes?
Will they all remain out-of-bounds? I traversed back beneath my original ski tracks, noting the additional point releases that had let go since I'd started my descent.
From this point, perhaps 1000 vertical feet below the ridgeline, I considered my options. The prudent strategy was likely to keep traversing until I reached the forested ridge and then make a quick escape. But I wanted to see this descent through to the bitter end—there was at least another thousand vertical of steep skiable terrain below.
The rollers and pinwheels would be constant companions at this lower elevation, but if I kept on my toes I'd likely be avoid to getting into too much trouble. It would be reasonable to suspect the terrain would mellow as you lose elevation. Instead, the opposite occurs. The gullies narrow, with 100 and even 200-foot high cliff bands popping up to separate them.
In fact, the terrain grows noticeably rougher the farther down you go. It's easy to get hung up on cliffs through this section, or become trapped within a gully with no way out but down. Surprisingly, the pitch remains steep throughout. Factor in the cliffs, and it gets even steeper.
Steepness doesn't present much of a technical or even mental challenge when the snow is this soft: if you fall, you know you aren't going anywhere. The greater concern is getting knocked over by a pinwheeling ball of snow (which can easily exceed three feet in diameter), or being carried over a rock band by a more ambitious wet slide.
I am reminded of my earlier thought that this entire region is a perfect Poacher Trap. One quick duck under the ski area's ropes, and the skier or snowboarder is presented with deceptively inviting gladed steeps. Only later, a thousand or more vertical feet down, does the unwitting backcountry traveler find themselves in deep trouble, surrounded by cliffs, with no practical means of escape.
Entering the Narrows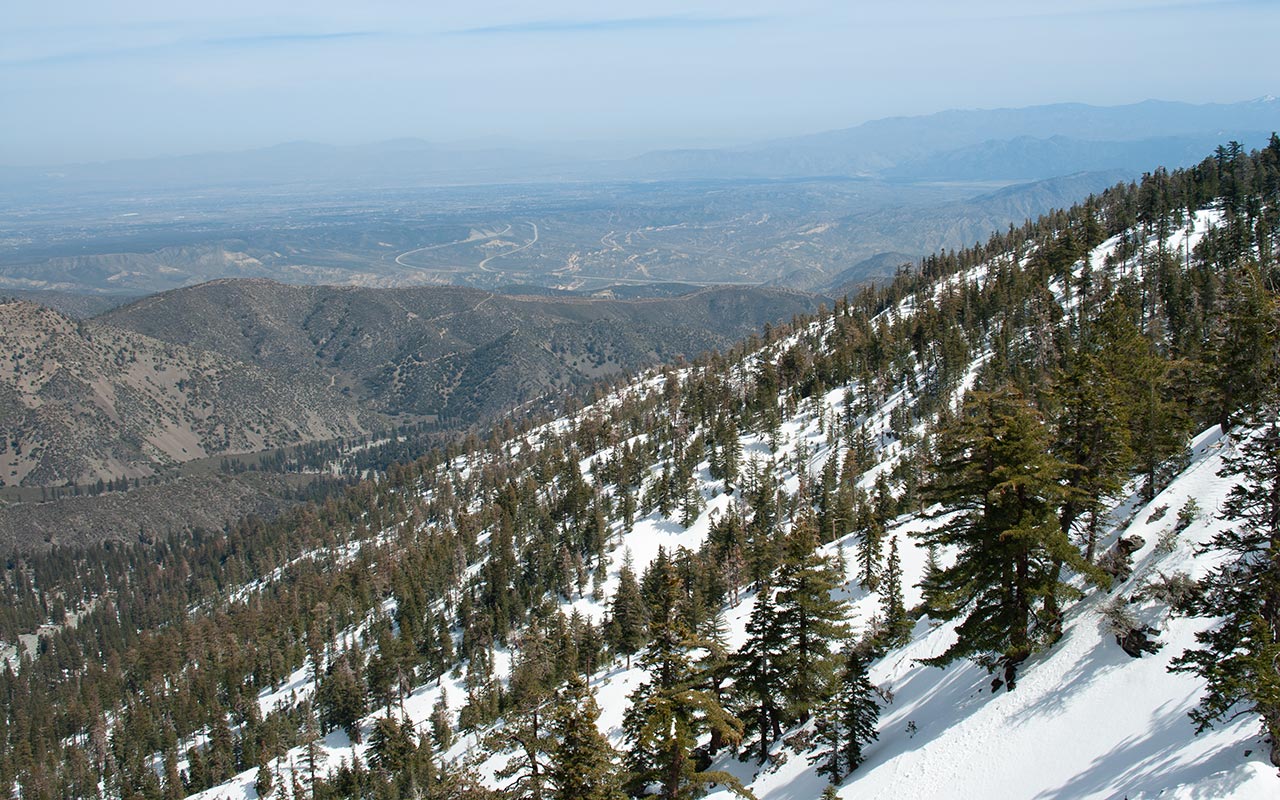 From the relatively open bowls and chutes above and their fine views of Victorville and the High Desert beyond, the route again changes character as I descend.
The gullies narrow, in some cases becoming only a few feet wide, and high bands of cliffs separate them, making traversing difficult, or even impossible. Continuing my efforts to traverse across the lower gullies, I am at last trapped above a cliff band, and forced to descend. I do have a rope in my pack, just in case, but I'm not feeling rambunctious today, especially solo.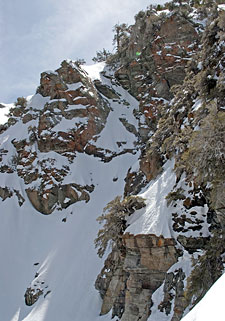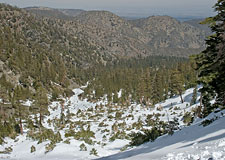 I stop at the edge of the gully and take a photo of an impressive wall of rock with a potentially skiable chute down the middle. With a little more coverage, it would make for an exciting descent—if I could every find it again in this maze of gullies!
And to be honest, I hadn't been expecting so much rock down here. I suppose by now I should know not to underestimate the ruggedness of the lower San Gabriel Mountains.
Is this where they're thinking of putting chairlifts, I wonder?
I know of quite of few ski areas that would kill to have lift-serviced terrain like this.
Back once more in yet another gully, I follow the funnel down, kept company by the rollers and pinwheels, though they're growing more scarce.
The last section cuts dramatically through high rock walls, and then, at last, I emerge from the base of the gully, and Stockton Flats proper appears.
Whatever your beliefs about avalanche hazard in the San Gabriel Mountains, one good look at the stunted trees in the Stockton Flats debris field should clear up any misconceptions. These north-facing gullies go big from time to time, and you don't want to be here when they do.
Given the size of the debris field, I think it's safe to assume that these trees were not carved out by late spring wet slides. No, this looks like the work of a slab avalanche. And that's food for thought for next season.
According to my topo map, I'm standing around 6600 feet, for a total vertical drop of over two thousand feet. It's been an interesting adventure finding my way through the maze of Stockton gullies. All I have to do now is climb back out.
Climbing Out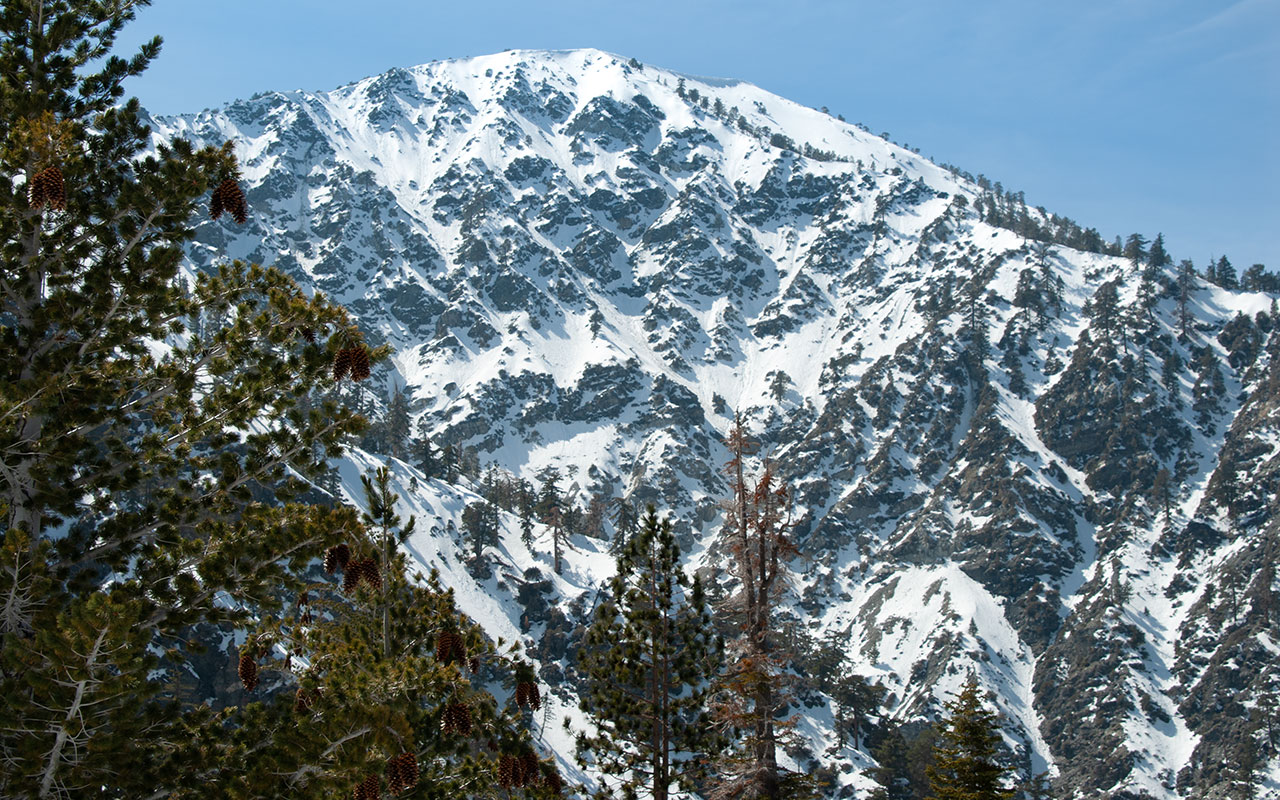 I'm happy at last to have escaped the cliffs and narrows above Stockton Flats. These features, after all, are natural terrain traps, and even though I've calculated the risk of a massive wet slide as low, it's still nice to stand on safe ground.
I'm within a half-mile at most of the Stockton Flats Road. Assuming the road is open, it sure would be nice to have a friend with a truck waiting to pick me up. Instead, I've got a 2000 vertical foot climb ahead, though thankfully not up the exposed slopes I've just descended.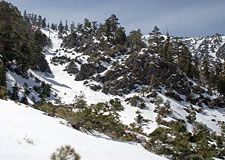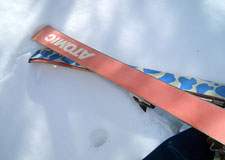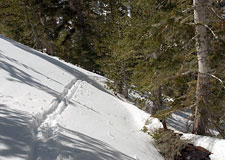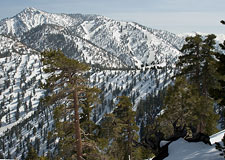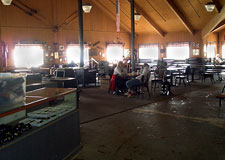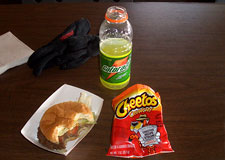 It's impossible not to be impressed with the severity of the terrain. Everywhere I look I see chutes, gullies, cliffs, more cliffs.
From my present vantage point, it's easy to see that several of the more prominent chutes dead-end. Either through good luck or good sense or some combination of both, I've managed to pick one of the continuous ones.
For those of you who pity us Southland Skiers—don't worry, we're doing all right.
And don't forget Mount Harwood! Towering now some 2500 vertical feet directly overhead, the east face of Mount Harwood looks as if it's been pilfered from one of the world's big ranges and plopped down right next to me.
I'm thinking of a word that starts with the letter 'H' but I'm too shy to say it.
I angle across the debris field, wanting to preserve elevation now, heading toward the densely forested east ridgeline, which will eventually connect to the backbone and Mount Baldy Ski Area.
Crossing over to the ridge is frustratingly hard—there are still the tailings of a few more gullies to cross, several of which can be mistaken for the right ridge.
When I finally reach the base of the ridge, I stop and put on my skins. Only 2000 vertical feet to go. Okay, I'm ready for my chairlift.
Mount Harwood remains a constant presence as I slowly skin up the eastern ridgeline. The angle is just high enough to make the ascent challenging but doable.
The snow is very wet, but well shaded (and supported) by the trees. This would be a safe route to travel even in high avy risk conditions.
What is there to say about climbing 2000 feet after you've done your descent? It's a long way. I'm of the opinion it's much more fun to get the climbing out of the way first, and then ski, but we must work with what we have.
The shade of the forest is welcome on this warm March day. I've sweated out all my water, and a few muscles begin threatening to cramp. The extra weight of my Langes certainly isn't helping.
Up, up, up. What a punishing way to end a day. I amuse myself by fantasizing about Gatorade and a cheeseburger. And some chips.
It's nice, after the unexpected twists on my previous tours, to find myself on-route and on-schedule, even if I am exhausted. I've even waxed up my skins to keep the snow from sticking—though believe me, it's trying. In addition to the vertical I've lost, I've also traveled a difficult mile or more away from the ski area, thanks to the area's unique topography.
I keep thinking I ought to be able to traverse back over to the Mount Baldy Notch, though I know better. A traverse, in fact, would only hang me up over more steep terrain, this time actually south facing, and so likely bare rock. Once again, I'll stress the importance of reading a topo map before you venture into Stockton Flats.
It's a very confusing area.
Let's just skip ahead: some abominable amount of time later, I finally crest the ridgeline, allowing me to see Telegraph Peak and Mount Baldy Ski Area's Thunder Mountain. What a welcome sight! It's still a difficult traverse across the upper slopes of Coldwater Canyon to return to the ski area, but having my goal in sight is a huge mental boost.
I can't resist pulling off my skins and trying to traverse across. Given the spotty coverage, this likely proves longer than just following the ridge all the way up, but live and learn, as they say.
After a short scramble up a gravel hill, I'm back in bounds, though as a final cruel twist, my skis are so sticky I can barely descend the last few hundred feet of Rollercoaster. That's okay; I'm urged onward by the sight of Mount Baldy Lodge. I stagger inside, half-crazed with hunger and dehydration, drop my pack on the floor, and head straight for the water fountain.
Ah! It's been another great day in Southern California's San Gabriels. Cash in hand, I get my cheeseburger, and some salty Cheetos to boot, and soon enough I'm munching away, as happy as can be. Hmm...looking at that cheeseburger is making me hungry. I don't know about you, but after all this work I'm going to go find some food.