Ontario Peak: East Ridge Traverse
Southern California Ski Touring on the Rim of the Los Angeles Basin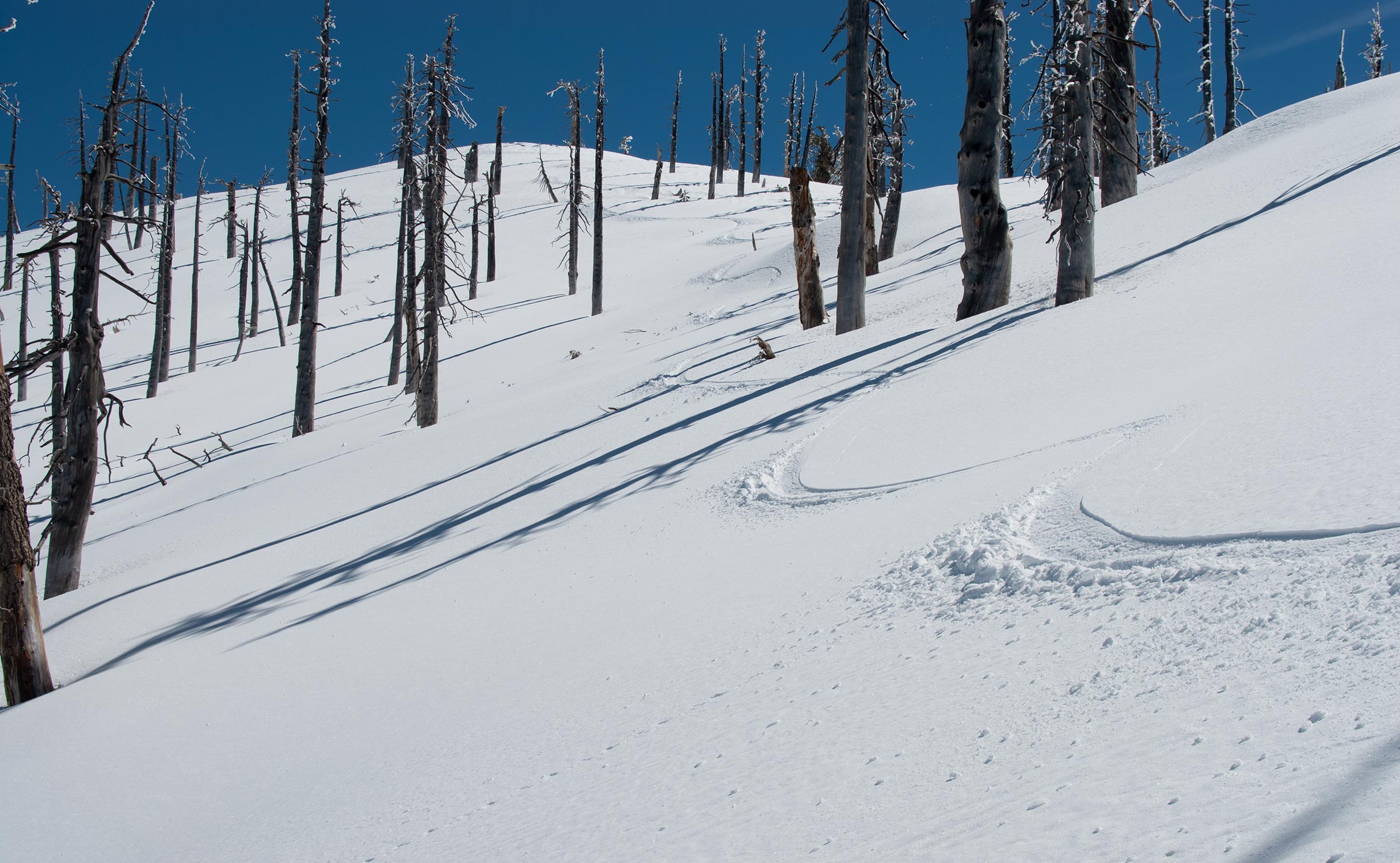 Los Angeles, California — Like many Southern Californians, I've driven past Ice House Canyon and the Cucamonga Wilderness many times without giving the area much thought.
Located at the eastern edge of the San Gabriel Mountains, the 12,800 acre wilderness is well-hidden within the range's deep canyons and gullies. Oddly enough, the Cucamonga Wilderness's proximity to Los Angeles may contribute to its relative invisibility—and not just because it is often veiled behind the San Gabriel Valley's ubiquitous haze.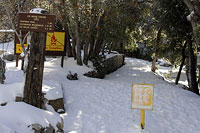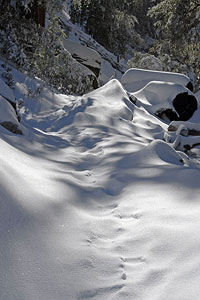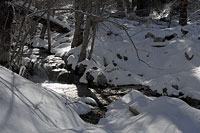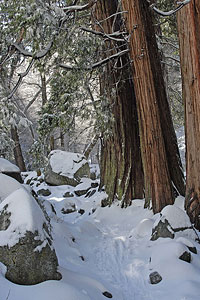 Angelenos can be forgiven for thinking it impossible that such a treasure-trove of alpine terrain could exist right under their smog-filled noses.
The area deserves its wilderness designation, however—as only a short journey inward will confirm.
Winter had not been kind to the San Gabriel Mountains this season, leaving the mountains dry through most of February '06. Then came March, in like a lion, with a series of storms that opened up what otherwise looked like a busted season.
The happy pattern continued into April, which opened with a remarkably cold April-Fool's storm that dropped over two feet of snow all the way down to 5000 feet.
With so much new snow on the mountain, I wanted to do a safe tour on moderate, forested terrain. The perfect choice looked to be a lengthy hike up Ice House Canyon to the Saddle, then traversing from 8444' Bighorn Peak to 8693' Ontario Peak.
I'd scouted this traverse many times from the summit of neighboring Mount Baldy. Particularly intriguing was the open burn area above 7500', which promised exceptional glade skiing.
Parking my car at the lowly 4960' trailhead, I was stunned to see enough snow to put on skis and skins right away. This was a rare treat indeed!
Barely half an hour earlier, I'd been navigating the nexus of freeways through downtown Los Angeles. Now, I was in a remote and beautiful snowy landscape, listening to the gentle rush of water over rock in nearby Lost Creek
Clumps of snow occasionally shushed down from the trees. The Southern California sun is awakening; snow at this elevation, alas, will be short-lived.
During my long exile in the Los Angeles Basin, the San Gabriel Mountains have been a place of great solace and refuge, and for their company I am most grateful.
I skin upwards through the snow, making slow but patient progress, picking my way through rugged, boulderous terrain and forest. For a few hundred yards or so, I follow the ski tracks of previous travelers who were kind enough to break trail. There are a scattering of residential cabins here and there, as well as the remains of lodgings-past.
I pass a grove of large Redwoods (Incense Cedars, I believe). Icehouse Canyon was apparently known originally as 'Cedar Canyon', due to the numerous Cedars which were logged here back in the day. The area earned its present-day name for the ice which was cut from the lower canyon and shipped down to the hot-and-dry residents of the nearby San Gabriel Valley.
From the trailhead to Icehouse Saddle is 3.4 miles on my map. My planned traverse to the summit of Ontario Peak via its east ridge will add another two miles to the trip—and a whopping 3700' vertical gain. This will be a big day, I know, made longer by the heavy alpine boots I'm using. I rely on a variety of mental games during these early phases of a tour, when the bulk of the work lies ahead and it's easy to become discouraged.
Sometimes, I focus on the rewards to come: light, untracked powder, just waiting to be skied. Sometimes I play songs in my head using a mental jukebox—though there is always the danger of one song getting stuck and playing over and over again. Sometimes I try denial—how far is it to Ontario Peak? 2 miles, tops. I promise.
And sometimes, when all else fails, I simply let my thoughts and myself fade away, so that there is only the step-breath-schuss-step of the climb.
Creek Crossings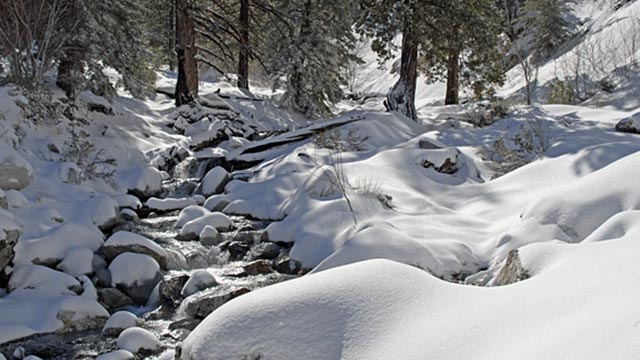 About a mile up the trail, I pass the Cucamonga Wilderness sign, which notifies backcountry travelers that a wilderness permit is required for all users beyond this point.
As is typical in the San Gabriel Mountains, the terrain here is rugged, and progress is difficult. I've been scouting the north aspect of Icehouse Canyon, looking for a possible alternative route to Ontario Peak via Falling Rock Canyon or Sheep Canyon, but the prospects do not look promising.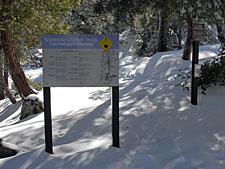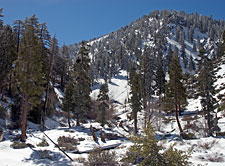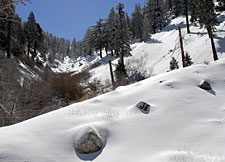 The north side of the canyon is steep and cliff-banded.
Travel at the bottom of Icehouse Canyon isn't much easier, and a new challenge develops as numerous creeks and tributaries feed into the same drainage.
I try to plan my route to minimize the number of creek crossings, but there's only so much I can do. I am forced to repeatedly cross back and forth through this section of the hike.
Luckily, the hiking trail appears here and there beneath the snow, pointing the way to easier crossings.
For my troubles I am rewarded with increasingly fine views of the surrounding area, including Mount San Antonio (Mount Baldy) to the west, and the formidable south chutes of Telegraph Peak, to my left.
At this point, I'm a little unsure where Icehouse Saddle actually is.
The route ahead branches into two main canyons—but which one should I follow?
The easy solution would be to stop and pull out my topo map, but what fun would that be? I decide to angle right, figuring that will keep me on the high side of the ridgeline. As the slope steepens, I'm happy to leave the flats at the bottom of Icehouse Canyon behind. The higher I climb, the more snow I find, and the less I need to worry about the numerous creeks that are opening up.
With the many creek-crossings seemingly behind me, I now make good progress across the untracked snow. I skin up the southern branch of the canyon, not sure exactly where I'm heading, but liking the inviting open slopes ahead. I've traveled a long way already, with a long way yet to go, possibly 1500 vertical feet, possibly even more. I'm feeling hot spots along the backs of my heels—the result of covering those flat miles on skins.
I decide I'll attend to my feet once I make the ridgeline, which I estimate is 500' vertical or so above. It shouldn't take long to climb. Ah! The sun is shining. The wind is calm. I'm alone in my own private wilderness, skinning up into unknown country. Could anything be finer? From here, it looks like smooth sailing up to the ridgeline and the start of my traverse, proper.
Graupel!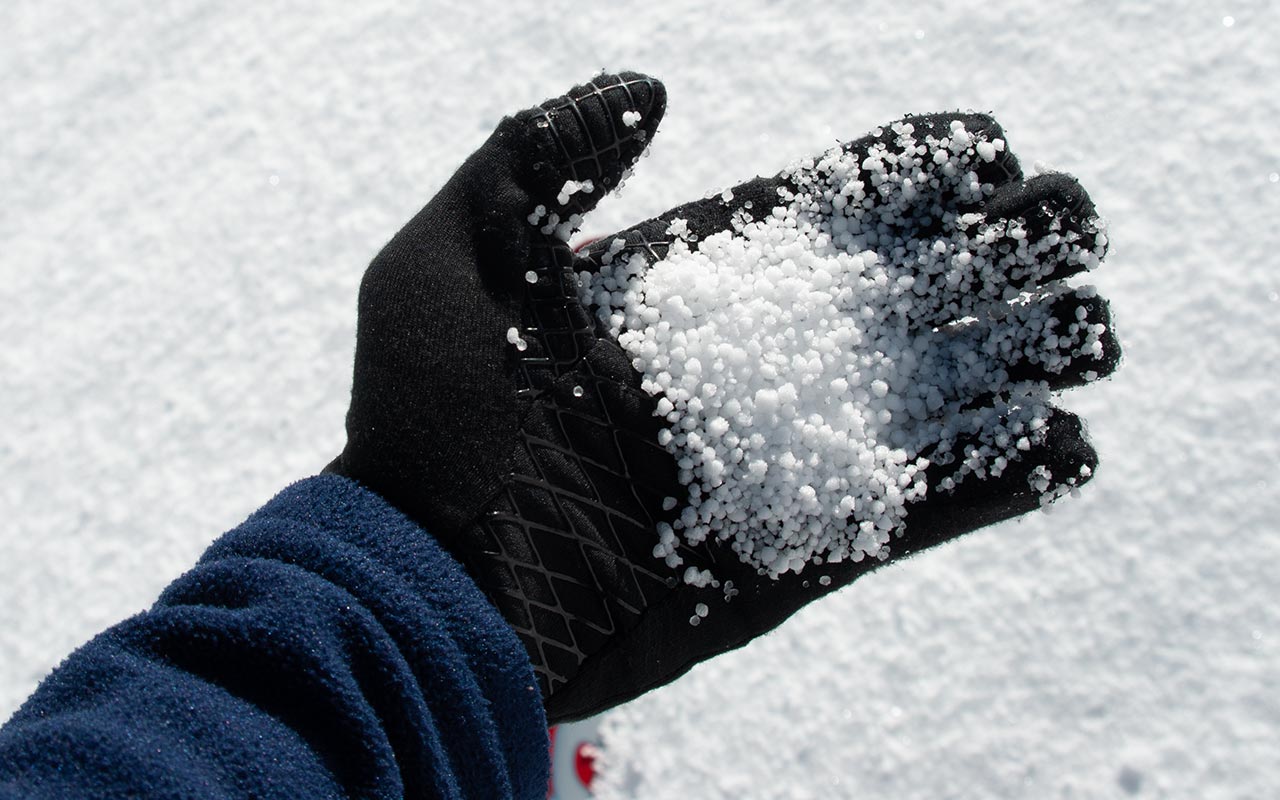 Did I say smooth sailing? As I traverse above the creekbed to the north aspect, which I expect to follow upward without difficulty, the snow suddenly changes.
That April storm has worked some foolishness after all—two plus feet of graupel! In Ski Mountaineering, Peter Cliff defines graupel as "ice crystals formed by heavy riming (water freezing directly to the snow crystal)." Graupel's rounded, pellet shape can act as a ball-bearing layer for an avalanche.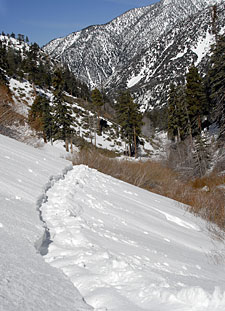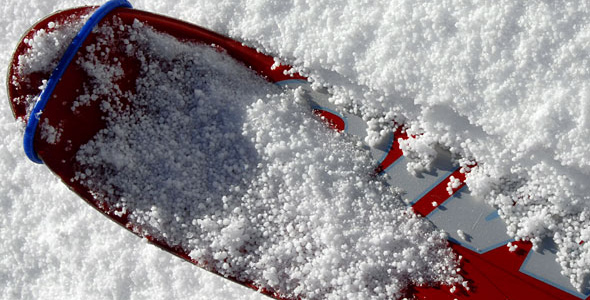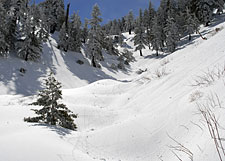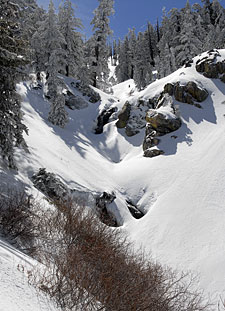 Additionally, graupel's shape loses heat slowly, so the pellets can remain unaltered for a long time. I'm not concerned about avalanches today, but the graupel brings a new problem: the tiny, pellet-shaped grains have virtually no cohesion to each other.
Making forward progress, even on skins, is suddenly extremely difficult. I am floundering like a wounded animal in this snow, sliding sideways, backwards, every which way but up.
I stop and look back at my tracks. It looks like I've been skinning through shredded Styrofoam.
I've fought mightily to make a meager 100 yards of progress.
This is ridiculous. Should I call it a day and turn back, I wonder? I think not. I stop to take a photo of the graupel, admiring its fiendishly perfect shape. If I go on, I know, it will be hell.
But I have an answer, nowadays, to life's difficulties. Wherever I am, whatever the circumstances, if I find myself suffering, I think to myself: this is good training for Mount Williamson.
Oh yes, Williamson is still on my mind.
And what better way to prepare for future soul-crushing adventures on Williamson's flanks than to press onward now, here in this canyon, mano-a-graupel?
So onward I go, making utterly pitiful progress, two steps up, three back—or so it seems. Traversing across graupel proves to be an especially tedious undertaking.
If it were possible to stay in the bottom of the gully (which is unfortunately a brush-choked creek bed filled with rushing water), I would at least have some slight angular advantage against the snow.
But I am forced to stay against the gully's steep walls. There is no end, it seems, to the number of ways a mountain can test you.
At least I have this extraordinary scenery to distract me from the misery of the climb, the increasing blisters forming on my heels, my aching legs and back. I enjoy a temporary respite as I reach a U-shaped portion of the gully, which makes skinning relatively easy compared to the steep terrain below.
But soon enough, the gully I'm following closes out, forcing me to decide which steep wall to climb: north or south? I elect to climb up the left side of the gully, optimistically hoping the slope's southern aspect will catch enough sun to melt that cursed graupel. If I can gain the ridgeline, the angle looks moderate enough to make the climb much easier. That's a big if, however, as the gully's walls are steep enough, given the conditions, to make getting there quite a trial.
It is every bit as bad as expected, possibly worse. I make a series of low-angles zig zags, planning my turnarounds at pine trees, whose tree wells I shamelessly use as turnaround points. Cascading beads of graupel slide about madly, little evil ball bearings trying to carry me back down the hill. Is it really taking me an hour to climb a hundred vertical feet? It seems that way. Oh, cruel, heartless graupel, what did I ever do to deserve such harsh treatment?
Eventually, I gain the ridgeline. It will still be a difficult climb up to the saddle, and the summit of Bighorn Peak, but my battle with the graupel is over. I stop in the shade of the Angeles National Forest, drop my pack, and guzzle water, trying to recover enough strength to go on.
Bighorn Summit Musings
It is with much relief that I skin up the final pitch of Bighorn Peak's northwest ridge. The top thousand vertical feet or so is an impressive burn area.
Faced with untracked fresh powder as far as I can see, and wide-open intermediate terrain, I am greatly tempted to abandon my planned traverse and begin my descent here. But I am a peak bagger at heart, and after all the work I've put in to get this far, abandoning my quest to reach Ontario Peak's summit is unthinkable.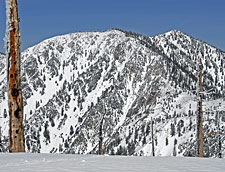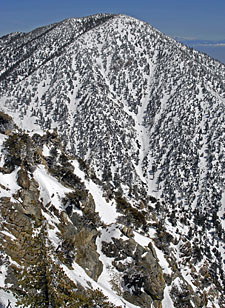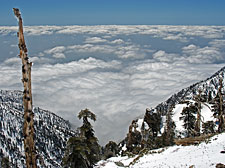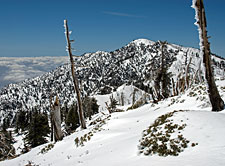 Meanwhile, from the rounded 8441' summit of Bighorn Peak, I stop for lunch, perched on an impressive ridgeline that marks the border between the Angeles and the San Bernardino National Forests.
The view to the northwest is dominated by 10064' Mount San Antonio (Mount Baldy).
I'm looking directly at Mt. Baldy's Southeast Bowl, where I skied the Girly Man Chute. Also visible is West Baldy's south ridge, another terrific ski descent.
To the north is Telegraph Peak, the highest point in the Cucamonga Wilderness. Telegraph Peak's south chutes are too bare to ski right now, but in a big season, they would certainly offer an exciting descent.
Telegraph Peak is more commonly viewed from the north via the top of the Thunder Mountain chairlift at Mount Baldy Ski Area.
The peak's north chutes offer a Southern California version of 'extreme' terrain, plus very easy access from Mount Baldy Ski Area.
Approximately one mile to the southeast of Bighorn Peak lies Cucamonga Peak, one of the more prominent summits in the San Gabriel Mountains.
There's no easy way to get to Cucamonga Peak, though this jagged spire deserves attention. Probably an overnight would be required for a ski descent in order to catch the peak's invigorating south and west-facing slopes before the SoCal sun turned them to mush.
I've often spied the east chutes of Cucamonga Peak while driving along the San Bernadino Freeway. Someday, perhaps, I'll find the snow and myself in the right shape to attempt a ski descent.
Continuing our panorama, as we turn from Cucamonga Peak to the south, the view is dominated by the vast expanse of the Los Angeles basin.
Here on the summit of Bighorn Peak I am well perched above Los Angeles and Southern California. On the Edge, to be sure.
Today a shimmering layer of low clouds and fog hides the city. The air is mercifully clean. How strange it is to sit here alone looking down on a valley filled with 15 million people (a conservative estimate). No matter how many times I climb in the San Gabriels, I am always struck by this mysterious contrast.
Though on a much smaller scale, this must be similar to the sensation astronauts experience while gazing at Earth from space, perceiving the entirety of humanity yet simultaneously standing apart from it. Let us leave such grand musings to poets and philosophers, and resume our backcountry skiing tour. Our target for the day lies to the southwest, along the ridgeline.
From this vantage point, Ontario Peak may or may not be visible. I'm thinking it's the broad, bald summit visible at the far end of the ridge. Possibly, however, it lies hidden beyond view. Either way, it looks dismayingly far away. I ready myself for the long, two mile traverse by pulling off my boots and taping up the blisters on my heels. A tasty sandwich completes my preparations, and then it's time to resume the tour.
Ontario Summit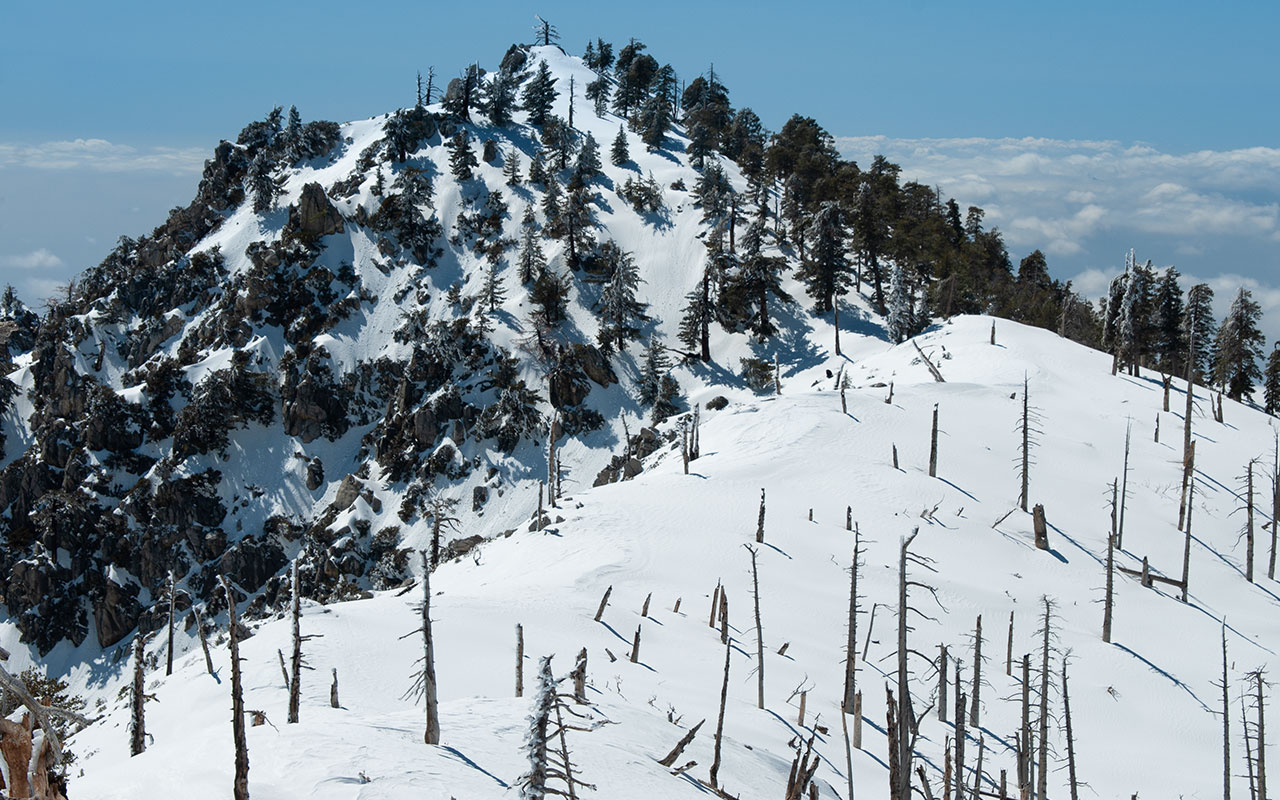 Gentle intermediate slopes roll off to my right as I traverse along the ridgeline to Ontario Peak. In contrast, to my left the ridge drops sharply toward the Los Angeles basin.
Numerous steep, small gullies descend southward through rugged cliff bands, though the snow is far too rotten to contemplate skiing. I enjoy skinning up this sharp backbone, stopping occasionally to peer southward over the edge and scout the rough country below. To ski any of it would pose a formidable question of access.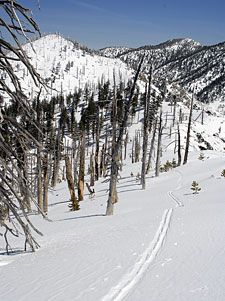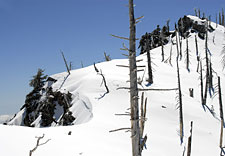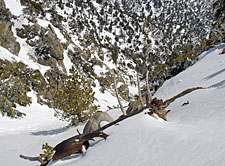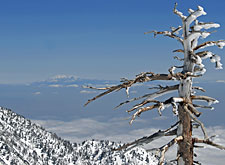 After all the climbing I've done today, dropping a thousand or more feet over the backside—and having to climb back up—is a withering proposition. I've about reached the limits of my stamina for the day, helped along by my epic struggles with the graupel.
Bighorn Peak recedes behind me, though the ridge seems to lengthen as I continue my traverse.
I'm traveling across outstanding touring terrain: a vast playground of rolling hills and valleys. I don't know much about the fire (or fires) that cleared out the forest along this ridge.
Wildfires are common in Southern California, due to the combination of wet winters, which build up fuel, followed by the bone dry Santa Ana winds of spring and fall.
Like the Big Burn at Colorado's Snowmass Ski Resort, the fires here have opened up the skiable terrain, offering inviting lines in every direction.
Were it not for the considerable access difficulties, this ridgeline would easily be among the San Gabriel range's best ski touring regions.
The first stop along the way to Ontario Peak is Peak 8400, a sharp little spire pushing up along the ridgeline.
Once again it's extremely tempting to begin skiing from this summit. Below me are the broad upper slopes of Sheep Canyon and Falling Rock Canyon.
Though I know first-hand that these canyons close out as they drop into Icehouse Canyon, they sure look inviting from above.
Peak 8400 seems to have a collection of dramatic southeast chutes, and I can't help scoochting over to the edge to peer down a few of them.
The terrain here is very steep: possibly 40 degrees or more. Most of these chutes wind down through cliff bands, such that you can't see whether or not they're continuous from above.
If you've got a rope and an adventurous spirit, any of these south-facing lines would make for quite a ski descent.
From peak 8400 it is a short traverse around to the next summit, the broad, rounded hump which I believe to be Ontario Peak.
Directly west is another, final summit, a sharp rocky spire that looks to be exactly as high as the round hump. So which is it?
I'm confused enough to pull out the topo map. Looking at all the wavy little lines, I make a command decision: I've reached my destination. I don't have the willpower to traverse any farther. Later, perusing the map more carefully from my home in the basin below, I'll realize that the spire to the west is actually Ontario Peak—though both summits are listed at the same elevation, 8693.
No matter. For now, there are a new set of views to enjoy, including Palm Springs and Mount San Jacinto in the distant east. I've long coveted the sheer north face of San Jacinto, though I always seem to get sidetracked by the much closer San Gabriel Range. Looking in the opposite direction, I see the striking east face of Mount Baden-Powell (named for the founder of the Boy Scouts), tinged blue by the fog and haze.
Baden-Powell's east face is another one of those dire San Gabriel lines that features top-notch steeps, avalanche hazard, and abundant rockfall. The north side of Baden-Powell also features high-quality steeps, including a few lines I've sampled myself, and—you guessed it—more rockfall potential. Mount Baldy is of course also visible. The view from Ontario Peak showcases the diverse terrain along Baldy's southern flanks.
I take the opportunity to scout a new line from West Baldy's south ridge: a big, classic chute that drops a good 2000' vertical or more. That's probably enough sight-seeing for the day. I take a last photo of Mount Baldy and Me, and then it's time to get ready for the descent.
Bliss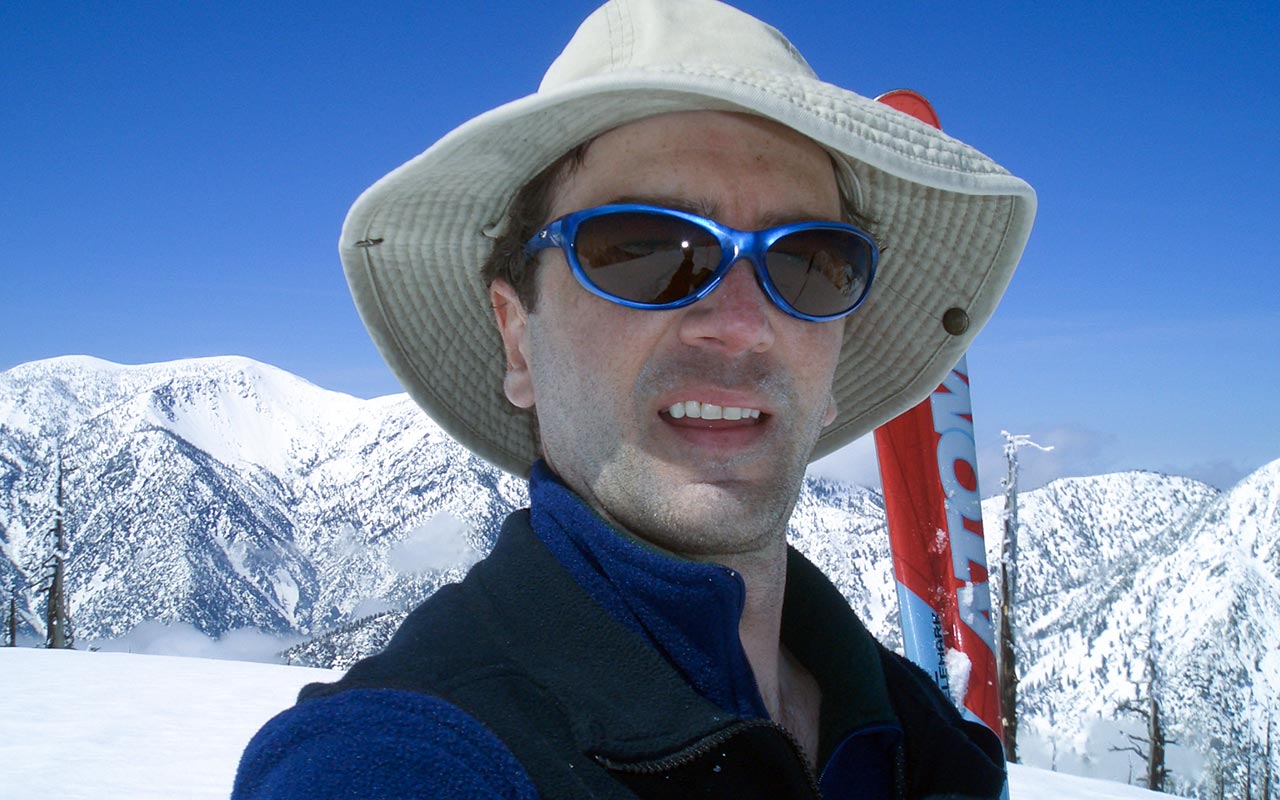 Nearly 4000 vertical feet and seven hours after I started, it's time to ski, and I'm faced with so many good choices it's hard to know where to begin.
A 180 degree panorama of wide open glades awaits, all of it covered with light, untracked powder. It's enough to make me forgive and forget the graupel wars. I take off slightly westward, and as soon as I do I'm overcome with bliss. Skiing this good seems to defy what ought to be possible. Now the graupel is my ally, singing beneath my feet.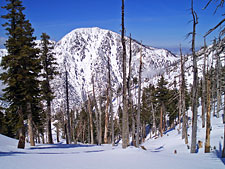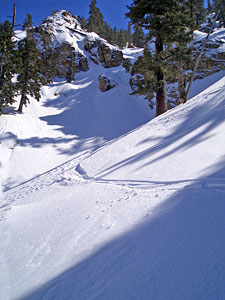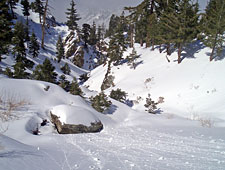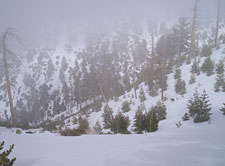 Each turn is so perfectly, implausibly smooth—and there's at least 2000 feet of good skiing to go. I ski the upper slopes of Falling Rock Canyon, then begin veering back toward the east, and Icehouse Saddle.
My intention is to avoid all the nastiness below by reconnecting with my original route near Sheep Flat and Lost Creek. This allows me to sample the widest variety of terrain beneath Ontario Peak and the ridgeline.
Telegraph Peak rises like a beacon in the distance, helpfully keeping me on route.
As I descend, the terrain gradually becomes steeper, and I know it's time to begin traversing across the canyons to avoid getting trapped below.
Yes, the snow begins to grow heavier at these lower elevations. This is Southern California, after all, and certain concessions must be made.
I shift my technique to accommodate the snow, feeling the burn now in my legs. The terrain remains quite lively as I cross these spirited gullies. Unlike the difficulties I've had crossing Mount Baldy's lower flanks, the terrain here is easy enough to traverse and descend.
That doesn't mean things are boring, however. The lower reaches of the canyons feature a fine collection of chutes, cliff, and gullies.
Fog begins rolling up the slopes of Icehouse Canyon, still far below, as I work my way through a spirited section near Shortcut Ridge. The gully I'm following begins to show signs of closing out, so I know it's time to traverse eastward once again.
After all the fun I've had today, I'm not in the mood for any unpleasant surprises. Still, let's ask the question: is there a more direct skiable route to the summit of Ontario Peak?
I think there must be, but finding it will take some doing.
First, crossing the creek at the lower reaches of Icehouse Canyon will be problematic, unless there's a bridge I don't know about.
Second, many of these side canyons are quite curvy, so you can't seem them in their entirety from above or below, and many end in cliff or waterfall sections. That means you'd need to commit a day to finding a viable route, with no guarantee of success. The smart course of action is probably just to hike the place in summer, and scout a route then.
I traverse out of this last gully (Delker Canyon, perhaps?) and finally see a broad slope leading down to Icehouse Canyon and my ascent route. The fog soon envelops me, providing welcome relief from the hot sun overhead. This last section proves a little tricky, mostly because of snow melt, but I'm able to stay on reasonable coverage all the way to the bottom of the gully.
I've been a little anxious about this last bit—will there be enough snow to stay on skis all the back to the trailhead, or will I have to hike out? The answer, thankfully, is that the fog has preserved enough snow to ski. I make a wild, crazy, semi-controlled descent along the Icehouse Canyon trail, creek-crossings and all, navigating boulders and thin coverage, passing occasional foot-hikers who look at me as if I've dropped from outer space...
Whew! What a day! 4240' vertical and 7 1/2 miles round-trip, according to my Topo software. This has been my first extended tour in the Cucamonga Wilderness, and I must say I'm impressed. The area is remote and beautiful. Travelers in this area need to be wary of the rough terrain at the lower elevations, but if you can climb to ridgeline above, you'll be rewarded with a backcountry skier's paradise, perched on the edge of the mighty Los Angeles Basin.