Mount Shasta: Avalanche Gulch
7000 Vertical Feet of California Backcountry Skiing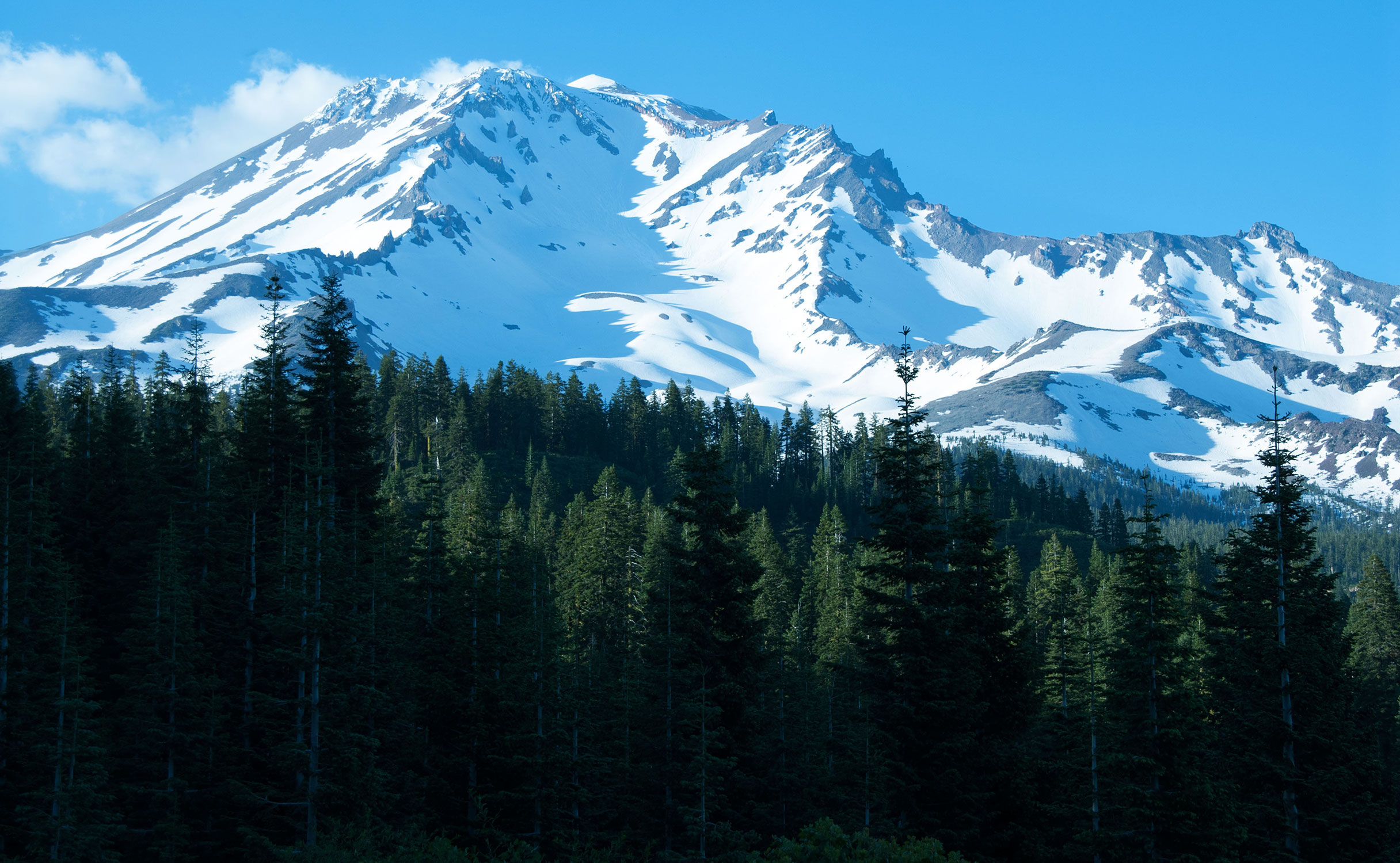 Mount Shasta, California — Yes, Shasta is big and certainly it is beautiful. But there is something more about this mountain, something elusive, mysterious, difficult to quantify.
Whether or not you believe in vortexes and energy centers, Mount Shasta will inspire you. Hikers will find spectacular vistas. Climbers will find a rich palate of unforgettable Alpine routes, big, bold, and challenging. Pilgrims and Life-Force seekers will find a great spiritual center.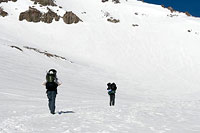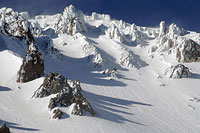 And backcountry skiers may blend all of the above at their leisure as they discover immense, sweeping lines that may well offer the best off-piste skiing of their lives.
Of Shasta's many climbs, Avalanche Gulch, also known as the Traditional or the John Muir Route, is by far the most traveled on the mountain.
The paved and plowed Everitt Memorial Highway takes hundreds of visitors daily to the Bunny Flat Trailhead, elevation 6929', from which many will strap on crampons and ice axe for the first time ever on their way—hopefully—to Shasta's lofty 14,162' summit.
As you might expect, the route can be extremely crowded. Some Backcountry Skiing guidebooks advise against skiing Avalanche Gulch, in favor of the mountain's north-facing lines, such as the Hotlum-Wintun Ridge. And for pure skiing, that is probably good advice.
Avalanche Gulch's southwestern aspects can be plagued with rotten, sun-cupped snow, especially as the season draws closer to summer. But to avoid Avalanche Gulch entirely is to miss one of the great North American climbs. And a 7200 vertical foot ski descent isn't a bad way to cap it all off—particularly when you're surrounded by poor souls who have to slog all the way down.
By any measure, Avalanche Gulch features a fine collection of interesting ski terrain, including the steep Trinity Chutes, the striking Casaval and Sergeant's Ridges, the Heart and the Red Banks, and countless variations between.
On your journey to the summit you'll pass numerous landmarks, including Horse Camp and the Sierra Club Hut, Lake Helen, Thumb Rock, and of the course the infamous Misery Hill. If that's not enough, the sheer prominence and majesty of Shasta (second highest mountain in the Cascades, but arguably the biggest) can overwhelm the senses, painting a smile upon your face that just might never go away.
Bunny Flat Adventures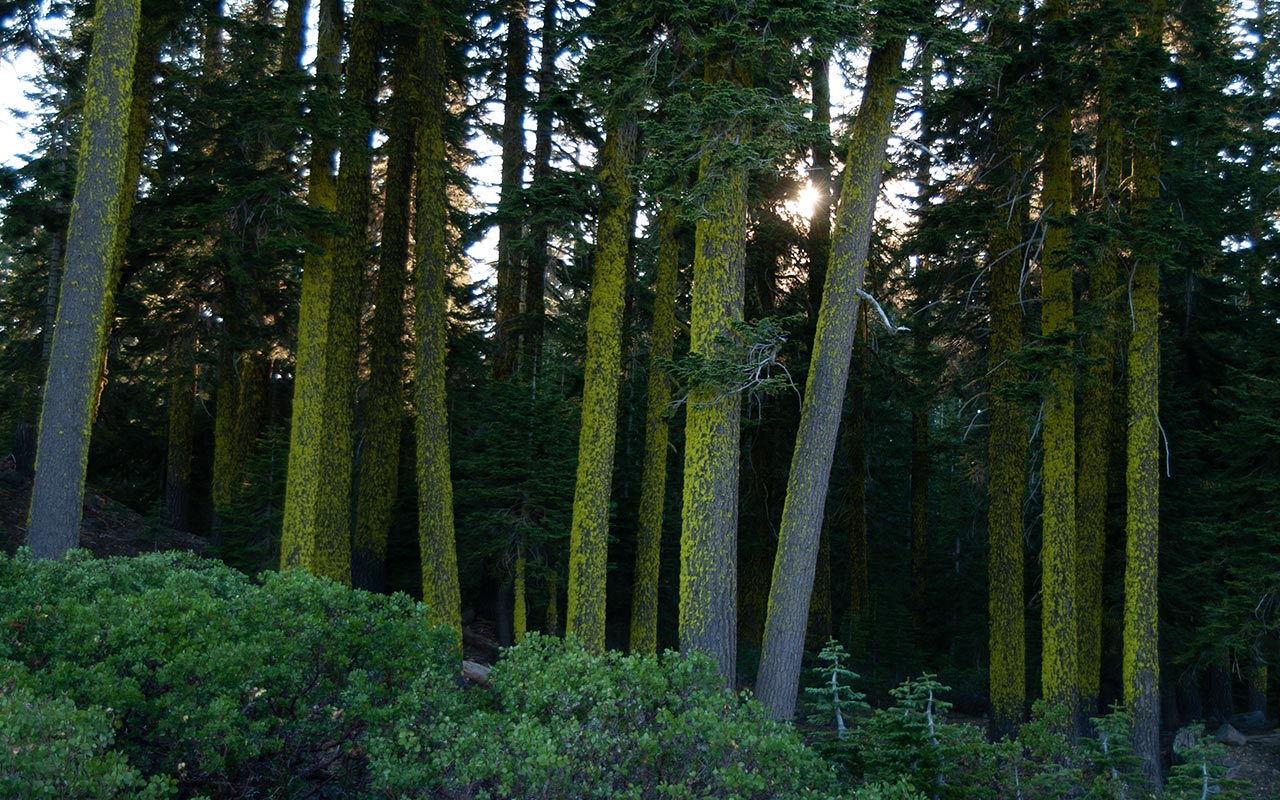 Having been twice turned back by poor weather on Mount Shasta, I was especially eager this year to return and try once again. This time, I hoped to do the whole climb in a single day.
My ambitious plan was to beginning my ascent from the Bunny Flat parking lot at midnight. Since I had been up the route only two weeks earlier, I knew I'd be able to find my way to the snow. Hopefully, the only challenge I'd face this time would be my own limits—not high winds or storms.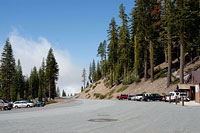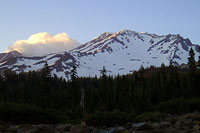 When he was in college, my father used to drive all night, across a state line, to see my mother. Hearing of these stories, I always thought dad was crazy, but here I am now driving as far or worse to see an icy mistress who has twice rebuffed my advances.
After 590 miles on the road, I arrive in the town of Mount Shasta just before sunset. Road-weary, I stop for a quick dinner, then drive up to Bunny Flat.
At the Bunny Flat parking lot, would-be climbers quickly discover there's no such thing as going solo on Shasta's Avalanche Gulch. The parking lot is crammed with cars and people.
The human activity thankfully fades after sunset, and I try to grab a few hours' sleep. Surprisingly, with a pillow and blanket I'm quite cozy in the back of my Civic.
Midnight. My alarm goes off, though I can't say it wakes me. I've been half-awake, half-asleep, eager to get going.
I put boards on pack and ski boots on feet and begin hiking up. The switch on my headlamp chooses this moment to malfunction. The light flickers and strobes, providing a feeble glow that barely reaches my fingertips. My ski boots Ka-THUNK again and again against rocks I can't see, trying to trip me. Into the woods I go, and now I'm really missing a working headlamp.
I do my best to follow the trail, but it's just too dark to see anything. Surprisingly, for this portion of the hike I am absolutely alone, just me and the monsters circling me in the darkness. A rustling noise coming from the woods nearby makes my heart jump. I wield a ski pole menacingly in defense, but of course I can't see anything. Just blackness.
Onward. The air is very warm, and I must peel off clothing already. The trail—if I'm actually on it—seems to keep traversing west, instead of heading up the mountain. Shasta's outline has long since vanished behind thickening trees. Backtracking becomes the game of the moment. I'm frustrated with the forest, the trail, the dark, feel like I'm stumbling around in circles, burning precious time.
Headlamps in the Dark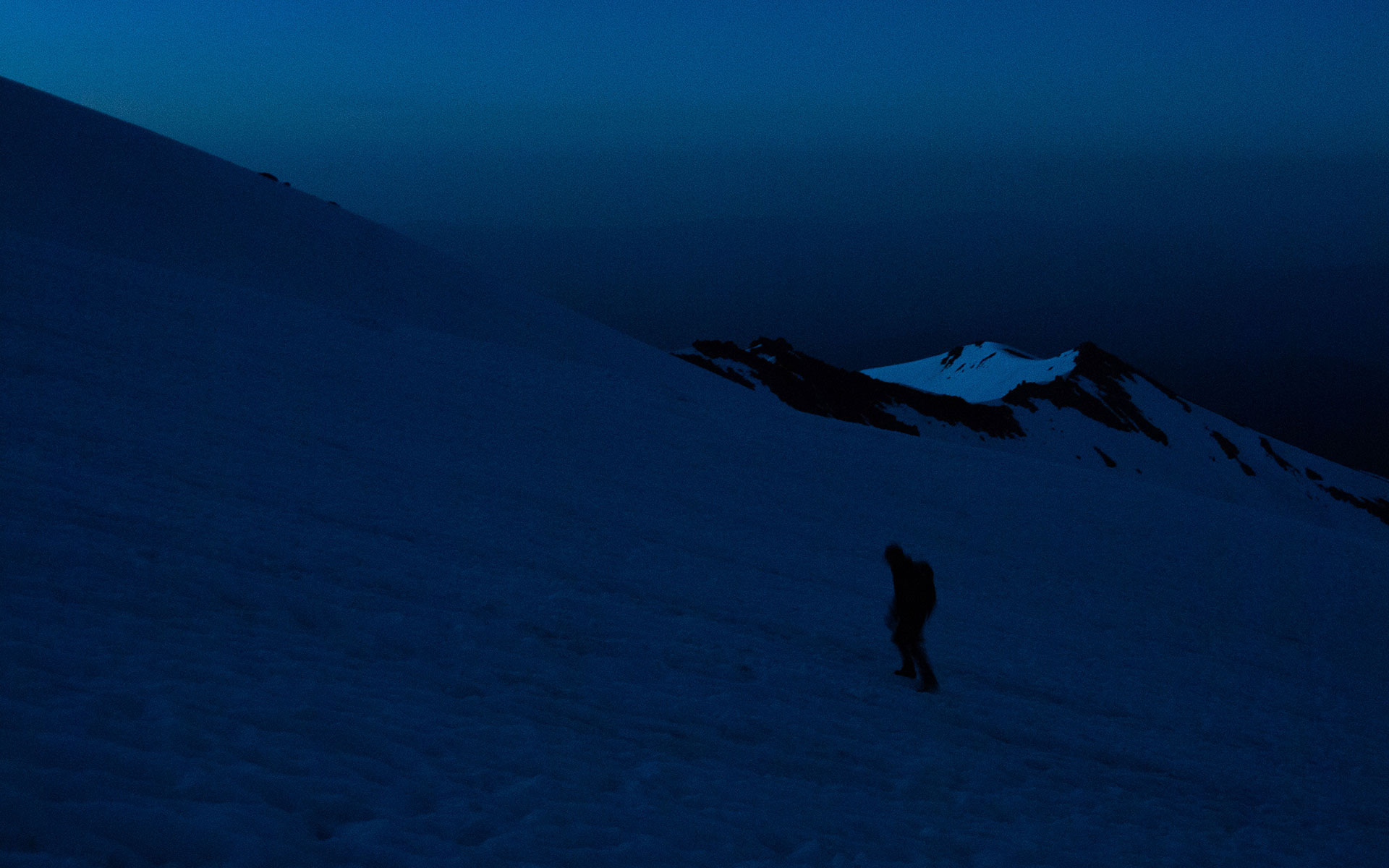 However long I spend lost in the woods, Horse Camp and the Sierra Club Hut is a little more than a mile from the parking lot. Here, the thick forest abruptly gives way to open, snowy slopes.
I am well relieved to see Avalanche Gulch and Shasta's outline once more before me. I pass a stand of tents tucked into the last few groves of trees. Many of their occupants are already awake, preparing for their own early start up the mountain. I see bobbing headlamps, hear stoves firing, pots clanking, the whispers of pre-dawn conversation. I find a quiet spot of my own and take a short break.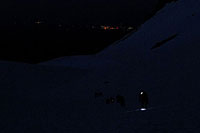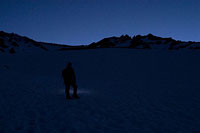 My God, the stars! Leaning back against a flat boulder, I'm staring up at a heavenly display. Crystal-clear air and high altitude make it seem as if the sky is close enough to touch. Compared to SoCal's ever-present, red-orange mush, this sight alone makes all the driving worth it.
After drinking water and eating a midnight snack, I snap into my bindings and begin skinning up the Gulch. Warm, dry air blends with chilly downslope winds, making it difficult to find the right combination of clothing. I wrap my jacket around my pack straps and constantly fiddle with my zippers as I alternate between too hot and too cold.
I'm soon joined by a large team of guided climbers leaving Horse Camp. Their headlamps form a string of lights beneath me. And beneath them, I see the lights of Mt. Shasta Village, some six thousand vertical feet below. Higher up, I can see other teams of climbers, leading all the way past Lake Helen to the Red Banks and beyond. Shasta is lit up like a Christmas tree tonight.
The lower Gulch begins to steepen, and the snow starts hardening. This makes skinning a bit more challenging, especially in the dark. Prudence dictates I switch over to crampons, so I stop, drop my pack, and let my lighted companions pass. Their leader, a Shasta Mountain Guide, inquires if I'm all right, wondering about my absence of light.
Hopefully, my response isn't too prickly. This share-the-mountain climbing is new to me, a lonely Sierra Eastsider. The group trudges on. I follow a hundred yards back or so, now on crampons. Compared to the smooth, level-heeled motions of skinning, climbing up sun-cupped ice in the dark on crampons is no fun at all. Thankfully, the sky is beginning to lighten.
Lake Helen at Dawn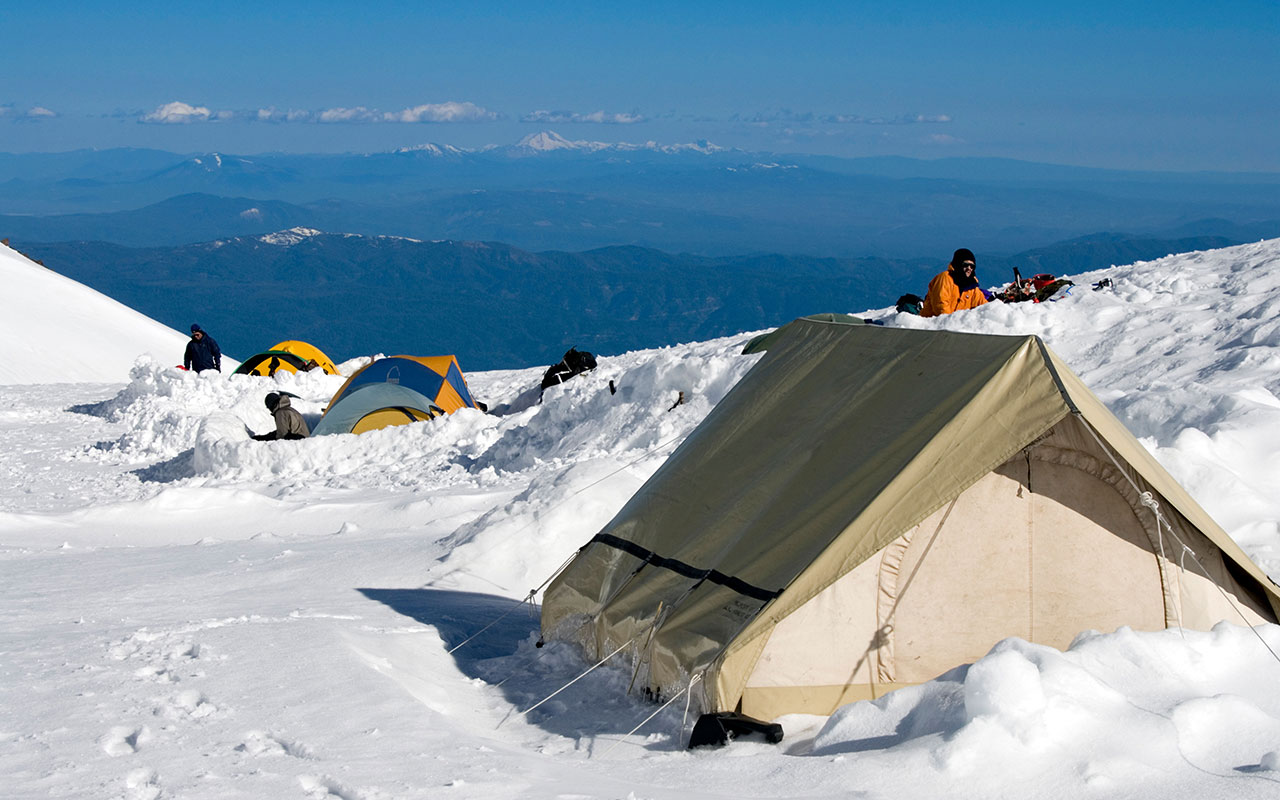 The eastern horizon is starting to glow. Now matter how many times I see it, after climbing all night in darkness, the sight of the approaching dawn remains pure magic.
The landscape in all directions becomes a living tapestry of color, evolving moment-by-moment into ever-grander delights. In addition to the visual feast, dawn brings pragmatic advantages as well. I'm now able to spot and follow a boot trail, which makes the climbing much easier.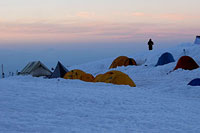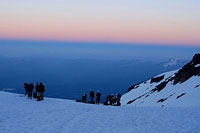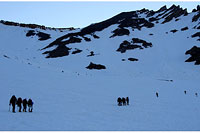 The sky continues to lighten with surprising speed. With the horizon revealed, the early-morning forecast looks excellent: calm winds, clear skies, no hint of monsoon moisture in the sky.
I am feeling slow and weary from my all-night push, and I focus on keeping a steady, if sluggish pace upward. My guided on-and-off companions have broken up a bit; on this section, at least, their leader is content to let them climb at their own pace.
A striking pink line forms to the west, dividing the blue, hazy Earth from the glowing sky above. Soon, Shasta's great shadow will break the symmetry of that divide.
We are somewhere in the vicinity of Lake Helen, elevation 10,400'. I mistakenly believe I've already passed the popular camp spot (there is no lake, except following unusually dry winters).
It is therefore a blow to my morale when I top a rounded hump in the belly of Avalanche Gulch and spot a virtual armada of tents and climbers readying themselves.
I estimate it's around 5:30 a.m.
That means it has taken me a considerable 4 hours 45 minutes to climb the 3500 vertical feet from Bunny Flat to Lake Helen—the halfway point of the climb.
And if I've been thinking Mount Shasta has been crowded up to this point, I now realize I've been sorely mistaken. I can see hundreds of climbers now. Many are still milling about camp, fiddling with crampon straps, axes, packs, helmets. I envy them their fresh legs. In addition to all these people at Lake Helen, I see a nearly continuous line of climbers along the route ahead, working their way up the steep headwall that towers over Lake Helen.
All these people, young and old, male and female, experienced and newbie, on one mountain! I've never seen anything like it. It is good to see so many people enjoying this high altitude wilderness. But couldn't they have picked a different day? I press on, lethargically poking the snow with my ice axe, passing Lake Helen at oh-so-slow a pace.
I don't feel good. Shasta's enormity is beginning to overwhelm me. All the driving, no sleep, hiking in the dark, the altitude, the warm, dehydrating winds below, it's all hitting me now. Once again, I've pushed myself too hard, and I realize it may be my own condition—and not the mountain's—that prevents me from reaching Shasta's summit today.
Meltdown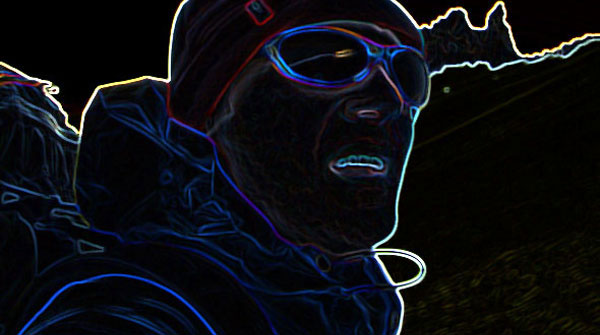 The skis on my back draw stares and a few curious comments as I follow one of the many sets of boot tracks heading up the Avalanche Gulch headwall.
Amongst all the climbers, I am one of perhaps two or three skiers on the route today. People seem surprised I'm carrying skis. I'm surprised they're not skiing—I can't imagine climbing up all this way and having to walk down. It's interesting to see such a wide range of climbers on what must be called a technical route.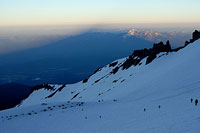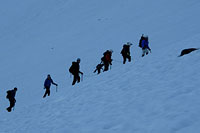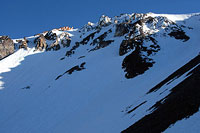 Shasta's shadow pushes out to the west now, a great pyramid cutting across the horizon. I slowly gain altitude. Beyond Lake Helen, the snow steepens quickly, reaching a sustained pitch near forty degrees.
On hard snow, that's steep enough to make for a nasty fall. A few teams of climbers are actually roped, though I imagine they're training for future ventures. Everyone, as far as I can tell, has crampons and axe, though I wonder how many are using these tools for the first time.
Normally, even coming from sea level, I am a fast climber. Not today. I'm running well below average. As the sun lights the top of Avalanche Gulch, I begin scouting the route ahead for possible lines of descent. For some reason, I find I'm having trouble seeing the snow to assess its condition. Soon, I'm having trouble seeing the Chutes themselves.
I'm losing my vision.
With great dismay, I know at once what's happening. It is, in all honesty, a personal doomsday scenario: a migraine attack in the backcountry. Thankfully, these merciless headaches have largely become a thing of the past for me, except very rarely, in times of great stress. Now, however, the combination of travel, no sleep, exertion, and altitude has just triggered one. And it looks to be nasty.
I've got to stop. I veer off the main trail and find a place to sit amongst piled avalanche debris. I drop my pack, take all the ibuprofen I have in my inventory, and wait. My entire field of vision is now glowing with brilliant, flashing fractal spirals of blue-white diamonds. This is the Aura, the painless, initial phase of the headache. If the migraine runs its course unaborted, the Aura will fade in twenty minutes, to be replaced with crushing pain.
I nibble on pretzels and sip water, trying to remain calm. Lines of climbers slowly march past. Will I be rejoining them—or asking for help? Time passes. My vision slowly returns. Sweeping numbness and tingling pings across my body. But there is no pain—the medicine has done its work. And now what? I still want to reach that summit. I tentatively put my pack on and rejoin the group, moving slowly, hoping my body will hold together.
Beneath the Red Banks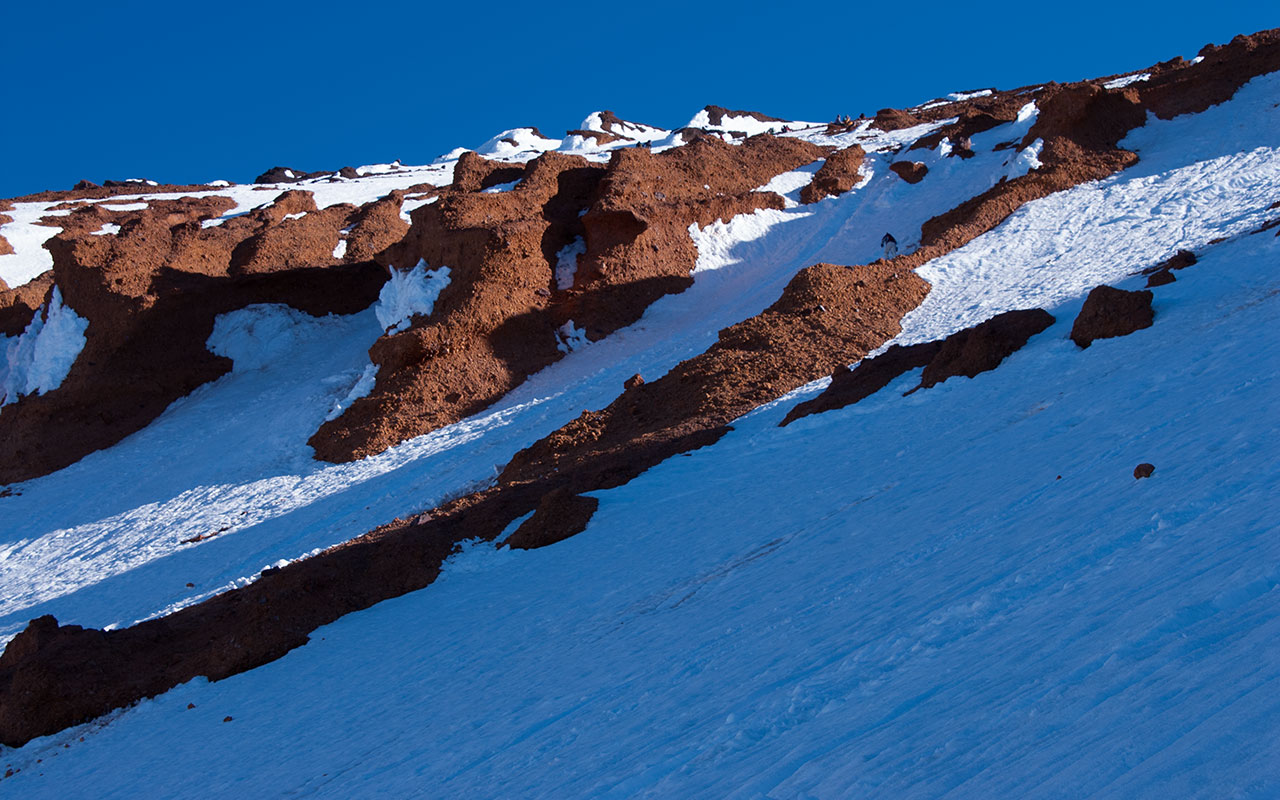 The climb from Lake Helen to the top of the Red Banks is both tiring and non-trivial: 2500 vertical feet up steep, hard snow. Step by step, I'm gradually regaining strength and confidence.
Other climbers, however, are starting to fade. I begin to pass people who've reached their limits and are turning back. There are three primary route variations at this point. Avalanche Gulch's headwall proper, 'Left of Heart', passes to climber's left of the wall of cliffs called the Red Banks.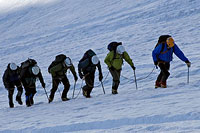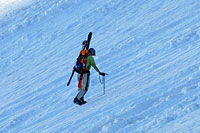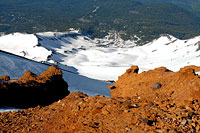 This area faces considerable rockfall hazard, however, and is only recommended later in the year, as it tends to hold snow the longest. Most climbers, myself included, choose to veer right, aiming for the pass between the Red Banks and the 12,900' Thumb Rock.
Ascending this giant, sweeping wall of snow is a vertiginous experience, with more than enough exposure below to inspire caution in placing crampon points and axe spike.
I'm just happy to be back on route, with no ill effects other than the usual post-migraine numbness and tingling. It is a small miracle for which I'm deeply grateful. Shasta's summit is once more within my sights.
Step, breath, step, breath.
I'm timing my pace to my breathing to keep my heart rate as stable as possible. I'm struck, here beneath the Red Banks, by what an extraordinary confrontation with Self climbing is.
All of us here today on Mount Shasta are locked in our own personal struggles, against the mountain, our bodies, our will.
Mountaineering seems to me among the purest of man's competitions, unsullied by judges, points, or regulations.
And though we're all in this struggle together on Shasta today, we are also alone. Step, breath, step, breath. I estimate my current altitude near 12,500'. Still a long way to go. I choose to leave the stairway of footsteps, traversing left to cut through the bright red rock of the Red Banks, via variation three, the Red Banks Chimneys.
After a short, steep ascent up a narrow and icy chute, I'm atop the Red Banks, in blazing sunshine, surveying the immense panorama below. In every way, this climb of Shasta has been extraordinary. Now, sitting atop the fiery rock of the Red Banks, I munch on a peanut butter and jelly sandwich, surveying the whole of the route traveled thus far.
I can see Bunny Flats, some six thousand vertical feet below. From my vantage point, I can see a snowy gully dropping almost all the way back to Bunny Flat. In contrast to my midnight wanderings in the forest, I'll be skiing almost all the way back to my car. The weather remains perfectly clear.
My head is holding together. I feel lucky to be here, in this moment. I feel blessed.
To the Summit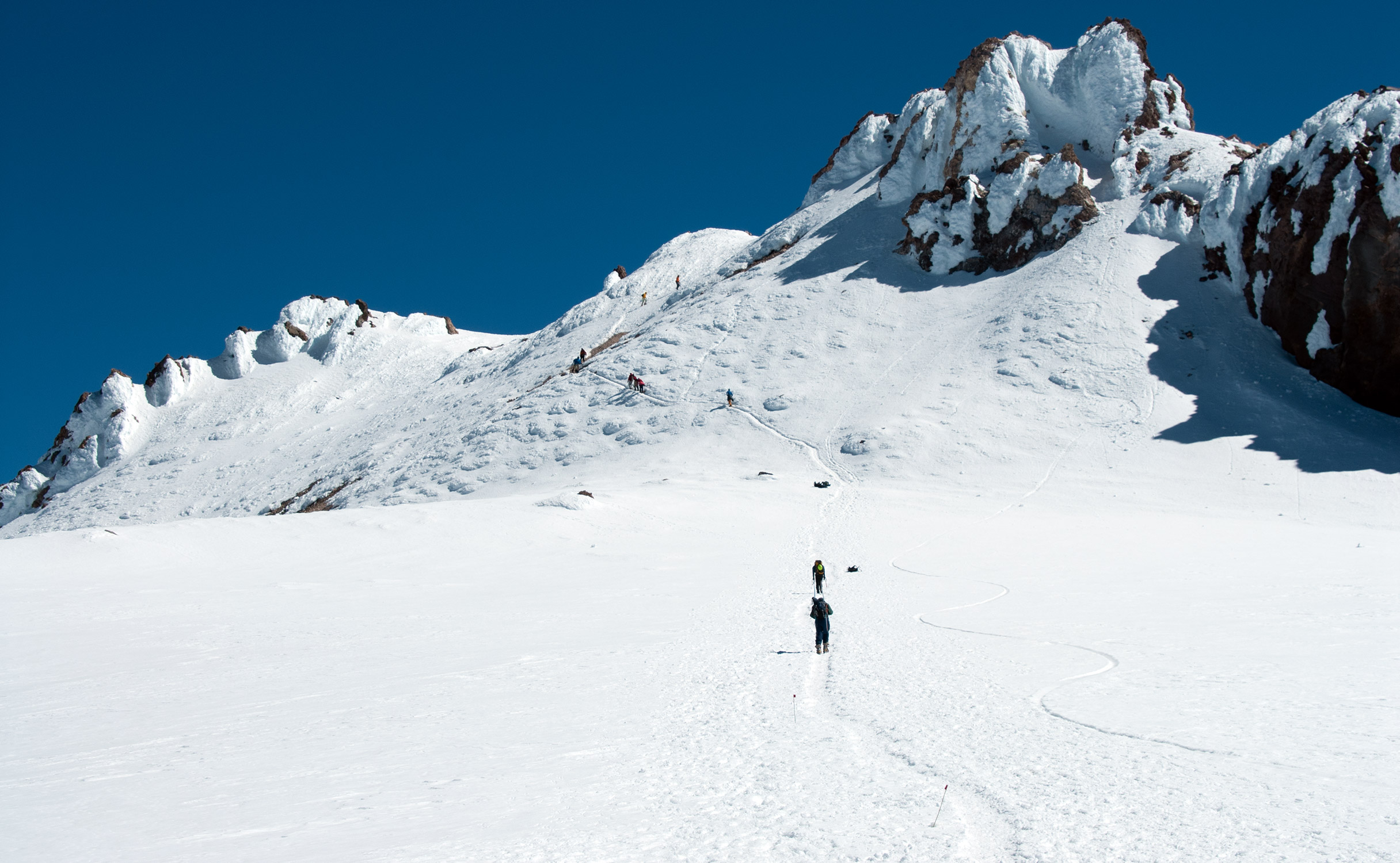 Scattered groups of weary climbers stagger about like mindless packs of B-movie zombies, pointing the way ahead. This last section is called Misery Hill.
The name is apt: a thousand vertical foot hump stands between us and the true summit. After the marathon of Avalanche Gulch, Misery Hill is the final test. Misery Hill's more moderate pitch, however, allows me to snap back into my skis and skin up, taking 12 pounds off my back.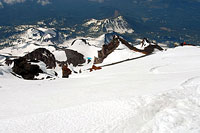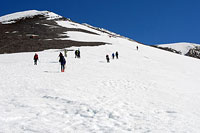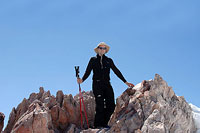 This at last allows me to answer an age-old mystery: are crampons or skins faster? Today, the answer is obvious.
Climbing smoothly on my skins on perfect corn snow, my pace picks up enough to where I'm passing the very same climbers who've been matching my speed all morning.
I angle to the east, ascending smooth snow on the upper reaches of the Konwakiton Glacier.
In all directions I see inviting terrain frosted with wonderful, velvety corn snow.
After the difficulties of the past 24 hours, this feels like a victory lap. With each step upward, my spirit soars higher, higher.
This will be one to remember, an incredible personal achievement. I wonder how many of my fellow climbers share my elation? And I get to ski down!
The thought of the coming descent puts an incandescent smile on my face. As I top the Not-So-Miserable Hill, Mount Shasta's summit comes into view. It's different from what I expect: a steep pinnacle of sharp rock jutting upward from atop the summit ridge.
To the west, I see Shastina, Lake Clarence King, the crevasses and ice falls of the Whitney Glacier. I carry my skis as far as the snow goes, then skitter up the remaining rock in my trusty ski boots until there's nowhere higher to go. At 10:30 a.m., nine hours and forty-five minutes after I left my car, I reach Shasta's summit. A small crew of fellow summiters meander about Shasta's high point. It is not particularly crowded at the moment.
The wind is brisk enough to discourage loitering, and I'm eager to ski while the snow is at its best, so I rest briefly, then ready myself for the descent. The pitying stares from climbers who've watched me ascend all this way with heavy skis on my back abruptly shift to envy as I snap into my bindings a scant few paces from Shasta's true summit. I clack my poles together for luck.
7000' of Skiing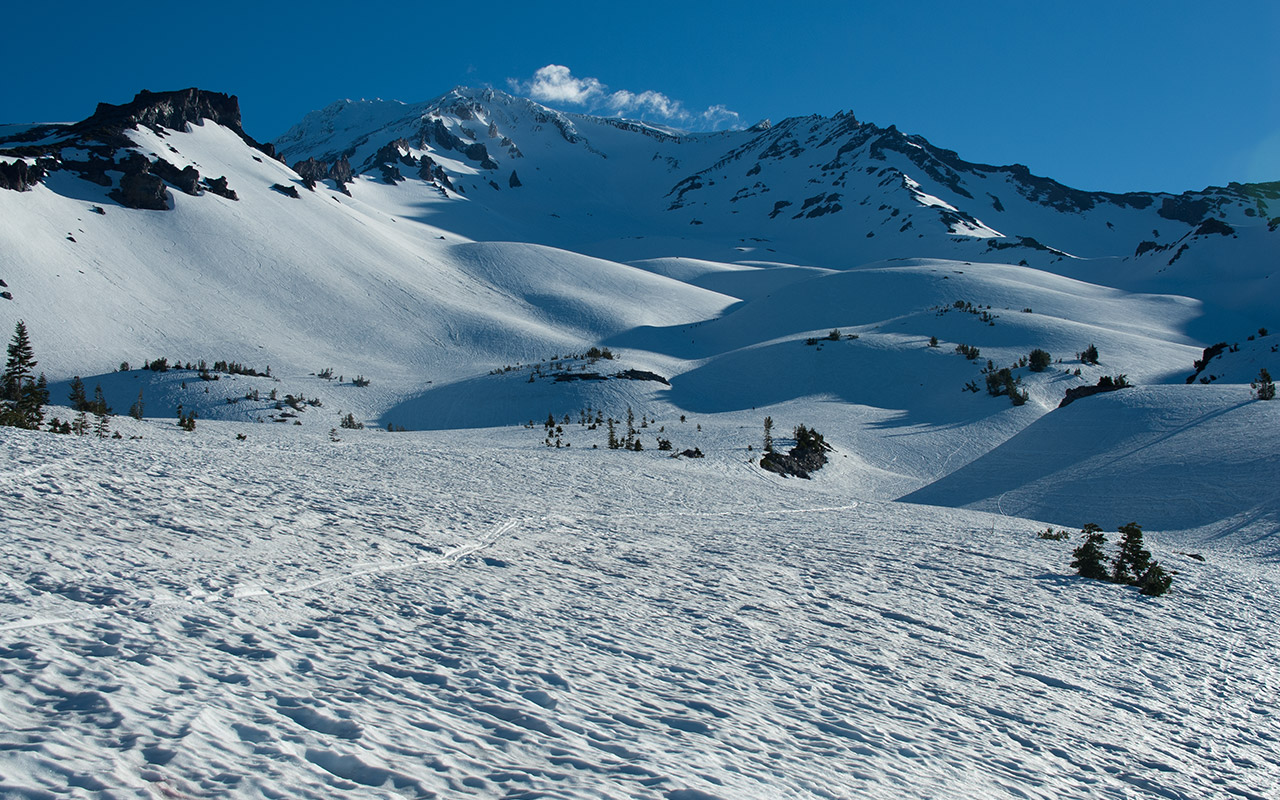 The upper summit pinnacle is coated with ice and rime. My trusty TM22's make quick work of this section, and then I point the boards down. Normally I keep my speed down on a backcountry descent, but today Shasta is offering up a feast of smooth snow over the Konwakiton Glacier.
I make huge, whooshing GS turns, streaking down the eastern side of Anything-But-Misery Hill. The skiing couldn't be better if I'd hauled a snow cat up to groom it for me.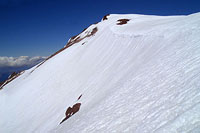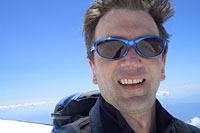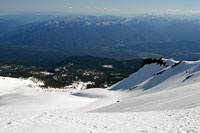 Can this really be 14,000' skiing in July? I ski over to the top of the Avalanche Gulch headwall.
I like the fact that the snow has been getting baked by the sun. I'm not interested in sliding about on ice right now.
As mentioned earlier, the headwall and regions below the Trinity Chutes face significant rockfall threat. I'm not overly concerned, given my extra mobility on skis, but foot-bound climbers should approach this area with caution.
I'm being cautious too, linking sure, deliberate turns on this relatively steep section, gradually working my way westward beneath the cliffs to stay on smoother snow. The terrain is mind-boggling.
In contrast to the somewhat homogeneous Hotlum-Wintun Ridge, skiing Avalanche Gulch affords many transitions through distinctly different sections, all the while hammering home how truly immense the mountain is.
My legs are beginning to give out, used up by the tremendous vertical I've burned, yet there's still thousands of feet of skiing to go. It strikes me that this is it: I've found Backcountry Skiing Nirvana.
Words won't do this day justice. Neither, even, will photographs. I will carry the memories of today inside me from now on, a little piece of magic to be recalled as needed whilst I navigate the difficult worlds below. A little more than an hour after I've left the summit, I step at last off snow onto bare ground, elevation 7000 feet, equaling the total vertical I've just skied. My car is an easy two hundred yards farther. The drive home, quite a bit more than that.
And so, I have tried. I have done my best to capture a small part of this remarkable adventure, tried to describe Shasta's inexpressible beauty, tried to hint, clumsily, at Shasta's mysteries. Skiers contemplating an Avalanche Gulch descent should be aware that snow conditions can be much less friendly than I encountered, as can Shasta in general.
The season on this side of the mountain can be unfortunately short, pinched between winter's storms and summer's crumbling talus. But do not let the guidebooks nor crowds nor testy conditions dissuade you from trying this extraordinary climb. Choose your moment with care, prepare yourself, and find your own adventures on this backcountry treasure. I'm glad I did.