Mount Sill: Two North Couloirs
A Climb and Ski Descent of the L-Shaped and Northwest Couloirs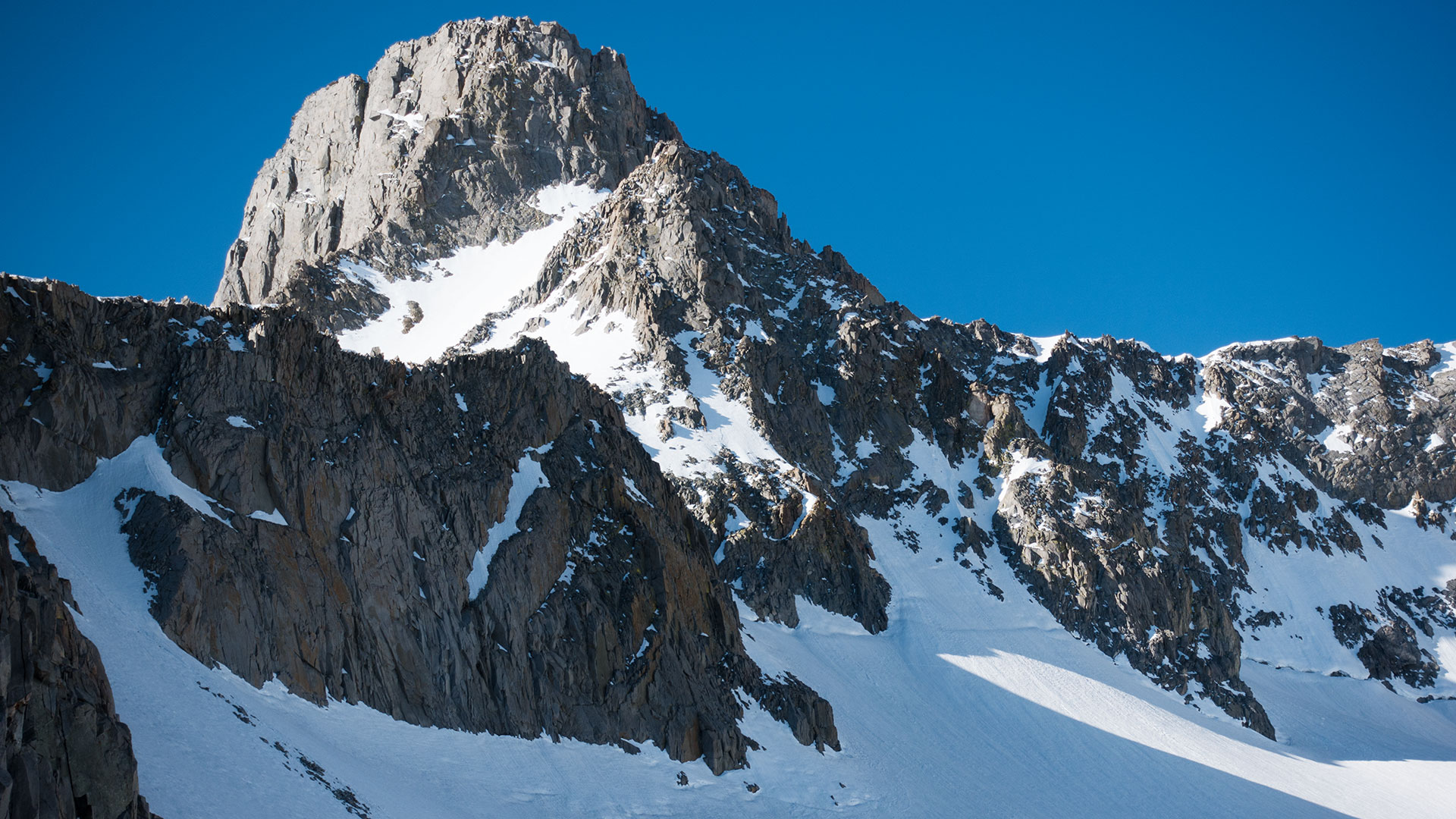 Glacier Lodge, California — In the dark, the sound of Big Pine Creek is terrifying. It's three a.m. and the creek is in flood, a massive and thundering monster veiled in blackness.
Clouds of mist swirl about me, blue-white in my headlamp's glow, as I step carefully from rock to rock, balancing skis and boots on my back, trying to keep my feet dry where the trail has gone under.
The roar is deafening. The ground itself seems to shake and rumble. There's a bridge ahead, thankfully, but beyond I know I'll have to pick my route carefully. There will be no crossing that water today.
It's early June and the Sierra's record 2017 snowpack is just beginning what will no doubt be a long and destructive season of melt. High above, the big peaks remain snowbound, promising many more weeks of good skiing for those who can endure the pilgrimage.
I'm here today in hopes of climbing and skiing Mount Sill, elevation 14,153', California Fourteener, a massive peak that divides the two major glaciers of the Sierra's Palisades Crest. Sill is easily visible from the town of Big Pine and Highway 395, with a distinctive shape somewhat reminiscent of Mount Whitney.
Like Whitney, Sill's sheer east face perhaps does not immediately evoke thoughts of skiing, but there are a number of ski possibilities, including at least two good ones: the L-Shaped Couloir and the Northwest Couloir.*
Both lines top out at the exact same point, high on Sill's north shoulder, making it possible to ascend one and descend the other, or vice versa, or (if you're feeling more ambitious) climb and ski both in the same day, which is my aim. I figure the two couloirs' varying aspects should ensure at least one memorable ski descent today—and more likely two.
But, as with all the big peaks of the High Sierra, first you have to get there.
*note: Sill's L-Shaped couloir is often referred to as the North Couloir, though unfortunately some guidebooks also call the northwest couloir "the North Couloir" which is an entirely different couloir. Most properly, the L-Shaped couloir faces north/northeast while the northwest couloir is very nearly due west (or even west-southwest) in aspect.
The Eastside Approach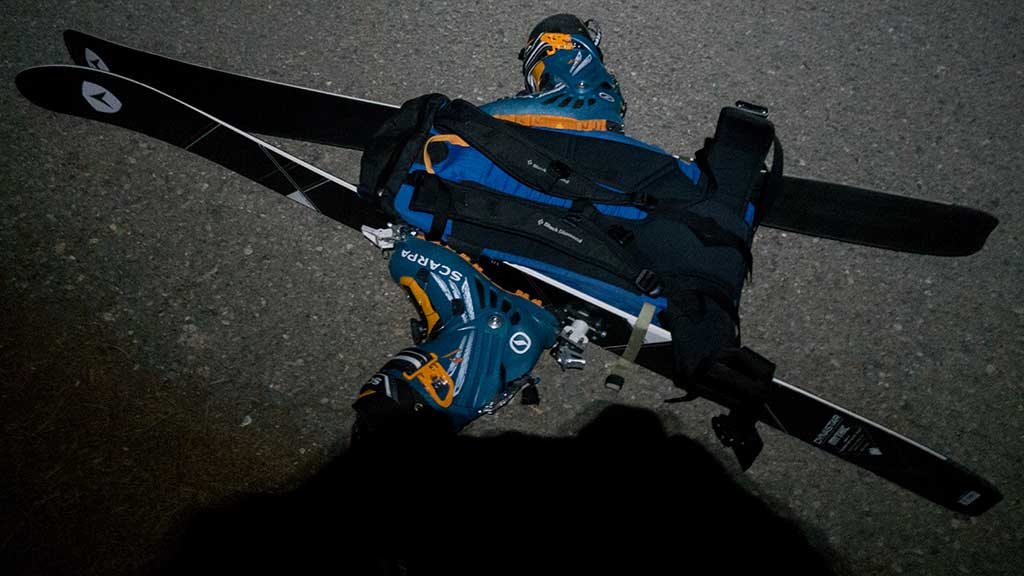 The Sierra's Palisades Crest is such a magnificent part of the range it defies easy description. Seeing it, in person, may make you wonder why you ever bother climbing anywhere else.
But it is hard to get to, and harder still to get there with skis, and once you do get there, you've got to get yourself and your skis all the way back down again, and the rigors of that round trip might just make you think twice about coming back anytime soon.
I have my own set of rules or rather guidelines for dealing with Eastern Sierra approaches, and perhaps the most important is to simply cultivate a short memory when it comes to their trials.
Remember the mountains, remember the skiing—yes, absolutely.
But maybe try not so hard to remember the sleepless night beforehand and the pre-dawn start, or the shambling about in the dark, looking for the route, nor the long walk out, with the whole house of gear on your back, on long-past spent legs, when the skiing is done.
More practically, I have a 2+2 rule which says that if I know I'm going to be hiking farther than two miles or two thousand vertical feet to reach the snow, I start in hiking shoes; otherwise I climb in ski boots.
This rule gets adjusted, as need be, by circumstances, conditions, and mood, but overall it has served me well. When I peel off my socks at the end of the day, my goal is to see no major blisters and both big toenails intact.
That is a worthy accomplishment, but it is not without cost. Put both skis and boots on your back, and you'll pay for it in a different way, both going up and coming down. So, bend or break my 2+2 rule as necessary, and in the end, remember the great skiing and not the great pain required to get there.
Temple Craig & Second Lake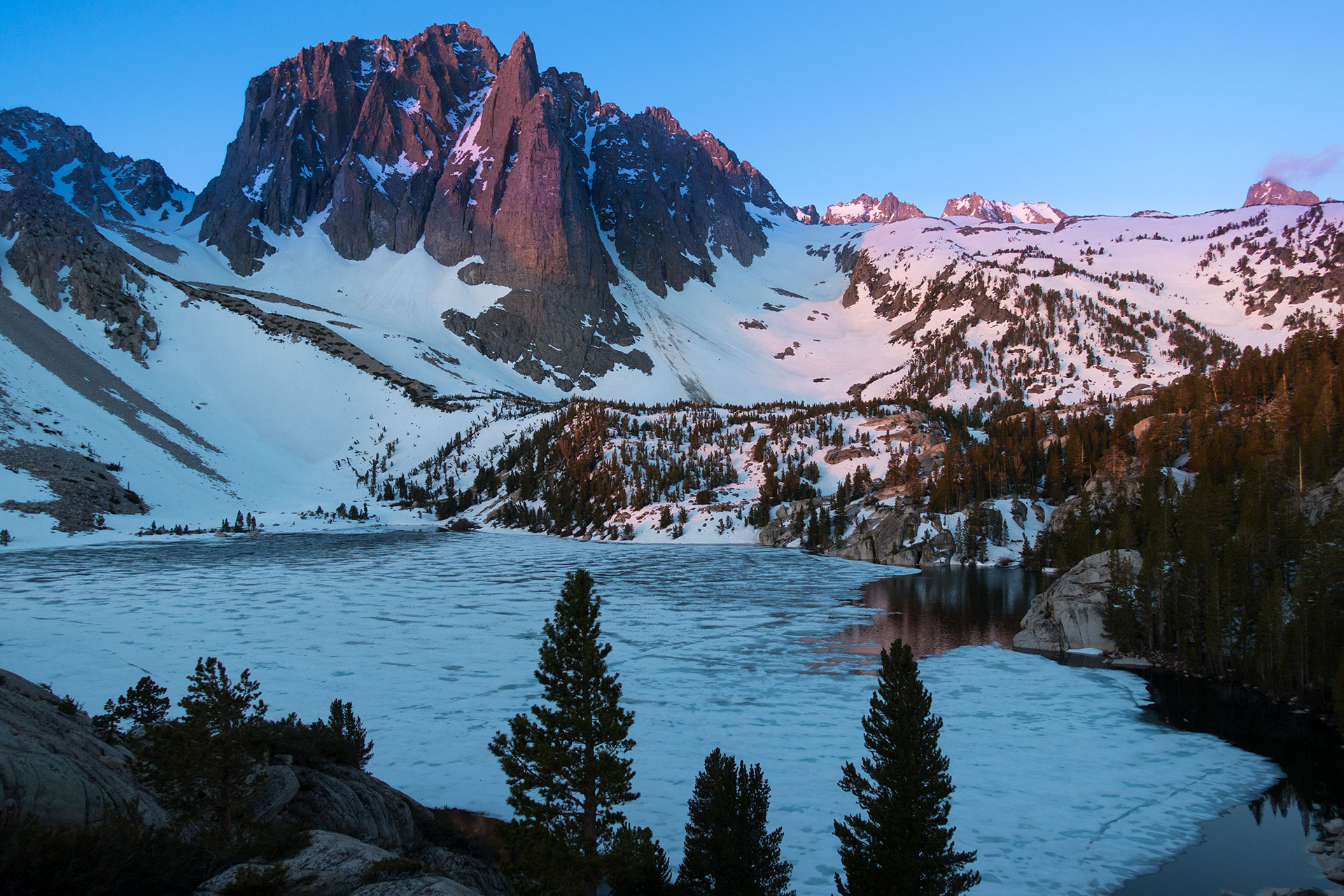 That first glimpse of the Palisades Crest is always breathtaking. In the dark I've been wrapping my way up mile after mile of the Big Pine Creek Trail, North Fork edition, waiting and waiting and waiting to see dawn hit Temple Craig and the crest beyond.
Color, at long last, breaches the sky, revealing I've reached the series of small lakes beneath Temple Craig, where I'll quit the trail and (hopefully) cross the creek, to ascend the protected snowfield below the Craig.
Summer skiers take note: this is a worthy destination in its own right.
You don't have to climb all the way to the glacier to ski here—not this year, at least. To get to the snowfield, stay on the trail past Second Lake, then veer southeast, aiming for the logjam that forms the east end of Third Lake.
If you're lucky, some combination of footprints and navigation skills will see you across the creek and onto the snowfield, from which you can climb or skin higher to your heart's desire.
I've timed my own hike today so that I arrive at this cruxy juncture with enough daylight to have a fighting chance of finding the route, and even so, I spend a few moments wondering which lake, exactly, I'm looking at.
Temple Craig, of course, is its own spicy number, and if you're a climber, you've probably found your home right here. But I stop instead on a stray boulder, eat a quick snack, and switch over to skis and skins.
The hiking boots will wait here for my return.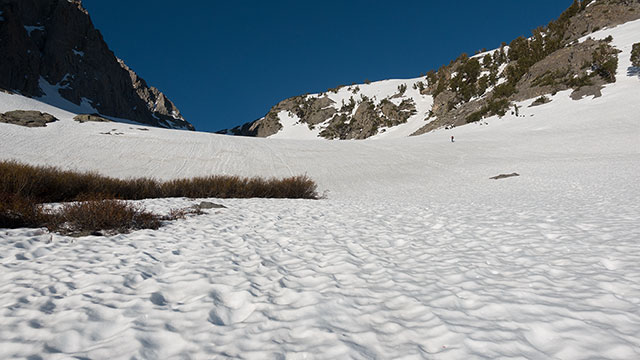 From Third Lake, elevation 10,250', it's about two thousand vertical feet to the top of the final bench, on Mount Gayley's northwest shoulder, where at last you reach the Palisades Glacier, and enjoy unobstructed views of Mount Sill, Polemonium Peak, North Palisade, Thunderbolt Peak—and of course the U-Notch and V-Notch couloirs.
Climbing this section, I always find myself...impatient. The Palisades are so close!
So maybe I'm pushing the pace a bit as I skin up. The weather is perfect: a light breeze, cool but not cold air. The lower section of the snowfield is sunny, but as I get higher, I push into Temple Craig's long shadow, and the snow gets too hard for comfortable skinning.
Alas. Back on the pack go my skis, and I snap crampons onto my boots. Hard morning snow like this plus the snowfield's modest angle make a good case for ski crampons, but over the years I've come to prefer simply booting up with real crampons.
First of all, I'm carrying them, because I'll need them higher up, so why carry two sets of crampons? Second, ski crampons aren't nearly as secure, especially on sun-cupped surfaces, where they tend to fail at the most inopportune moments.
Oddly enough, if there's something I'm more comfortable doing without these days, it's an ice axe. I've got mine today, but for now I'm happy with my ski poles and crampons—a fast, efficient combo that has me thinking I could have left my climbing skins in the car.
And all of these gear ruminations, ultimately, come down to questions of weight versus safety. How much can you leave behind? On these big Sierra lines, every pound counts, I know. Light and Fast travel does leave us more vulnerable in emergencies—but it also makes it less likely we'll get in trouble in the first place.
The Palisades Crest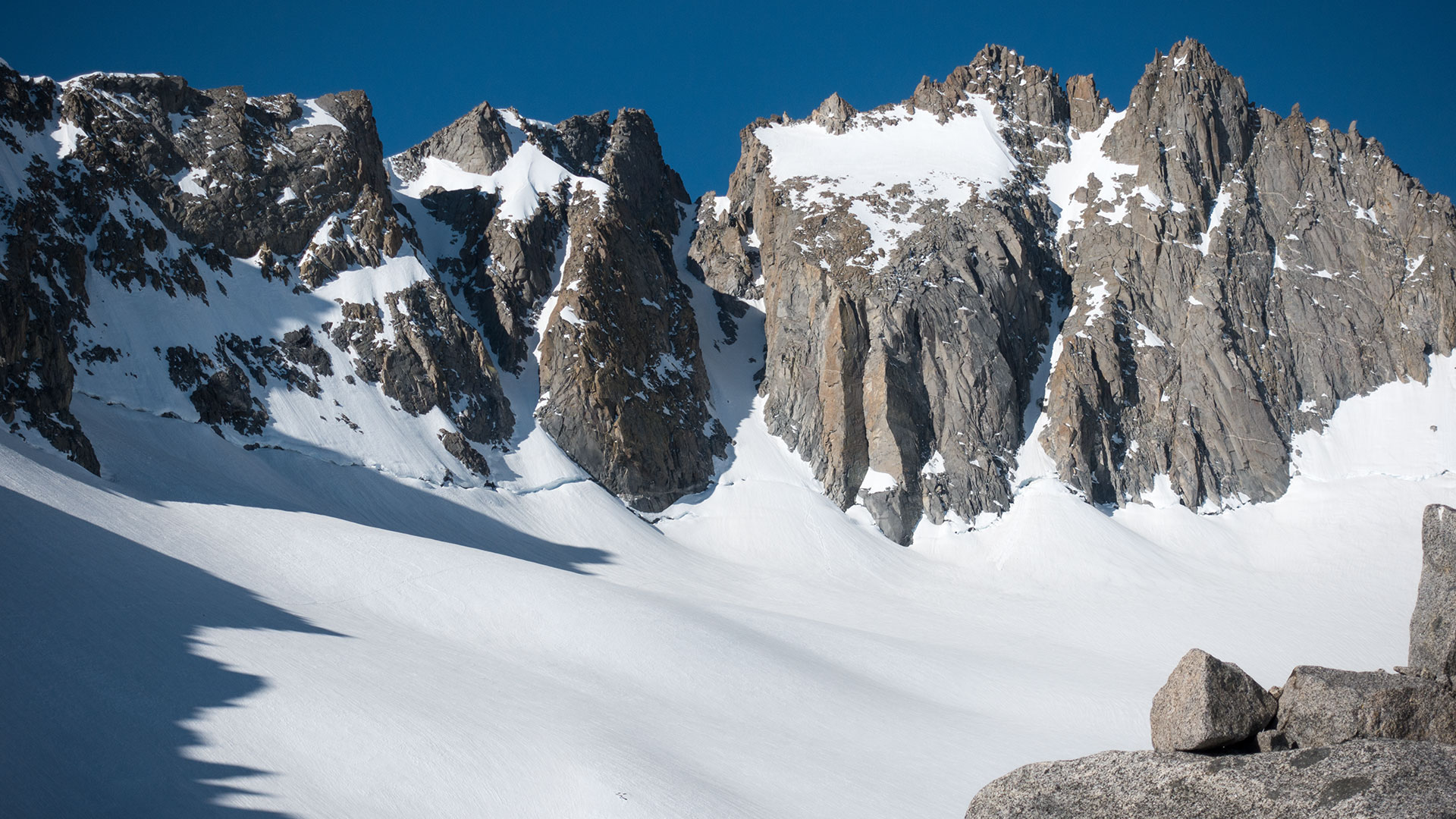 Oh, those Palisades! I know I'm supposed to be en route to Mount Sill, but when I top the final bench, and the magnificent Palisades Crest springs into view, suddenly I'm reconsidering my climbing plans.
I've got time to knock off the U-Notch, don't I? What about the V-Notch? Could I maybe climb halfway, test the waters? And there's Thunderbolt Peak—look, I think I see a glimmer of a skiable line on its east face. That looks interesting.
Look at that bergschrund! It looks massive. When, in the Sierra, do we ever even get to say look at that bergschrund? Honestly, why have I waited so long to return to this most extraordinary place?
Being here today, with skis, is like a dream. How lucky we are, those of us who wander the Sierra, to enjoy such a sublime spectacle...
Hmm...started veering into John Muir territory there for a moment. I've still got another two thousand vertical feet of climbing, roughly, plus another 500 or so if I decide to go after both of Sill's north couloirs.
So I put my head down and a kick into my step and take a fast high traverse beneath Mount Gayley, en route to Sill's presently-hidden Northwest couloir, which lies tucked behind Sill's great northwest buttress, which pushes out onto the Palisades Glacier.
I have a lot of options today, route-wise, and after some contemplation I've decided to begin and end in the North Fork drainage. It's entirely possible to do Mount Sill as a loop, linking the North and South Fork drainages, and in fact I'd love to do that today, but the highwaters below killed that plan.
I don't want to get stuck on the wrong side of a river.
So today it's up the North Fork, then up the Northwest Couloir, which will be cool and shady and thus good for climbing. I'll ski the sunny L-Shaped Couloir first, with the option to bail back to the Palisades Glacier via Glacier Notch (between Sill and Gayley) if I'm tired.
Otherwise, I'll climb right back up the L-Shaped Couloir, and then ski the Northwest Couloir, which by then will hopefully have softened, ultimately returning back to Third Lake, the trail, and my stashed hiking boots.
Climbing The Northwest Couloir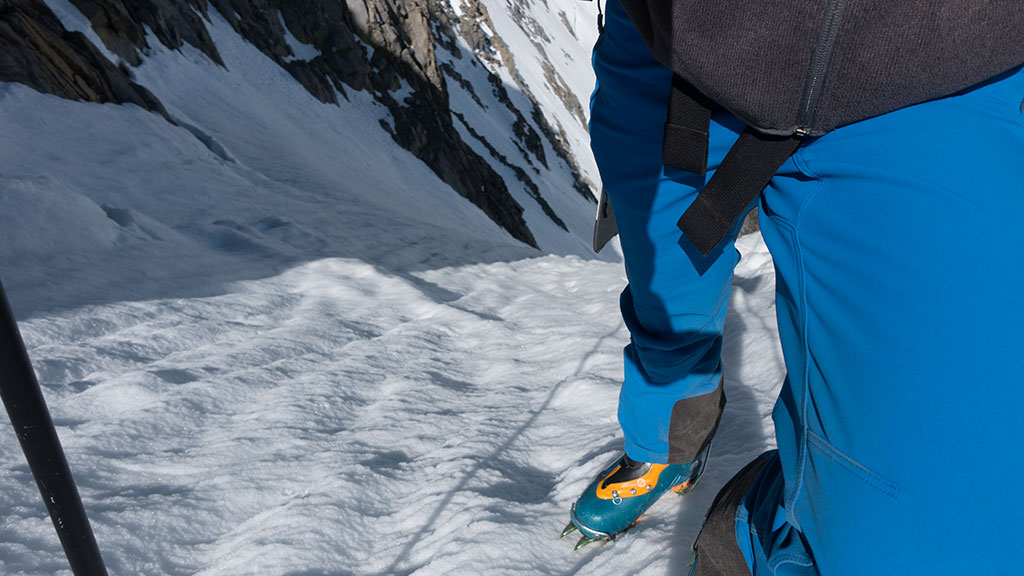 Sometimes climbing is work and sometimes it's desperate and scary and sometimes it's just good clean fun. The latter is what Sill's Northwest Couloir is offering today.
The bergschrund crossing is trivial, and with the couloir above still in shadow, I find mostly 35-40 degree frozen snow, nice and crunchy, with a comforting surface texture that my crampon points effortlessly snag.
Yes, there's a bit of curve to the chute, which eventually has me climbing above a rock spine, and yes, there's a bit of a bulge at the upper section, maybe pushing the pitch toward 45 degrees, but these complications offer just the right dash of consequence to give the route a bit of character without making it seem too menacing.
Soon enough, I'm nearing the high point of Apex Saddle, which joins the Northwest Couloir to the L-Shaped (northeast) Couloir. And here there is a small choice to be made: do I go for the true summit?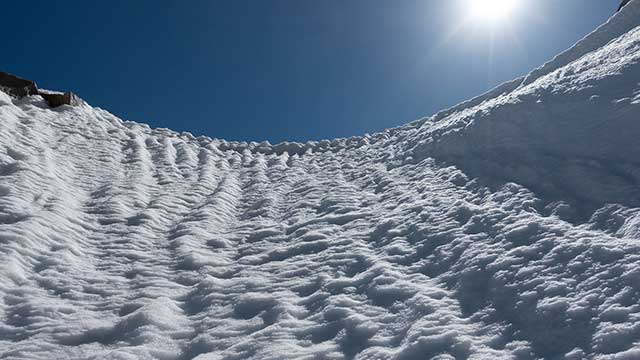 Of course I want to make it to the top of Sill—it is a fourteener, after all, but the climbing route from here is a class 4 traverse involving icy mixed climbing.
It's tempting.
Porcella-Burns originally called this traverse Class 3 (albeit exposed), and even at the updated Class 4 rating the climbing is still considered very easy. I can see bootprints traversing back and forth beneath Sill's west face; it doesn't look too bad...
But it would be costly, in terms of time, and I am alone. I give the traverse a careful eye, then decide against it.
In ski boots and solo, I'll pass today.
Apex Saddle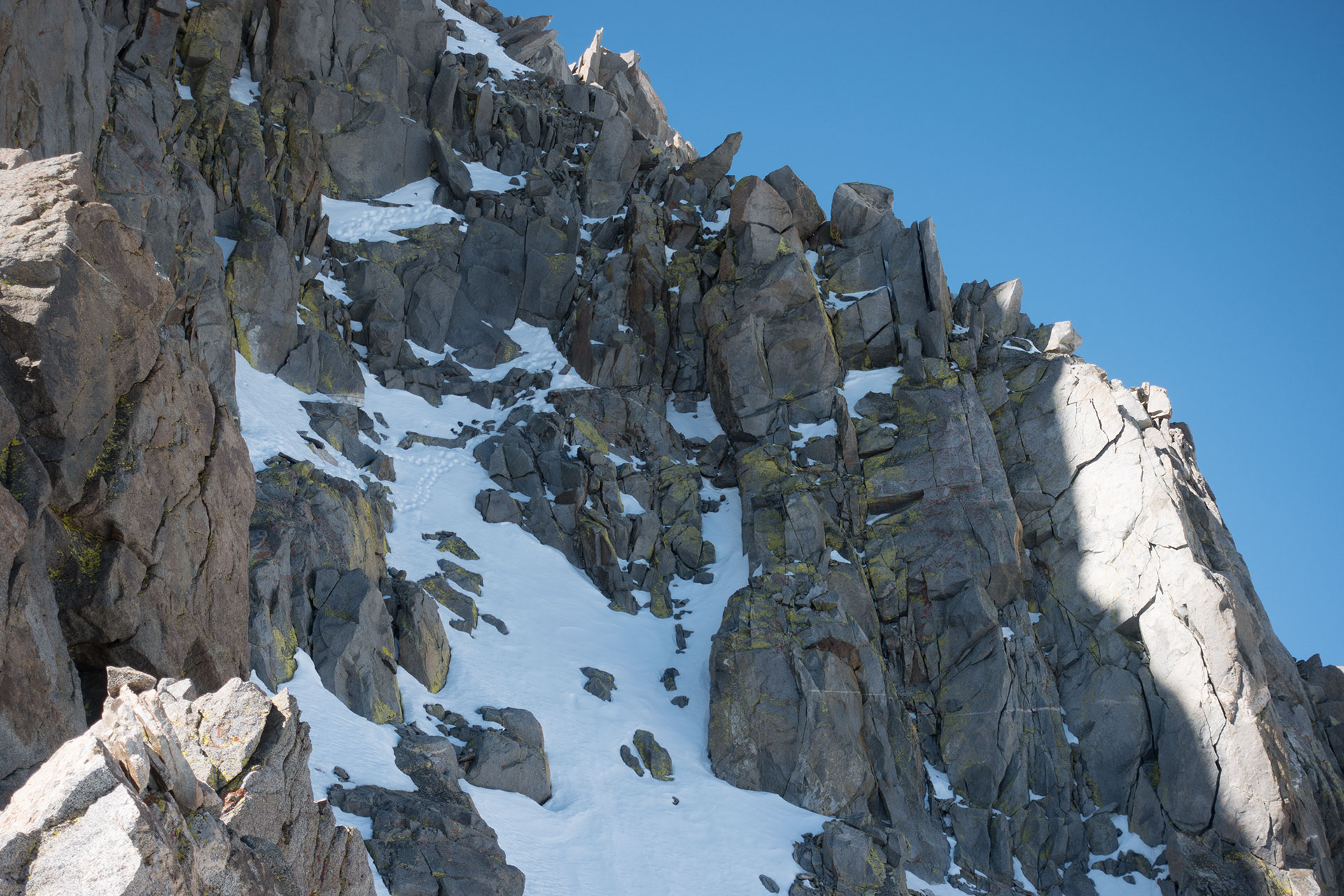 Atop the Northwest Couloir, and now the adjoining L-Shaped Couloir as well, I find Apex Saddle to be a great place to take a break and switch over to ski mode. There's plenty of room and not much exposure.
The view here gives me a good look at Big Pine Creek's South Fork drainage, which looks quite invitingly snowy—at least upon its upper reaches. Middle Palisade is out there, lurking somewhere out of view to my south; Owens Valley lies due east.
Immediately adjacent is Apex Peak, which along with Mount Sill forms the two ends of the saddle dividing Sill's two north couloirs. Oddly, it doesn't occur to me to climb the thing, given that its basically just a short pile of rock away.
At my feet of course is Mount Sill's L-Shaped Couloir, which I'll soon be skiing. In terms of steepness, exposure, and so-called character, the L-Couloir appears noticeably easier than its neighbor, and is already looking quite soft in the early-morning California sun.
It's 9:30a.m. I've made it here in a speedy six hours or so, including break time. That leaves me plenty of time to nab both descents. However much I hate early starts, I do love being on route, at the right time, on schedule.
Let's go skiing.
Skiing the L-Shaped Couloir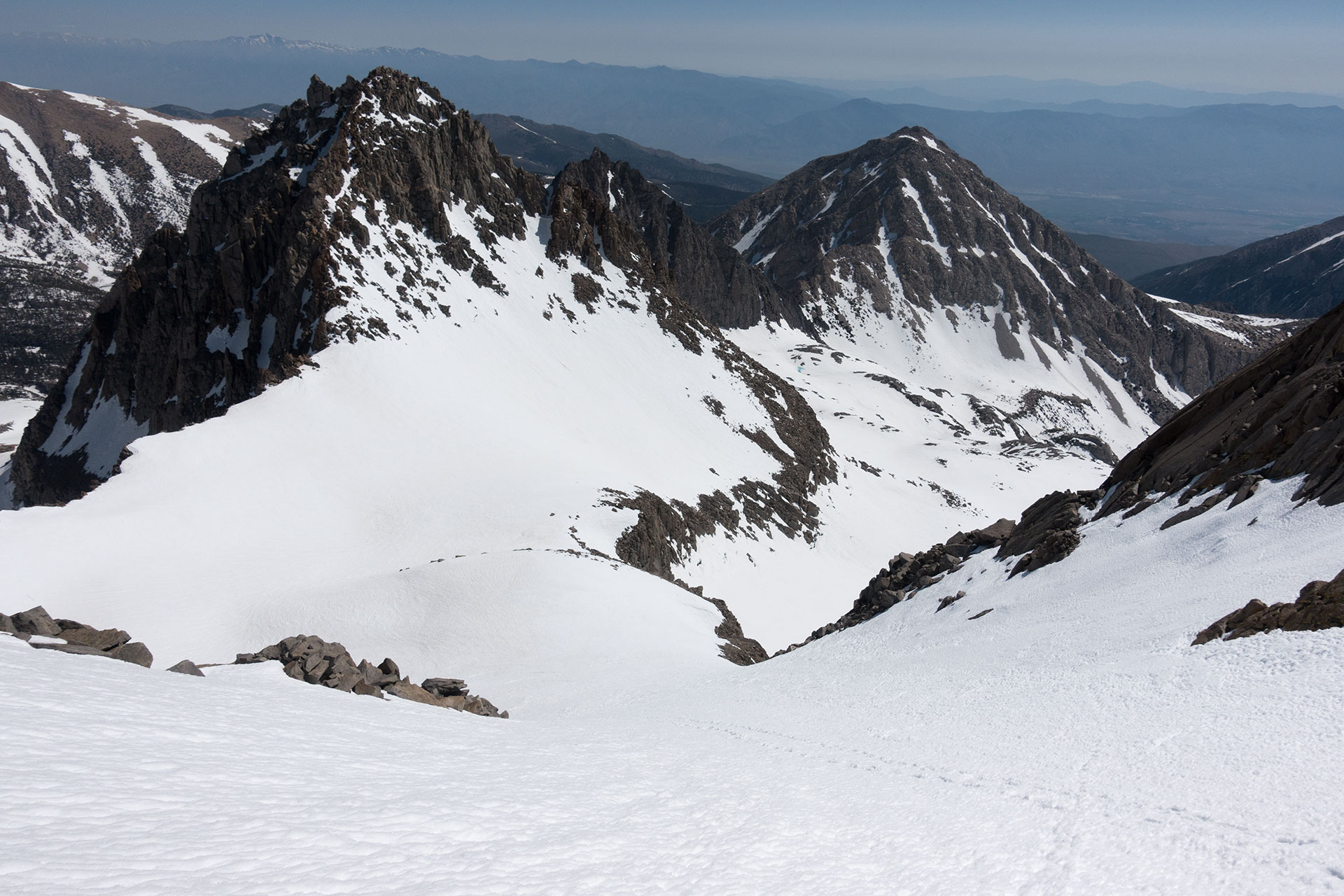 When it comes to Fourteener snow, it's best not to be too picky. Conditions above thirteen thousand feet in the Sierra tend to be variable, invariably, at least in my experience.
Still, I'm hopeful the combination of the L-Couloir's northeast aspect, the intense morning sun, and the early hour will make for reasonably good spring skiing.
That's...almost the case. I snap into my Dynafits and drop off Apex Saddle into the belly of the not-quite beast. Things are already mushier than expected, and my legs are showing a bit of wear from the speedy 6K gain to get here.
No matter—this is still Big Mountain skiing, in a high Alpine environment, and it's spectacular.
I never fail to be astonished that I get to do things like this: me, of all people. Each and every time, no matter what the snow is like, I feel ridiculously lucky.
Mount Sill, I have to say, is shaping up to be one fine ski hill. True, there is no summit descent (not from this side, anyway), but the terrain is big, pure, and effortless.
It doesn't take long for me to turn my way down the couloir, taking the left at the bottom (the "L" shape) all the way to Glacier Notch, where I stop and peek over the edge at the Palisade Glacier below.
Well, that was fun. Let's climb back up this baby and do it again...
Glacier Notch and the L-Shaped Couloir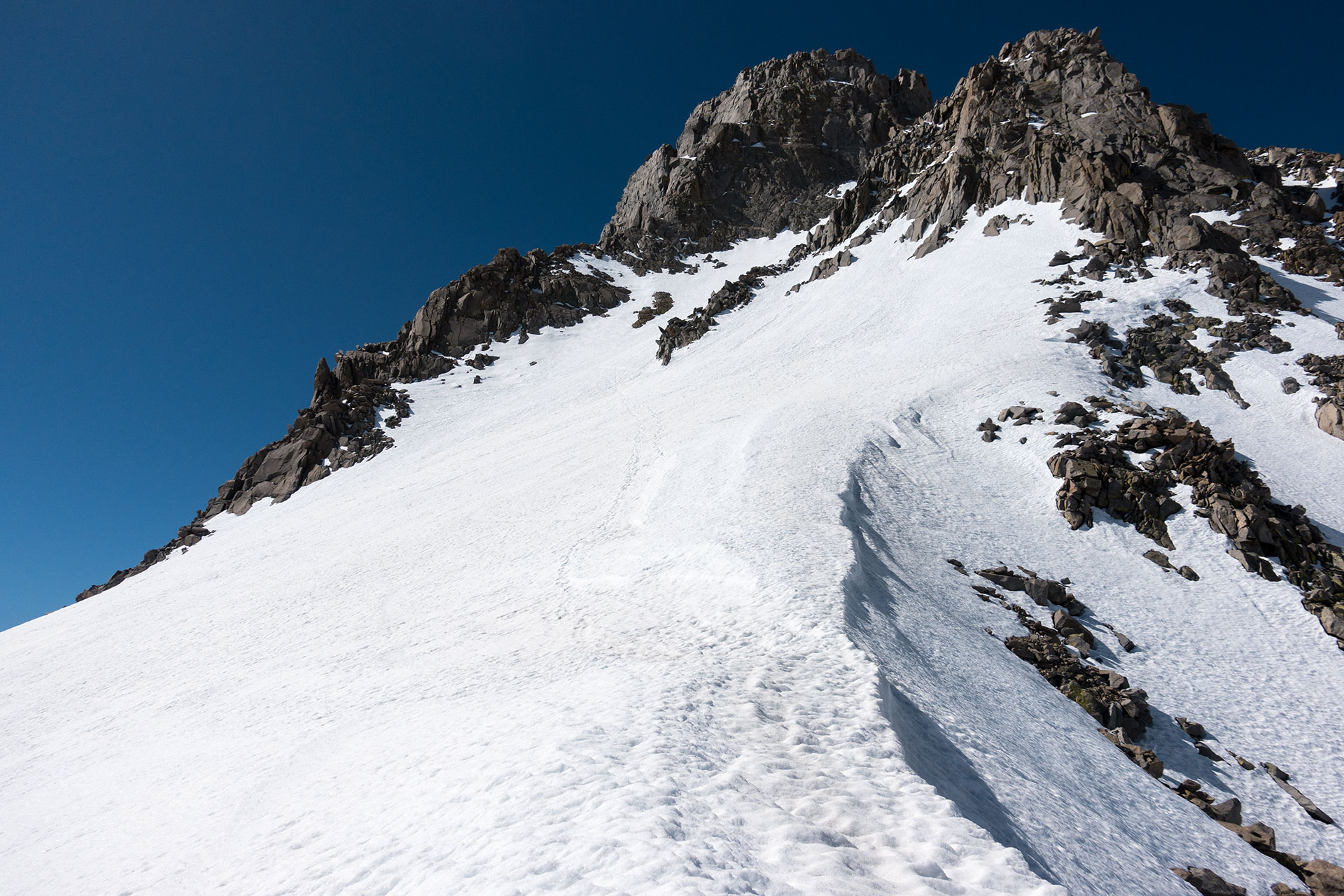 It would not of course be a Sierra Descent if things didn't go a little awry. I pop off my skis at Glacier Notch, take a hit of water, and strap the skis back to my pack.
Probably I've got about five or six hundred vertical feet of climbing to get back to Apex Saddle. No problem, say I. Then I take a step upward and sink up to my thighs.
Hmm. Guess that snow is even softer than I thought.
No problem. I'll just traverse a bit southward, where the snow is more sun-protected, where it ought to be a little firmer. More sinking. Gee. This is starting to look like it's going to be hard. Really hard.
I consider abandoning my double-trouble bid and just descending from Glacier Notch, but you know what? I want this thing, and no bit of hellish thigh-deep post-holing is going to stop me from having it. Not today.
I'm a long way from that first you-kicked-my-ass Sierra climb of The Thumb, where suspect fitness and high winds turned the day into a true beat down. No, right now, I'm lean mean Andy, and I'm going up, and nothing's going to stop me.
Nothing.
Not even—sink—if I have to—sink—fight for every—sink—goddamn inch.
Sink
Ok. I think. I need to take...
A little
Breather.
Just close my eyes here, and
Breathe
Deep Breaths
Slow the
Heartbeat.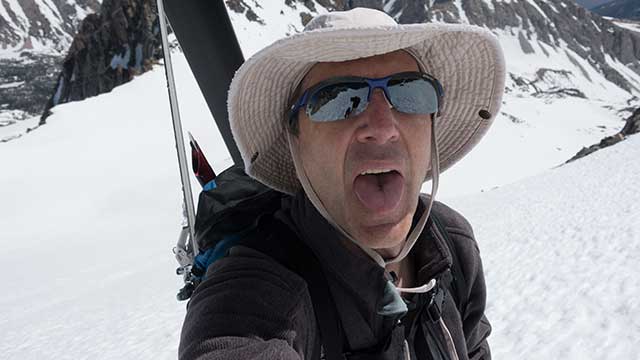 Wow. This is
I mean, how many more vertical feet do I have to go?
Can't be that much more.
Where are my Prestons? I need a Preston.
Someone—anyone—help me punch this thing out.
God
This is crazy
Madness
Please
Ok, just another
Quick break
Breathe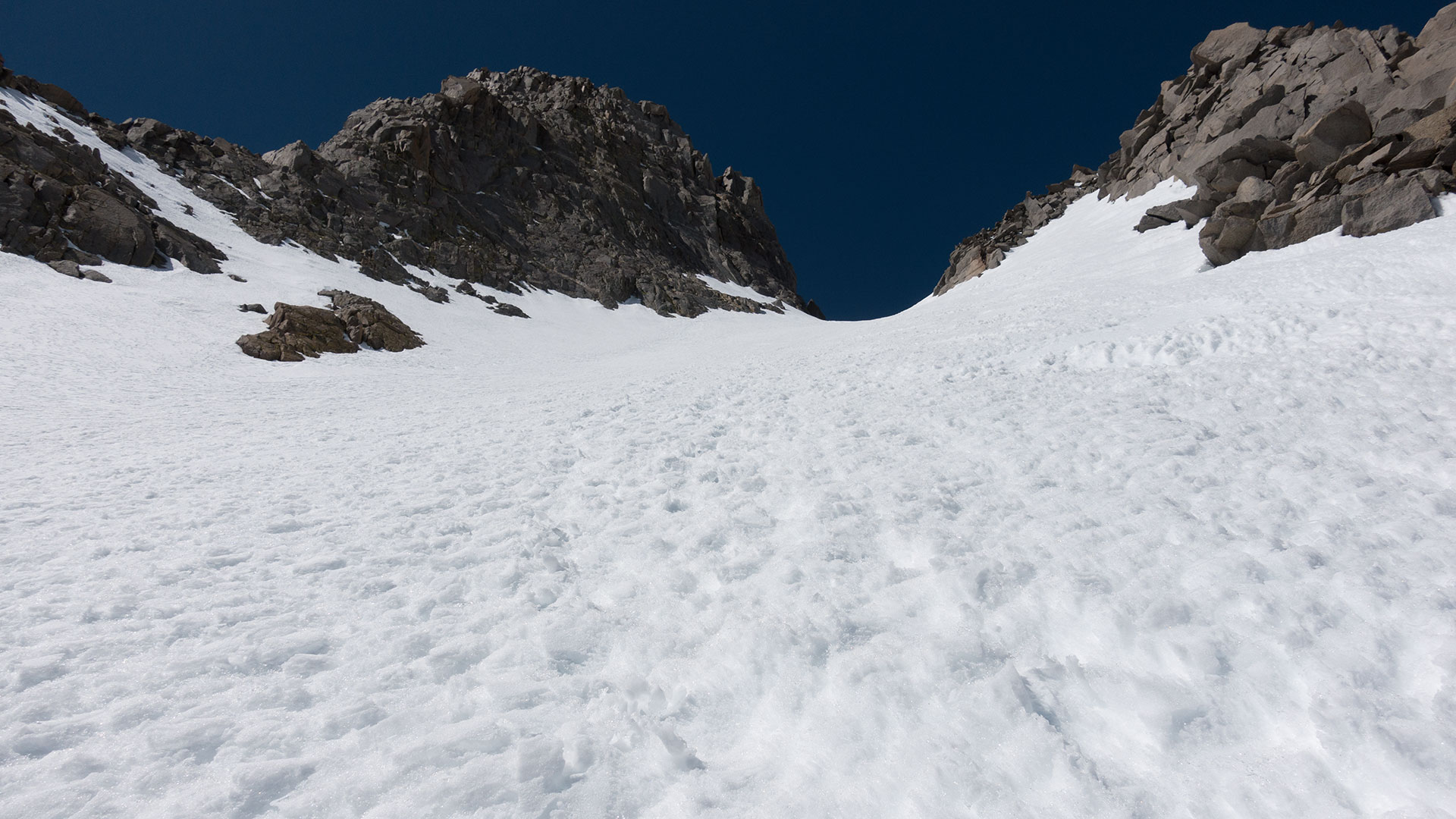 Mushy
No oxygen
But I'm doing it
I'm climbing this mountain
Again.
Northwest Couloir
Hope it's
A little softer
Old man and the sea
Nature always wins
Ephemerality
Is that even a word?
This is
Good
Heart Pounding
This is
What it feels like
To be
ALIVE
Back at Apex Saddle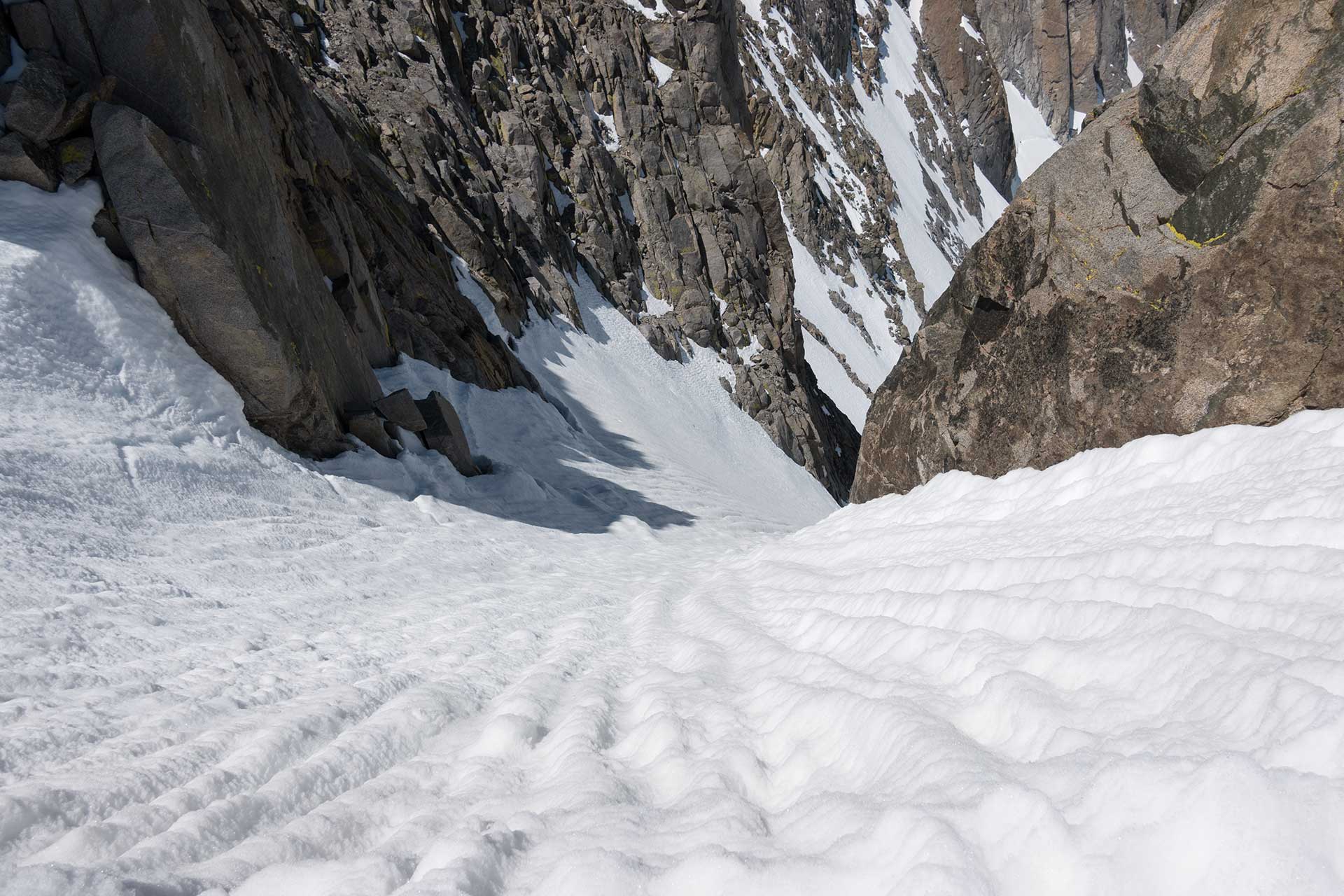 Wow. That was something. For a moment there, it was like the old days on Mount Williamson, going into my fugue state. Something incredible happens, sometimes, when you really push your limits.
Red-line that heart rate, keep it there. Find out what you're made of. Maybe I'm not quite as soft as I thought.
As for that unexpectedly hideous bout of post-holing, here's a few tips: first of all, don't give up. Fight for it. Second, assuming you don't have a pair of verts in your pack, you can actually use technique to deal with post-holing. Instead of stomping straight down, kick your feet in at an angle, as if you're trying to walk on your shins. This increases the effective surface area of your ski boots. You won't sink as deep. Might just get you to the top.
Though groveling and suffering is probably still your best bet.
On to skiing: I collapse at Apex Saddle and actually video myself gasping for breath for a few minutes, for posterity's sake. Will show it to the kids if they ever complain about how hard hiking is.
10:52 a.m. The sun has made it to Sill's Northwest Couloir by now, but the snow still looks very firm. Damn. But I'm not willing to wait any longer for it to soften.
So, it's going to be a little crunchy today.
I snap into my skis again, round two, this time being a little more careful to check that both boots are securely locked into bindings, that walk-mode switches are firmly in the ski position. Given the firmness of the snow, there's just enough exposure here to warrant a little caution.
Skiing the Northwest Couloir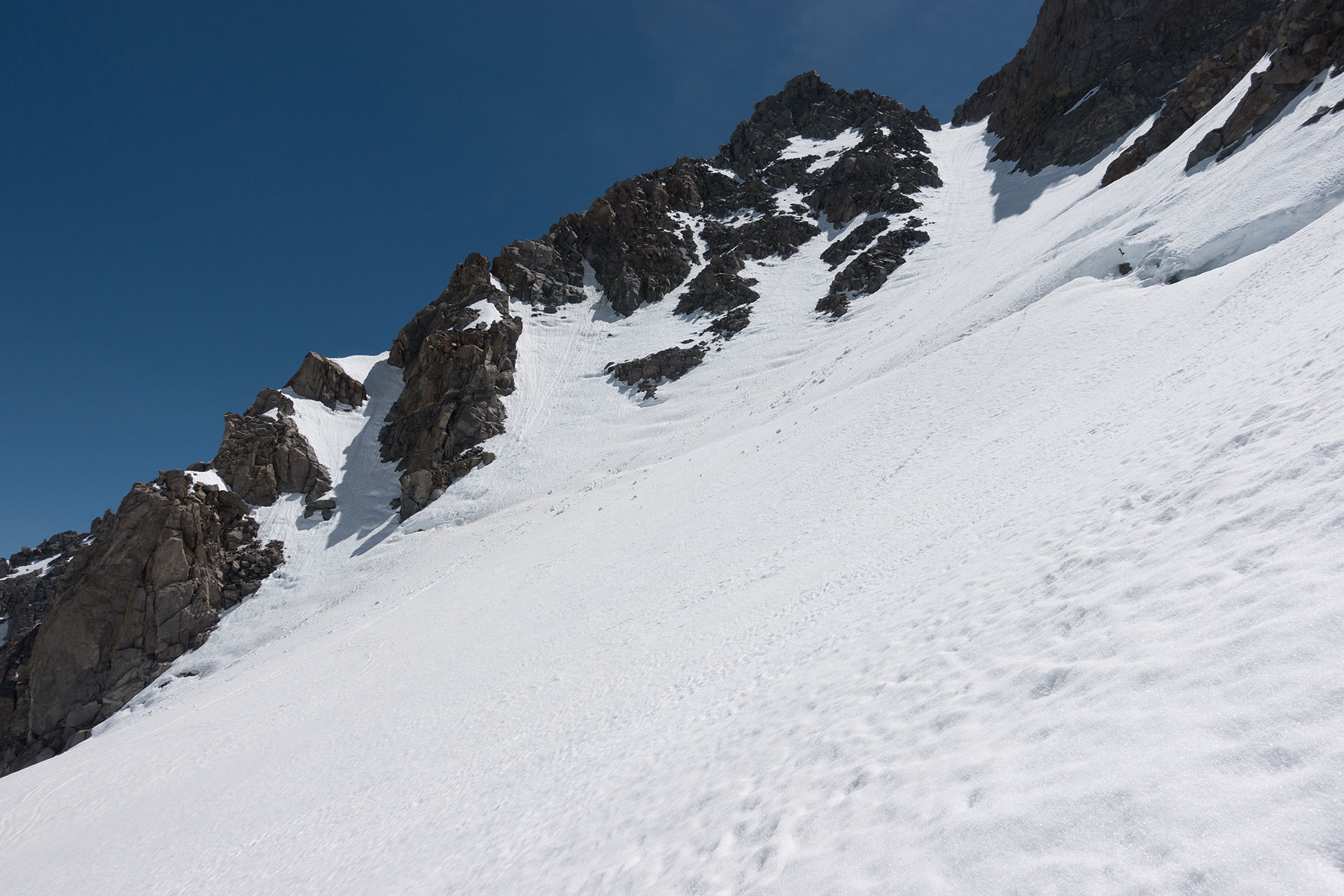 I have to tell you, Mount Sill's Northwest Couloir is a really cool line. Tucked into its crevice behind Sill's northwest buttress, the couloir is wholly different from the L-Couloir, quite a bit wilder, much more in keeping with the Palisades theme of Alpine, icy, and steep.
I've become interested, lately, in this idea of not merely skiing things but skiing them well. It would be easy today, alone, to just side-slip down this line until the consequence diminishes.
But I want to see if I can ski it, not just survive it.
And so today I approach the couloir's steepness and firmness as another problem to be solved. I notice something right away: traversing on diagonals and initiating turns with a bit of entry speed makes it much harder to regain control after the skis come around.
You've got to burn off extra speed when you do that.
Instead, I try initiating turns from a complete stop, executing one quick pivot with a bit of knee roll to release the edges, then immediately getting back on edge to grind back to a total stop. It works. Maybe its not the most picture-pretty technique, but it's taming the ice, enough so that I keep firing off turns, one after another, burning vertical.
I stop.
I see another climber in the distance, traversing the Palisade Glacier, heading toward the base of the U-Notch couloir. I'm tempted, momentarily, to join him. But maybe we've already packed enough adventure into today.
Back to the skiing, and all too soon, I'm crossing the bergschrund and once again sliding on the glacier. I spin around, after a hundred yards or so, to get a good look at Sill's northwest couloir. It's a beauty.
We still get to traverse Palisade Glacier beneath Mount Gayley, then ski the two thousand vertical feet of snowfield adjacent Temple Crag. Then it'll be time to switch back to hiking boots and grind down the long, long trail home.
Afterword: The Palisade Glacier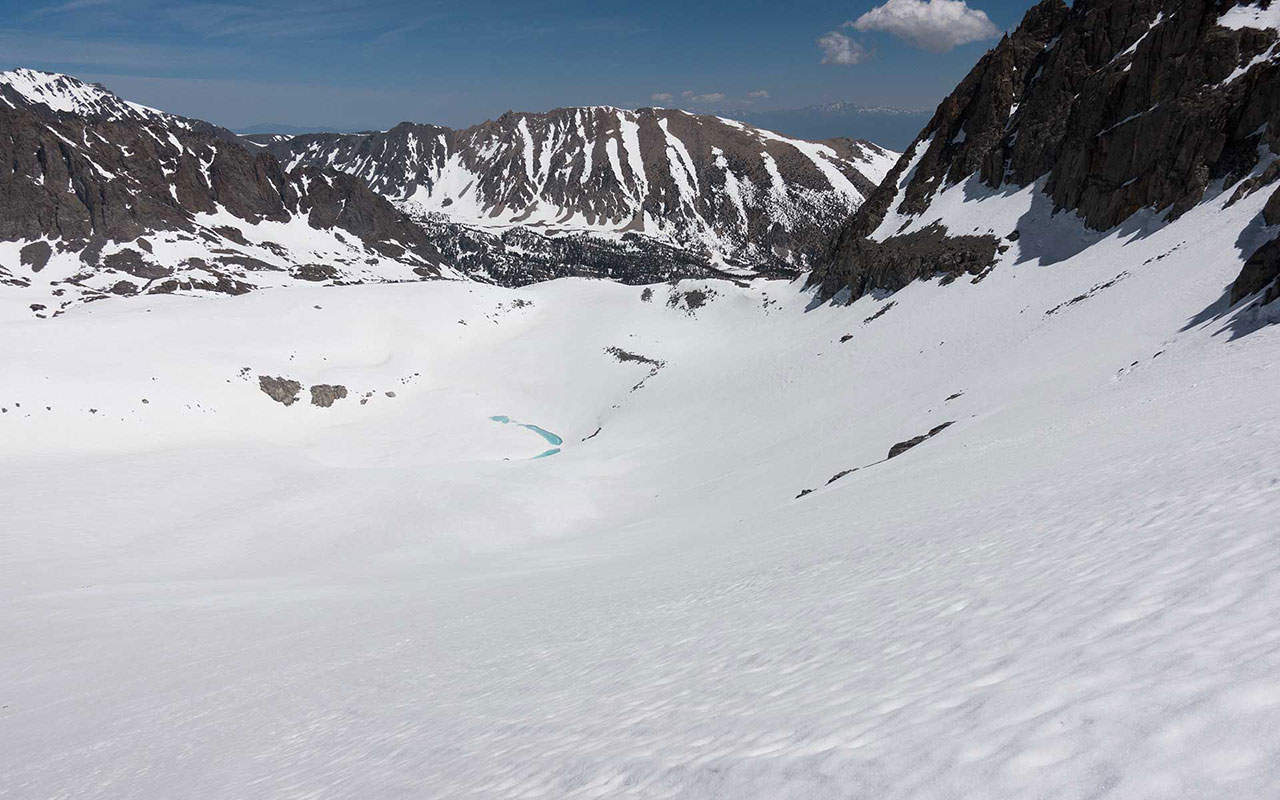 Do we worry about crevasses on the Palisades Glacier? Not so much. This is partly because the Palisades is a small glacier (and getting smaller, unfortunately, every year), and partly because the topography doesn't favor significant crevasse formation.
Partly also, we are all somewhat insouciant Californians who tend to have difficulty taking seriously the notion of hidden crevasses in our sunny Southern Sierra snowpacks.
That said, the guides at least tell stories of people falling into crevasses on the Palisades Glacier—albeit small ones.
And this entire discussion of course does not apply to the bergschrund—the crevasse that forms between the glacier, which is ever-creeping downward, and the stationary permanent snowpack in the couloirs above.
Palisades bergschrunds can become massive, especially later in the year as everything begins to melt out, and more than one Palisades climber has been bitterly disappointed to find them utterly impassible when conditions are otherwise prime for summitting.
In general, the bergshrunds are best crossed where they are covered and/or filled by avalanche debris, so they are least problematic in May and June, especially following big winters that have dropped lots of snow. Later in Fall, or anytime following a poor winter, they can indeed form a intractable moat separating you from the high peaks above.
But that's ok. This is the Palisades, after all.