Whitney's North Face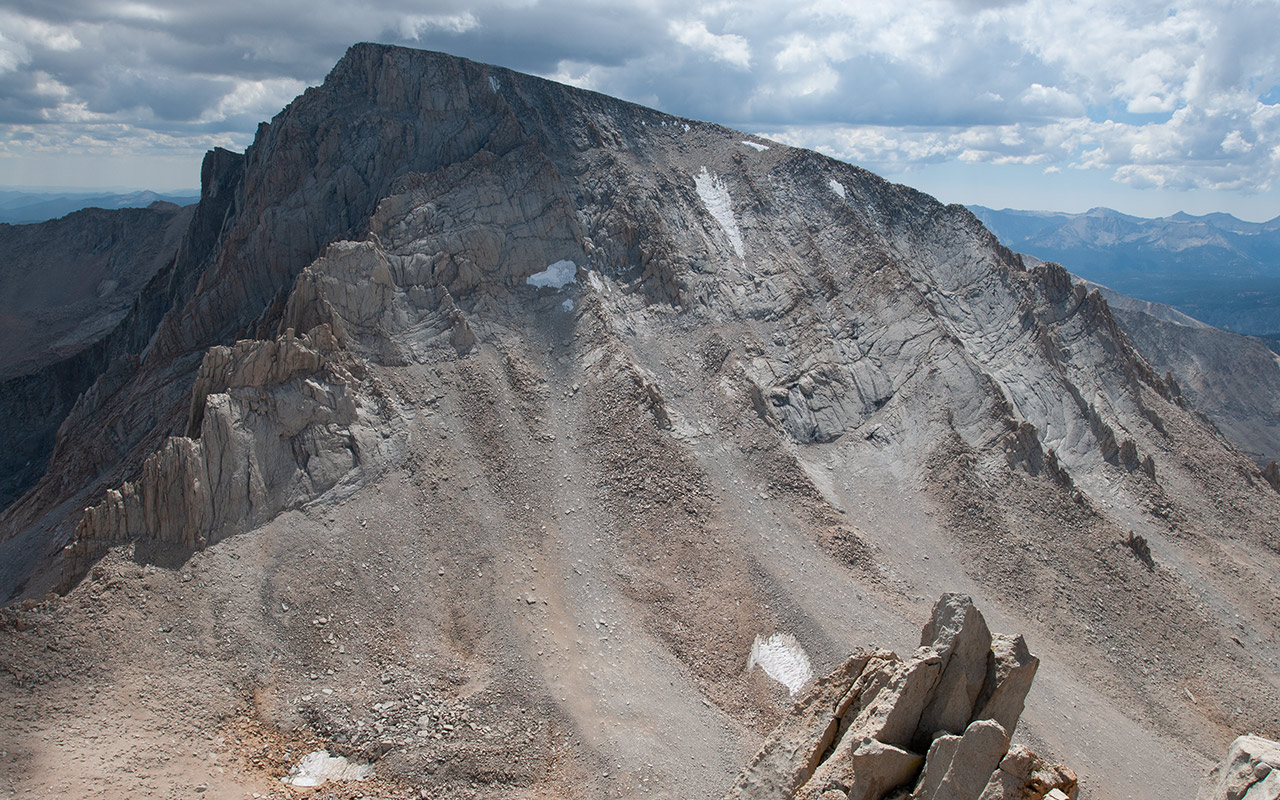 For the best view of Mount Whitney's north face, try climbing Whitney's next door neighbor, fellow fourteener Mount Russell. From the summit of Russell you can clearly see how big and bold the Whitney massif actually is.
Mountaineer's Route climbers, your east chute is hidden in this view behind the striking buttress that begins at the lefthand side of the photo. The east chute tops out at the top of that buttress, joining the north face (here, in shadow) for the dreaded climb-vs-traverse option.
You can see why the north face tends to be a problem.
Choose to traverse, and you must cross a series of icy north chutes, all perched high above Whitney's impressive network of north-facing cliffs and slabs, to get to the broad west face and easy ground to the summit.
Climb up directly instead, and you may be able to avoid the ice, but you won't be able to avoid rock—an airy 400 vertical feet of climbing and scrambling that will surely make you question the standard Class 3 designation.
In 2011, Trevor Benedict and I skied the north face proper, starting from Iceberg Col and wrapping around the base of the cliffs and slabs until we found a narrow thread of snow winding its way up to the snowfields above.
That might be the best way to ski Whitney, when the coverage is sufficient. You avoid the extremity and exposure of the Mountaineer's Route's upper 400 vertical feet, and you get to ski the whole of Whitney's north face.
Looking at this photo, it appears we could reasonably circumnavigate the Whitney Massif, starting at Iceberg Col, and then (hopefully) wrapping around to the west face and climbing up to Trail Crest. That sounds like a nice pick for the to-do list. Mount Whitney, California.
— March 25, 2020
Andy Lewicky is the author and creator of SierraDescents
Brad Brown March 26, 2020 at 9:26 am
Such a beautiful shot. This, like the previous post provide great perspective that a topo or even direct ascent can never reveal.

A couple of questions. Was the Muir summit block a difficult climb? I've read, seen the last 20-30' are bit daunting. Any chance you could mark off the MW north face routes you're reporting on? In general, what are your thoughts on bringing climbing gear (small rack, light rope, etc) on these outings? I look at it like all my gear, it's similar to the Covid protocols, which one will I slack on that later causes regret?

Really enjoying these posts in the Covid era...soon we'll be after it again-in training now. Thanks for stoking the fires!
Andy March 26, 2020 at 4:31 pm
For most people I think bringing climbing gear for Class 3 climbs is sort of a Catch 22. If you need it, you probably don't know how to use it (or at least don't use it very often), so maybe bringing it is just going to make it more likely you get into trouble.

This was the logic behind the Portal store's decision not to sell crampons. They'd rather you bring a guide rather than gear you're not well familiar with.

Muir's summit isn't difficult but it is climbing with lots of close-by exposure. A lot of people are capable of buzzing up and down these sorts of routes without thinking about it, but if you don't climb stuff like that regularly, it can definitely shut you down.