South Kaibab-Bright Angel Trail Loop
Hiking to the Colorado River (and back) in a Day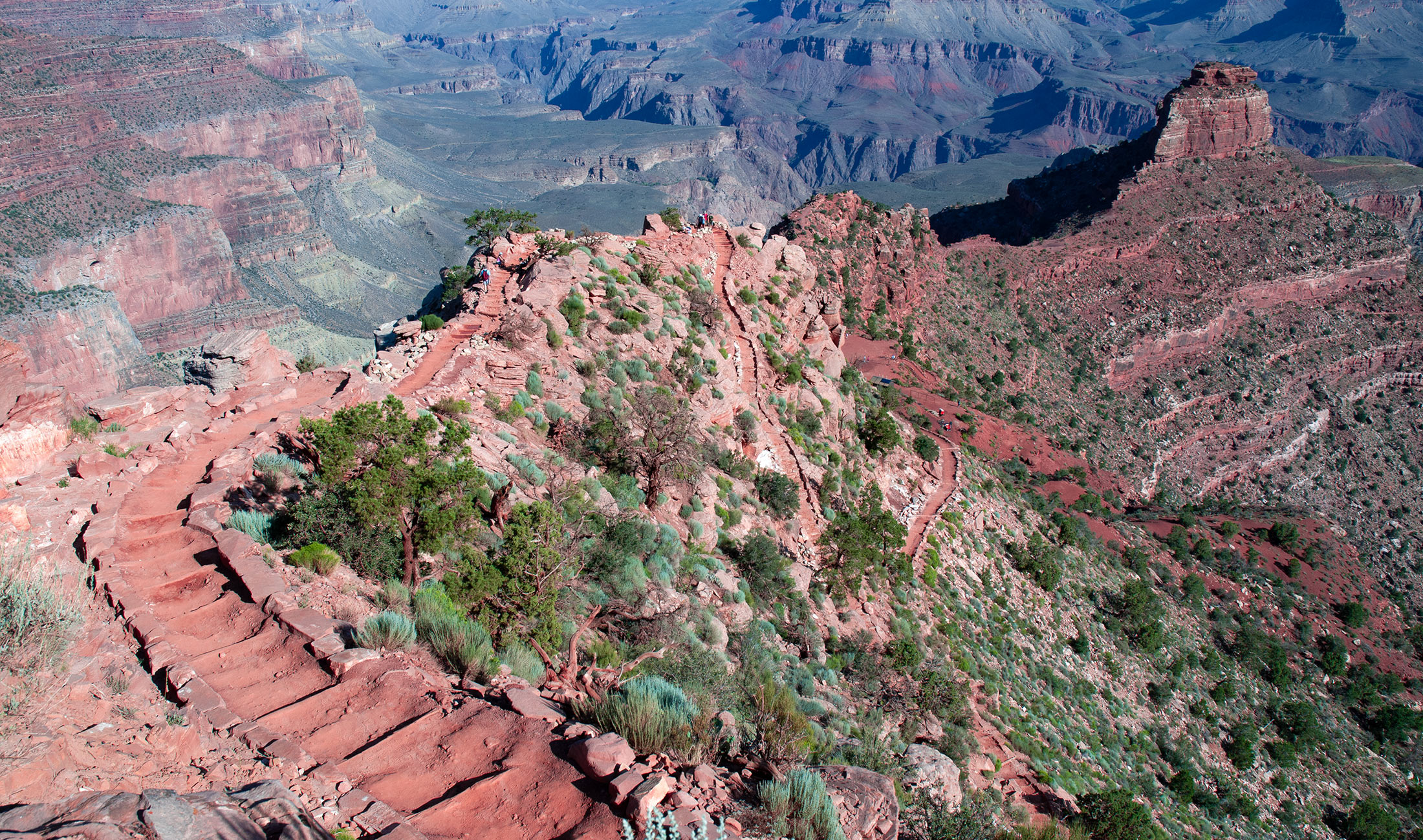 Grand Canyon, Arizona — It is only natural, standing atop Grand Canyon, to gaze into the depths below and wonder if it is possible to hike all the way down to the river and back in a day.
Hiking rim-to-river offers ambitious backpackers the ultimate Grand Canyon experience—an extraordinary 'trip through time' that traverses twelve distinct geologic formations. Attempting the entire round trip in a single day, however, is no casual outing.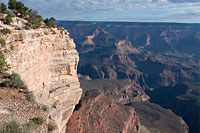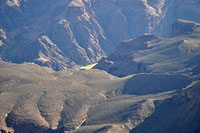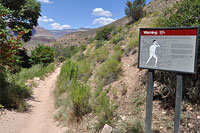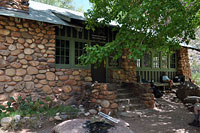 Seen from popular Yavapai Point atop the Canyon's south rim, the blue-green (or red-brown) ribbon of the Colorado River is a tantalizingly-close two horizontal miles away. But the river's apparent proximity is misleading.
Nearly a vertical mile of climbing lies between the bustle of tourists along the rim and the Colorado below—enough air, perhaps, to make even the least contemplative canyon visitor think twice before attempting to hike all the way down.
And then there are the signs: WARNING signs; lots of them, part of an active program to discourage rim-to-river day-hiking, including not just signs but also strategically-placed park rangers who attempt on the busiest days to intercept and turn back potential R2R day hikers.
Given the vast numbers of people who hike the canyon without incident each year, your first reaction may well be to wonder if the danger truly warrants such aggressive intervention.
But consider this: Grand Canyon park rangers rescue an average 300-500 people per year who hike in and then discover they can't hike back out. The Canyon may well be one of the most perfect terrain traps on the planet.
Armed with only a pair of flip-flops and a soda can, your average tourist can easily descend a long way into the Canyon's unique mixture of heat and depth, lured onward by gentle grades plus a never-ending parade of scenic wonders. When said flip-flopper finally does turn around, they are already dangerously dehydrated, exhausted, and overheated, at which point they discover going up is much, much harder than going down. It is a recipe for disaster every bit as brutal as it is effective.
The most popular time to visit is summer, and it is here that conditions are the most deadly. But anytime of year, the same basic threat exists: Grand Canyon's ability to overwhelm even experienced hikers cannot easily be put into words. Indeed, veteran hikers and highly-conditioned athletes are perhaps more likely to get into trouble below the rim.
And in this at-risk group I'm a perfect match: fit, experienced, ambitious. My experience is telling me that attempting a summer rim-to-river day hike is madness, but the truth is I don't always take my own advice. I know I can get all the way down to the river—but can I get back up? It is a chilly August morning atop the South Rim of the Grand Canyon. I'm here, and I'm about to find out.
South Kaibab Trail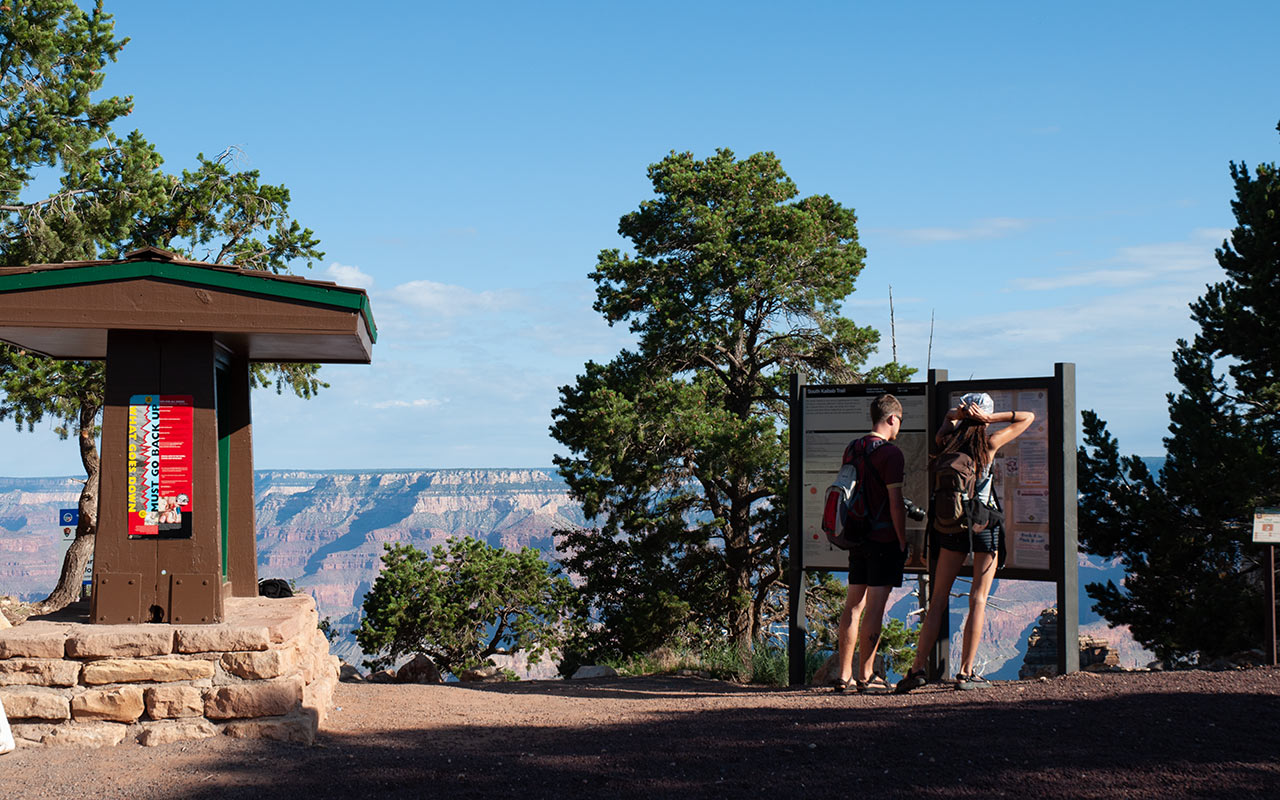 The South Kaibab is a hiker's trail. By that I mean it has all the qualities that delight: it is the shortest, steepest, most scenic, most efficient path to the bottom of Grand Canyon.
From the trailhead on the the south rim, elevation 7260', the South Kaibab trail takes you to the Colorado River, elevation 2400', in a mere 6.3 miles. For much of the way the South Kaibab follows the top of a prominent ridge, offering arguably the most expansive views to be had from any of Grand Canyon's major trails.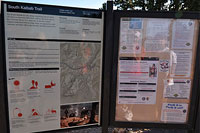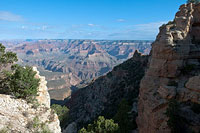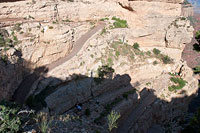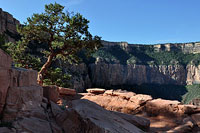 Those stunning ridge top views come at a price, however. Aside from a water faucet at the trailhead and the Colorado River below, the South Kaibab is waterless in its entirety. It also offers comparatively little protection from the sun. Thus, the South Kaibab is a favorite of experienced canyon travelers for going down, but quite a bit less ideal for coming back up.
Thankfully, there is an alternative exit: the Bright Angel Trail.
More on this subject to come... For now, I'm having trouble just getting to the trail. Visitors can no longer drive to the South Kaibab trailhead; access to Yaki Point is via shuttle bus only.
After parking at the Bright Angel Lodge, I make a foolish attempt to hike to the trailhead via the Rim Trail. Eventually I give in and ride the necessary shuttle bus, but the roundabout costs me a full hour. I don't arrive at the trailhead until a very late 8 a.m.
I'm certainly relived to finally be on trail, but truth be told I'm more than a little anxious about today's endeavor.
Mentally I run the numbers, trying to calculate how long it will take me to get to the river and then Phantom Ranch—my official turnaround point. At Phantom I plan to rest and eat, then begin the long, long climb back out.
When hiking Grand Canyon's Walter Powell Route a few years ago, my brother and I tried beating the heat by resting for several hours at the river, hoping to avoid the heat of the day.
In actuality, the hottest temperatures in the inner gorge often occur in late afternoon, which pushed us to our limits when we tried to hike out. Unless you're willing to hike out in the dark, an alternate strategy is to reach the river early and then try to get out of the inner gorge before noon.
If you succeed, you will make it out of ostensibly the most dangerous part of the canyon before temperatures skyrocket. But if you miscalculate, you'll find yourself trying to climb out of the belly of the beast at the worst time possible.
Meanwhile, as you'd expect from a trail that drops one mile in six, the South Kaibab wastes no time heading downward. From the information sign atop the rim, the upper part of the trail immediately descends through the canyon's sheer upper layer of Kaibab Limestone via a series of plunging switchbacks that contour in shade along the north side of Yaki Point.
Enjoy the shade while you can—once the trail pops around the end of the point, the sun will be a constant companion. Quick and easy downward hiking gets me surprisingly far down the canyon in no time, through the Kaibab and Toroweap formations, and then through the Coconino Sandstone. I'm always amazed by how distinct Grand Canyon's layers are.
One moment you're tromping on chalky-white dust through Coconino Sandstone; the next, you're walking on the vibrant red-orange sand of the Supai Group—a little drama of diversity that replays itself over and over again. It's worth calling attention to the ease with which we're dropping down into the canyon. In this short and speedy half hour, I'm already nearing the Cedar Ridge overlook, over a thousand vertical feet—already—below the rim.
Cedar Ridge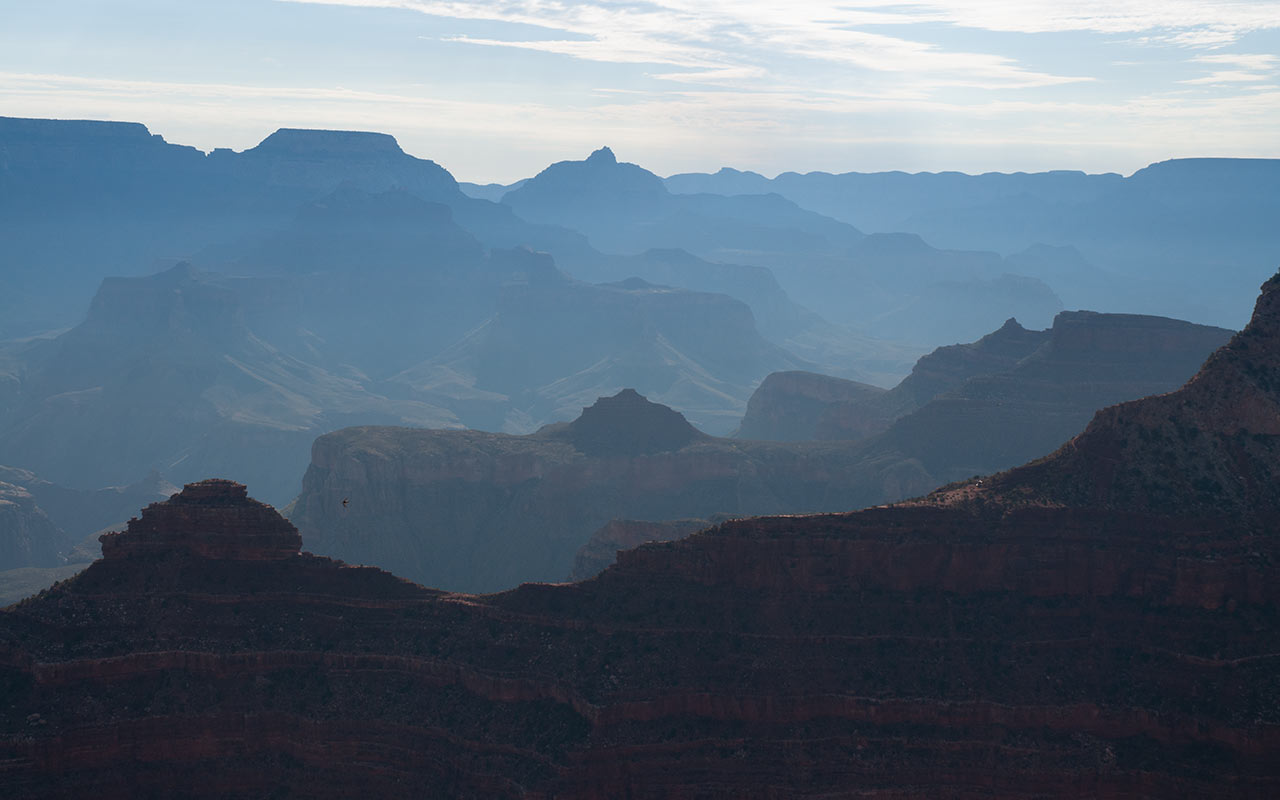 Whenever I visit the Grand Canyon—be it for a multi-day hike or a day tour or just a quick visit to the rim and the Bright Angel Lodge—I always feel very privileged to be here.
Given my later than wanted start and the intimidating magnitude (and general foolishness) of my hiking itinerary today, I've been more focused on logistics than scenery, but that's gradually changing as the canyon's incredible and ever-changing vistas simply become too extraordinary to ignore.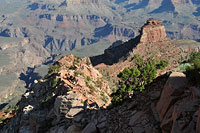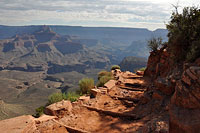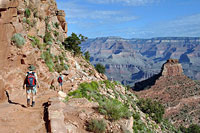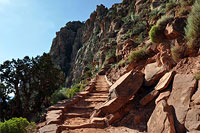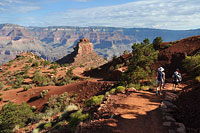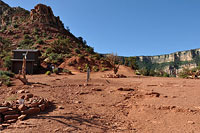 What leaps out at me first are the colors.
In all directions, Grand Canyon presents an extraordinary palate of colors, as if I'm walking right into the canvas of the world's greatest masterpiece. And perhaps I am.
Cedar Ridge, as mentioned, is a recommended turnaround point for day hikers, and it is a fine destination indeed.
The rest stop proper sits roughly a thousand vertical feet below the rim, halfway between Yaki Point and O'Neill Butte, which is the first prominent summit along the ridge below the rim.
Though it is waterless, Cedar Ridge is one of the stopping points for the mule trains that go up and down to Phantom Ranch.
Here, you'll find a broad, burgundy-dusted flat with—yes—a few scrubby cedar trees and outstanding views both north and south off the ridge's spine.
As an introductory hike to the Grand Canyon, you can hardly do better than the quick drop to Cedar Ridge.
Bring a liter of two of water, avoid the hottest part of the day, and marvel not only at the scenery but also at how hard it is to climb back out from here when you turn around to head home.
When you do get out, consider that you've only traveled about 1/5 of the way down—and consider your future canyon hiking plans carefully. Today I'm carrying two liters of Gatorade for the trip all the way down the river.
This quantity would be lethally inadequate for climbing back to the rim, but my return route, up the Bright Angel, features regularly spaced water sources. These, as we shall see, will prove critical not only for drinking, but also for cooling off. As for the weather, I'm watching the sky carefully.
Temperatures are already warming up, and I'm starting to sweat more than I'd like considering I'm heading down. Part of the reason I'm trying this hike in August is that we're currently seeing a bit of a cold snap. Hi temperatures today at Phantom Ranch are forecast to hit a relatively modest 99 degrees Fahrenheit. While that should sound dangerously hot on its own, it's a far cry from the more typical 105-110° that Phantom often reaches this time of year.
Let me just go on the record now and say that if temps are forecast to hit anywhere near 110 or higher, rim-to-river day hiking is suicide. Also relevant today is the summer monsoon. I'm counting on afternoon thunderstorm buildup to create shade (and hopefully even rain!) for me during those critical high noon hours when the sun is capable of cooking your brain into oblivion.
In this last regard, the day is already looking drier than I'd hoped. If there are going to be clouds today, they'll be scattered at best, and rain seems unlikely. A few minutes past Cedar Ridge, I stop to drink fluids and eat some salty foods. Beyond here, I'll be committed to looping via the Bright Angel Trail, so I take a moment to assess how I'm feeling and how the day looks.
The verdict: onward.
Skeleton Point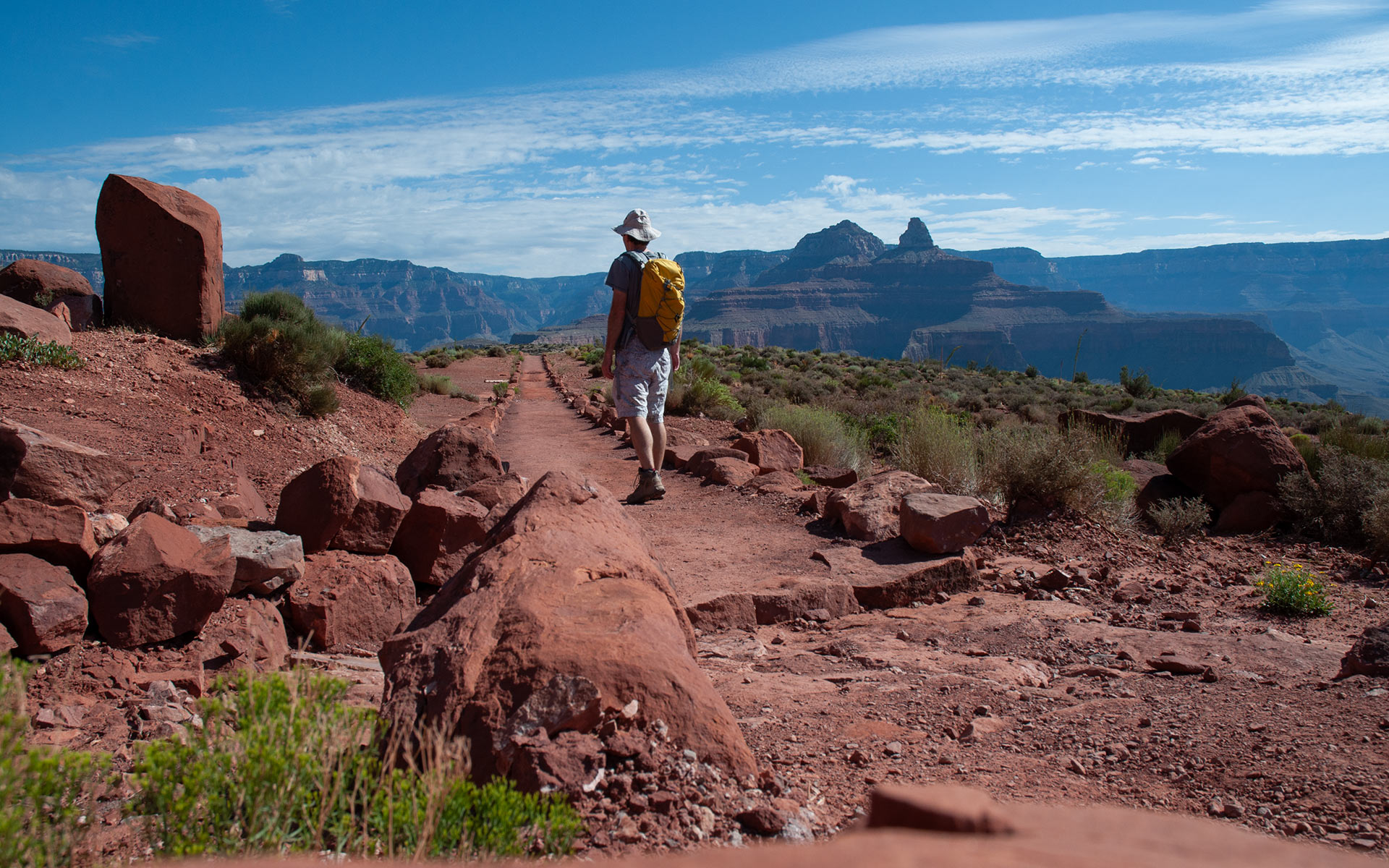 I am sympathetic to any hiker who goes farther down the Grand Canyon than they intended. It's hard to turn back. Every step, it seems, brings fresh wonders into view.
And, of course, going down, you can quickly cover a lot of ground. After Cedar Ridge the trail proceeds in a straight line past O'Neill Butte, all the way to Skeleton Point without a switchback—the maximum distance the park recommends for day hikers.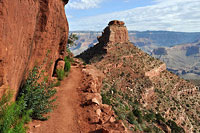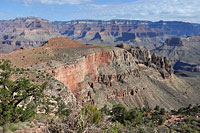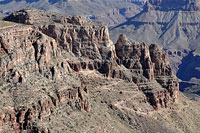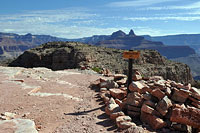 Past Cedar Point the few other day hikers I've been leapfrogging gradually turn back, leaving me feeling as if I'm the only person in the canyon today.
This sense of solitude might be hard to imagine for those who've only experienced the busyness of the South Rim and Grand Canyon Village, but the canyon is a big place.
Get far enough into it, even on one of the main corridor trails like the South Kaibab, and soon enough you'll find yourself entirely alone.
Though the trail between Cedar Ridge and Skeleton Point runs straight, I can see an extended section of switchbacks ahead. Soon, enough, we'll be losing elevation again.
Here on this last flat section before the drop to the Tonto Plateau, the ridge offers another round of stirring views, including a dropoff-overlook to the north.
I stop to scout my return route. In the distance I can just make out the thin line of the trail to Plateau Point, an overlook near the Bright Angel Trail. In this moment, the scale of my planned loop hits home.
Behind me now is O'Neill Butte, and far beyond that, the lofty summit of Yaki Point and the rim. Already, I feel a long way down, though I'm still not even halfway to the river.
No doubt about it: this is an intimidating hike.
The last bit before Skeleton Point is a flat plain that seems to hang over the rest of the canyon. It would be easy to mistake this section for the Tonto Plateau, but in fact the Tonto is still another thousand vertical feet down.
I put my camera on a rock and snap a shot of myself.
One of the the things that is lost to visitors on the rim is the true depth and breadth of the canyon.
Seen from the rim, the perspective tends to flatten. But when you begin hiking down into the Grand Canyon, you quickly come to realize that the Canyon is actually a vast, three-dimensional space. Thus I find myself now on a large, flat plain that feels much like a valley floor. And below this tier is the even-larger expanse of the Tonto Plateau, which is perched itself above the Canyon's Inner Gorge and Colorado River.
Hiking the Canyon, you develop a physical sense of the topography, seeing it not merely as a great hole in the ground, but rather a dizzying labyrinth of soaring buttes, plunging ridges, and yes even broad, flat regions like the one I'm presently traveling. What is perhaps most striking is the way these disparate zones abut each other, transitioning with jarring abruptness from one plane to another.
And so it is when I reach the alarmingly-named Skeleton Point. Here, the flats end in an impressive dropoff atop the Grand Canyon's Redwall Limestone layer. A hitching post for mule trains and a small wooden sign complete the amenities at this pit stop. Below, the trail aggressively descends through the Redwall's sheer cliffs.
Tonto Plateau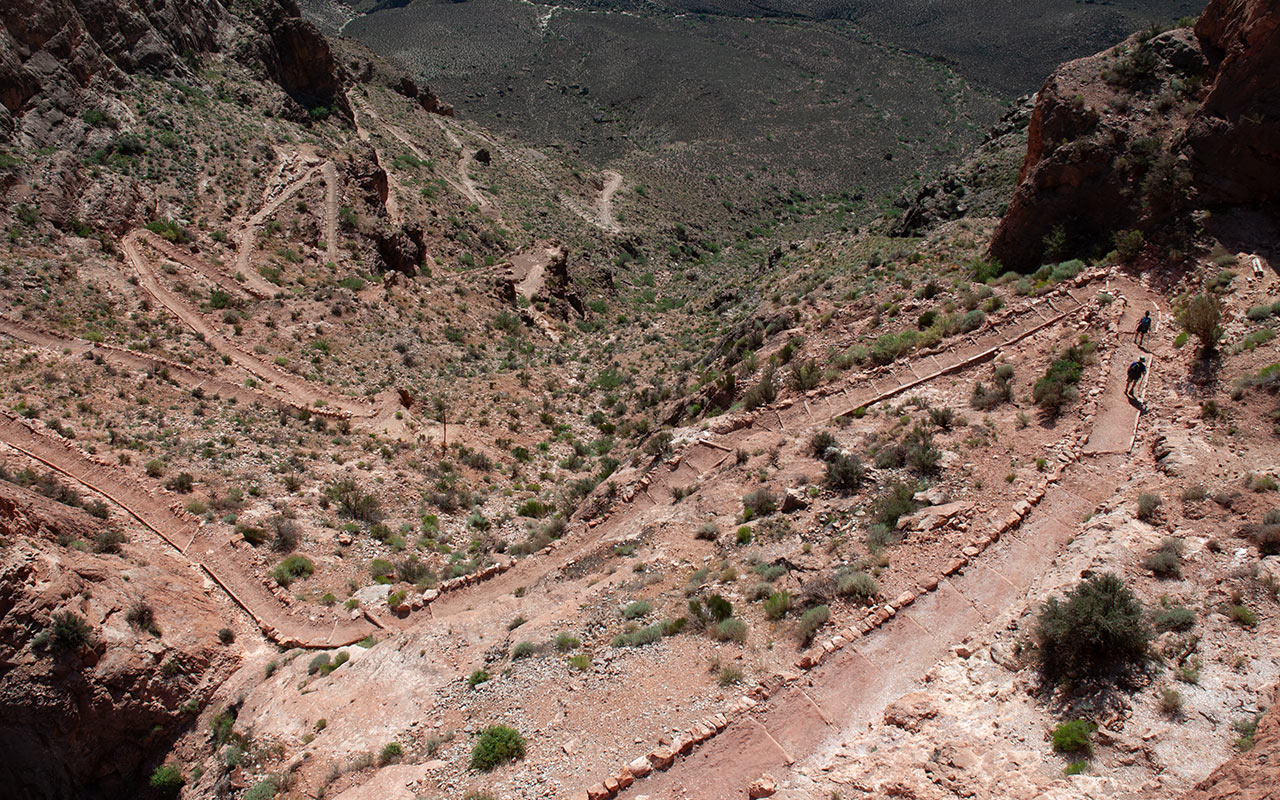 The genesis of the South Kaibab Trail, interestingly enough, is closely tied to its neighbor to the north, the legendary Bright Angel Trail, which was once owned by Ralph Cameron.
In the early 1900's Cameron had the ingenuity to employ a mining claim to turn the trail into his own personal toll road. Cameron fought a pitched legal battle over several decades to keep ownership (and visiting tourists' dollars), during which time the South Kaibab and Hermit trails were built to provide park visitors with a free alternative.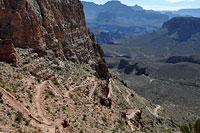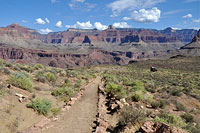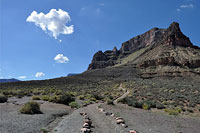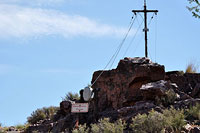 In this way, a Grand Canyon park brochure wryly notes, "Cameron inadvertently contributed much to the greater network of trails currently available for use by canyon visitors."
Below Skeleton Point, the South Kaibab reaches perhaps its most dramatic section, descending precipitously via a series of sharp switchbacks blasted directly out of the canyon's sheer Redwall Limestone cliffs.
We get a nice peek at the Colorado River here, plus a glimpse of Phantom Ranch and Bright Angel Campground, all of which lie some 1500 vertical feet below—so close and yet so far!
To the north, sharp eyes will also be able to see a sliver of the Bright Angel Trail winding up out of Pipe Creek Canyon and the Inner Gorge.
I've been feeling strong and fast thus far, but as I begin working my way down the steep switchbacks through the Redwall, I'm suddenly aware the day is getting hot.
Sweat is starting to get into my eyes, and I feel a touch of a headache developing.
It's a sign that I need to take a break and eat and drink more.
It's also kind of alarming, as after all I'm going down, not up. One would hope not to overheat during what is supposed to be the easiest part of the hike.
But remember: muscles work hard going down as well as up. The constant negative contraction of my quad muscles is generating a lot of heat, which my body must work to dissipate in an ever-increasingly hot ambient environment.
There are things we can do to compensate. Slowing down is the easiest and most practical option. Stopping and resting in a shady place (if you can find one!) is a fine idea as well.
In fact, hiding in the shade is your very best weapon.
If all goes to hell, drink a little water, pour a little water on your head, and curl up in the shade behind a boulder until the sun goes down. It might just keep you alive. After Skeleton Point's switchbacks I am at last on the Tonto Plateau, one of the Grand Canyon's most prominent features. The Tonto extends across much of the length of the canyon, a broad desert plain above the Inner Gorge.
If there was any question earlier about the time of year it is gone now. Here on the parched, windless Tonto, the day feels every bit like a sunny August morning with the broiler turned up high. The south rim's cool breezes and Ponderosa Pines are a distant memory now. Just ahead now is the 'Tipoff', which features a pit toilet and—appropriately—an emergency phone. I eye the isolated white clouds drifting across the bright blue sky overhead, still hoping some sort of shade will appear as the day develops. But the odds aren't looking favorable.
Here at the Tipoff, the South Kaibab Trail intersects with the east-west Tonto Trail. It's possible to cut the loop short here and avoid the Inner Gorge entirely by taking the Tonto Trail west to Indian Garden (and water) and the Bright Angel trail.
Be aware, however, that the route from here to Indian Garden is a long, hot, and dry four miles, and you'll likely be alone for the whole of it. Whichever way you go, you're a long way down now. Finding water—and staying cool—are the priorities.
The Inner Gorge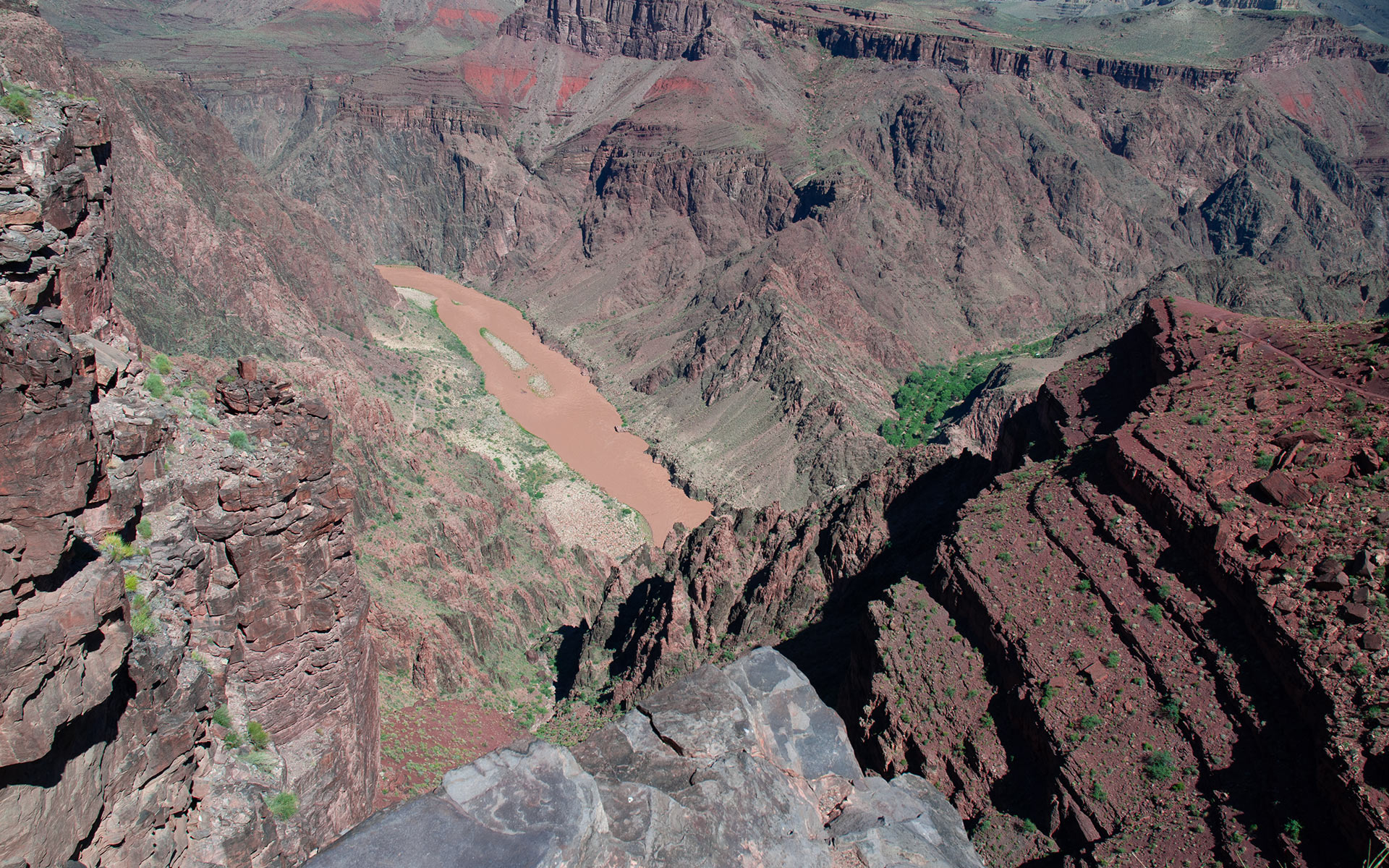 Steep, deep, and darkly-hued, Grand Canyon's Inner Gorge is an otherworldly landscape carved through metamorphic rock that is between 1.6 and 1.8 billion years old.
At the overlook just beyond Tipoff, the upper canyon's inviting reds, yellows, and oranges abruptly give way to Stygian blacks and garish hot pinks composed of Vishnu Schist and Zoroaster Granite forged deep within the Precambrian-era Earth.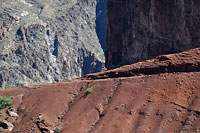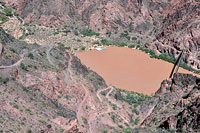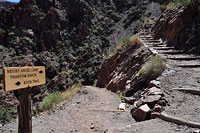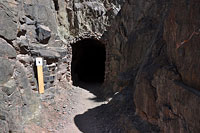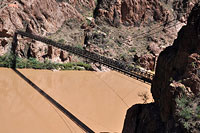 For the uninitiated canyon hiker, the Inner Gorge is yet another of Grand Canyon's seemingly endless surprises.
Not only does the gorge not in the least resemble the rest of the canyon, which is in itself disorienting, here you will find the canyon's hottest, most merciless temperatures, much worsened by the oppressive heat radiating off the Inner Gorge's dark rock.
To those who've spent some time in the mountains, the gorge's sharp vertical faces and spires may recall an Alpine landscape—sans snow.
And, as you'd expect where the land is dominated by sheer granite walls, travel off-trail here demands not merely hiking or even scrambling, but technical rock climbing skills, assuming you're lucky enough to chose a line where a climbing route exists.
Nonetheless, drawn by the sight of the nearby river, hikers in trouble do historically abandon trails here, trying to get to the water faster. Do not follow their example lest you share their fate: stay on the trail.
As I descend into the Inner Gorge, I am unquestionably sweating more than planned. It's ten a.m., still well before the hottest time of the day, and despite my best efforts I'm probably already veering toward dehydration.
The cool Colorado and Phantom Ranch's green Cottonwoods beckon, but first there are many switchbacks to be navigated above. I know I'll get there safely, but as the temperature continues to climb, thoughts of making it back out are starting to weigh upon my mind.
Climbing out of the gorge today won't be easy.
Down, down, down I go. The South Kaibab here follows the remnants of an earlier trail called the Cable Trail, built to access the old cable car system which was used to cross the river before Black Bridge was constructed, in 1928.
The trail's switchbacks continue down a pink granite buttress, stacked seemingly right on top of each other. At last, I reach the bottom of the switchbacks, and the intersection of the South Kaibab and River Trails. I could take the River Trail directly to the Bright Angel from here, bypassing Phantom Ranch, but it is worth it to go the extra distance for several reasons. Most importantly, Phantom Ranch is an excellent place to recharge and rehydrate yourself.
It's easy, with the sun beating down on you, to get into a sort of funk where you don't actually realize how hot, tired, and thirsty you actually are. Forgoing the extra 1/2 mile or so to Phantom might be penny-wise, but the rest you get there could well be invaluable when it comes time to climb back home. If that's not enough to motivate you, they have lemonade on ice at the general store—perfect for cooling your already-overcooked brain.
Phantom Ranch is also a strikingly beautiful place, an unlikely oasis in the midst of the canyon's hostile depths. Technically the river is the official endpoint of a rim to river hike, but I'm not stopping here. I turn right at the River Trail junction, heading into the tunnel that leads to Black Bridge and the Colorado River. I've made it halfway: I'm at the bottom of the Grand Canyon.
Interlude: Phantom Ranch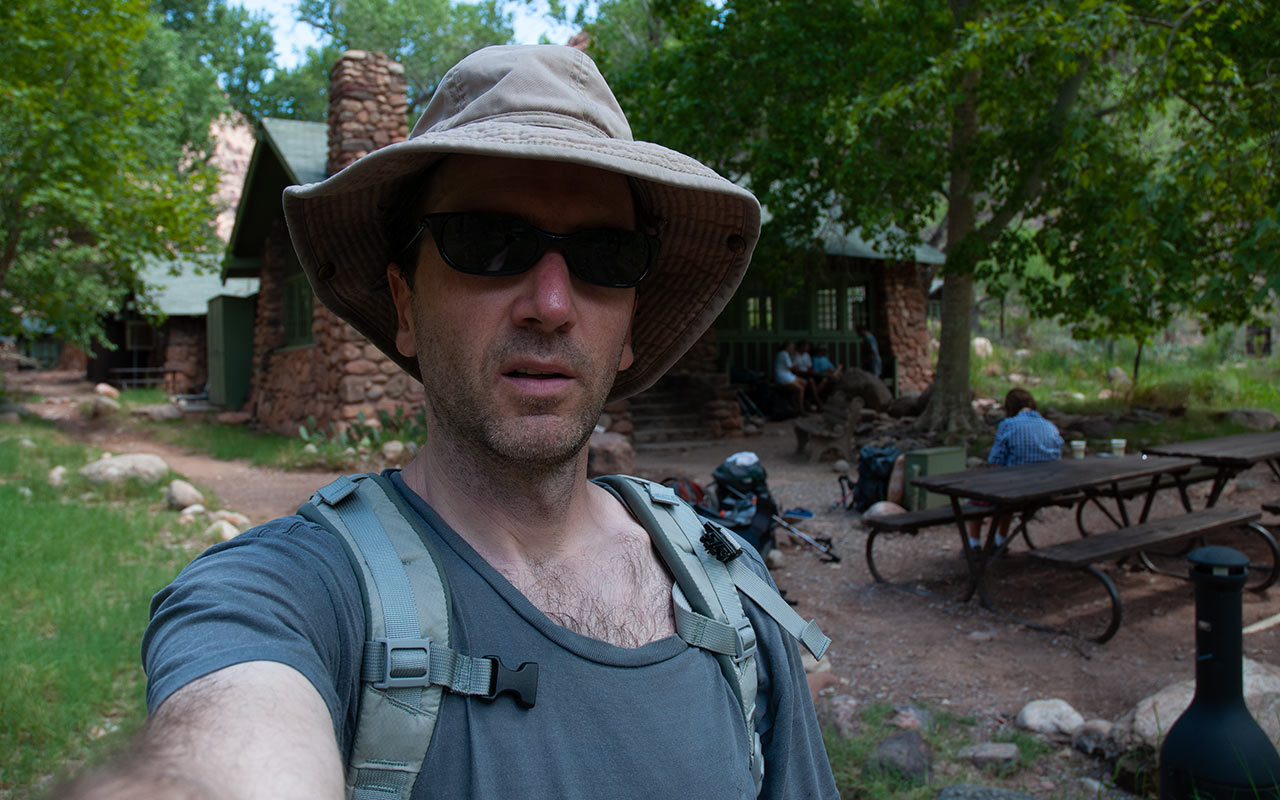 About halfway across Black Bridge it hits me that I'm starting to feel really, really hot. I need to find some water and cool off—now. If you're thinking of taking a swim in the Colorado: don't.
The Colorado River in the Inner Gorge is a dangerous, fast-moving beast whose unnaturally cold, 45-50° waters (thanks to Glen Canyon Dam) will quickly overwhelm even Olympic-caliber swimmers. Thankfully there is a perfect alternative: Bright Angel Creek, just ahead.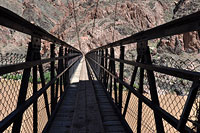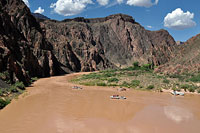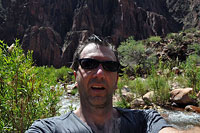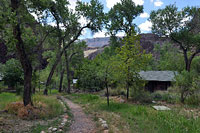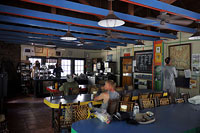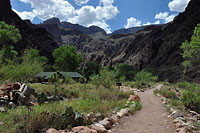 Across Black Bridge and maybe a hundred yards farther are Bright Angel Creek and Campground. At the creek I drop my pack and pour water over my head and shirt. This will become a constant ritual for the remainder of the day every time water comes in range.
Onward I go to Phantom Ranch, eager to get off the trail. Heat radiates up from the hot sand beneath my feet. The sun pours energy down from above.
But soon I'm shaded by the canopy of Phantom's broad Cottonwood trees, surrounded by green grass and the babbling waters of Bright Angel Creek.
This little paradise includes bunk houses, cabins, and even a general store. Visitors can book reservations for lodging and even meals here (advance notice required). Access is either via foot or mule train. Mules, incidentally, carry all of Phantom's precious supplies up and down the canyon.
I make my way straight to the general store, where I buy a big fountain lemonade on ice and bag of pretzels. Inside the store, I drink my lemonade and eat lunch, basking in the glorious air-conditioned interior.
I check the clock: 11 a.m. And what I'm thinking is, Aw, hell.
Really? Did I really think this was a good idea? I feel hammered. Outside the sun is cooking those Inner Gorge rocks into a frenzy. If there were an elevator to get me safely back to the rim, I'd take it right now without hesitation.
Time passes. I sip my lemonade, finish my lunch.
My body begins to cool, and my spirits rise a bit. It will take a careful and measured effort, but I'm starting to believe I might be able to hike out of here after all.
I lean back in my chair, enjoying being in this extraordinary place.
They say, geologically speaking, that hiking the Grand Canyon is like traveling back in time, as you pass through layers of rock millions and even billions of years old. But for me, arrival at Phantom Ranch causes time-travel on a more human scale, reminding me of the first time I came through here while floating down the Colorado on a rafting trip.
Then as now, the chance to sit for a few minutes in an air conditioned room (in a chair!) and drink a frosty drink on ice was a sublime luxury. My life in some ways is almost unrecognizable now as compared to then, but it's nice to see there are still threads of connection between the two. I still like to get out and hike now and then. And I still love the canyon.
I finish my lunch, and then, as tradition dictates, I purchase a postcard to be mailed here via mule at the USPS saddlebag dropoff. The clock says 11:30 a.m. It's time to get moving again. With temperatures outside still (slightly) below a hundred degrees Fahrenheit, there is a slim logic to hiking now, albeit at high noon, rather than waiting for the sun to go down. Either way, the easy part is over. Now it's time to face the reality of my situation: I'm at the bottom of the Grand Canyon, and it's up to me to get out safely.
The Hot Zone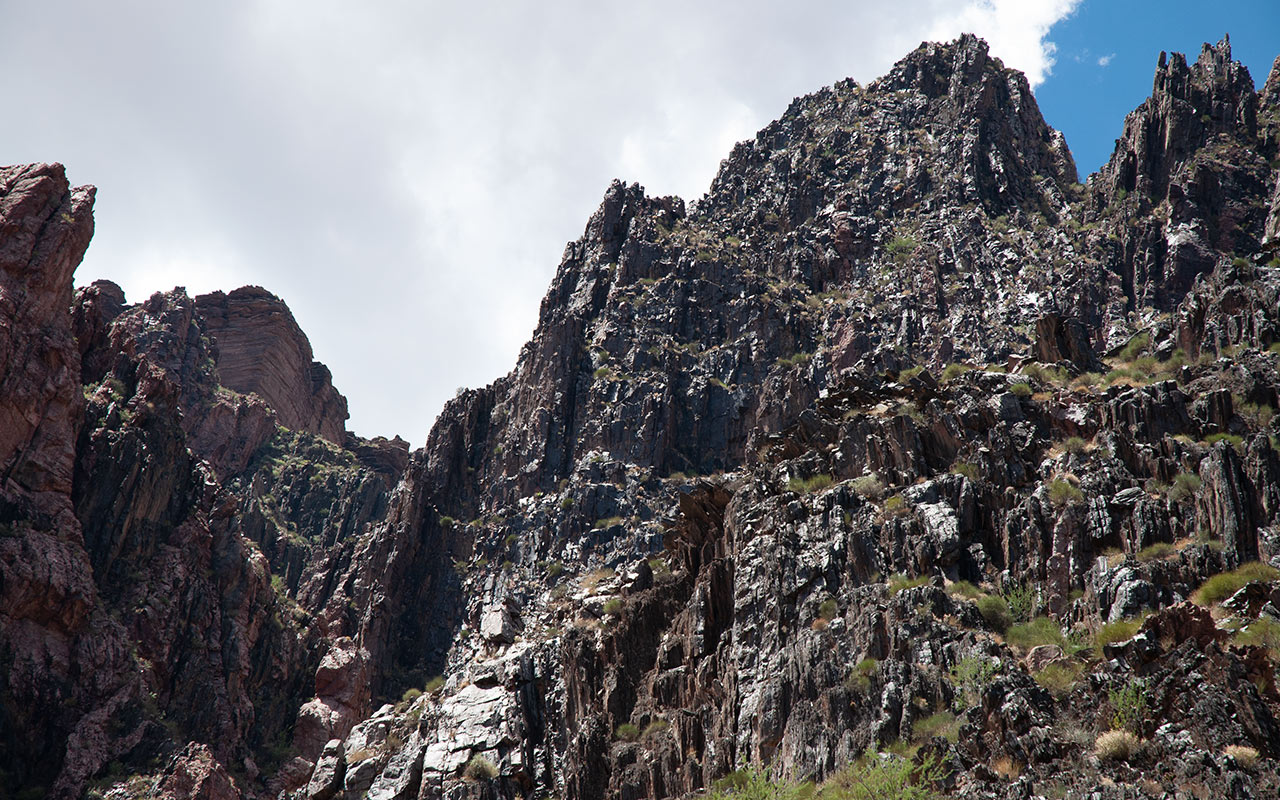 Black rock glitters in the sun like Devil's glass, radiating infernal, opressive heat in all directions. It's high noon at the bottom of Grand Canyon's Inner Gorge.
I feel the first assault of that heat as soon as I step out of the swamp-cooled air of the general store. Outside, I go right to the water faucet, where I soak my head, then my shirt, then my hat. Then I top off my water bottles, drink some water, top off again.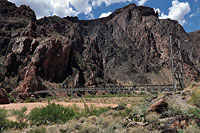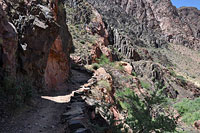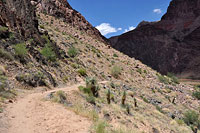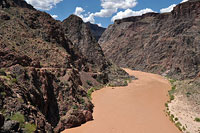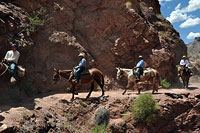 In the mountains, the big hills tend to act as their own gatekeepers, shrugging off the unprepared long before they reach the most dangerous parts of the climb.
Not so Grand Canyon.
The canyon welcomes you down, down, down with open arms. And when you reach the very bottom at long last, the canyon wraps those same arms tight around you in a death embrace that won't easily let go.
Once I'm out of the shade of Phantom's cottonwoods and back in the sun crossing Silver Bridge, that embrace seems very real indeed. Across the Bridge, I'll follow the River Trail westward for about a mile before turning south to head up the Pipe Creek Drainage and Bright Angel Trail.
My singular concern now is maintaining a stable body core temperature.
Staying hydrated is important also, but if you're not careful, it's easy in the desert to sweat fluid faster than you can replace it, leading to a war of attrition which can't be won. Consider also that as you sweat, you lose vital electrolytes which water alone won't replace.
In the ideal scenario, you travel slowly, keep your clothes soaking wet to minimize sweating, nibble regularly on salty foods, and drink small amounts of water almost constantly.
In the real world, your clothes dry out in the sun with shocking speed, your eyes get choked with sweat, your water (if you haven't run out) gets too hot to touch, and your rising nausea makes the mere thought of food unbearable.
Really, the best strategy on days like these is to just stay home! Slogging across the sand, I start to worry maybe I've missed the turnoff to the Bright Angel. Am I heading off to oblivion in the western canyon?
No—a mule train passes me, confirming I'm in the right place, on the main corridor trail. But that's how easy it is to get in trouble down here. Miss a turnoff or even just start doubting yourself and backtracking pointlessly—you can't afford to make such mistakes. So it is with much relief that I round the next bend in the trail and find myself at the mouth of Pipe Creek, entrance to the Bright Angel Trail, my way back home.
I walk right over to the creek and you know the ritual by now: soak the head, the hat, the shirt. With all the mules passing by, Pipe Creek probably isn't a safe source to drink untreated, and today I am carrying a SteriPen so I can purify water for drinking. But let's say my bottles were empty and I didn't have a way to treat the water. What then?
Fill your water bottles anyway! You can always use the water to pour over your head to cool down—you don't need clean water for that. And if the situation becomes desperate enough, drinking untreated fresh water may well make the difference between being found alive or dead. Always give yourself options. While you still can: Think.
Bright Angel Trail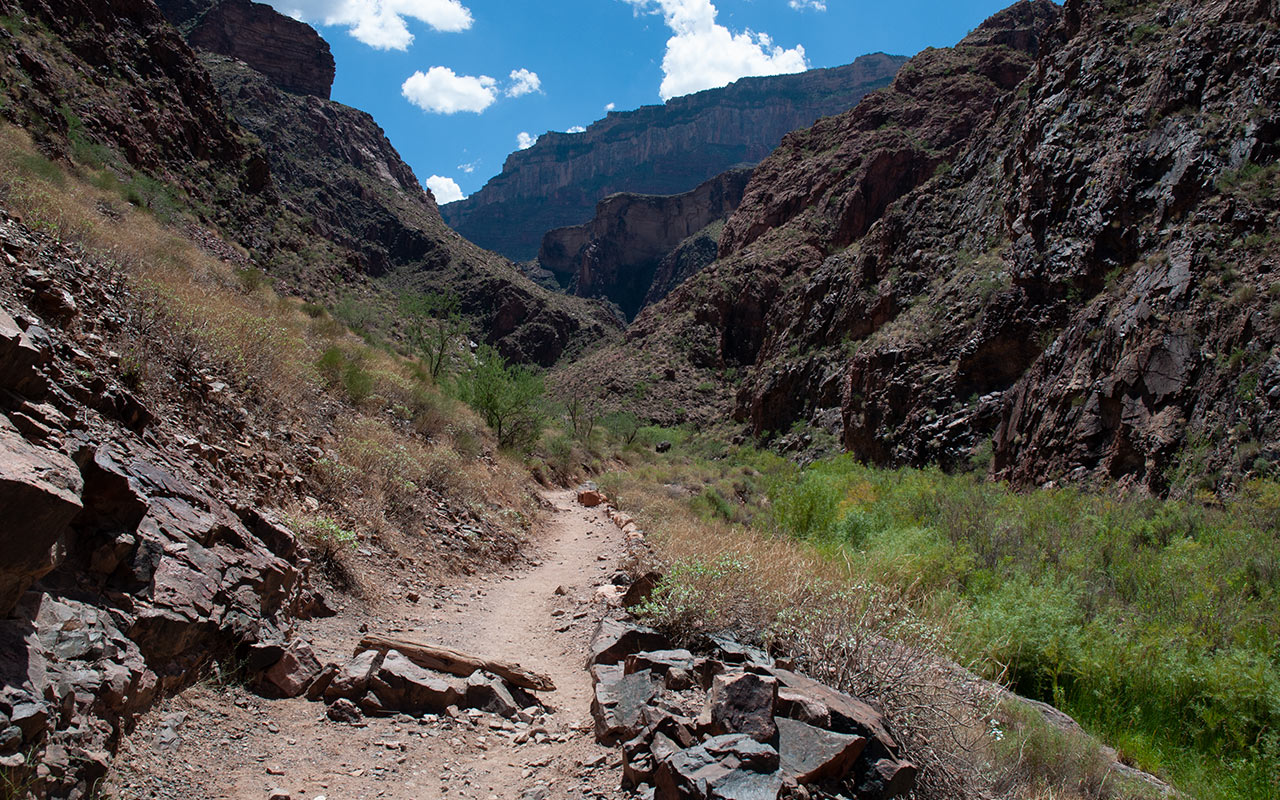 Since leaving Phantom Ranch I have thus far mostly contoured about the banks of the Colorado, neither gaining nor losing much elevation. That's about to change.
As I join the Bright Angel Trail, I'll soon be climbing a series of sun-exposed switchbacks to escape the canyon's Inner Gorge, including the trail's notoriously-scorching Devil's Corkscrew section. This, to be honest, is the part of the hike I'm most concerned about—the stretch between the river and Indian Garden.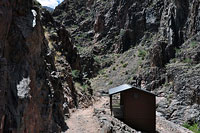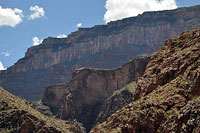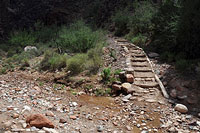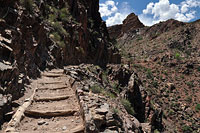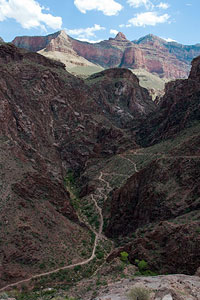 Dripping water from Pipe Creek, I step back onto the trail and begin the long, slow journey upward.
I intend to re-soak myself every chance I get. And, since the trail mostly follows Pipe Creek on the way to Indian Garden, that should give me plenty of opportunities.
Even with evaporative cooling working in my favor, even given today's relatively moderate temperatures, even with the occasional shade from patchy clouds above, the canyon here is simply brutally hot.
It is inconceivable to me to even imagine trying to climb out the waterless South Kaibab on a day like this. If there is any mystery as to why the Bright Angel is the preferred route out of the canyon, it should be clear by now.
My pace is deliberately slow here, slower than feels necessary. I think of overheating as a barrier: once you've broken through, the damage is done, and it's very hard to get yourself put back together.
Heat, like altitude, is an insidious threat that erodes your mental capacity, leaving your judgment impaired when you most need it. As with altitude, wise desert hikers perform regular mental checks on themselves (or better yet, with a partner), to verify that brain and body are functioning smoothly.
Though perhaps smoothly isn't the best word choice. Even under the best of circumstances, hiking up in the these temperatures is a great strain on the body. Only experience will tell you when your suffering is threatening to turn into something more dangerous.
And maybe, crazy as it sounds, the best way to prepare for a hike like this is to go get yourself in trouble—in a safe place. Hike the streets of Phoenix in summer heat and see what happens. Cross over that barrier to see how easy it is to suddenly feel your stomach rebel, your vision dim, your legs collapse beneath you.
Or maybe, better still, hike the canyon well away from Summer's heat.
Slow, slow, slow.
The Bright Angel may be the most popular trail in the entire canyon, but I'm alone down here right now—alone, spooked, and being ever so cautious.
I stop to soak myself again. It doesn't feel like it's enough. I'm in the Corkscrew now, climbing up, a snail beneath the hot sun. Dwelling on how much climbing lies above doesn't do me any good right now. It's hard to drink water; food sounds disgusting. I try an old trick to cope with not wanting to eat: suck on some salty foods, then spit out the remainder without swallowing.
Higher up, the trail moves away from Pipe Creek, leaving me on a prolonged waterless section that coincides with one of the hardest parts of the climb. Heat—even in the shade. The temperature is still climbing down here, probably will keep rising almost all the way to sunset. But I'm holding my own here: measuring my breathing, pacing my steps, keeping it together.
Bit by bit, I'm making my way out of the Inner Gorge. Past the Corkscrew the trail joins the robust Garden Creek, rushing with water. Shade trees begin to pop up. The gorge's metamorphic rock gives way to Tapeats Sandstone. I give myself a much-needed soaking, relieved. I'm clear of the worst of it. Not out of Grand Canyon—not by a long shot—but safely out of the Inner Gorge.
Indian Garden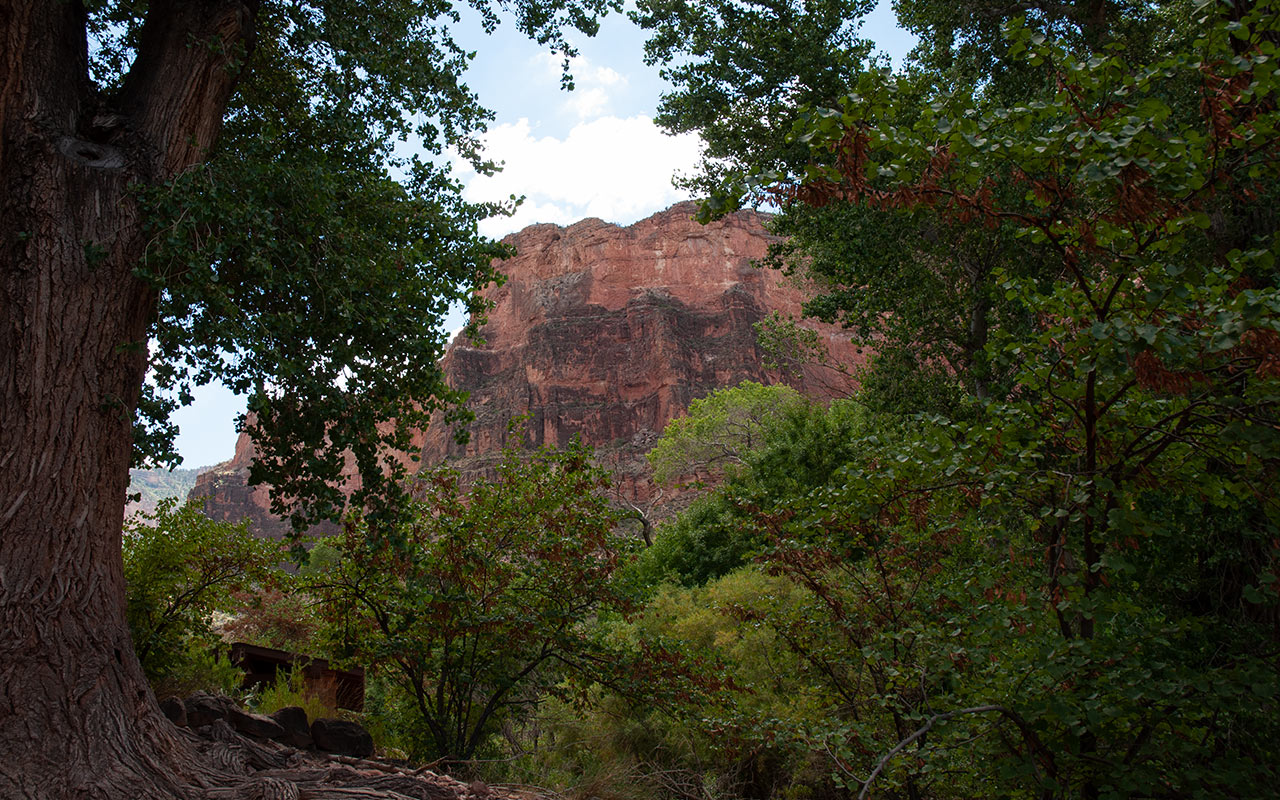 It is possible, emerging from the depths of the Inner Gorge, to allow yourself a measure of hope. The canyon once again appears wide open here on the Tonto Plateau.
The air may still be hot, but it's certainly not as hot as below. And the lush green oasis of Indian Garden lies just ahead, a wonderland of rushing water and great shady Cottonwoods that rivals if not exceeds the miracle of Phantom Ranch now far, far below.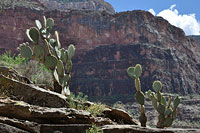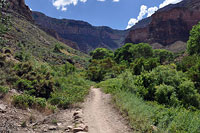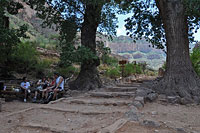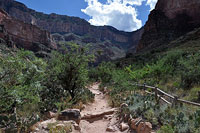 I scrape along the trail until I come to Indian Garden's water faucet, where clumps of hikers lay strewn about in the shade, moving only when necessary to refill a water bottle or two.
Yes, I am no longer traveling solo, having climbed up high enough now to come into range of the Bright Angel's day hikers, who all have a decidedly hot and weary look about them.
To which my slightly uncharitable thought is: you have no idea. I wait my turn at the faucet, then fill up, dump water over my head, fill up again.
Then I plop down in close range to the faucet to take a prolonged rest here in the wonderful shady cool.
Though Indian Garden was originally used by Native Americans, it too came under the control of Ralph Cameron, who negotiated with the Havasupai in 1903 to plant the Cottonwoods and build a tourist camp here.
Compared to the eerie and hostile landscape below, Indian Garden feels indeed like paradise. Maybe it's a little early to let your guard down, but the canyon sure feels a lot safer here, too.
As for the scenery, though Indian Garden and the Bright Angel Trail in general lack the sweeping vistas of the ridge-following Kaibab, the mixture of brilliant red walls towering above and abundant desert vegetation below feels the most quintessentially Grand Canyonish to me.
Here on the Bright Angel, cooling our heels at Indian Garden, we are once again in the canyon of postcards and smiling tourists. And that's just fine with me.
It would not be honest, however, for me to claim I have emerged from the Inner Gorge unscathed. I've got a weak but persistent headache. My muscles are sore and starting to stiffen. My body chemistry feels out of whack. It's not easy, even here in the shade, to drink water or to eat, but I take care to do both.
As hikers of the modestly-sized but savagely grueling Walter Powell Route, my brother and I have come to conclude that the Grand Canyon hikes bigger than it is. Meaning, if you are used to thinking of hiking difficulty in terms of vertical feet (as I do), you need to add a multiplier to the canyon's vertical to adjust the numbers, maybe somewhere between 1.5 and 2X.
If you've hiked a vertical mile in the mountains, count going rim-to-river in the canyon as the equivalent of an 8000 vertical foot day—and that's only if you stay on a corridor trail, with access to water. Go off trail and dry, like the Walter Powell, and God help you.
Arrgh...guess it's time to head on out of here. At Indian Gardens, the elevation is presently 3800', just about 3000 feet below the rim and Bright Angel Lodge. By my modified calculations and given my present pitiful condition, that amounts to...a heck of a long way still to go. The sun is still hammering the Tonto Plateau, but by the time I get to the switchbacks above, much of the trail should be in shadow. I'll need it. That's for sure.
Switchbacks and Shadows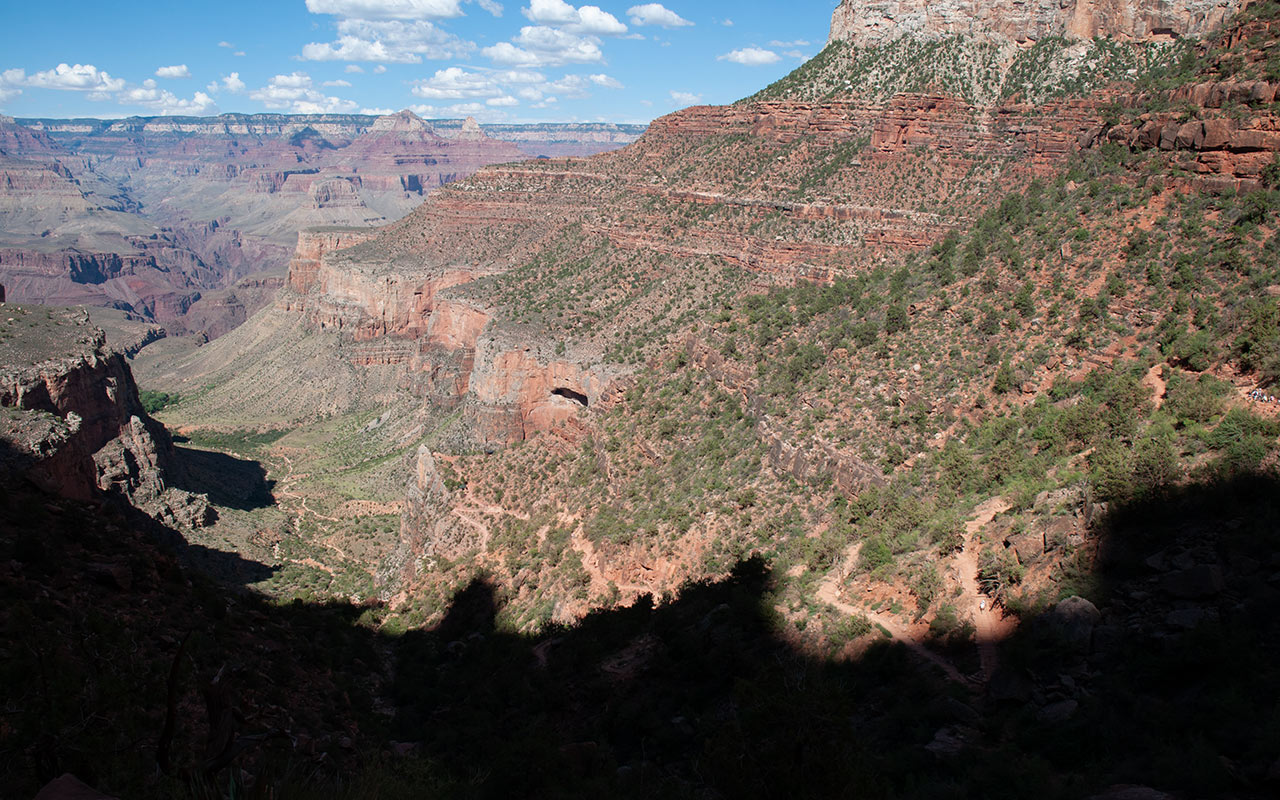 The Bright Angel isn't just chosen as an exit for its water. It is also preferred because of its shade. Afternoon sun is blocked by the trail's narrowing, U-shaped side canyon.
Until that sun goes down, it is capable of doing a lot of damage, especially on exposed heads and skin. Bring a wide-brim hat (vented is better) and wear light-colored cotton clothing (synthetics will dehydrate you faster). Finally, when it gets to be crunch time, make like a lizard and hide in the shade.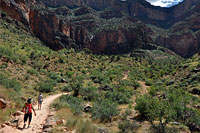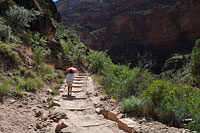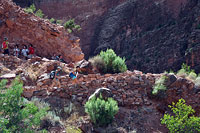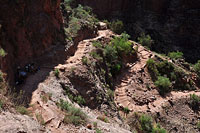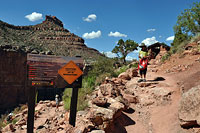 Leaving Indian Garden, the sun makes itself known as soon as I'm out from beneath the Cottonwood canopy.
I eye the sky hopefully, looking to see if any thunderstorms will develop. Nope. Not much help from clouds, today.
This straight section of trail heading toward the switchbacks above surely isn't as hot as anything down below, but it's hot enough to unhinge you just the same.
Most of the people who leave Indian Garden at the same time as me set a fast pace upward, moving quickly up the trail and then beyond sight.
I'll be seeing them again, I know. They're about to get their most important Grand Canyon hiking lesson: going up isn't the same as going down.
My own pace, meanwhile, feels like a slow shuffle that won't ever get me atop the rim. Patience, I tell myself.
The day and the sun are still more than hot enough to cause trouble, and indeed as the trail starts to climb, I feel my own temperature start to rise uncomfortably once again.
Soon, those same speedy folks who rushed ahead reappear, now hiding in the Bright Angel Trail's shadowy nooks, eyeing the rim high above with a newfound sense of respect.
During summer months there are two water sources above Indian Garden, fed by piped water, at the Three-Mile and Mile-and-a-Half Resthouses (distances are from the rim). As at Indian Garden, weary hikers collect at these resthouses, trying to refresh and recharge before continuing the long slog out of the canyon.
On this section of the Bright Angel, your fellow hikers become neighbors of a sort. We all settle into roughly the same pace, rest stops included, so that I'm often climbing step-for-step with the very same people, hour after hour.
Occasionally our eyes catch, and we give each other a grim sort of smile, half encouraging, half pleading. A very few hikers crunch up from below and race upward even this high up. Almost without exception, they eventually reappear as well, usually bent over at the side of the trail, pale and frightened, laid low by the heat and, now, altitude. All of us watch that advancing shadow-line to the west with great interest, eagerly awaiting its arrival.
Meanwhile, the view behind us grows ever more inspiring—if you can find it within yourself to admire it. The Bright Angel, of course, is Grand Canyon National Park's premiere trail, and to hike it in the deepening light of late afternoon is to see it in all its glory. Looking back, I am particularly struck by how far down the Tonto Plateau and Plateau Point appear—to say nothing of the river, hidden below.
Inspiring views aside, however, for me (and many others), this part of the hike is just pure misery. My brain feels cooked, and I can barely stand to keep my hat on. My leg muscles are now threating open revolt, giving my stride a plodding, robotic clunk.
Ordinarily I'd skip right up this easy slope without a care, but the day's effort has left me utterly spent. How much farther can the rim possibly be? Another thousand vertical feet? Maybe?
Finishing the Loop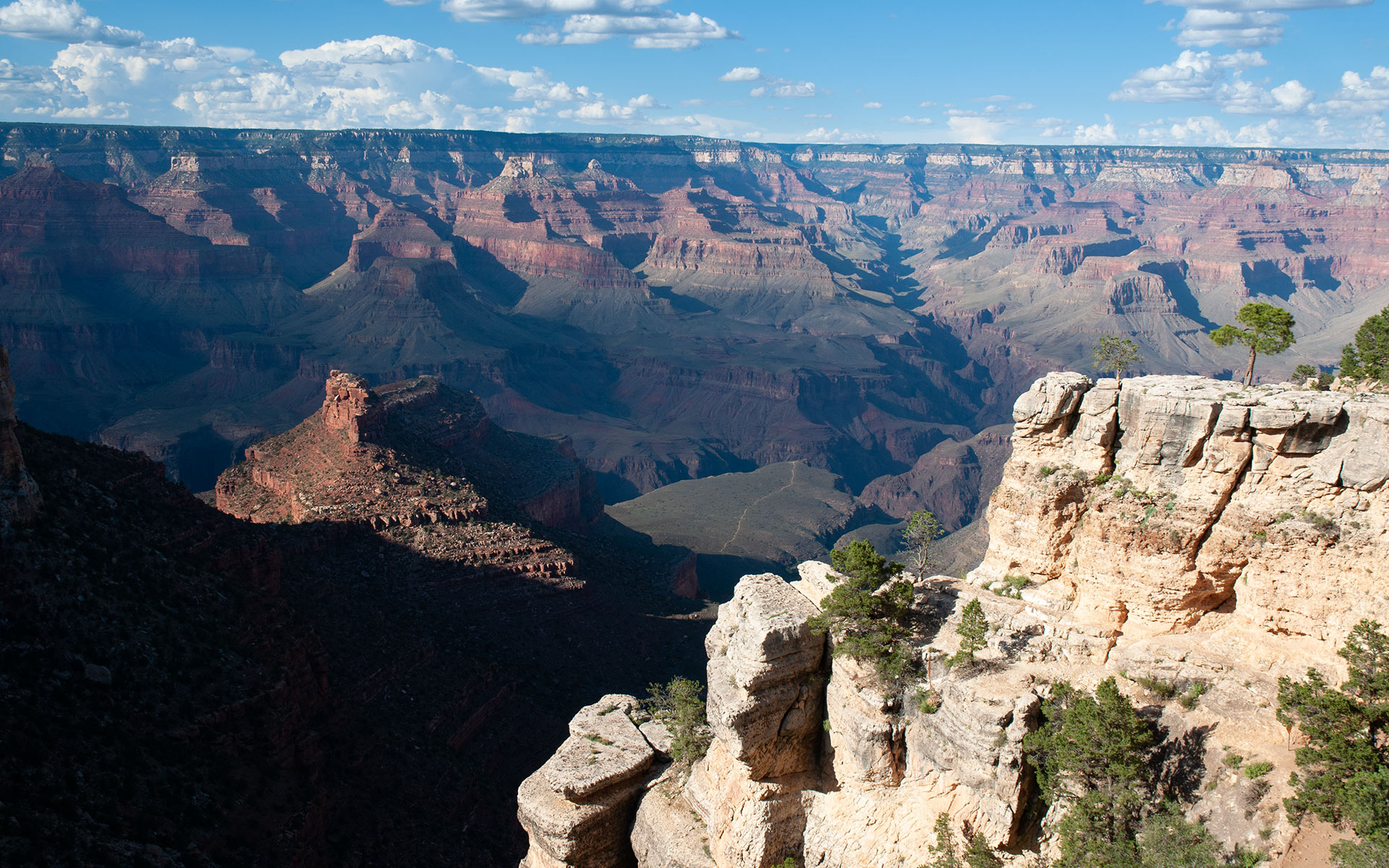 Down the South Kaibab. Up the Bright Angel. Surely this hike, with its dazzling vistas and incomparable geologic diversity, ranks among the most extraordinary I've ever done.
Done in a day, it is also probably among the most dangerous hikes I've ever attempted. But why do it in a day? Add an overnight at Bright Angel Creek campground to better savor the canyon's many delights (including, of course, a steak dinner at Phantom Ranch).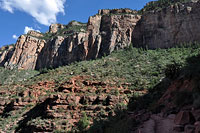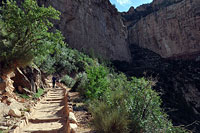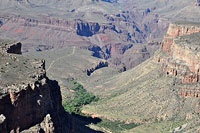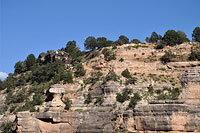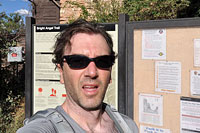 I've now progressed beyond the top of the Redwall Limestone layer. I can see a distant flag fluttering in the wind somewhere atop the rim.
It is heartening to see this evidence of civilization—though I have at least another hour of climbing to go. Shadow at last envelops the Bright Angel Trail. It feels wonderful to take off my hat and let my head—and body—begin to cool a bit.
The difference between hiking in direct sun versus hiking in shadow is striking. Around me, other hikers seem to come back to life. All of us breathe a collective sigh of relief.
A prolonged traverse northward, however, soon takes us back into the sun for another round of climbing. The cursed hat goes back on my head.
I'm high enough now to be well within range of the Bright Angel Trail's most casual day hikers. As they talk and laugh and snap photos, I crawl pitifully upward, my pace now seemingly slower than everyone else on the hill, young and old, thick and thin.
My pride doesn't like getting passed by others, but there's nothing I can do about it. My blood feels like sludge in my veins; my legs feel like stone. Slowly and steady may not win the day, but it will eventually get me to the rim, and that's what matters.
In their book, Over the Edge: Death in Grand Canyon, Michael Ghiglieri and Tom Myers note an almost universal misconception among people who get rescued from the canyon: the belief that since so many people hike Grand Canyon each year, it's can't be that dangerous.
Indeed, the presence of other people is a known heuristic trap (Social Proof, I believe is the name of it). We see others doing it, so we think it's safe for us to do it, also.
And by the numbers, you're mostly going to be okay with that philosophy. Millions of people visit Grand Canyon every year.
Most of them turn out just fine, despite their occasional foolishness.
Then again, if we were to restrict the sample size to only those who hike all the way down to the river, the number of rescues per visits would no doubt rise considerably.
I think of it this way: the rules are different here. As hikers, outdoor enthusiasts, or just plain tourists, we come to the canyon with our own set of experiences and expectations, forged in other environments critically different in ways both subtle and not. Example: how many places do you know where thousands of people meander every day a few feet from unprotected five hundred foot drops?
There are no guardrails atop the vast majority of the canyon's cliffs, no locked gates preventing access beyond a certain deemed-safe depth. The rangers will try to talk some sense into you, if they can, but ultimately your safety is your own responsibility here. The canyon is truly a wild place, and for that it should be cherished—and respected.
I can see the top of the trail now, and Kolb Studio atop the rim. Looking back at the magnificent panorama opening up behind me, it seems almost impossible to believe I've traveled as far as I have today. Down Cedar Ridge. Across the Tonto. Into the Inner Gorge. Phantom Ranch. The River Trail. Devil's Corkscrew. Indian Garden and the Bright Angel.
Much as I need to rest, I'm already feeling reluctant to leave this greatest show on Earth. That's it: there's the sign at the trailhead. I snap a photo of myself. 5:15 p.m. Then it's a shaky-leg jitterbug across the parking lot to my car, and the day is done. I fish out my keys, and you know what? Something wells up in me. I feel myself being pulled back toward the canyon. As blasted as I am, I want to turn around right now and do it all over again.
Really...I do.