Black Diamond Tracer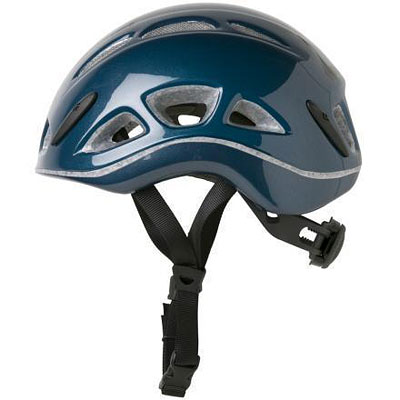 ultralight
good ventilation
available in S/M/L
8.6 ounces
In comparison to the beefier Half Dome, the Tracer is Black Diamond's answer for those want a modern, ultralight climbing helmet.
At a very light 8.6 ounces (medium), the Tracer is two ounces lighter than the Half Dome, approaching the extremely low weight of Petzl's Meteor III or Camp USA's Speed helmet. Unlike the Half Dome, the Tracer is targeted toward fast and light climbers, with more emphasis on ventilation. Fourteen vents keep the air flowing, with the upper vents mesh-covered to help prevent dirt, snow, and other debris from getting inside.
Three available sizes help match the Tracer to your head size, presumably improving comfort by offering you a better overall fit. To customize fit further, the Tracer features the standard adjustible dial. I found the Tracer doesn't quite match the comfort of my favorite helmet, but it's certainly competitive within its cohort.
Like all ultralight climbing helmets, the Tracer is best suited for warm-weather climbing or other contexts where weight overrides durability concerns. Ski mountaineers should be aware of the possibility of spearing vents with tree branches while skiing. As for durability, you will likely need to replace the Tracer if you take a major hit while wearing it. Helmets like these are designed to crumple on impact, compared to more traditional, hard-shelled designs.
I must say I never really warmed to the Tracer, even though it is very similar in specs and feel to the Petzl Meteor that I wear for climbing and helmet-cam video. Maybe I like the Meteor's styling better? That said, the Tracer is usually available at a slightly lower price than the Meteor, making it possibly the more economical choice.