CAMP Air CR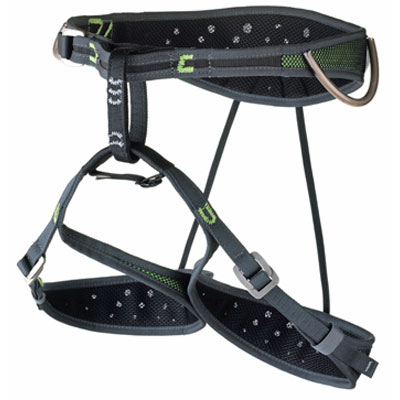 light & smart
adjustable leg loops
breathable, perforated foam
8.9oz
With its new Air CR climbing harness, Italian gear maker C.A.M.P. continues to redefine the possible with respect to ultralight gear.
In fact, C.A.M.P.'s products have gotten so good, it's no longer necessary to bill them as ultralight: you might well find yourself preferring C.A.M.P. gear even if it wasn't the lightest gear available. That is certainly true of the super-snazzy Air CR harness, which incidentally weighs a very modest 8.9 ounces (men's small, measured).
The Air CR seems to exactly hit the spot between a light but too flimsy sport harness and a rugged but too heavy Alpine harness. C.A.M.P. calls it, "An excellent choice for nearly any kind of high-level climbing including advanced Alpinism and ice." Ice and winter climbers take note: the Air CR features adjustable but not quick-release leg loops. The waist belt is simple and self-locking, and should all but eliminate any how-do-I-thread-it confusion in the field.
The body of the harness is constructed from perforated foam for excellent breathability, wrapped on the inside with a soft polyester mesh on the inside for comfort and a rugged synthetic mesh on the exterior for durability. Comfort is quite good—Summer climbers will have no complaints on hot days. You get four gear loops and a chalk bag loop. Winter climbers facing multi-day storms should be aware that the Air CR's perforations can trap ice and snow over time.
I especially like the feel of the Air CR. This is a harness that seems quite robust in its construction. You don't in the least get the impression that you're handling flimsy ultralight gear. In fact, the Air CR feels at least as rugged as my other, significantly heavier harnesses. For extended rappelling and hanging belays, the Air CR does not offer the same level of support/comfort as Arcteryx's excellent R320 harness, but short of that limitation, I really can't think of a reason not to use it.
If you want an ultralight harness that doesn't in the least seem to make any of the usual compromises to shed ounces, the Air CR is an easy pick.