CAMP USA XLH-95 Harness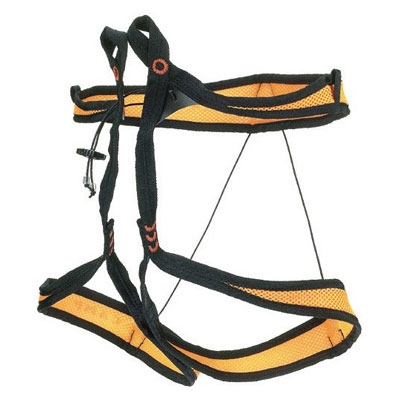 limited belay/rappel comfort
No leg-loop quick release
Durability?
3.3 ounces
Some gear announces right from the start whether or not it's going to fit your needs. And then there is CAMP USA's XLH 95 Harness.
The XLH 95 is a stunningly-light harness designed to fit the narrow needs of Adventure Racers, whose sensibilities might best be summed up as, make it light, give it just enough functionality to do the job, and make sure I can run in it. Oh—and make it light. CAMP USA has a knack for making products that perfectly fit these requirements, and the XLH 95 is no exception. With a listed weight of 95 grams (3.3 ounces measured), the only way you'll find a lighter harness is if you improvise one yourself.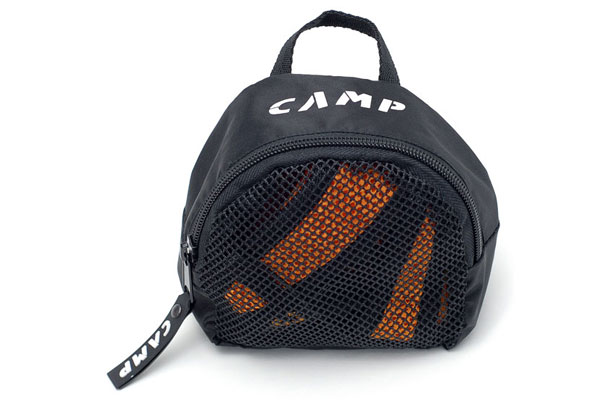 As for functionality, the harness is adequate for short bouts of belaying and rappelling as long as comfort (while hanging) isn't your key criteria.
Adventure racers should positively love it. Just clip a locking carabiner through the waist belt's two sewn loops, and you're ready to go.
CAMP employs a bungee cord waist belt adjuster to keep the harness snug against your body. This has no impact when the harness is under load, but it does keep the XLH 95 out of the way when it's not under load, allowing you to freely run, ski, or climb. There's little question this harness is an Adventure Racer's dream, but how useful is it for general (and especially winter) mountaineering?
Because of the XLH's bungee cords, I found the harness tends to shift under load, such that the waist belt rises up your back. This transfers more of the load to the leg loops. Consequently, you won't want to spend a great deal of time hanging around in the XLH.
Obviously this is not a harness you would use for sport or big-wall climbing. While the XLH 95 is EN-rated, I would certainly not want to take a big leader fall on it—and I weigh only 140 lbs. Additionally, the harness's ultralight construction necessarily compromises durability. If you plan extended travel in rough terrain, wear and tear will be a concern.
For winter mountaineers (including ski touring), the XLH 95's lack of quick-release leg loops will be an annoyance, making it difficult to put on and take off the harness while wearing boots and/or crampons. Once in place, however, skiers will appreciate the way the bungee cords keep the harness tight against the body without restricting movement.
Overall, the XLH 95 must be considered a niche product. It is designed to meet the needs of a relatively small group of mountaineers facing a relatively small set of situations. Most mountaineers looking for a general-use harness will do better with a traditional design.
On the other hand, you may well find the XLH perfectly suits a specific route or trip you're planning. And, of course, if your application happens to be in the right 'niche' (principally racers on established courses, hardcore ultralighters), you'll love this harness, because it was made just for you.