Dynastar Cham HM 97 (2014)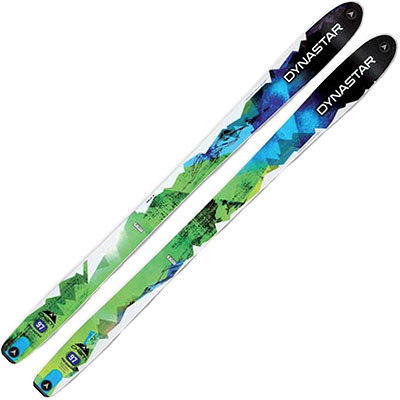 massive versatility
quick, playful, & lively
133-97-113mm R16
7lbs 9oz (pair/178cm)
Dynastar's oddly-shaped Cham 97 returns unchanged for the 2013-2014 season, in both standard (metal) and High Mountain (Paulownia) editions.
The High Mountain versions of the Cham line were initially sold as touring-oriented skis. However, following their debut season, Dynastar realized skiers were finding the metal-free HM models to be outstanding resort skis thanks to their reduced weight and enhanced quickness. Thus, the HM line is now pushed as a viable Freeride ski, fully qualified for use in or out of bounds.
That's a trend you'll find percolating throughout the ski industry. I've been using my Blizzard Kabookies both in and out of bounds for over a year now, at first by necessity and then by choice. When you find a plank that does both jobs well, it's like getting two skis for the price of one.
Given the Cham's undeniably strange geometry—"five-point" sidecut, hybrid rocker, pintail—I was not expecting to like it. But surprise: on-snow, the Cham HM 97 turned out to be an astonishingly versatile All-Mountain performer, offering a playful, lively ride and massive versatility (qualities which also make it well suited for touring/backcountry use).
To be sure, the Cham HM is weighted toward off-trail skiing. But the ski remains credible in just about any conditions, even on trail, helped by its amenability to a huge variety of turn shapes and skiing styles. You get to ski the Cham HM 97 however you want, whether that means getting on the tips and bashing quick turns in the bumps, or squeaking out tight turns in the trees, or making big smears.
No, this is not the ski for high speed adventures on hard snow, but for just about everything else, the Dynastar proves to be a heck of a lot of fun. Edge grip is solid enough to get you past icy sections. Quickness—thanks to the ski's lighter weight and 16-meter turn radius—is always pleasantly surprising. Long-radius turns prove to be unexpectedly well-mannered.
I didn't ride the standard Cham 97, but I found myself thinking the ski doesn't need the metal—at least, not for lighter skiers. The extra weight will certainly add dampness and some edge grip, but it's not going to transform the ski into a hard snow screamer. I like the High Mountain version as a lively one-ski solution for riders who aren't 100% carving focused. If that's you, give it a try.